Clip Captures Mark Knopfler's Band In Playful Mood, One Night In Valencia
'The Jazzy Oe Oe Oe' records the moment that his band responded to the football chant of Knopfler's fans.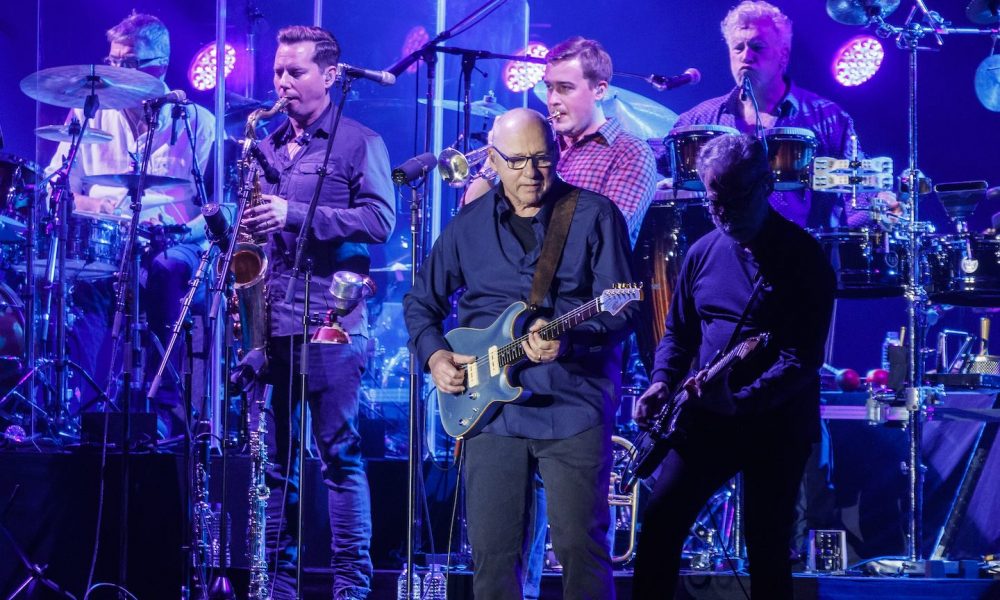 A short clip of a spontaneous moment from Mark Knopfler's 2019 concert in Valencia is now on his official YouTube channel. "The Jazzy Oe Oe Oe" captures the moment that his band responded to the football chant of Knopfler's fans that followed the new song "My Bacon Roll" by joining in with a brief, jazz-flavored accompaniment.
The show took place at the Plaza de Toros in the Spanish city on April 26, 2019 as part of the Down The Road Wherever Tour. The band were on the second date of the extensive European leg of the itinerary, which had started the night before at Palau Sant Jordi in Barcelona.
Mark Knopfler - Olé Olé Olé In Valencia (Live, Down The Road Wherever Tour 2019)
The Valencia show saw Knopfler and his A-list musicians consolidating the opening night performances of both longtime favorites and songs from the then-current Down The Road Wherever album such as "Nobody Does That," which opened the night, and the autobiographical "Matchstick Man." Dire Straits classics such as "Once Upon a Time in the West," "Romeo and Juliet," and "Telegraph Road" all featured, as did "Money For Nothing" in the encore.
Songs from Knopfler's solo catalog included "Corned Beef City," "Sailing To Philadelphia," and "Postcards From Paraguay." The band closed on "Piper To The End," from 2009's Get Lucky album. Full concert recordings from the tour, including the Valencia date, are available in 320kpbs MP3 format at his official online store, where fans can purchase a red Stratocaster guitar USB key and get any one of the gig recordings for free.
Knopfler's website recently confirmed that the new album that he has been working on as the follow-up to Down The Road Wherever will be released in 2024. Earlier this month, he also circulated his reaction to the death of Canadian music giant Robbie Robertson, who died on August 9 at the age of 80. "A sad farewell salute to Robbie Robertson," he wrote. "I loved The Band from their earliest days. Robbie's talents and his love for the music were always in evidence."
Buy or stream Down The Road Wherever.