Paul Ryder, Bassist For Happy Mondays, Dies At 58
The band helped pioneer the 'baggy' indie-funk sound of Manchester in the late 1980s.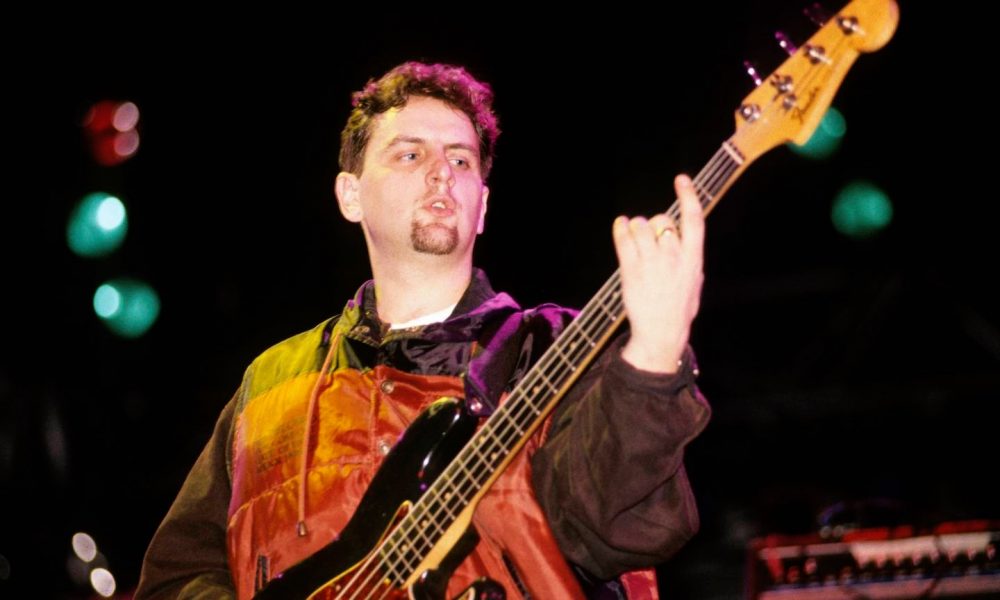 Paul Ryder, the bassist from Happy Mondays, who helped pioneer the "baggy" funk sound, has died at 58. The band's unique style was inspired by the Balearic beat scene and immortalized in the Factory Records film 24 Hour Party People.
A message posted on the band's social media reads: "The Ryder family and Happy Mondays band members are deeply saddened and shocked to say that Paul Ryder passed away this morning. A true pioneer and legend. He will be forever missed. We thank you for respecting the privacy of all concerned at this time. Long live his funk x"
Happy Mondays - Step On (Official Music Video)
No cause of death has been made public. Ryder, whose brother Shaun fronted the group, was a founding member since their formation in 1980 and had rejoined for the group's most recent reunion in 2012.
The social media reaction upon the announcement was widespread. Pete Wylie of Wah! wrote, "OH PAUL! NO! What terrible terrible news!! Paul Ryder RIP. Lovely, funny, talented guy. Great bass player—he brought the funk to the Mondays madness,+Gaz. He will be very sadly missed. Love from Liverpool to Shaun and the Ryder family & friends,& the band. Ride on Horse Ryder."
Ian Brown added, "REST IN PEACE PAUL RYDER A GREAT FRIEND A GREAT MUSICIAN A GREAT FELLA BIG LOVE TO AMELIA JACOB SONNY CHICO AND THE FAMILY AND BAND LOVE YA LONGTIME PABS X"
Another paying tribute was Manchester DJ Dave Haslam, formerly of The Hacienda, who said Ryder "made a massive contribution to Happy Mondays and was good company and a top fella".
The working-class son of a postman and nurse, Ryder was born in Salford in 1964, and was a self-taught guitarist. He said it was only later in his career that he "learned what the different strings were. I'd call them the fat one, the thin one and the one down from the fat one."
First inspired by Motown artists, Ryder was then drawn to the Chicago house music of the 1980s, saying that his bass lines were "me trying to replicate that style but using a real instrument rather than a computer".
Ryder played with Happy Mondays for their peak era in the late 1980s and early 90, as the group became an integral part of the indie-dance crossover scene in England. After achieving modest notoriety with their second album, the Martin Hannett-produced Bummed, the band had a huge hit with the follow up, the acclaimed Pills 'n' Thrills and Bellyaches in 1990. That album was certified Platinum a year later, buoyed up by the UK Top 10 success of the singles, "Step On" and "Kinky Afro".
When Ryder reunited with the band in 1999, he shared a quote with Melody Maker explaining his mindset. "It has taken me this long just to actually accept that I really am a bass player in a band and that I make more money than my mum and dad do. At first when we got together again, the band was split into two camps. There was me and Gaz and Ben, then there was Shaun, his new mate Nutz and Wags, with Bez kind of in the middle. As the tour has been going on, though, the two sides have been coming together."
In his years away from the Happy Mondays, Ryder released an album with another group, Big Arm, in 2008 and moved to Los Angeles in the late 00s. He also performed live with the New York funk group Tom Tom Club, whose members Chris Frantz and Tina Weymouth (also of Talking Heads) had produced the Mondays' 1992 album Yes Please!.