Uncompromising Soul-Funk Singer, Cult Favorite Betty Davis Dies At 77
Davis recorded for an all-too-brief period before withdrawing from music, but leaves a substantial legacy and a legion of admirers.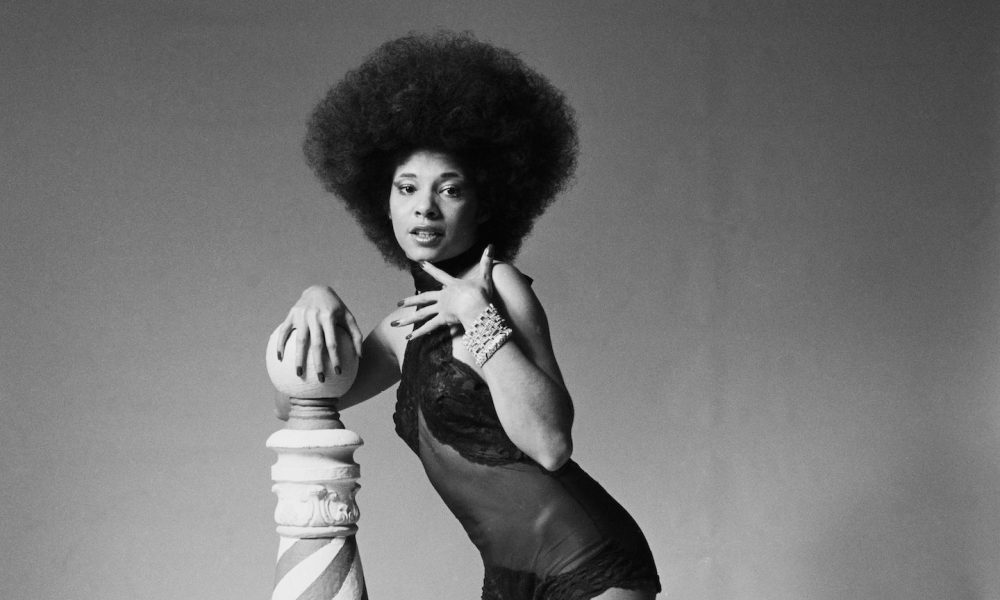 Betty Davis, the celebrated singer and cult favorite whose trio of 1970s albums were greatly revered by soul and funk fans, has died at the age of 77.
An uncompromising performer, she was also, briefly, the second wife of Miles Davis.
Davis recorded for an all-too-brief period before withdrawing from music, but leaves a substantial legacy and a legion of admirers, notably for the three albums she made between 1973 and 1975. She was born in Durham, North Carolina, on July 26, 1944, leaving for New York in her mid-teens, enrolling at the Fashion Institute of Technology and immersing herself in the culture of Greenwich Village, later meeting such fellow hopefuls as Jimi Hendrix and Sly Stone.
Her first single "The Cellar," independently-released and produced by Lou Courtney, a significant influence on her career, came as early as 1963. The following year, recording for DCP International under her birth name of Betty Mabry, she released "Get Ready for Betty."
A songwriting coup
As a writer, she scored a coup when her "Uptown" was given a funky workout by psychedelic soulsters the Chambers Brothers, on their widely-admired 1967 album The Time Has Come, which also featured their major hit "Time Has Come Today." In 1968, when she was romantically involved with Hugh Masekela, he arranged her single "It's My Life"/"Live, Love, Learn" on Columbia.
Her relationship with Miles Davis began soon afterwards, and she adorned the cover of his 1968 album, Filles de Kilimanjaro. But the marriage was short-lived, amid her allegations of abuse, and her attempts to secure a record contract at the time were unsuccessful.
She finally released her first album, simply titled Betty Davis, on the Just Sunshine label in 1973. It was produced by Sly and the Family Stone drummer Greg Errico, who played on it along with other such notables as former bandmate Larry Graham and Neal Schon (fomerly of Santana and then forming Journey). Backing vocalist included the Pointer Sisters and a pre-fame Sylvester. Pitchfork later described the LP as a "groundbreaking slab of funk that…fused soul, sex, and hard rock like the best Sly or Funkadelic disc, albeit from a female perspective."
For all of its later plaudits, the album reached only No.54 on the Billboard R&B chart and produced one minor soul chart single, "If I'm In Luck I Might Get Picked Up." These and subsequent releases were hampered by the reluctance of TV executives to book Davis because of a performing style deemed too provocative.
A similar fate befell the self-produced 1974 follow-up aptly titled They Say I'm Different, also for Just Sunshine. It peaked at No.54 R&B but was later included by The Wire in its list of "100 Records That Set the World on Fire (While No One Was Listening)." A third set, 1975's Nasty Girl, again self-produced, was released by Island, also peaking at No.54. One track, "You and I," was conducted and arranged by the great jazz orchestrator Gil Evans; another, the typically gritty "Shut Off The Light," grazed the bottom of the US R&B chart.
A 1976 follow-up planned by Island was shelved, and not released until 2009 by Light In The Attic, who also reissued her three previous albums. Recording sessions in 1979 proved unfruitful, and Davis effectively retired from the business, moving to Pittsburgh. As the New Yorker reported, "when interviewers asked her what she had been doing, she answered, 'I just lived,' or, 'Nothing really.'"
The compilation The Columbia Years was released in 2016, and the following year saw the release of the documentary Betty: They Say I'm Different, directed by the London-based Phil Cox. 2019 brought Davis' first new song for decades, "A Little Bit Hot Tonight," was recorded by Danielle Maggio and released via Bandcamp, where it is still available.
In 2018, Emily Lordi wrote in the New Yorker: "Like many uncompromising, creative women, the funk-rock diva Betty Davis is often called a pioneer. The term is a tribute, of course, a way of defining her legacy in terms of the inroads that she made for later artists."