Sparks' Pay Tribute To 'Veronica Lake' On New Single
The Mael Brothers pay tribute to the legendary American film actress on their latest cut from 'The Girl Is Crying In Her Latte.'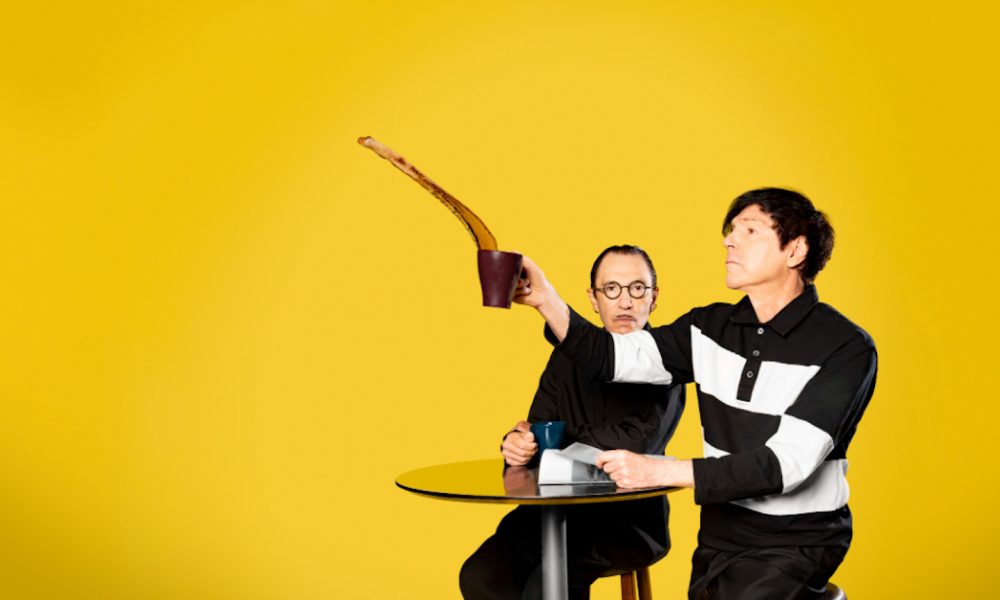 Sparks have shared "Veronica Lake," the second track from their hugely anticipated 26th studio album, The Girl Is Crying In Her Latte, due Friday, May 26 via Island Records. You can check the track out below.
This musical account of the American film actress Veronica Lake, and her peek-a-boo hair, once again displays Sparks' seemingly ceaseless ability to craft complete, intricately detailed stories within perfect three-minute pop masterpieces.
The Girl Is Crying In Her Latte marks Sparks' first release on the venerable Island Records label in close to five decades, following such classics as 1974's landmark Kimono My House, highlighted of course by the indelible hit single "This Town Ain't Big Enough For Both Of Us." The new album is described by Ron and Russell Mael as a record that is "as bold and uncompromising as anything we did back then or, for that matter, anytime throughout our career."
Prior to "Veronica Lake," previously shared the album title track alongside a video starring Cate Blanchett. The Girl Is Crying In Her Latte also includes such instantly intriguing new musical vignettes as "Mona Lisa's Packing, Leaving Late Tonight" and "Nothing Is As Good As They Say It Is." Both characteristically timeless and unequivocally modern, The Girl Is Crying In Her Latte once again affirms that, after more than a half century making such masterpieces, Sparks remain inimitable, ingenious and, as ever, utterly one of a kind.
Sparks will celebrate The Girl Is Crying In Her Latte and much more with an extensive world tour that sees the band playing some of the biggest venues of their incredible career, with highlights including a pair of sold-out headline shows at London's historic Royal Albert Hall (May 29 and 30) and the biggest headline show of Sparks' more than fifty-year career, taking place on July 16 at the world famous Hollywood Bowl in their beloved hometown of Los Angeles. New shows in Nimes, Marseille and Tokyo have been added to the tour.
Pre-order The Girl Is Crying In Her Latte.
SPARKS TOUR 2023:
MAY
23 – Oxford, UK – New Theatre Oxford
24 – Liverpool, UK – Liverpool Philharmonic Hall
26 – Glasgow, UK – SEC Armadillo
27 – Manchester, UK – Bridgewater Hall
29 – London, UK – Royal Albert Hall
30 – London, UK – Royal Albert Hall
JUNE
2 – Barcelona, Spain – Primavera Sound Barcelona
4 – Nimes, France – La Paloma
5 – Marseille, France – Espace Julien
8 – Madrid, Spain – Primavera Sound Madrid
10 – Porto, Portugal – Primavera Sound Porto
13 – Paris, France – Le Grand Rex
14 – Utrecht, Netherlands – TivoliVredenburg, Grote Zaal
16 – Copenhagen, Denmark – Store Vega
18 – Berlin, Germany – Tempodrom
20 – Brussels, Belgium – Cirque Royal
22 – Wolverhampton, UK – The Civic at The Halls
23 – Pilton, UK – Glastonbury
27 – New York, NY, USA – Beacon Theatre
28 – Philadelphia, PA, USA – Keswick Theatre
30 – Washington, DC, USA – Lincoln Theatre
JULY
1 – Boston, MA, USA – The Wilbur
3 – Toronto, ON, Canada – Danforth Music Hall
5 – Chicago, IL, USA – Copernicus Center
6 – Milwaukee, WI, USA – Pabst Theater
8 – Kansas City, MO, USA – Arvest Bank Theatre at The Midland
9 – Boulder, CO – Boulder Theater
12 – Dallas, TX, USA – Texas Theatre
13 – Austin, TX, USA – ACL Live at the Moody Theatre
16 – Los Angeles, CA, USA – Hollywood Bowl †
22 – Tokyo, Japan – duo Music Exchange
24 – Osaka, Japan – Namba Hatch
25 – Tokyo, Japan – Line Cube Shibuya