The Who Mourn Former Roadie And Band Insider Dave 'Cy' Langston
Langston was first hired by The Who as a roadie in April 1965, and went on to be a valued member of their team.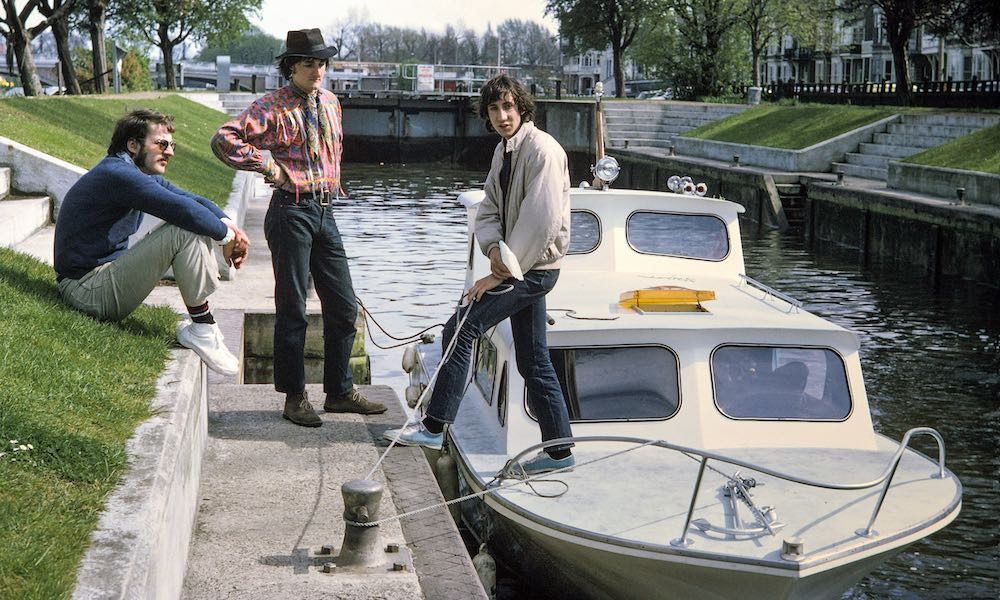 The Who are mourning the death of another member of their inner circle dating back to the 1960s, Dave 'Cy' Langston. The band's website reports that he passed away on Saturday (17) following a short illness.
Langston was first hired by The Who as a roadie in April 1965, and went on to be their road manager and a valued member of their team, as proved by heartfelt quotes from Roger Daltrey, Pete Townshend, and manager Bill Curbishley on hearing the news
"Cy lived with me way back in '65 at my flat in St Johns Wood," says Daltrey. "He was our first roadie. Always good natured and fun to be with. Life was never quiet when you were in his company. I shall miss having him as part of my life. Enjoy the peace, my old mate."
Notes Curbishley: "I first met Cy Langston in 1971 when I went to work at Track Records. Track had been formed a number of years earlier by Kit Lambert, Chris Stamp, and Mike Shaw. Mike and Chris were old school pals of mine, and both asked me to go work with them, knowing my passion for music.
"Unfortunately Mike Shaw had suffered a car crash a few years prior to this and was now confined to a wheelchair, rendered paraplegic. Cyrano had taken on the task of caring for Mike and it was his direct, focused, irreverent approach to the situation that pulled Mike out of many dark places. His body was dead but his mind was vibrant, and Cy saw to it that this was fed and challenged, at all times.
"It was when I had to care for Mike on occasions I realised what a great job Cy had done and was still doing. Over the years I began to see the other fine points in Cy, but the overriding facet was that behind the outgoing personality he was a gentle soul, and a really warm human being, who loved music and the people around him. Thanks for everything Cy, and rest in peace, old friend."
Townshend remembers Langston at length: "Cy. From the moment we first met at Jim Marshall's store in West Ealing in London in late 1963, we became friends. It wasn't just the union of noses! I liked him immediately. His band at the time obviously treasured him – he seemed balanced and yet worldly. He was a very good musician. His band broke up when Terry Slater, a key member, went to work for the Everly Brothers.
"In the '70s I produced some music with Cy, whose keyboardist then was Keith Emerson. It was never released, but Cy could sing really well. He was one of the few musicians to contribute music to the Who catalogue with his song 'Early Morning Cold Taxi' which he and Roger tweaked to suit The Who.
"He looked after our production manager Mike Shaw after an awful car accident that had left him paralysed. During those solicitous years Cy proved an even better man than I had already taken him for, and we in the band at the time adored him for that. He helped Mike emerge from self-pity and isolation, and often brought him boating with me on the Thames. He brought him to shows and parties and kept his spirits up. It was a job for Cy, but boy, did he do it with love!
"Later he started to work for John Entwistle as an ADC and production assistant. He became an agent for John's artwork. So we saw a lot of him. He was always laughing, a great story-teller with a very sharp memory. In the early '80s I saw a lot of him socially when my guitar tech Alan Rogan and I needed some levity. These were high fun-times for our little group.
"Cy was not a heavy drinker like me, he occasionally used really very tiny amounts of amphetamine, but to be honest it never seemed to make much difference. He was always busy, active, cheerful and completely adorable. I thought he would live forever.
"We have come to know his son Toby recently, and it was with that lovely young man it became clear that Cy had been a good Dad. That's a tough call in the music business. I feel sad for Toby, but I remember his mother Dale as being beautiful and serene, and I hope they can get through this together. Toby, you will always be welcome in the Who family."
Townshend concludes: "Cy, I can always hear you laughing at the back of the plane even when you're not there. I hope it echoes as long as I live."
Listen to the best of The Who on Apple Music and Spotify.