Tomorrow X Together And Jonas Brothers Kickstart Summer With 'Do It Like That'
The sunny anthem was produced by super-producer Ryan Tedder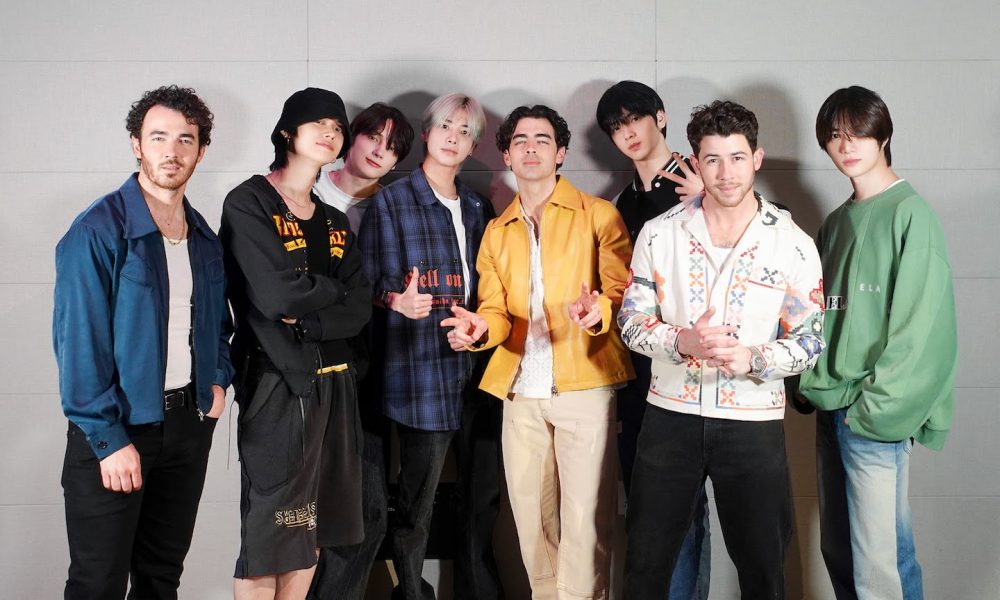 Tomorrow X Together and Jonas Brothers have teamed up on "Do It Like That," a contender for this year's biggest summer anthem.
The two global superstar groups have joined forces alongside super-producer Ryan Tedder, who helmed the track, crafting a bright and breezy pop banger to kickstart the summer holiday season.
Jonas Brothers take charge of the first verse and chorus before passing the baton to TXT. Later, the two groups come together, unified in awe at the person they are singing about. "Oh my God, don't know how you do it like that," they sing in the chorus. "Blow my mind, but somehow you bring it right back."
In the infectious "You sendin' signals and those waves go far/Got people dancin' up on top of their cars" refrain, the two acts swap lines – a back-and-forth collaboration between two icons of the world pop scene.
TXT (투모로우바이투게더), Jonas Brothers 'Do It Like That' Official MV
In the accompanying music video, Jonas Brothers appears behind instruments, while TXT delivers its trademark polished and addictive choreography.
"Do It Like That" precedes Tomorrow X Together's upcoming Japanese album, Sweet. The record will be the boyband's second full-length release in the language and follows 2021's Still Dreaming. It will arrive on August 4 and will feature a total of 12 songs. Among them will be Japanese versions of some of the group's Korean originals, including The Name Chapter: Temptation's lead single "Sugar Rush Ride," 2022's "Good Boy Gone Bad," and 2021's "0X1=LOVESONG (I Know I Love You)" and "MOA Diary."
Days after that album's release, TXT will headline Lollapalooza in Chicago, following in the footsteps of its HYBE labelmate J-hope of BTS, who topped the bill at the festival last year.
Meanwhile, in Jonas Brothers news, the trio released its latest album, The Album, in May via Republic Records. The record features a collection of 12 brand new tracks, executive produced by sonic visionary artist and producer Jon Bellion (Justin Bieber, Maroon 5, Halsey). From stadium-ready anthems to moments of candid introspection, The Album finds Jonas Brothers kicking off a monumental chapter and releasing their boldest, brightest, and biggest offering yet.