Tomorrow X Together Shares Epic Trailer For 'ACT: Sweet Mirage' World Tour
The K-pop boyband will kick off the new dates in Seoul later this month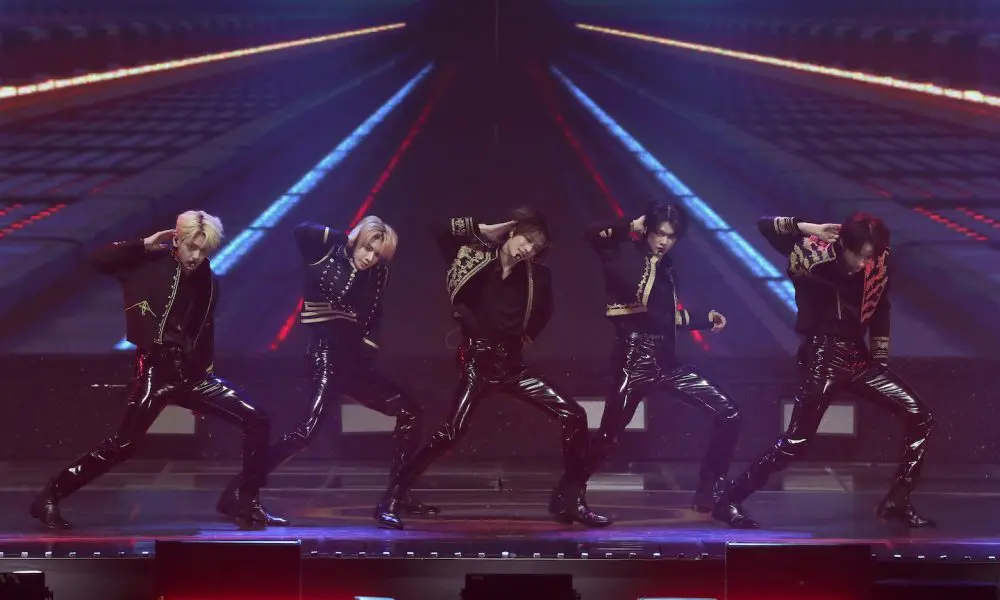 Tomorrow X Together (TXT) has shared an epic trailer for its upcoming ACT: Sweet Mirage world tour, which will see the boyband perform across Asia and the US.
The run of shows will begin later this month with two concerts in the group's hometown of Seoul. It will then take them across Asia – including stops in Singapore, Taiwan, and Japan – before heading to the US.
As TXT prepares to kick off the ACT: Sweet Mirage tour, it has shared a cinematic trailer to ramp up the anticipation even further. The clip depicts the five members – Soobin, Yeonjun, Beomgyu, Taehyun, and Hueningkai – in vintage military-style outfits exploring an old-fashioned, opulently decorated building.
As the doors close on the group, the visuals cut to scenes of a green drink, a glass being smashed, and a hand covered in black liquid. Afterwards, TXT reappears dressed in black suits, walking along a red-carpeted hallway as red confetti flutters around them. "The devil said," Yeonjun whispers in a voiceover – a line from the band's most recent single, "Sugar Rush Ride."
TOMORROW X TOGETHER WORLD TOUR 'ACT : SWEET MIRAGE' Official Trailer
Meanwhile, Tomorrow X Together celebrated its fourth anniversary earlier this month and, as part of the festivities, shared a new version of "Happy Fools." The original take appeared on The Name Chapter: TEMPTATION, which was released in January and featured a verse from Coi Leray. The new version saw Yeonjun take over Leray's spot, sharing his own rap verse instead.
The Name Chapter: TEMPTATION also gave TXT its first No.1 on the Billboard 200 album chart. Its previous highest position on the chart was No.4 with 2022's minisode 2: Thursday's Child.
View Tomorrow X Together's tour itinerary below.
Mar 25 – Seoul, SK – KSPO Dome
Mar 26 – Seoul, SK – KSPO Dome
Apr 1 – Singapore, SG – Singapore Indoor Stadium
Apr 4 – Taipei, TW – Taipei Nangang Exhibition Center
Apr 5 – Taipei, TW – Taipei Nangang Exhibition Center
Apr 14 – Osaka, JP – Maruzen Intec Arena Osaka
Apr 15 – Osaka, JP – Maruzen Intec Arena Osaka
Apr 18 – Saitama, JP – Saitama Super Arena
Apr 19 – Saitama, JP – Saitama Super Arena
Apr 25 – Kanagawa, JP – Yokohama Arena
Apr 26 – Kanagawa, JP – Yokohama Arena
Apr 29 – Aichi, JP – Port Messe Nagoya First Exhibition Hall
Apr 30 – Aichi, JP – Port Messe Nagoya First Exhibition Hall
May 6 – Charlotte, NC – Spectrum Center
May 9 – Belmont Park, NY – UBS Arena
May 10 – Belmont Park, NY – UBS Arena
May 16 – Washington, D.C. – Capital One Arena
May 19 – Duluth, GA – Gas South Arena
May 20 – Duluth, GA – Gas South Arena
May 23 – San Antonio, TX – AT&T Center
May 24 – San Antonio, TX – AT&T Center
May 27 – Los Angeles, CA – BMO Stadium