'200 Motels': Frank Zappa Delivers A Classic Under Pressure
The soundtrack to Zappa's cult 1971 movie stands up, despite the trying circumstances under which it was recorded.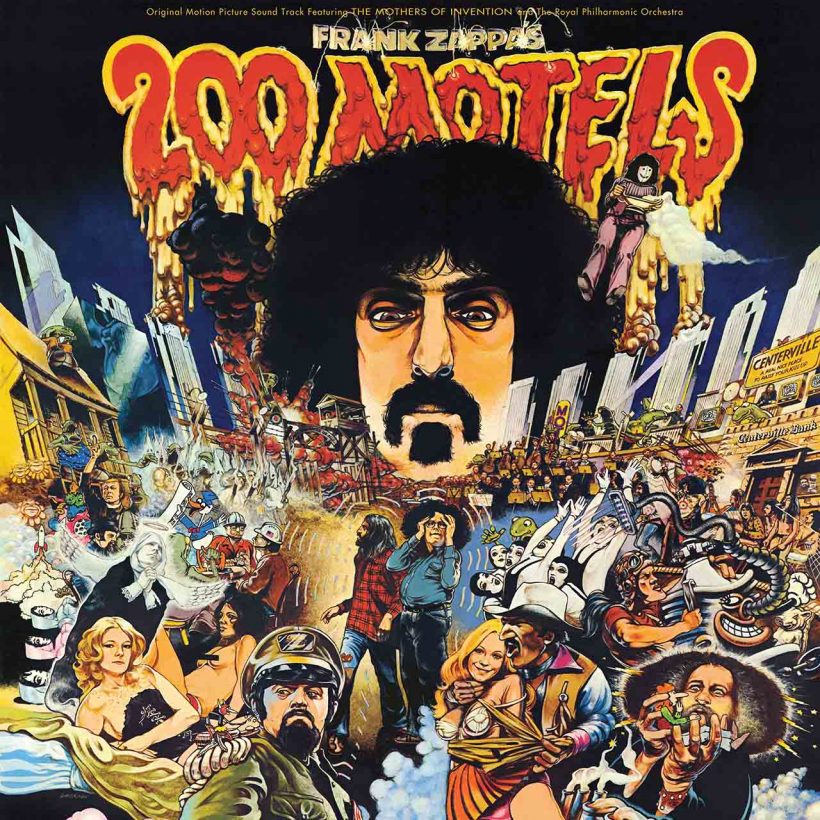 Years in the making, 1971's 200 Motels was one of the most ambitious projects of Frank Zappa's remarkable career. It eventually took the form of a groundbreaking feature film and a daring and eclectic double album on which electric blues and psychedelic pop rubbed shoulders with nods to modern classical composers Edgard Varèse, Igor Stravinsky, and Anton Webern. It could only have been made by Frank Zappa in 1971 – an uncompromising satire of the music business demonstrating the composer's unique and vivid talent.
The music Zappa composed for 200 Motels was brought to life by The Royal Philharmonic Orchestra, but its beginnings were less refined, as he told Coq in 1974, "I've been writing music in hotel rooms for years and years. I wanted to find some way of getting it played… So I devised a screenplay that chronicled in an abstract way the activities of the group on the road for a certain period of time and used the music that had been written in the motels as the scoring for the film."
Some of Zappa's motel music was aired publicly as far back as October 28, 1968, when the Mothers Of Invention performed with 13 musicians from the BBC Symphony Orchestra at the Royal Festival Hall, London. Parts of 200 Motels tracks "Restaurant Scene," "This Town Is A Sealed Tuna Sandwich," and "What's The Name Of Your Group" featured in the set, which was later released on the 1993 set, Ahead Of Their Time. And a May 1970 performance by The Mothers and the Los Angeles Philharmonic Orchestra in LA included a 49-minute set called "Excerpts From 200 Motels."
What's The Name Of Your Group? (Complete Sequence, Pt 1)
A Dutch TV special showcasing the new music was mooted but fell through. Undeterred, in November 1970, Zappa submitted a 10-page movie treatment to a host of major film studios. According to Zappa, the studios, "just didn't want to know. As soon as we'd start to explain what we wanted to do, they'd go into a state of shock."
United Artists' president David Picker understood Zappa's vision, "We gave him a tape that had a half-hour's worth of songs on it, a 10-page treatment of the plot line, and some clippings and a couple of photographs. He studied it for about five days. [We] walked into the office, and before we even sat down, he said, 'We've got a deal.'"
200 Motels was recorded at Pinewood Studios, Iver Heath, England, between January 28 and February 5, 1971, with overdubs recorded at Whitney Studios, Glendale, California, in April 1971. The album was released, alongside the film, in October 1971. Zappa told the International Times in 1971 that the decision to make 200 Motels in England was financial, "The main enticement was the cost of the orchestra. We got the Royal Philharmonic for a thousand pounds a session… for a hundred men."
The filming
200 Motels suffered a setback before filming even began with the departure of Mothers bassist Jeff Simmons. Unfortunately for Zappa, Simmons was one of the central characters in the movie. When the Mothers received the 200 Motels script in early January 1971, they were surprised – Zappa had drawn on years of working with musicians for the material, which had cut too close to the bone for some, "They couldn't believe what they had in their hands," Zappa told Grapevine in 1971, "it was everything they always said, and I'd just stored it up." According to Zappa, Simmons quit after the second reading.
With just weeks till the start of the shoot, a replacement was needed urgently. "I thought if you were going to replace Jeff Simmons with a long-haired guy, where are you going to get a guy who's as funny as him or so unique?" Zappa told Grapevine, "So I invented a character who was supposed to be the world's oldest bass player in rock'n'roll." Wilfred Bramble – best known in the US for his role in A Hard Day's Night as Paul McCartney's spotlessly clean grandfather – was recruited and impressed during the initial rehearsals. But at the last minute, Bramble bailed, leaving Zappa facing a crisis, "We're at the studio ready to shoot, and we've got a $679,000 budget to make a movie, and there isn't anybody to play the main character."
Desperate times called for desperate measures. When Ringo Starr's chauffeur Martin Lickert arrived at Pinewood with the former Beatle, who had already signed up for the movie, the driver was press-ganged into reading for the part. "Everybody just went, 'You! Read this!' and grabbed him… He was fantastic. Then we found out that he had played the bass in some little band in Birmingham, and so he might be usable… He was still working for Ringo and memorizing the script and learning the bass parts, but he did it under the most insane pressure that could be put on anyone. We shot the movie in seven days."
When filming fell behind schedule, United Artists refused to finance more shooting. Zappa later estimated that roughly one-third of the script wasn't filmed at all, which meant that only seven of the 13 suites of music earmarked for the movie were recorded in their entirety. Priority was given to the scenes that featured music requiring an orchestra – it was Zappa's first chance to record with one, and he wasn't going to waste it. And the fragmented nature of the footage dictated that a new plot had to be pieced together in the editing suite. In 2021, the 6CD 200 Motels 50th Anniversary Edition gave listeners the fullest picture yet of Zappa's original intentions, with demos, outtakes, and dialog protection reels that suggest a fuller plot, rather than an enjoyably disjointed collection of comedic and surreal set-pieces, animations, and band performances.
The soundtrack
While the movie was groundbreaking – it was the first full-length feature film to be shot entirely on videotape – the multitudes of setbacks affected its cohesiveness and it became a cult favorite, rather than a box office hit. But there was no doubting the quality of the music. 200 Motels boasted the considerable talents of the Mothers line-up at that point – George Duke (keyboards, trombone), Aynsley Dunbar (drums), Howard 'Eddie' Kaylan (vocals), Ian Underwood (keyboards, saxophone), Mark 'Flo' Volman, Frank Zappa (vocals, guitar)… and, of course, Martin Lickert (bass). Also at Zappa's disposal were the Royal Philharmonic Orchestra and a chorus of ten male and ten female singers.
From the grand brass fanfare that heralds the opening "Semi-Fradulent/Direct-From-Hollywood Overture," 200 Motels is a thrilling exploration of Zappa's compositional skills, talent for arranging and editing, and the Mothers' dynamism. "Mystery Roach," "She Painted Up Her Face," and "Magic Fingers" show that Zappa could deliver muscular and melodic psych rock at the drop of a hat. "Tuna Fish Promenade" and "What Will This Evening Bring Me This Morning" are dizzying chamber pop songs. Meanwhile, "Daddy, Daddy, Daddy" is a smooth R&B delight, sung with gusto by Flo & Eddie.
Elsewhere, "Dance Of The Just Plain Folks," "Touring Can Make You Crazy," and "Lucy's Seduction Of A Bored Violinist & Postlude" are playful, complex, and cinematic pieces of experimental orchestral opulence. There is great beauty, too, in the sublime "Would You Like A Snack." On "Lonesome Cowboy Burt," Zappa even gave us a knee-slapping, straw-chewing country pastiche. But the real show-stopper came with the magnificent 11-minute "Strictly Genteel (The Finale)," a grandiose and tongue-in-cheek anthem for the underdog.
Strictly Genteel (The Finale)
Lyrically, 200 Motels is not for the faint-hearted. Zappa doesn't hold back when giving the lowdown on the life of a touring rock'n'roll band in the 70s, particularly their lustful predilections. In that respect, 200 Motels should be seen as a period piece, a fantastically unapologetic document of a bygone era.
On the whole, 200 Motels is Zappa at his most ambitious and experimental. The film remains a curiosity, a chaotic overspill of ideas and half-realized plot. But the soundtrack album is densely packed with wonderful music, delivered with wild energy. It confirmed that Zappa was a compositional force to be reckoned with, capable of turning his hand to anything. From this point on, the possibilities were limitless.