'Don't Shoot Me I'm Only The Piano Player': How Elton John Fired A Classic
With studio album number six, Elton John took a giant step towards creative independence, topping the charts in both the US and the UK.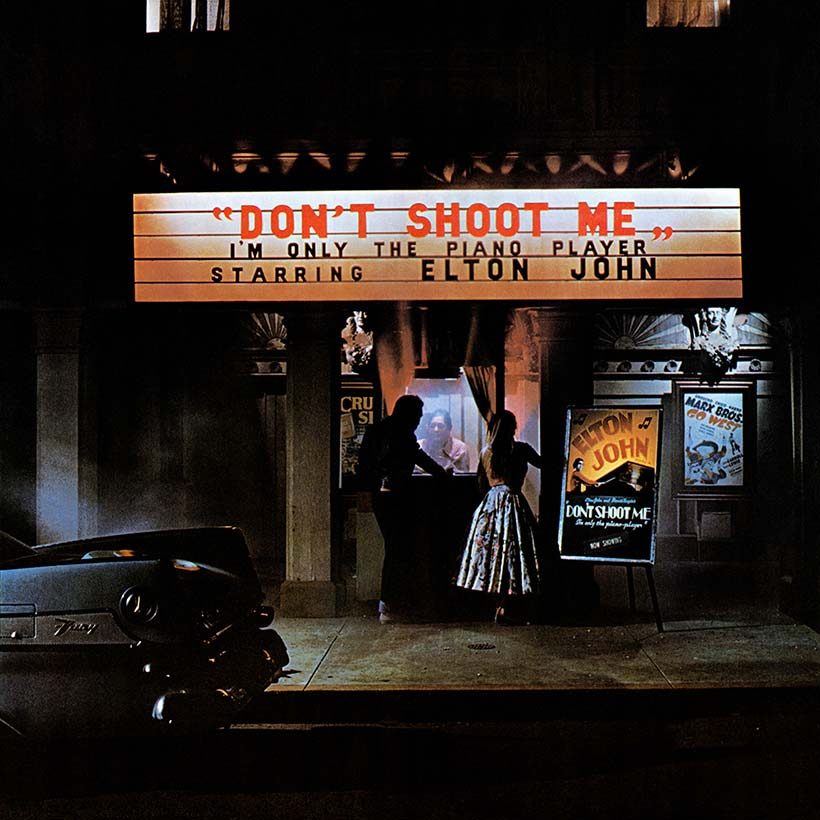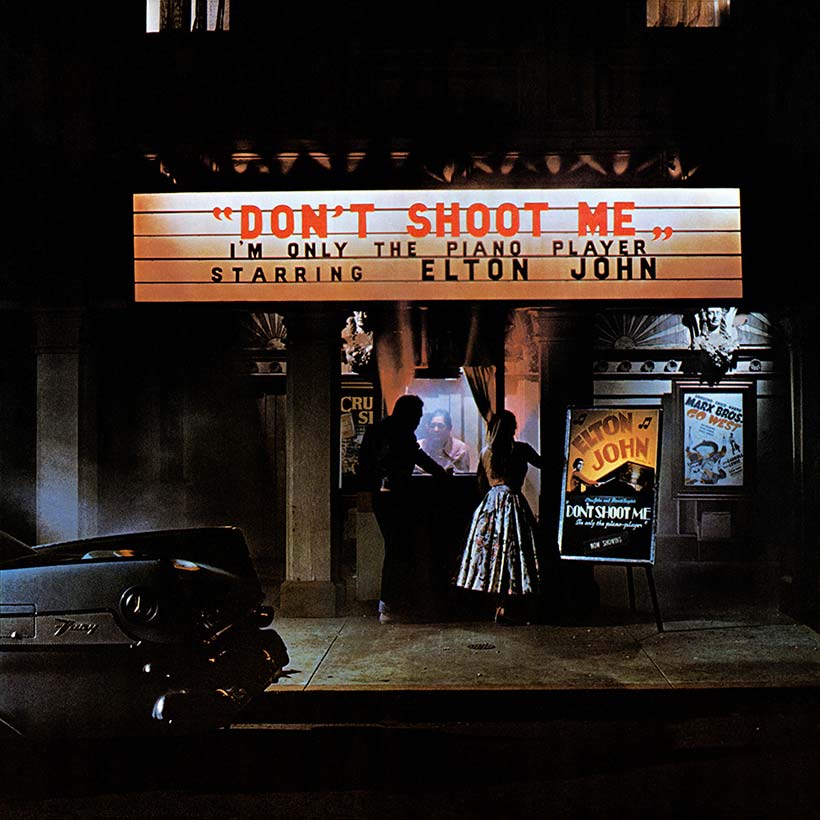 It was the embodiment of a hard-earned victory. By the turn of 1973, Elton John had been releasing albums for several years, not to mention all the dues he had paid in obscurity as a touring and session musician from the mid-60s onwards.
At times, even after his breakthrough across the Atlantic, he had felt like giving up. But finally, his sixth studio album, Don't Shoot Me I'm Only The Piano Player, gave him a No.1 album in his own country.
Indeed, leaving aside his 1974 greatest hits collection, Don't Shoot Me… is still the Elton John album that has spent longer at No.1 in the UK than any other. As the follow-up to Honky Château, it became his second in a row to top the charts in America. With his almost indecently prolific productivity of the day, the new album was released just eight months after its predecessor, in January 1973, and contained two more songs that would soon join his catalogue of major hits.
"If Honky Château established Elton John as a leading contender for the bantamweight championship of rock and roll," enthused Rolling Stone, "Don't Shoot Me I'm Only the Piano Player should hand him the title."
The road to Don't Shoot Me…: 'It seems like more of a group now'
As the new year dawned, Elton was still in the habit of doing interviews and entertaining journalists at home. NME's Danny Holloway was invited over for toast and coffee, and a chat about how quickly things had progressed for the artist in the previous year or so, especially with the success of Honky Château.
Have Mercy On The Criminal
"At that time, I'd done an album with just the band," he said, referring back to Madman Across The Water. "We were so pissed off and bored that I thought we should either break up or do something new. So I decided to use the band more prominently and add Davey [Johnstone, guitarist]. We didn't rehearse with him or anything, we just invited him to France with us. It was the first time that everybody chipped in on an album.
"It seems like more of a group now that we have four members," he continued. "There were restrictions as a trio. Our main problem was that the piano was lead instrument, and, of course, it doesn't sustain notes, like Keith Emerson's organ does in ELP. But since Davey joined on guitar, it's been like a piece of cake for me. I can really relax when I play, whereas before we had to all work at filling in the sound. We went as far as we could as a trio and started boring the ass of everybody – including ourselves."
Such a frank assessment was typical of Elton's high standards, but it was also an acknowledgement of the new momentum around him during the creation of Don't Shoot Me I'm Only The Piano Player. Named after a remark he made in conversation in Hollywood with Groucho Marx – itself a measure of the fantasy life that Elton was now living – the album cover made reference to that origin with a small poster of the Marx Brothers' classic movie comedy Go West. The bigger poster next to it, and the title in lights above, made it clear that Elton was now very much his own leading man.
Writing and recording sessions
After the completion of Honky Château, but before it was even released, John and his band, with Dee Murray and Nigel Olsson newly augmented by Johnstone, headed out on another American tour. This kept them on the road throughout April and into mid-May, and soon afterwards they headed back, with producer Gus Dudgeon, to the Chateau D'Hérouville, the location in which Team Elton had worked so happily on the last album.
Once again, the castle proved to be a much-needed bolthole and creative haven in which Bernie Taupin would often write lyrics in his room, bring them down to breakfast and see Elton add melodies with equal mastery, sometimes having them ready to record that same day. A dozen or so songs were composed and committed to tape in this way inside just four days.
Key album tracks included "Teacher I Need You," which became an FM radio favourite in the US; the down-home stomper "Elderberry Wine"; and "Have Mercy On The Criminal," which Elton revived for his 1987 album Live In Australia With The Melbourne Symphony Orchestra. To emphasise the tightness of the core quartet, they played almost everything on the record, with engineer Ken Scott adding the memorable ARP synthesiser to "Daniel" and orchestrator Paul Buckmaster on hand for two more numbers.
5 Elton John Songs You Need To Know
Release and reception
Once Don't Shoot Me I'm Only The Piano Player was in the can, Elton was back on the bus. A London show at the Shaw Theatre in late August opened a British tour, then another set of North American dates started in September and ran for two months. Even more challengingly, with demand for Elton running almost out of control, he had to interrupt that itinerary to come home for the Royal Variety Performance. He went from San Diego to London, played the prestigious gala and then was back for a show in Oklahoma two nights later.
"Crocodile Rock" was the first single released from the album, and was a John-Taupin composition of deliberately lightweight nostalgia. Set in the 50s in the fledgling days of rock'n'roll, it had a serious point to make in observing how times and relationships change ("Suzie went and left us for some foreign guy"), but it remained upbeat, and continued to earn its place in Elton's setlist on his epic (if interrupted) farewell tour.
The single reached No.5 in the UK and, in early February 1973, gave Elton the huge thrill of his first US No.1 single. Replacing Stevie Wonder's "Superstition," "Crocodile Rock" enjoyed a three-week reign at the top, even as its parent album made its own chart debut. Don't Shoot Me… spent two weeks at No.1 in the US in March, becoming the second in a breathtaking run of six consecutive chart-toppers there for Elton's studio albums. By 1995, it was triple platinum.
Elton John - Crocodile Rock (Live At Madison Square Garden)
At home, it was an even better story. The album spent its first six weeks at the top of the UK charts, from February 10, before giving way to Alice Cooper's Billion Dollar Babies. It went on to spend 11 weeks in the Top 10 and 29 in the Top 40. Within weeks of "Crocodile Rock," Don't Shoot Me I'm Only The Piano Player had offered up a second bona fide sales and airplay smash in the form of the touching ballad "Daniel."
"I'd seen this article in Time magazine on the Tet Offensive," Taupin later explained on his website. "And there was a sidebar next to it with a story about how many of the soldiers that were coming back from 'Nam were these simple sort of down-home country guys who were generally embarrassed by both the adulation and, depending on what part of the country you came from, the animosity that they were greeted by.
Listen to the best of Elton John on Apple Music and Spotify.
"For the most part, they just wanted to get back to a normal life, but found it hard, what with all the looky loos [nosy people] and the monkeys of war that they carried on their backs. I just took it from there and wrote it from a younger brother's perspective; made him disabled and wanting to get away. I made it Spain, basically, because it rhymes with plane." The single peaked at No.2 in the US and No.4 in the UK.
Creative independence
At the same time, Elton was taking another giant step towards creative independence, as he summoned the media to a railway station to announce plans for his own label, Rocket Records. "I'm appalled by the lack of knowledge of some people who have a lot of power in the music business," he told NME. "It really frustrates me.
"We just want to be a friendly record company," he went on. "I won't be with the label because I'm tied up with DJM. But I'd like it to be established by other acts. We've got about six cosy little offices in Wardour Street and we want to welcome all new talent." The wider world, of course, was welcoming Elton's own talent with open arms.
Buy or stream Don't Shoot Me I'm Only The Piano Player.