Eminem Returned To His Creative Peak on 'The Marshall Mathers LP 2'
Eminem's sequel to one of the greatest rap albums of all-time lives up to the name.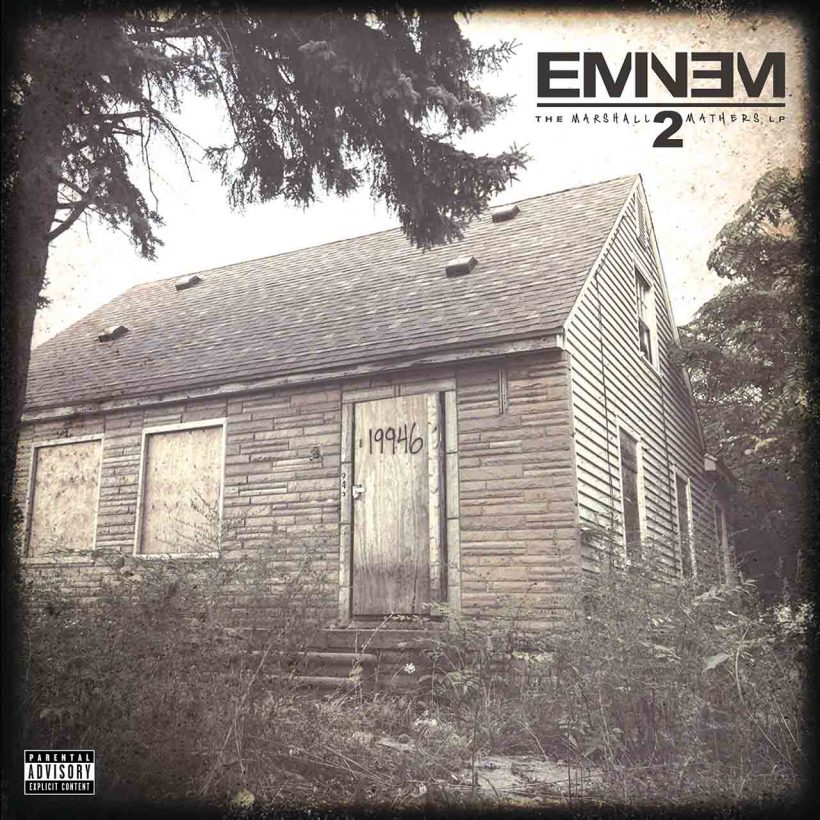 The Marshall Mathers LP, released in 2000, represents 27 year-old Eminem coming to terms with his newfound fame, following the pop culture-disrupting debut, The Slim Shady LP the year earlier. To say the album was a success would be an understatement. It's regarded as one of the best hip-hop albums in history. It's immortalized as one of the best-selling hip-hop albums of all-time with over 11 million copies sold. But even through his own career highs, Marshall Mathers the man still couldn't grapple with the accelerated pace of his fame. Those personal issues, which were exacerbated by drug use and the loss of his best friend Proof, were explored on subsequent albums – 2004's Encore and 2009's Relapse. It wasn't until 2010's Recovery, however, that he found a clearer perspective both personally and musically. The stage was set for a major comeback. Enter The Marshall Mathers LP 2.
Listen to The Marshall Mathers LP 2 now.
The Marshall Mathers LP 2 revisits what made Eminem a phenomenon in the first place. The album opens with "Bad Guy," a track with an ominous-yet-familiar sound and features the almost-poetic delivery of the original title. The song leans back in to the 'Stan Cinematic Universe' to present the follow-up to arguably the most brilliant track of his career, "Stan." Within minutes, it feels as if he's returned to his creative peak. He weaves effortlessly through story-driven rhymes, while simultaneously addressing the current mortality surrounding his own career.
There are a bevy of sounds explored on The Marshall Mathers LP 2. In a few instances, Eminem recaptures the vibe of the original LP, dipping back into his crude outlook on love on "So Much Better" while in other moments adding the adrenaline-heavy, rock-tinged, post-MMLP anthems with "Survival" and "Asshole" featuring Skylar Grey. He rekindles a musical affair with Rihanna on "The Monster," a radio-ready confession of the pitfalls of fame, for his fifth No. 1 single on the Billboard Hot 100. But perhaps his most noteworthy collaboration was alongside legendary producer Rick Rubin. Rubin produced the lead single "Berzerk," reminiscent of Rubin's early rock-rap sound of Run DMC, LL Cool J, and Beastie Boys (all hip-hop influences for Eminem). Rubin also plays maestro to the album's most anticipated collaboration with then-wunderkind, now-hip-hop heavyweight Kendrick Lamar on the perky, folk-tinged rap "Love Game."
Eminem - Rap God (Explicit)
Still, while Eminem experiments with different sounds, it's his lyricism and storytelling that provide the album's best moments. He's back to peak form on the album's single "Rap God," proving he may the best rapper alive as he scrambles words, verses, puns, metaphors, and competitive jabs at a breakneck pace. "Evil Twin" revives his manic alter-ego Slim Shady for more trouble ("Then aim for all these fake Kanye's, Jay's, Wayne's and the Drake's / I'm frustrated 'cause ain't no more *NSYNC, now I'm all out of whack / I'm all out of Backstreet Boys to call out and attack").
While he calls back to the past in multiple instances on this album, those moments may have been eclipsed by the growth. Issues with his wife and his mother that plagued Eminem personal life during 2000 seem to have been resolved in full circle moments. "Stronger Than I Was" reflects on his relationship with his ex-wife Kim from a much more mature perspective, a stark interest from the incredibly graphic, scorned "Kim" from the original title. "Headlights" came as a true shock to everyone, in quite possibly the most human moment of Eminem's career. After years of issues, he apologizes to his mother for years of animosity and grief. "It was one of those things that's bothered me for a little bit. It was one of those things that I needed to get off my chest," Eminem told Zane Lowe in an interview on BBC Radio 1.
The Marshall Mathers LP 2 marked his seventh No. 1 on the Billboard 200 Albums Chart and continued Eminem's streak as hip-hop's most phenomenal act. Since its release, the album has been certified four times Platinum.
The year 2013 represented a strong shift in hip-hop. Suddenly, a new generation of MCs sprung at the turn of the decade (Drake, Kendrick Lamar, J. Cole) became the new gatekeepers, and wily veterans of the previous era implemented new tactics to recapture the ears of fans. Some tactics have been successful, some haven't, but for Eminem, the bottom line has always been about the music. He doesn't have a social media presence to keep him afloat, nor high-priced ventures to keep him in the news cycle. The Marshall Mathers LP 2 puts the music solely at the forefront and feels like a true return to form for the self-proclaimed "Rap God."
Listen to The Marshall Mathers LP 2 now.
Editor's note: This article was originally published in 2018.