The Evolution Of The Rolling Stones' "Tongue And Lips" Logo
It's the most famous band identity on the planet, and arguably the tongue and lips is now one of the most famous brands in the world.
When Jo Bergman from the Rolling Stones' office in London wrote to John Pasche, a student at the Royal College of Art in London, in April confirming that he was to go ahead with designing "a logo or symbol which may be used on note paper, as a programme cover and as a cover for a press book' no one involved could possibly have imagined the train of events that they were setting in motion.
John Pasche as the world knows came up with the famous 'tongue and lips' logo. Having said that the world knows it was Pasche, there are still some that trot out the idea that it was Andy Warhol, but this was confusing the famous artist's role in creating the cover of Sticky Fingers the band's 1971 album.
It was Mick Jagger's idea to ask the Royal College of Art for possible candidates to do the design; it was one of the tutors at the Royal College that suggested 24 year old post graduate student Pasche.
According to Pasche, I went to his [Mick Jagger's] house in Cheyne Walk and he presented me with this printed mage that he'd got from his local Indian corner shop of Kali, the Hindu Goddess of Time, Change, Power and Destruction. He'd got them to take it off the wall. I just immediately saw the mouth and tongue (The fact that Jagger's physique was similar) was a lesser consideration. The starting point was Kali. For me, creating a symbol for them like that was really an anti-authority gesture."
The first time people had a chance to see the 'tongue and lips' was on 'Brown Sugar' that came out as a single on 16 April 1971 (7 May in the US). But as you can see from the 45 centre (above) the tongue and lips were very much a secondary item compared to the 'stamp' for The Rolling Stones, which to begin with was the identity of the band's record label. A few weeks later the insert for Sticky Fingers had the 'tongue and lips' more prominently displayed.
Close to half-a-century later the stones' logo has become one of the most instantly recognizable and financially lucrative brand identities on the planet – practically on a par with Nike and Coca-Cola, who have both spent a good deal more money advertising their logos.
We take a look back at the how the logo has been used and developed in the last five decades, but we start with an advert from 1964 that appeared in the British music press, which may be ground zero for the famous logo…
The 1964 advert for Mick's lips

The inner sheet for Sticky Fingers


The 1972 US tour poster, with subtle use of the tongue and lips

A modified tongue and lips to advertise the release of Angie in 1973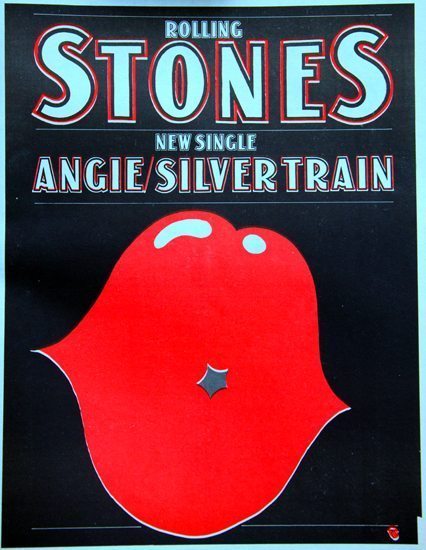 1973 Australian tour poster


1978 sticker from Some Girls, subtly different from the 1971 inner bag; it also serves to highlight the one white strip vs two white stripe versions

1978 tour poster that again features a subtle tongue and lips


1981: Sucking In The Seventies album

Two different 1981 tour posters


1990 Steel Wheels tour programme, a very different approach to the colour of the lips that would hereafter become used more often

1994 Voodoo Lounge tour

2002 Licks Tour poster

The Rolling Stones 50th anniversary book that used the logo in an innovative embossed way, with it being made up of small badges

A 2014 tour poster

The 2015 Zip Code tour