The Great March To Freedom: Motown And The "I Have A Dream" Speech
Recording 'The Great March To Freedom' in Detroit in 1963, the legendary soul imprint captured the origins of Martin Luther King's most celebrated speech.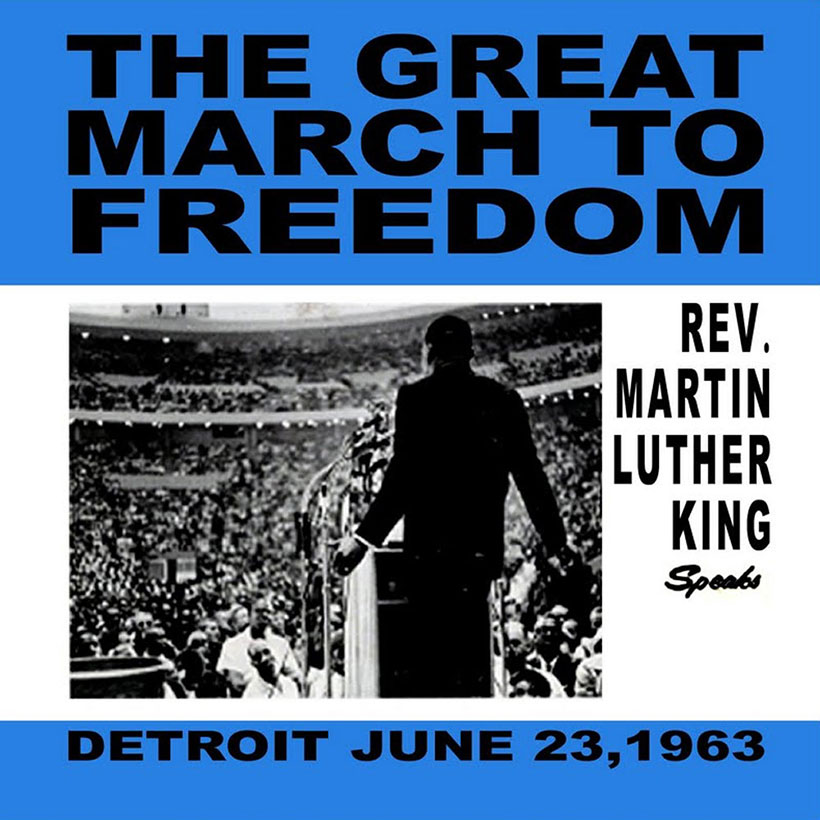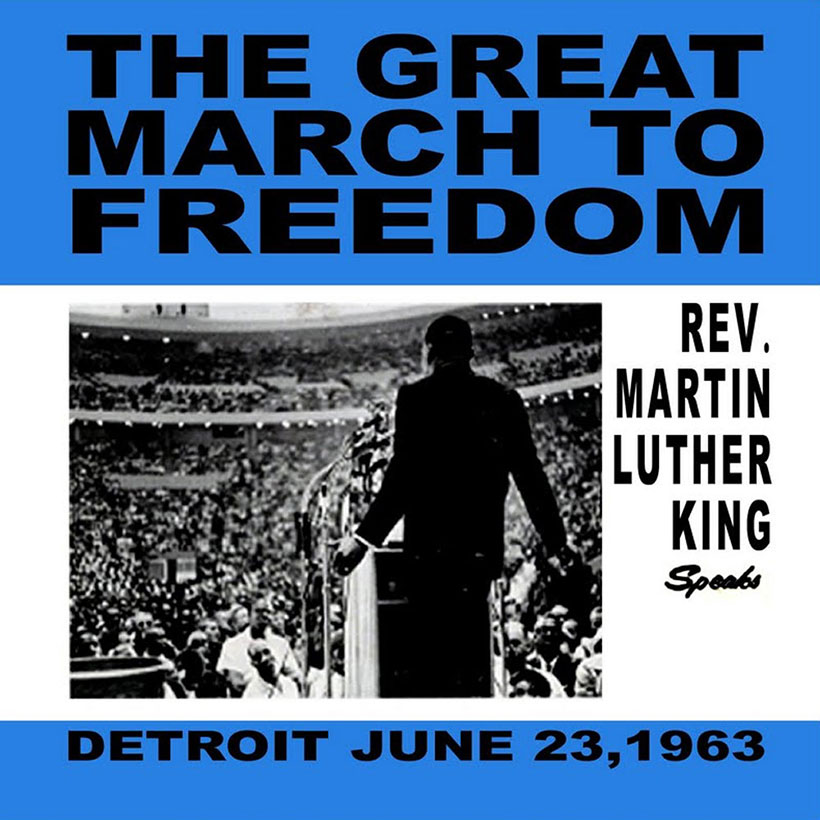 Detroit, 1963: a city thriving on its motor industry. For decades it had been a destination of choice for black people in the south who wanted a better life in the north. The city was booming, with 10 major automobile manufacturing companies. Production-line work at General Motors, Ford or Fruehauf trailers was hard, repetitive and noisy, but compared to breaking your back to earn cents as a sharecropper or farm hand in the south, it was rewarding and regular. Not only that, but Detroit was seen as a model for race relations, and black businesses were springing up to cater for the new population. Some would make an impact way beyond the city – none more so than Motown, the record label founded in 1959 that brought a new, arguably "industrialised", soul sound to the world.
So it might, at first, seem strange that The Walk To Freedom, hailed in 1963 as "the largest and greatest demonstration of freedom ever held in the United States", should take place in a city where African-American people could find work and thrive. Where powerful local politicians could take the stage alongside Dr Martin Luther King, Jr, the city Mayor could boast of integration, and its police chief promise The Rev King that there would be no dogs or water cannons turned on the marchers (as there had been in Alabama, where Dr King had been jailed for exercising his democratic right to protest).
But behind the gloss and boasts of progress, Detroit was a divided city. Subtly so, perhaps, but unequal all the same. Housing policies that dated back to the 30s had drawn lines on a map; black residents here, white here. Facilities were likewise divided: the suburbs were white and well-served, the inner-city housing projects accommodated black people, had fewer amenities and were in a worse condition. Even if an African-American had made it to a middle-class income, bank loans were denied to him (and it was a him – women were routinely refused) or awarded at a punitive rate of interest. Government-supported mortgage schemes supposedly meant for everyone were frequently blocked to black people at a local level. The usual indicators of poverty, such as ill health and unemployment, were higher in black neighbourhoods. A better life in Detroit than Alabama? Probably. But everything is relative.
One of the greatest speeches of the 20th Century
So it was that on 23 June 1963, King led 150,000 marchers through Detroit to Cobo Hall, the then three-year-old convention centre, named in unintended grim irony after Albert Cobo, the Republican mayor of Detroit for most of the 50s, who had fought against integrated neighbourhoods and complained about a "negro invasion" of white districts. Some 14,000 heard Dr King deliver a speech that came to be known as The Great March To Freedom and should have been remembered as one of the greatest of the 20th Century – and would be remembered that way had he not given a similar speech at a more prominent event in Washington, DC, two months later. It was in Detroit that Dr King first uttered the "I have a dream" phrase that has become his calling card to history – and it's worth noting that at his Washington speech he used the term "I still have a dream", recognising that this was not a new concept. King's brilliant, dazzling, and heart-moving words were captured on tape and on record – appropriately by Motown, the Detroit record company that was bringing the city recognition for supremacy in soul music.
Motown released the album in August 1963, titling it The Great March To Freedom. The label had negotiated a 40-cents-per-copy royalty rate and a $400 advance for the album with Dr King, a generous deal for a record with a wholesale price of $1.80. King refused royalties himself, asking for the beneficiaries to be the Southern Christian Leadership Conference, to which Berry Gordy made a $500 donation while Motown acts appeared at the organisation's fundraisers. However, in the book Motown: The Sound Of Young America, company insider Barney Ales has said distributors weren't keen on the record, and the company probably pressed 10,000, with half of that number returned from retailers unsold. American record-buyers didn't know what they were missing.
Motown released The Great March To Freedom on its mainstream soul subsidiary, Gordy. Its front sleeve didn't bear the record label's logo (as would normally be the case); instead, a dramatic, newsy-looking layout emphasised the importance of its contents. It was also in a gatefold sleeve – four years before this became a rock music "innovation" – featuring an impressive photo of the mass of protesters passing Detroit.
One of the greatest orators of the modern age
Motown – or, rather, recording engineer Milton Henry – captured the atmosphere beautifully. The Great March To Freedom is not a hi-fi experience, but it is real: you can hear the vastness of the auditorium and the rapt attention the people gave Dr King; it's not hard to imagine the scene. Needless to say, King's words, which speak of peace, dignity and freedom, went down in history and his impeccable, perfectly paced, utterly measured delivery still sounds like the work of one of the greatest orators of the modern age. This is a voice that remains relevant, speaking of matters that are still unaddressed. The terminology, such as the use of the word "negro", may have changed, but the power of Dr King's message is totally intact.
The Great March To Freedom was not Motown's only record from the Reverend Dr King. The Detroit march was soon overshadowed by the march on Washington two months later; Motown released that as The Great March On Washington, featuring other speakers too and a version of 'We Shall Overcome' by Liz Lands, who signed to Motown in 1963. Shortly after Dr King's 1968 assassination, excerpts were issued as a single titled ʻI Have A Dream', as was the album Free At Last, while Motown's Black Forum imprint issued the acclaimed Why I Oppose The War In Vietnam, in 1970. Stevie Wonder's 1980 tribute single, ʻHappy Birthday', was pressed with excerpts from King's speeches on the other side, and Shorty Long's elegant 1969 single ʻI Had A Dream' drew heavily on Dr King's words in Detroit.
Words that continue to resonate
Detroit has been struggling for years: its population has tumbled to less than a million, unthinkable when Dr King spoke; but the words he spoke that day in Cobo Hall continue to resonate.
History does not always remember the first, just the biggest. The Great March To Freedom presented the origins of Dr Martin Luther King, Jr's most celebrated speech. Though it was overshadowed by the Washington march, the roots of Dr King's message were here, in front of an audience that was certain it was witnessing history and were living in hope of change.
While freedom still remains a dream for so many, hope remains.
Looking for more? Discover more about Black Forum, the spoken-word Motown imprint that raised its voice for African-Americans.
Listen to the best of Motown on Apple Music and Spotify.
Format:
UK English