'A Love Supreme': John Coltrane's Masterpiece Explained
Everything you need to know about one of the most important jazz albums ever.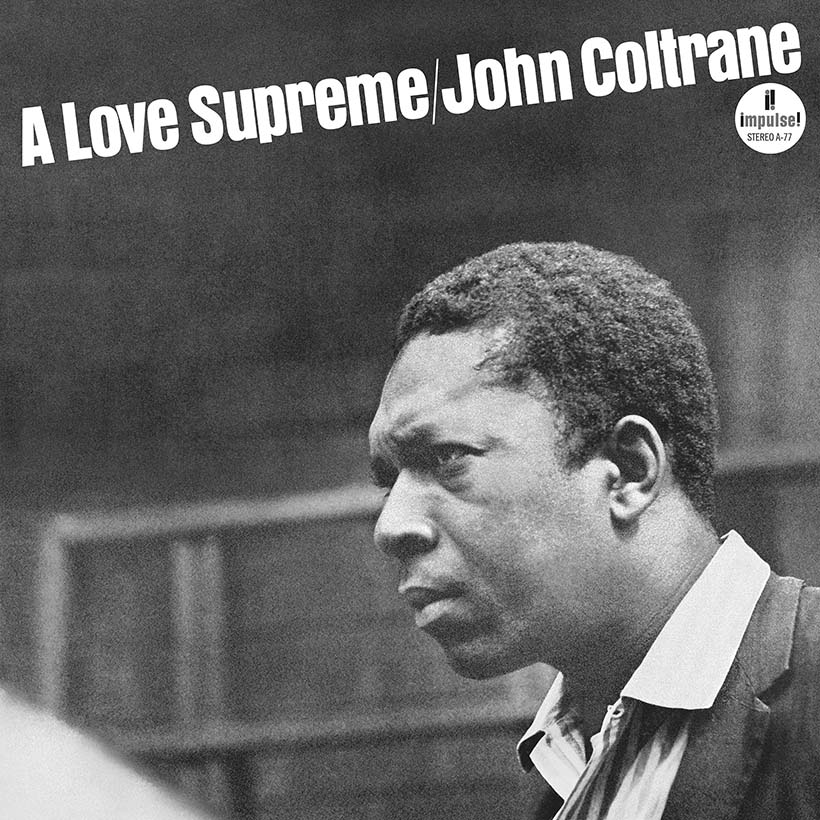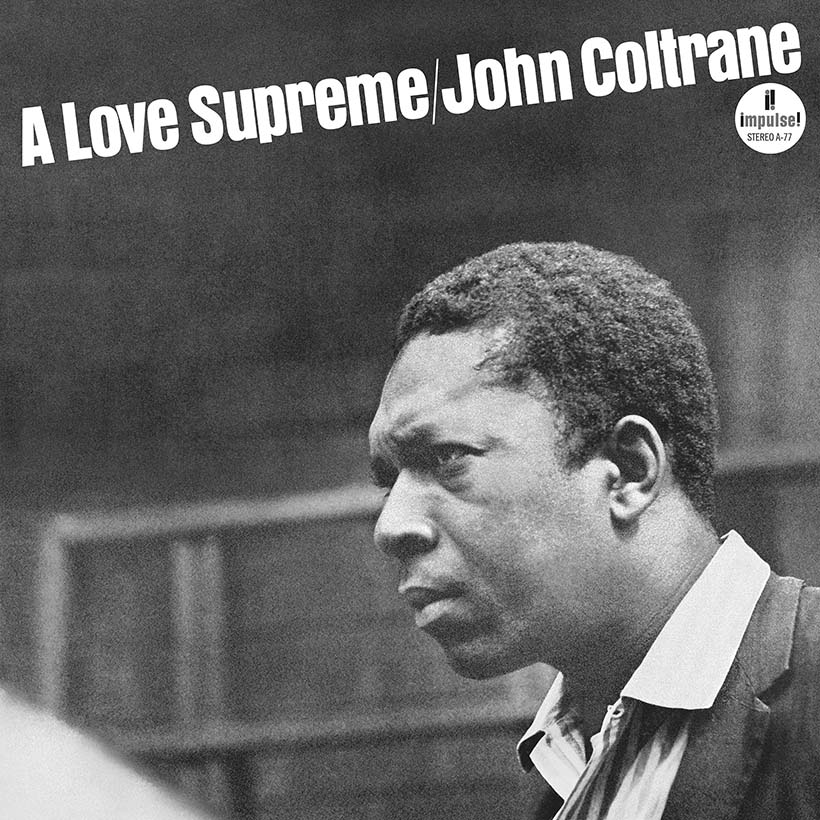 Few jazz albums have been dissected, analyzed, and written about as much as John Coltrane's sanctified masterpiece, A Love Supreme. It's an album that was once described by Steely Dan's Donald Fagen as "The Bible," and is often spoken of by its devotees in hushed, reverential tones.
Possessing a rare and mysterious beauty, A Love Supreme is Coltrane's hymn of praise to God, and has gone on to eclipse, in terms of both its sales and renown, every other recording that the North Carolina-born musician released during his short but fertile career. Coltrane had made several significant albums before – most notably, Blue Train, Giant Steps, and My Favorite Things – but A Love Supreme was the record that extended his fame far beyond the jazz world.
Listen to A Love Supreme on Apple Music and Spotify.
For all its notoriety, though, there are still people coming to this music fresh, unaware of the circumstances behind its recording and why it still matters today. This article hopefully goes some way toward explaining some of the basic questions about John Coltrane's A Love Supreme.
Why is A Love Supreme regarded as important?
A Love Supreme is the crowning achievement of one of jazz's most progressive and influential musicians; a touchstone that continues to reverberate and inspire musicians and listeners across the world. It marked the absolute pinnacle of John Coltrane's creative life; the album that canonized him and made him a sainted icon.
In terms of the coherence of its artistic vision, intellectual content, emotional heft, and musical creativity, A Love Supreme represented a high water mark not only for jazz but also for music in general. Drummer Elvin Jones, whose kinetic polyrhythms helped define the sound of A Love Supreme, described the album in 2001 as "the whole story of [John Coltrane's] entire life," adding: "It broadened the concept of what music was."
What is the concept behind A Love Supreme?
John Coltrane conceived A Love Supreme as a four-part suite soundtracking his road to redemption. In 1957, Coltrane had a life-changing epiphany that rescued him from addiction and led him to a newfound sense of heightened spiritual awareness. Coltrane wrote the liner notes to the album in the form of a letter addressing the listener, and included a poem expressing his heartfelt gratitude to God. A Love Supreme, then, is the sound of Coltrane successfully knitting together the musical and spiritual strands of his life.
Where was John Coltrane in his career at the time of the recording?
Coltrane was 38 years old when he recorded A Love Supreme and by then, was the undisputed doyen of progressive, cutting-edge jazz who was inching ever-closer towards a more extreme avant-garde approach. He had risen to fame in the Miles Davis Quintet during the mid-1950s before launching his solo career at the Prestige label in 1957. His career gained greater momentum between 1959 and 1961 during a productive stint at Atlantic Records, but blossomed more fully at Impulse!, where he stayed from 1961 until his death in 1967. A Love Supreme was his tenth album for the company and 17th of his career, following in the wake of Crescent, released a year earlier.
Where was the album recorded?
A Love Supreme was recorded at one of the most storied recording studios in jazz history; Van Gelder Studio at Englewood Cliffs, New Jersey, where many classic Blue Note, CTI, and Impulse! sessions were cut. Bob Thiele, Coltrane's producer since 1961's Live! At The Village Vanguard LP, supervised the session; he was someone whom Coltrane trusted because he gave words of encouragement rather than directions, allowing the saxophonist total self-expression and complete control of his music.
The 32-minute album was committed to tape in a single four-hour session, between 8pm to midnight, on December 9th, 1964. Its engineer was Rudy Van Gelder, an audio polymath noted for his meticulous preparation, forensic-like attention to detail, and skillful microphone placements. He had worked with Coltrane many times before; recording his 1957 Blue Note album, Blue Train, as well as all of the saxophonist's Prestige and previous Impulse! LPs.
Who played on the record?
Coltrane was accompanied by the group that came to be known as his "Classic Quartet." As important in jazz history as Louis Armstrong's Hot 5 and Miles Davis' two great quintets, the band consisted of pianist McCoy Tyner, bassist Jimmy Garrison, and drummer Elvin Jones. All supremely talented individuals, they had joined the saxophonist at different times – Tyner and Jones in 1960, Garrison in early 1962 – but soon gelled into a cohesive unit whose sensibilities were perfectly attuned to Coltrane's sonic and metaphysical vision. The quartet would only last until December 1965 when Tyner left, closely followed by Jones. Both men were unable to see a role for themselves in the saxophonist's new musical direction in the wake of A Love Supreme.
What is the sound and style of the record?
While A Love Supreme – despite its fame – isn't one of the saxophonist's most accessible works, it's arguably his most immersive recording. Stylistically, the album's a quintessential example of modal jazz, which is based on set scales rather than chord sequences and results in a sound that is often harmonically static but always mesmerizing.
It draws the listener in from the very first few bars of "Part 1 – Acknowledgement," where, after a deep, wave-like splash from Elvin Jones' Chinese gong, we hear Coltrane enunciating a brief tenor saxophone fanfare over McCoy Tyner's misty piano chords. Then Jones' shimmering cymbals lead into the track proper; a call to prayer which begins with Jimmy Garrison's repeated four-note bass motif which is later picked up by Coltrane's yearning sax and eventually becomes the basis of a mantra-like vocal chant.
"Part II – Resolution" swings hard with giddy, swirling rhythms, while the febrile "Part III – Pursuance" opens with a turbulent drum solo. A Love Supreme concludes with the blues-drenched "Part IV – Psalm," which ebbs and flows before resolving on a triumphant note of religious exaltation.
What did people think of the record at the time of its release?
Released on the Impulse! label in February 1965, A Love Supreme was universally hailed as the saxophonist's career-defining masterwork. So profound was its impact that it quickly became enshrined as one of jazz's – and Coltrane's – greatest musical achievements. Despite its esoteric and deeply spiritual nature, it instantly found favor in both jazz and rock circles. The influential jazz bible, Downbeat, gave the record a five-star review and, later that year, the same magazine's readers voted it Album Of The Year.
A Love Supreme even made its presence felt at the 1966 Grammy awards, receiving nominations for Best Performance By A Small Group Or Soloist With Small Group and Best Original Jazz Composition (it lost out to the Ramsey Lewis Trio and Lalo Schifrin respectively). The LP eventually went gold in the US, the UK, and Italy and remains John Coltrane's most commercially successful work.
How influential was A Love Supreme?
A Love Supreme is perhaps the only album in the history of music whose spiritual message inspired the founding of a holy shrine dedicated to its maker and his music: The Church Of St. John Coltrane was established in San Francisco in 1971.
The album also birthed what became known as "spiritual jazz," characterized by the marrying of deep cosmic musings with progressive sounds knitting together jazz, blues, gospel, folk, and eastern music. Its practitioners included Coltrane's wife, Alice, along with Albert Ayler, Pharoah Sanders, Lonnie Liston Smith, and, more recently, Kamasi Washington, who has revived the genre in spectacular fashion.
Rock music, too, was profoundly affected by A Love Supreme; late 60s bands like the Grateful Dead, Santana and the Allman Brothers were famed for playing long solos over extended one-chord passages; a feature inspired by the mesmeric, open-ended modal style of A Love Supreme.
A Love Supreme has also spawned a host of cover versions. The earliest were by Alice Coltrane (on her 1972 album World Galaxy) and jazz-rock axe deities Carlos Santana and John McLaughlin (on their 1973 collaboration, Love Devotion Surrender), who recorded "Acknowledgement" (though in both cases, the song was titled "A Love Supreme"). Elvin Jones and McCoy Tyner also paid tribute to the album on their solo albums by recording "Acknowledgement" and "Pursuance" respectively. In 1994, the Branford Marsalis Quartet went so far as to record A Love Supreme in its entirety. Outside of jazz, in 1988, soul-jazz crooner Will Downing radically reworked the vocal chant of A Love Supreme and transformed it into a dance-oriented pop hit under the same name.
What direction did Coltrane's music go in after A Love Supreme?
Though Coltrane only lived for another two-and-a-half years after recording A Love Supreme, the album was his launchpad for even deeper explorations of spirituality through sound; opening a portal to a new sonic cosmos defined by intense atonal music and sprawling, long-form compositions played by large ensembles (Ascension) and suites performed by sax and drum duos (Interstellar Space).
Listen to A Love Supreme on Apple Music and Spotify.