'La Clave': The Story Behind A Latin Fusion Cult Classic
The album was largely forgotten when it was first released. Today, it's a celebrated cult classic.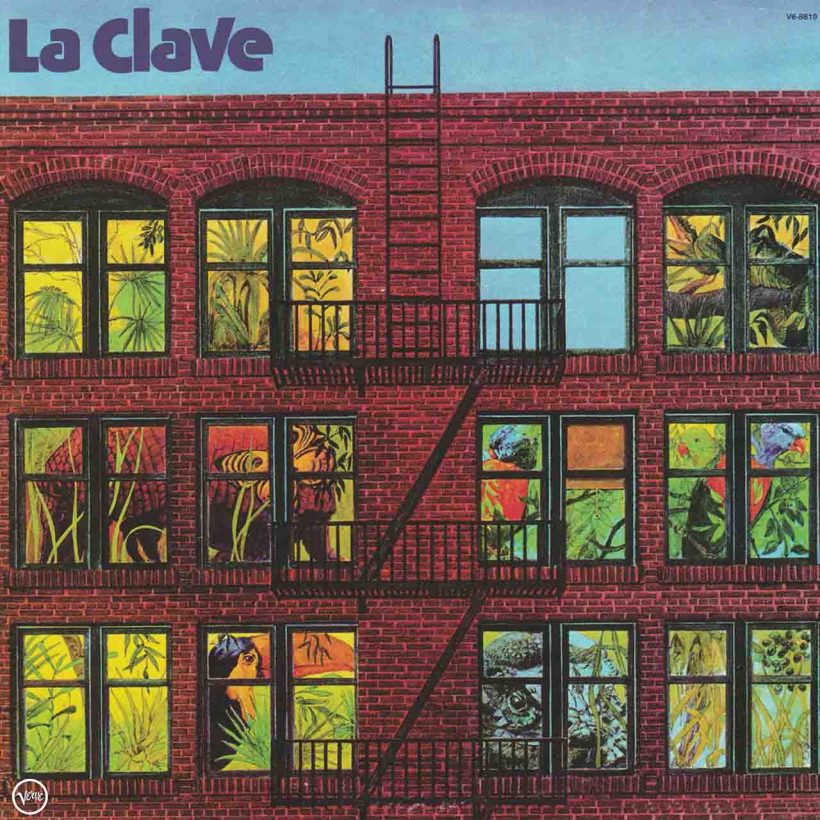 For every band that makes the big time, thousands of others fall by the wayside. One such band to endure that fate was La Clave, a soulful Latin fusion group that released a solitary self-titled album on Verve Records in 1973 before disappearing without a trace. But unlike many one-album wonders, La Clave got lucky because many years later, a new and very different generation of listeners – many from the hip-hop world – resurrected the record and championed it for its "rare grooves."
Order the Latin fusion cult classic La Clave now.
La Clave (whose name means "The Key" in English) was a band assembled and led by Benny Velarde, an in-demand percussionist who featured on many Latin jazz records of the era, including ones by Mongo Santamaria and Vince Guaraldi. Born Bayardo Velarde in Panama City in 1929, he moved to San Francisco with his family when he was sixteen and began playing percussion. After leading a Bay Area band called the Mambo Devils, his career took a quantum leap in 1954 when Velarde joined West Coast vibraphonist Cal Tjader's band, with whom he recorded several albums, including 1958's classic Latin Kick. (It was Tjader who first dubbed the percussionist "Benny," purportedly because he found "Bayardo" too hard to pronounce).
Invitation (Instrumental)
One night in 1973, Velarde was playing in the band of Bolivian-American jazz-funk keyboard maestro Cesar Ascarrunz, who was approached by John DeMarco, an enthusiastic music executive involved in record production and artist management. "(He) came over and he wanted to use Cesar's band to record," remembered Velarde in 2011. "But Cesar didn't want to do it. So the guy talked to me and told me about it. He asked if I wanted to do it, and I said, 'Yeah, sure, why not?' So I used some of the guys playing with me in Cesar's band and we did this recording."
DeMarco and his partner Marshall Leib oversaw the project as executive producers, bringing in Tony Bruno, a former Tony Bennett-style MOR singer from New York, to produce the recording session, which would eventually end up on Verve Records. Although we know that Velarde used members of Cesar Ascarrunz's band to form La Clave, their names were not listed in the credits when the group's self-titled debut album was released; we do, however, know some of their nationalities, thanks to Richard Oliver's original liner notes, which tell us that they came to the Bay Area by way of Mexico, Panama, Cuba, and Puerto Rico. There's no information about where and when the recording session took place, but what is clear is that Velarde and his cohorts were joined in the studio by Lalo Schifrin, an Argentinian jazz pianist and movie composer who was then riding high on the success of his soundtrack to Clint Eastwood's Dirty Harry movie.
While Schifrin's cameo may be surprising given that La Clave was an unknown group, his participation in the project probably came about because he had worked with DeMarco before. The producer had overseen a Verve recording session for Schifrin in 1972, co-producing a single called "Latin Soul," whose arranger and co-writer was John D'Andrea, whom DeMarco also recruited for the La Clave session.
According to Oliver's liner notes, Schifrin joined the session when he "stopped by" the studio. "I was in a hurry because I had some other things to do," the pianist explained to Wax Poetics in 2001. "I showed up, they put the music in front of me, and I did my thing, and that's it. It was very simple."
He also brought along two tracks for La Clave to play, a high-octane percussion-driven groove called "Latin Slide" and the album's closing number, "Cocoa Leaf," an impromptu jam driven by manic piano. His two tracks blended perfectly with the group's horn- and organ-heavy Latin fusion aesthetic, combining elements of soul, rock, salsa, jazz, and blaxploitation funk into an eclectic and hard-to-pigeonhole sound.
La Clave opened impressively with a slick cover of the Jaynetts' 1963 R&B hit "Sally Go Round The Roses," that sounded a bit like Sergio Mendes & Brasil 66 backed by Booker T & The MGs. The track was one of several on the album featuring uncredited vocalists who sang luminous, super-smooth harmonies. Among the other album highlights was an ingenious Latin jazz interpretation of soul man Donny Hathaway's 1970 US R&B hit "The Ghetto," a thrilling revamp of bebop maestro Dizzy Gillespie's Afro-Cuban classic "Soul Sauce," and a hypnotic take on soul-jazz organist Lonnie Smith's "Move Your Hand." The album mainly represented a progressive marriage of Latin music with funk, soul, and rock, the only stylistic outlier being the Velarde-penned "Baila Mi Guaguancò," a traditional-style salsa track the percussionist premiered on his 1962 debut solo album, Ay Que Rico (Very Tasty).
La Clave was issued without fanfare. Velarde blamed the album's commercial failure on poor promotion, claiming that Schifrin's cameo was supposed to be a critical factor in the album's advertising campaign but a disagreement between the pianist and the record company prevented it. "The record was killed… upon release because of a feud with Lalo," he said in 2007. Schifrin remembered events differently. "I was in the middle of other projects," he told Wax Poetics. "I was working on a movie so I didn't have too much time to stay in the (La Clave) session or hang out with the musicians."
Whatever the reason, La Clave sank into obscurity. But the album's fate changed for the better in the early 1990s when "Latin Slide" was sampled and recycled by several acts, including British drum and bass maven Goldie, who drew inspiration from it to create "Still Life," a track which appeared on his Top 10 UK hit album Timeless. That attention gave La Clave a new lease on life. Today, it stands as a hidden gem whose unique qualities are finally being appreciated in full.