Best Jazz Guitar Albums: 75 Essential Listens
The best jazz guitar albums are up there with any other jazz classics you can think of. These 75 feature essential work by groundbreaking musicians.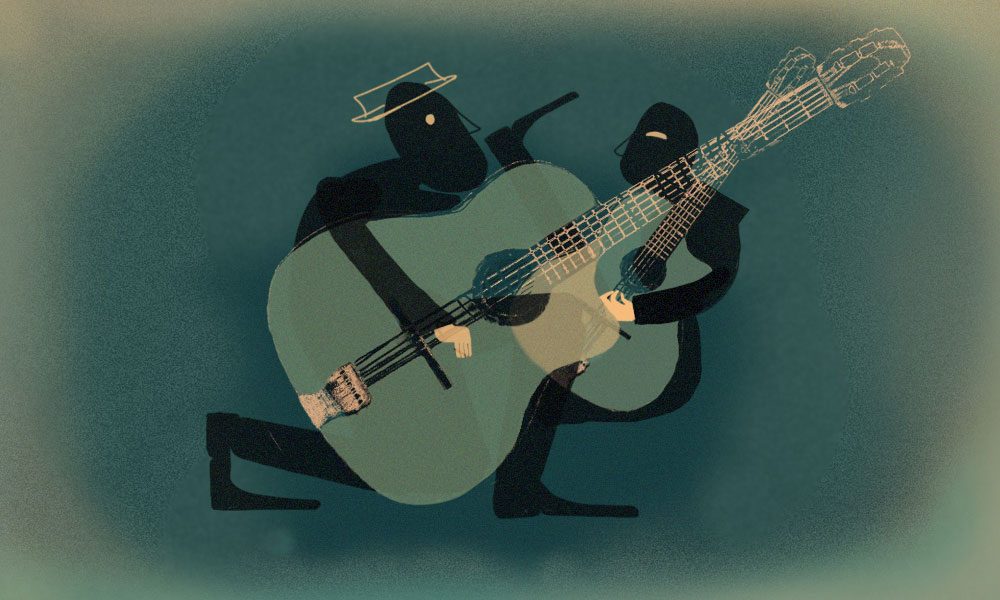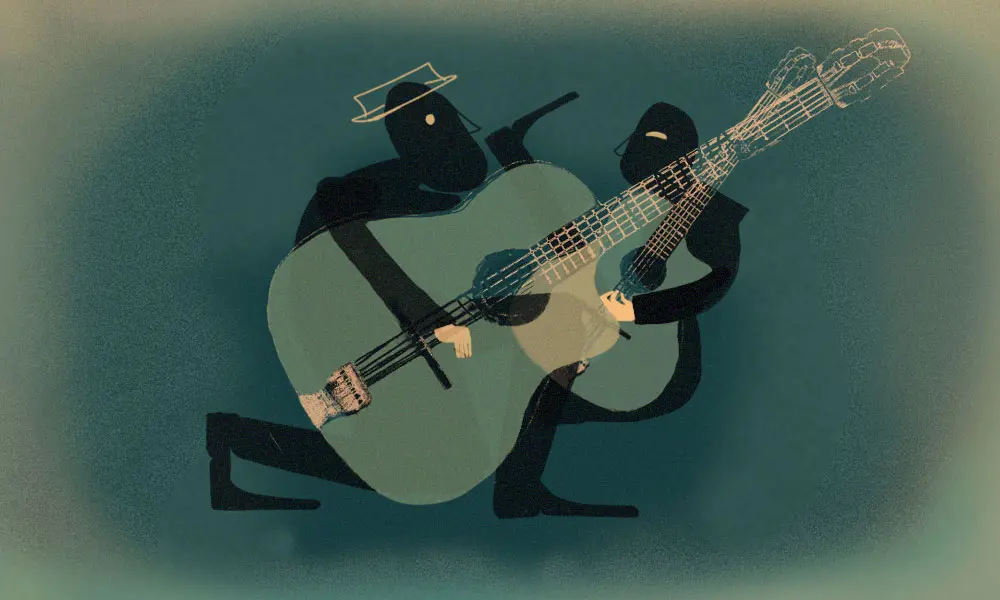 The best jazz guitar albums are up there with any other jazz classics that you can think of. But jazz guitar, for some inexplicable reason, seems to lack the attention that it deserves. It may stem from the fact that, back in the big band era, the guitar was seen as part of the rhythm section: an instrument that accompanied and filled out the sound rather than one that took center-stage as a lead. It was Charlie Christian who, as a member of Benny Goodman's band, helped change this perception with his electric-guitar playing. Christian's "Solo Flight," recorded with Goodman's band in 1941, was a seminal moment for jazz guitar.
Prior to Christian, it was Eddie Lang, a brilliant and sophisticated player, who helped to make jazz guitar more popular. Others, like Freddie Green, who played with Count Basie for decades, and Lonnie Johnson, who played with Louis Armstrong, helped to popularise the instrument. In Europe, Django Reinhardt played single-line melodies that gave the guitar more visibility, casting a huge influence on many jazz guitarists that followed.
Fender made the first solid-body electric guitar in 1948 and, a few years later, Gibson introduced their Les Paul. Many jazz guitarists in the 50s, as well as later, played hollow-body guitars; Tal Farlow was one such musician, and his fluid, single-note, bop-style guitar was a sensation. There was also Howard Roberts, Herb Ellis, Kenny Burrell, and Barney Kessel, all of whom combined bop and single-note picking, with Burrell, in particular, merging blues with jazz. Jim Hall, who was classically trained, took jazz guitar in another direction, while others, like Pat Martino, helped refine the style.
Then along came Wes Montgomery, whose debut Riverside album, The Wes Montgomery Trio, released in 1959, signaled a new dawn for jazz guitar. Every jazz guitarist who followed has been inspired and influenced by Montgomery, who died at just 45 years old, in 1968.
In the 60s, the rise of rock music led some jazz guitarists to follow more lucrative paths, recording music for a younger, larger audience. Nevertheless, rock-inspired jazz guitarists like Larry Coryell, while John McLaughlin created a fusion style that was a sensation. In their wake came musicians such as Mike Stern, John Scofield, and Pat Metheny. Yet at the same time, the acoustic guitar remained the instrument of choice for some, including Joe Pass, Al Di Meola, Earl Klugh, Ralph Towner, and, a little later still, the British group Acoustic Alchemy.
The influence of South American rhythms on jazz in the early 60s helped to broaden the appeal of the genre. The Stan Getz and João Gilberto collaboration Getz/Gilberto, was a groundbreaking jazz guitar album, as was the earlier Jazz Samba, a Getz collaboration with Charlie Byrd. Along with Gilberto, Brazilian guitarists Antônio Carlos Jobim and Luiz Bonfá have all proved a lasting inspiration.
While America has spawned the majority of the best jazz guitar albums, other countries have seen important artists make valuable contributions, among them the Hungarian Gabor Szabo, Englishmen such as Allan Holdsworth, Phillip Catherine, and Martin Taylor, Italian guitarist Antonio Forcione, and France's Biréli Lagrène.
We've put together a list of the 75 best jazz guitar albums of all time. There may be some musicians you've never heard of, but each of these albums is worth exploring. Let us know if there are any you think we've missed.
75: Tuck Andress: Reckless Precision (1990)
One half of the hugely popular New Age duo, Tuck & Patti, William "Tuck" Andress was the son of a jazz bandleader and played with the R&B group The Gap Band in the late 70s. He released this rare solo foray in 1990. Recorded live in the studio, it mainly consisted of lone guitar renditions of jazz standards but also contained a version of Michael Jackson's "Man In The Mirror" and a long, self-penned suite called "Grooves Of Joy," on which the guitarist demonstrated his combination of great skill (often using a tapping technique) and emotional intelligence.
Killer cut: Grooves Of Joy
Tuck Andress - Grooves Of Joy
74: Norman Brown: After The Storm (1994)
From Shreveport, Louisiana, Brown is stylistically indebted to Wes Montgomery and George Benson. He recorded three jazz guitar albums for Motown's Mo Jazz imprint in the early 90s, and this, his second, issued in 1994, was the best (and most successful) of them. Its centrepiece is a slick yet soulful cover of Janet Jackson's midtempo ballad "That's The Way Love Goes," which highlights the fluid lucidity of Brown's melodic lines and his ability to ride a groove.
Killer cut: That's The Way Love Goes
73: Acoustic Alchemy: Red Dust And Spanish Lace (1987)
This was the 1987 debut album from a British smooth jazz group formed in 1981 by fretboard maestros Nick Webb and Simon James, whose blend of steel- and nylon-stringed guitars became central to the group's identity. Their tasteful, easy-on-the-ear sound is epitomised by "Mr Chow," a polite, accessible fusion of oriental music and reggae that proved very popular and helped the group capture a large listening public.
Killer cut: Mr Chow
72: Peter White: Caravan Of Dreams (1996)
One of only three Brits in this list of the best jazz guitar albums, Luton-born Peter White played with Scottish singer-songwriter Al Stewart early in his career (he co-wrote Stewart's Top 10 US smash "Time Passages") before branching out as a solo artist. Caravan Of Dreams showcases White's slick, smooth-jazz aesthetic, which is imbued with a palpable sun-kissed Mediterranean ambience that reflects his love affair with the nylon-stringed Spanish guitar.
Killer cut: Caravan Of Dreams
71: Martin Taylor: Spirit Of Django (1994)
This MBE-decorated, Harlow-born guitar virtuoso spent 11 years touring with noted French violinist Stéphane Grappelli, who had played with Taylor's idol, Django Reinhardt. He recorded this tribute to the Belgian guitarist in 1994, and though he interprets material associated with Reinhardt, Taylor is able to put his own distinctive stamp on the songs.
Killer cut: Night And Day
70: Robben Ford: Tiger Walk (1997)
Another graduate from the school of Miles Davis – with whom he played in the 80s – this California-born axe-slinger developed an earthy blues-rock style that also assimilated the harmonic sophistication of jazz. 1997's Grammy-nominated Tiger Walk is a searing collection of gutsy tunes that packed a visceral punch but also, especially on a reconfiguration of Ann Peebles' 70s R&B ballad "I Can't Stand The Rain," revealed a soulful tenderness
Killer cut: In The Beginning
69: Andreas Varady: Andreas Varady (2014)
A Slovakian-born Hungarian gypsy, Varady moved to Ireland when he was 10. By the age of 13 he was headlining at London's world-famous Ronnie Scott's jazz club. Varady was still only 17 when he released this 2014 major-label debut jazz guitar album helmed by Quincy Jones and featuring guest spots from Gregory Porter, Roy Hargrove and Steve Lukather. Though its emphasis on pop covers veers close to smooth jazz at times, there's no doubting Varady's advanced technical ability, which draws on Wes Montgomery as an influence.
Killer cut: Come Together
68: James Vincent: Space Traveler (1976)
From Chicago, James Vincent Dondelinger was a versatile guitarist and singer who cut this, his third solo album, in 1976, helmed by Doors producer Bruce Bothnick. A heady fusion of jazz, rock and searing funk, Space Traveler featured a stellar supporting cast which included members of Earth, Wind And Fire, Chicago singer Peter Cetera, drummer Harvey Mason, ex-Rufus keyboardist Ron Stockert and arranger Jack Nitzsche.
Killer cut: Drifting Into Love
67: Antonio Forcione: Ghetto Paradise (1998)
Though he was born in southern Italy and started playing guitar as a child, it wasn't until Forcione moved to London, in 1983, where he busked on the streets, that his talent was rewarded with a record deal. This 1998 album was the Italian guitarist/composer's tenth and showcases his unique style, which melds Mediterranean influences with elements assimilated from African, Brazilian and Indian music. One critic described Forcione as "the Jimi Hendrix of the acoustic guitar".
Killer cut: Indian Café
66: Ed Bickert And Don Thompson: At The Garden Party (1979)
Best known for his sideman stint with alto saxophone great Paul Desmond in the mid-70s, Manitoba-born Ed Bickert is arguably Canada's leading jazz guitarist (he's still going strong, at 86). This live album (consisting of seven duos with bassist Don Thompson, and a further five songs rendered in a trio format) was recorded in Toronto in 1978 and highlights Bickert's facility as an improviser as well as his astuteness when it came to playing chords and voicing harmonies. Mellow magic.
Killer cut: What Is This Thing Called Love
65: Earl Klugh & Bob James: Two Of A Kind (1982)
The follow-up to their earlier and incredibly successful 1979 collaboration, One On One, Detroit finger-picker Klugh and keyboard genie Bob James reunited on this 1982 album to serve up a similarly tasteful platter of proto-smooth jazz. An exponent of the nylon-stringed classical guitar, Klugh patented an easy-on-the-ear approach whose lucid melodic style was deceptively simple and skilfully concealed a very sophisticated aesthetic approach.
Killer cut: Wes
64: Larry Carlton: Last Nite (1987)
For this great jazz guitar album, Carlton was captured live in concert at the legendary LA venue The Baked Potato in 1986. His set includes two Miles Davis tunes from the trumpeter's classic Kind Of Blue album – a turbo-charged rendition of "So What," complete with horns arranged by Jerry Hey, and "All Blues" – plus four originals. More impressive than his studio albums from the same timeframe, Last Nite shows the Torrance-born fretboardist in a more exploratory mood and affirms Carlton's pre-eminence among West Coast fusion guitarists.
Killer cut: So What
63: George Benson: Absolute Benson (2000)
Though indebted to his forbears Charlie Christian and Wes Montgomery Pittsburgh-born George Benson forged his own unique style that appealed to a pop audience (mainly thanks to his soulful vocals) as well as a jazz one. This album framed Benson's guitar and voice in percussion-heavy, Latin-infused arrangements and included a fine cover of soul singer Donny Hathaway's 1970 hit "The Ghetto."
Killer cut: The Ghetto
62: Julian Lage Group: Gladwell (2011)
Released in 2011, Gladwell was Lage's second album and featured the Californian fretboardist, then 24, on both acoustic and electric guitars leading a five-piece ensemble. A mixture of well-wrought original group material plus a fresh and inventive solo guitar take on a jazz standard ("Autumn Leaves"), the album singled Lage out as an important new and original voice in the world of jazz guitar.
Killer cut: Listening Walk
61: Ronny Jordan: The Antidote (1992)
A product of the British acid jazz scene of the early 90s, London-born Jordan scored a surprising UK Top 40 hit with his brisk, guitar-led version of Miles Davis' "So What," which was driven by a crisp urban backbeat. It came from a debut album of mostly self-penned material in a George Benson-esque vein that included the hit US single "After Hours'. The Antidote was the first – and best – of nine smooth-jazz-tinged albums by Jordan, who died in 2014, aged 51.
Killer cut: So What!
60: Charlie Hunter Trio: Bing, Bing, Bing! (1995)
From Rhode Island, Haden opened his account for the iconic Blue Note label in 1995 with this impressive debut that melded earthy funk ("Greasy Granny") and cool post-bop ("Lazy Susan") with a jazz take on a grunge rock classic (Nirvana's "Come As You Are"). Playing a custom-built eight-string guitar – which allowed him to play bass lines as well as chords and lead guitar parts – Hunter pioneered a unique approach to jazz guitar.
Killer cut: Fistful Of Haggis
59: Lee Ritenour: 6 String Theory (2010)
In 2010, Ritenour persuaded a host of fellow fretboardists to join him for duets – and sometimes trios – on his 6 String Theory album. The guitar-toting guests ranged from jazzers George Benson, Mike Stern and John Scofield to bluesmen Robert Cray, Keb' Mo' and Taj Mahal, plus hard rockers Slash and Steve Lukather. The end result was a cornucopia of virtuosic guitar playing in a variety of styles.
Killer cut: Freeway Jam
58: Larry Carlton: Alone/But Never Alone (1986)
As well as being an A-list session player on LA's studio scene in the 70s (he played with everyone from Steely Dan to The Crusaders and Joni Mitchell) Larry Carlton rose to become one of jazz fusion's most potent guitarists at the end of that decade with a string of fine solo albums. This album topped the Billboard charts in 1986 and is a deeply reflective work in which Carlton can mostly be heard playing acoustic guitar on mellow grooves in low-key settings. The epitome of tastefulness.
Killer cut: Smiles And Smiles To Go
57: Ted Greene: Solo Guitar (1977)
Once heard, the shimmering sound of Greene's guitar, with its liquid arpeggios, chiming harmonics and walking basslines, is never forgotten, though, sadly, this California-born fretboard master and published guitar author has faded into obscurity. That's largely because he died relatively young – aged 58, in 2005 – and only recorded one album, Solo Guitar, which was issued on a small educational private label in 1977 (it was later reissued on CD by Art Of Life in 2008). It remains, however, a vivid testament to Greene's phenomenal abilities as a musician.
Killer cut: Danny Boy (Londonderry Air)
56: Luiz Bonfá: Solo In Rio (1959)
A Rio De Janeiro-born guitarist and composer, Bonfá rose to fame during the bossa nova explosion of the early 60s. The composer of the Brazilian standard "Manhã De Carnaval," Bonfá released this intimate solo album (titled O Violão De Luiz Bonfá in his native Brazil) in 1959. Perhaps more than any other album he recorded, it encapsulates the aching lyricism of Bonfá's distinctive nylon-stringed sound and style.
Killer cut: Manhã De Carnaval
55: Phillip Catherine: Summer Night (2002)
A Belgian fretboard master who was born in London, Catherine was dubbed "Young Django" by Charles Mingus, with whom he recorded in 1977. As a sideman, Catherine played with many jazz greats – among them Dexter Gordon and Chet Baker – but also forged a distinguished solo career from 1972 onwards. Summer Night was released in 2002 and highlights Catherine's supremely melodic, lyrical style in the company of bassist Philippe Aerts, drummer Joost Van Schaik and trumpeter Bert Joris.
Killer cut: Janet
54: The Rosenberg Trio: Caravan (1993)
This 1993 debut album by a Dutch family threesome (brothers Stochelo and Nonnie Rosenberg, on lead and bass guitar, respectively, plus cousin Nous'che Rosenberg on rhythm guitar) reflected their love of Django Reinhardt's hot gypsy jazz of the 30s. But as the opening song, "Viajeiro," illustrates, the trio add a late-20th-century slant to the music which makes it seem simultaneously traditional and modern.
Killer cut: Viajeiro
53: Mike Stern: Standards (And Other Songs) (1992)
An intrepid jazz-rock explorer from Boston, Stern had the distinction of playing with Miles Davis in the early 80s. He reaped much acclaim for this 1992 album, which, in the main, is devoted to guitar-led deconstructions of classic jazz numbers associated with Miles Davis, Thelonious Monk, Horace Silver, Chick Corea and John Coltrane. Stern also contributes three strong original tunes which serve to highlight his unparalleled approach to the electric guitar.
Killer cut: Jean Pierre
52: Lee Ritenour: Wes Bound (1993)
Like his contemporary Larry Carlton, Ritenour (who was replaced by the former in the supergroup Fourplay) became an axe doyen of the West Coast jazz-funk-fusion scene in the late 70s, before morphing into a purveyor of smooth jazz. This was the Los Angeles-born guitarist's tribute to guitar great Wes Montgomery. It included his updates of five of Montgomery's classic tunes (among them "Boss City," "Road Song," and "Four On Six") plus original material rendered in a Montgomery-esque vein. Though the album honours one of Ritenour's guitar idols, it's also a reminder of the LA guitar maven's own uniqueness as an axe maestro.
Killer cut: West Coast Blues
51: Kurt Rosenwinkel: Deep Song (2005)
This was the Philly-born guitar guru's sixth album, and it found him in stellar company with a line-up that included tenor saxophonist Joshua Redman, pianist Brad Mehldau and bassist Larry Grenadier. The music was spectacular, too, with Rosenwinkel providing eight of the album's ten songs, which ranged from tranquil meditations ("'The Cloister") to more urgent musical explorations ("The Cross" and "Brooklyn Sometimes"). Deep Song features top-notch ensemble playing as well as invigorating solos.
Killer cut: The Cross
50: Howard Alden Trio: Your Story: The Music Of Bill Evans (1994)
California-born Alden – who played actor Sean Penn's guitar parts in the Woody Allen movie Sweet And Lowdown – recorded this heartfelt tribute to pianist Bill Evans in 1994 using a seven-string guitar. All the material is by Evans and Alden, together with bassist Michael Moore, drummer Al Harewood and special guest, flautist Frank Wess, offering unique renditions which highlight Alden's blend of virtuosity and sensitivity.
Killer cut: Time Remembered'
49: The John Scofield Band: Überjam (2002)
Psychedelic Indian sitar drones are juxtaposed with searing slabs of Mellotron-drunk funk and dubby, sample-laden soundscapes on this arresting collection of tunes by a Dayton guitarist who can seamlessly and convincingly switch styles at the drop of a plectrum. The unifying facet in all this stylistic diversity is Schofield's guitar, whose acerbic tone gives the music a compelling incisiveness.
Killer cut: Überjam
48: Joe Pass: For Django (1964)
Joseph Anthony Jacobi Passalaqua is better known as Joe Pass, a New Jersey guitarist whose highly personal style was defined by melodic clarity, harmonic sophistication and a fine-tuned rhythmic subtlety. This was his 1964 homage to Belgian guitar genius Django Reinhardt – which included songs inspired by him as well as played by him – and it finds Pass leading a quartet that contains fellow guitarist John Pisano. There are many wonderful moments here, including a sublime reading of Cole Porter's "Night And Day."
Killer cut: Nuages
47: Antônio Carlos Jobim: Wave (1967)
One of Brazil's greatest songwriters in the boss nova era, Jobim also made some fine solo albums that showcased his abilities as an instrumentalist. Though he plays piano and harpsichord on this sublime Creed Taylor-helmed album from 1967, it's his softly understated nylon-stringed guitar playing that really catches the ear on what is a cool collection of Brazilian grooves and moods orchestrated by Claus Ogerman.
Killer cut: Wave
46: Pat Martino: El Hombre (1967)
Born Pat Azzara in Philadelphia, Martino was only 22 when he debuted with this Grant Green-influenced soul-jazz album which immediately introduced him as a guitarist with a promising future. Organ (courtesy of Trudy Pitts) features prominently, imbuing the album with an archetypal mid-60s soul-jazz aesthetic. Martino, though, is not one to settle for clichés. Even though he was relatively young, he already had his own sound and style.
Killer cut: Waltz For Geri
45: Jim Hall: Concierto (1975)
A native of Buffalo, New York, Jim Hall patented a mellow-toned, harmonically astute guitar style that was highly regarded and led him to work with Ron Carter (on the well-regarded Alone Together), Sonny Rollins, Chico Hamilton, and numerous others. He had a long and illustrious solo career, and Concierto, a 1975 collaboration with Chet Baker and Paul Desmond, is regarded as his magnum opus. Its centerpiece is a 19-minute-long jazz reconfiguration of Rodrigo's "Concierto De Aranjuez."
Killer cut: Alone
44: Howard Roberts: Velvet Groove (1966)
Originally form Arizona, Howard Roberts (1929-1992) made his mark as a musician on the West Coast jazz scene of the 50s and, in the following decade, became a member of The Wrecking Crew, the famous aggregation of California-based session players that played on a slew of big US pop hits. This 1966 album showcases Roberts' guitar against a backdrop of strings and woodwind, and was actually a compilation of material recorded in the late 50s. Roberts is in sparkling form, shining on an adroitly-arranged selection of standards. Bill Holman can be heard on sax.
Killer cut: My Shining Hour
43: Herb Ellis And Joe Pass: Two For The Road (1974)
You get two guitar maestros for the price of one on this classic set of duos from 1974. The pair put a two-guitar spin on songs from The Great American Songbook ("Love For Sale," "Oh, Lady Be Good," "Angel Eyes") and also include a couple of self-penned numbers, of which the jaunty "Guitar Blues" is the standout. Though considered two acclaimed soloists in their own right, Ellis and Pass are not in competition here, but rather complement each other beautifully.
Killer cut: Cherokee
42: Steve Khan: The Suitcase: Live In Köln '94 (2008)
A doyen of jazz-rock and fusion, Steve Khan (the son of legendary songwriter Sammy Cahn) began his solo career in the late 70s and is still going strong today. Though recorded live in Germany 25 years ago, The Suitcase didn't surface until 2008. It features Khan at the peak of his powers in a power trio configuration with bassist Anthony Jackson and drummer Dennis Chambers. The music is taut and kinetic, with Khan excelling on a combination of strong originals and incendiary covers of jazz tunes by Wayne Shorter, Joe Henderson and Lee Morgan.
Killer cut: Caribbean Fire Dance
41: George Benson: Shape Of Things To Come (1968)
His first recording for Creed Taylor's CTI imprint after a short stint at Columbia found Benson's guitar placed in a more radio-friendly, mainstream setting on this all-instrumental 1968 album which mainly featured orchestrated pop covers (including songs associated with The Monkees, Aretha Franklin and Glenn Miller). Though manifesting a commercialism that appalled some jazz purists, the presence of Herbie Hancock and Ron Carter as sidemen helped to imbue the album with a sense of gravitas.
Killer cut: Shape Of Things To Come
40: Eddie Lang: Jazz Guitar Virtuoso (1977)
Salvatore Massaro is better known as Eddie Lang (1902-1933), the abundantly-talented Philadelphia-born fretboard genius who played a pivotal role in helping the guitar come to prominence as a solo instrument. Like Charlie Christian after him, Lang died young but, in his short career, proved himself an innovator. This 1977 collection corrals disparate sides recorded in the late 20s and early 30s, all of which showcase Lang's dexterous, flamboyant style.
Killer cut: Pickin' My Way
39: Tal Farlow: Tal (1956)
A consummate player dubbed "The Octopus" because of his big hands, quick fingers, and extended reach, Farlow recorded this, his seventh solo album of jazz guitar, as part of a drum-less trio, with Eddie Costa on piano and Vinnie Burke on bass. Though a collection of well-worn standards, there's nothing remotely stale and tired about Farlow and his cohorts' performances, which exude verve and panache.
Killer cut: Isn't It Romantic
38: Charlie Haden And Pat Metheny: Beyond The Missouri Sky (Short Stories) (1996)
This 1996 album brought together two Midwestern US jazz musicians – the Iowa-born veteran bassist Haden and the Missouri-born rising guitar deity Metheny – for a series of gentle, meditative soundscapes comprised of original material leavened with jazz, pop and movie-theme covers. The result is a sublime platform for Haden and Metheny's unique talents, with the guitarist excelling via the deeply lyrical quality of his playing.
Killer cut: Cinema Paradiso (Love Theme)
37: João Gilberto: João Voz E Violão (2000)
After a ten-year period of silence, Brazilian bossa nova legend Gilberto returned to the fray with this ten-track beauty in 2000. It found the then 69-year-old singer-songwriter revisiting some of his most iconic songs, such as "Chega De Saudade" and "Desafinado," all beautifully rendered in his melancholic voice with lone guitar accompaniment. In 2001, the album nabbed the Best Album Grammy in the World Music category.
Killer cut: Chega De Saudade
36: Wes Montgomery And Jimmy Smith: Jimmy & Wes: The Dynamic Duo (1966)
As the aptly-titled Dynamic Duo illustrated, Montgomery was well-paired with Hammond organ maestro Jimmy Smith. This 1966 outing was the first – and best – of two collaborations they recorded together (the second, The Further Adventures Of Jimmy And Wes, came out in 1969, a year after Montgomery's death). Producer Creed Taylor placed them in brash big-band settings on several tracks arranged by Oliver Nelson, but it's the more subdued numbers that grab the attention, such as the Jimmy Smith-penned "James And Wes," on which the duo interact on a lightly-swinging, foot-tapping jazz groove.
Killer cut: James And Wes
35: Larry Coryell: Spaces (1970)
This Texas guitarist was always at the cutting edge of jazz-rock, having played with vibraphonist Gary Burton's groundbreaking quartet in the late 60s. Spaces was his third solo album, an envelope-pushing opus released in 1970 which saw Coryell joined in the studio by a crack band of rising fusioneers: guitarist John McLaughlin, who duets with Coryell on the all-acoustic "Rene's Theme," plus pianist Chick Corea, bassist Miroslav Vitouš and drummer Billy Cobham.
Killer cut: Rene's Theme
34: Pat Metheny Group: Pat Metheny Group (1978)
The Missouri guitar magus formed his own band in 1977 and released this, the quartet's debut album, a year later. Accompanying Metheny was keyboardist Lyle Mays, bassist Mark Egan and drummer Danny Gottlieb, though the band's line-up would constantly change over the years. Their fusion-esque style was defined by the slick interchange of acoustic and electric instrumentation, which also helped to create a lush and dense harmonic platform for improv.
Killer cut: Jaco
33: Barney Kessel: The Poll Winners (1957)
Released in 1957, this was the first in a series of four albums under the Poll Winners banner that the Oklahoma guitarist made together with fellow West Coast jazz luminaries, bassist Ray Brown and drummer Shelly Manne, in the 50s. Mainly a collection of standards, the album highlights Kessel's combination of a mellow tone with fleet-fingered fretboard virtuosity, harmonic sophistication and an intuitive sense of swing.
Killer cut: On Green Dolphin Street
32: Kenny Burrell: Asphalt Canyon Suite (1969)
Co-produced and arranged by Johnny Pate, a gifted Chicago musician who would go on to score movies in the 70s, Asphalt Canyon Suite was recorded by Detroit-born Burrell in 1969. Renowned as a technically-accomplished player who rose to fame in the hard bop era, Burrell brings a bluesy soulfulness to this album's ten tunes, while Pate's adroitly-scored charts provide cinematic atmosphere. It's mighty funky, too, reflecting the rise of funk as a viable musical currency in the late 60s.
Killer cut: Alone In The City
31: Johnny Smith (featuring Stan Getz): Moonlight In Vermont (1956)
Mostly remembered for writing "Walk, Don't Run," a jazz tune first brought to the attention of the public by Chet Atkins before being famously covered by surf rockers The Ventures in 1960, Smith hailed from Alabama and made a slew of albums under his own name between 1952 and 1968. A compilation album released in 1956, Moonlight In Vermont became the best-selling jazz album of that year. The tracks were recorded several years earlier and feature tenor saxophonist Stan Getz, though it's Smith's mellow yet supple guitar that shines the brightest.
Killer cut: Moonlight In Vermont
30: Grant Green: Matador (1979)
Inexplicably shelved until 1979, this tremendous 1964 Blue Note session found Green in the company of one half of the John Coltrane Quartet (pianist McCoy Tyner and drummer Elvin Jones), plus bassist Bob Cranshaw. It includes a version of the Coltrane staple "My Favorite Things" (Tyner and Jones featured on the saxophonist's classic 1960 recording) and Green is in top form on that particular number. On both ballads and uptempo material, his lucid and lean melodic lines glisten throughout this five-track album.
Killer cut: Matador
29: John Scofield: A Go Go (1998)
A sideman for jazz legends Charles Mingus and Chet Baker in the 70s, and Miles Davis in the 80s, Ohio-born Scofield is a prolific and versatile guitarist with an eclectic taste in music and has enjoyed a distinguished career as a solo artist. His 23rd album, 1998's A Go Go is a thrilling funk fest that saw him team up with jam-band trio Medeski, Martin & Wood. Highlights include the infectious title song, the super-funkafied "Hottentot," and the atmospheric soul-jazz groove "Jeep On 35."
Killer cut: Chank
28: John Abercrombie: Timeless (1975)
Turned on to rock'n'roll at a young age, New Yorker Abercrombie took up the guitar and later fell under the spell of jazz guitarists Barney Kessel, Jim Hall and Wes Montgomery. By 1975, when this debut album was released, Abercrombie was fully immersed in jazz-rock, as revealed by the fusion-esque quality of the music he makes here in the company of organist Jan Hammer and drummer Jack DeJohnette (who would later form the supergroup Gateway with guitarist and bassist Dave Holland). Exploratory jazz-rock at its best.
Killer cut: Lungs
27: Herb Ellis: Nothing But The Blues (1957)
A Texas guitarist who rose to fame with the Oscar Peterson trio in the late 50s, Ellis also played on albums by such notable horn players as Lester Young, Ben Webster, Dizzy Gillespie and Roy Eldridge. The latter featured alongside Peterson on Nothing But The Blues, an all-star quintet session from 1957 that found Ellis in the studio with Stan Getz, bassist Ray Brown and drummer Stan Levey. Ellis' clean, pristine tone and lucidly-articulated melodic lines are the salient feature of this enjoyable session.
Killer cut: Big Red's Boogie Woogie
26: Bill Frisell: Have A Little Faith (1992)
After beginning his solo career at ECM in the early 80s, this peerless Maryland-born guitar maestro recorded for Nonesuch in the 90s. Have A Little Faith was arguably his best offering for the label, a musical exploration of Americana which juxtaposed evocative classical Wild West-themed pieces by Aaron Copland with well-known blues and folk songs. Compellingly idiosyncratic and weaving different musical styles into a unified sonic fabric, the album is a triumphant platform for Frisell's singular approach to the guitar.
Killer cut: Have A Little Faith In Me
25: Biréli Lagrène: Standards (1992)
A France-born guitarist with Romany gypsy roots, Lagrène emerged in the early 80s as a disciple of Belgian swing maven Django Reinhardt, but injected a contemporary sensibility into his musical vocabulary. This was his third and final offering for Blue Note, presenting the guitarist in a trio setting and taking on some of jazz's most famous tunes. Ranging from bebop and swing to bossa nova and cutting-edge jazz, Lagrène astonishes with his versatility as much as his fretboard dexterity.
Killer cut: Softly, As In A Morning Sunrise
24: Emily Remler: East To Wes (1988)
This "six-string poet" (to quote keyboardist David Benoit's description of her) was another supremely talented guitarist who died too soon. New Jersey-born Remler (who passed away in 1990, aged 32) was a flag-bearer for female musicians in jazz's male-dominated environment and recorded this, her sixth jazz guitar album, in 1988. Nimble-fingered and fluent in the language of bebop, Remler boasted a style that drew on the jazz tradition but also extended its boundaries. This album's title track, with its extensive use of octaves, pays tribute to Remler's main influence, Wes Montgomery.
Killer cut: East To Wes
23: Allan Holdsworth: Metal Fatigue (1985)
Boasting a distinctive, sui generis guitar style that eschewed clichés in favour of an unorthodox approach to the fretboard, Bradford-born Holdsworth was a doyen of jazz-rock who, as a sideman, played with Tony Williams' Lifetime as well as prog rock groups Soft Machine and Gong. Recorded in 1985, this, his fourth album, spotlights the guitarist's individual take on jazz-rock fusion and took the genre forward in a decade when it was largely ignored by both the public and the critics.
Killer cut: Devil Take The Hindmost
22: John Scofield And Pat Metheny: I Can See Your House From Here (1994)
In 1994, these two guitar greats – born three years apart – collaborated on an 11-track jazz album playing in a quartet configuration with bassist Steve Swallow and drummer Bill Stewart. Scofield wrote six songs while Metheny contributed five, and though their contrasting guitar styles are markedly different – Scofield's is funky and earthy while Metheny's is almost celestial by comparison – the overall impression is one of unity rather than separateness. A superb meeting of masters on one of the best jazz guitar albums that either recorded.
Killer cut: The Red One
21: Al Di Meola: Elegant Gypsy (1977)
Originally from New Jersey, Al Di Meola rose to fame playing in Chick Corea's trailblazing jazz-rock group, Return To Forever, in the early 70s before forging a glittering solo career. Recorded in 1977, this was his second album and its material ranges from pyrotechnical displays of jazz-rock fretboard prowess ("Race With Devil On Spanish Highway") to Flamenco-inflected acoustic pieces ("Mediterranean Sundance"). Here, Di Meola showed a musical depth and level of sensitivity that revealed he was much more than a lightning-fingered speed freak.
Killer cut: Race With Devil On Spanish Highway
20: Jimmy Raney: A (1957)
Though from Louisville, Kentucky, James Elbert Raney became a stalwart of the West Coast "cool jazz" scene. He was a DownBeat magazine poll winner in the mid-50s and worked with Red Morvo, Artie Shaw, Stan Getz, Lalo Schifrin, Eddie Harris and Cal Tjader. He also recorded 34 solo albums, of which A, a quintet session recorded in 1955, is arguably the best. Raney and his cohorts really know how to swing, with the guitarist's fluid solos clearly demonstrating that he is at the absolute apex of his powers.
Killer cut: Minor
19: Wes Montgomery: Full House (1962)
John Leslie "Wes" Montgomery couldn't read a note of music but that didn't stop him from being one of the most remarkable and technically-accomplished guitar players in the history of jazz. This was his first outing for Riverside, recorded live in Berkeley, California, in 1962, with a rhythm section comprised of ex-Miles Davis band members (pianist Wynton Kelly, bassist Paul Chambers and drummer Jimmy Cobb) plus saxophonist Johnny Griffin. It's a combustible collection of hard bop with every member of the group excelling, though none eclipse Montgomery, who shows why he was peerless as a guitarist.
Killer cut: Blue'n'Boogie
18: Charlie Byrd: The Guitar Artistry Of Charlie Byrd (1960)
A pioneer of the nylon-stringed Spanish guitar in a jazz setting, Virginia-born Byrd was also a leading light of the bossa nova explosion and instrumental in popularising Brazilian music in the early 60s. This album, released in 1960, spotlights him in a trio setting putting a unique spin on a selection of jazz standards, including a potent version of The Modern Jazz Quartet's "Django."
Killer cut: Speak Low
17: Ralph Towner: Solo Concert (1979)
A founder member of the long-running group Oregon, Towner played trumpet and piano to a high standard before adding the guitar to his musical armoury. His hallmark is the acoustic guitar – more specifically, the 12-string steel-string and six-string nylon-string varieties – which he alternates between during this stunning solo recital recorded in October 1979. As the opening cut, "Spirit Lake," reveals, Towner constructs dense filigrees of dancing arpeggios which give his music a pronounced pastoral ambience. Evocative and spellbinding.
Killer cut: Ralph's Piano Waltz
16: Gabor Szabo: Spellbinder (1996)
Szabo, originally from Hungary, served his apprenticeship in drummer Chico Hamilton's pioneering West Coast band in the early 60s and was noted for blending the jazz lexicon with the indigenous gypsy sounds and styles of his homeland; contemporary rock and pop; and even elements drawn from Indian music (such as droning strings). Spellbinder lives up to its name, with Szabo displaying his genius on a judicious mixture of originals, jazz standards, and pop covers.
Killer cut: Gypsy Queen
15: Wes Montgomery: Smokin' At The Half Note (1965)
Though he started making commercial, pop-tinged records with producer Creed Taylor at Verve in the mid-60s, in a live setting, Montgomery reverted to a hard bop style that he was more comfortable with. With a reprise of the Full House personnel (minus saxophonist Johnny Griffin) Montgomery delivers another fiery live performance, this time at the Half Note club in New York. The Indiana guitarist is on spectacular form on material that ranges from uptempo swingers ("Four On Six") to lush ballads ("If You Could See Me Now").
Killer cut: Four On Six
14: John McLaughlin: Extrapolation (1969)
Two years before he formed the fusion supergroup Mahavishnu Orchestra, and a few weeks prior to recording with Miles Davis, in January 1969 Doncaster-born McLaughlin – a stalwart of London's studio scene – launched his solo career with this searing debut that helped light the touchpaper for the jazz-rock explosion. Taut, edgy and uncompromising, the album signposted McLaughlin's journey to a higher musical realm.
Killer cut: It's Funny
13: Tal Farlow: The Swinging Guitar Of Tal Farlow (1957)
From Greensboro, North Carolina, Talmadge Holt Farlow established himself as one of jazz's premier guitarists in the 50s. Released in 1957, this was the follow-up album to the previous year's Tal, and it reunited the guitarist with Eddie Costa and Vinnie Burke under the supervision of producer Norman Granz. The clarity of Farlow's fleet-fingered playing, especially on the self-penned "Meteor" and a propulsive take on bebop icon Charlie Parker's "Yardbird Suite," is breathtaking.
Killer cut: Meteor
12: Lenny Breau: Five O'Clock Bells (1979)
Originally from Auburn, Maine, Breau was raised on country music but became seduced by jazz as a teenager. He developed a unique finger-picking technique and often used an unorthodox seven-string guitar. This album features Breau playing unaccompanied acoustic guitar on mainly self-penned songs, but with a couple of standards and a McCoy Tyner piece thrown in. Defined by delicate filigrees of sound, it offers a stunning portrait of Breau's singular artistry.
Killer cut: Days Of Wine And Roses
11: Joe Pass: Virtuoso (1973)
Recorded for producer Norman Granz's Pablo imprint, this 1973 album of unaccompanied guitar music vividly explored the breadth of Pass' singular talent. Distilling the melodic athleticism of bebop saxophonist Charlie Parker together with the dazzling fretboard pyrotechnics of Django Reinhardt, Pass created his own immediately identifiable sound and style here, revealing his complete and utter mastery of the guitar. The album's title, though seemingly hyperbolic, is in fact something of an understatement. Easily one of the best jazz guitar albums in history.
Killer cut: Stella By Starlight
10: Stanley Jordan: Stolen Moments (1985)
In the mid-80s, Chicago-born Jordan became a global sensation with his novel approach to guitar playing, which involved using a tapping technique on the fretboard to produce an array of sounds. While his 1985 album, Magic Touch, established him as a new star of jazz guitar, Stolen Moments, released six years later, captured the excitement of Jordan live on stage in Japan. His material ranges from John Coltrane's "Impressions" to Michael Jackson's "The Lady In My Life," but best of all is his deconstruction of Led Zeppelin's "Stairway To Heaven," which is simply jaw-dropping.
Killer cut: Stairway To Heaven
9: George Benson: Breezin' (1976)
Though he began his recording career as an R&B singer at the age of 11, Benson focused his attention on guitar after that and, in the late 60s and early 70s, was regarded as the heir apparent to Wes Montgomery, who had died in 1968. Benson earned some success at jazz indie label CTI, but it was when he signed to Warner Bros in 1975, and started singing on his records as well as playing guitar, that his career truly exploded. This album's title song is a stunning reminder of Benson's fretboard prowess, while the album's career-defining hit single, "This Masquerade," showed him as a soulful vocalist.
Killer cut: So This Is Love?
8: Kenny Burrell: Midnight Blue (1963)
Though he's made over 70 albums in his long career, Midnight Blue is undoubtedly Detroit guitarist Kenny Burrell's magnum opus. Stanley Turrentine impresses on gutsy tenor saxophone, but Burrell's mellow, blues-infused guitar is the unequivocal star of the show. From the plaintive cry of "Soul Lament" and the meaty, simmering funk of both "Wavy Gravy" and "Chitlins Con Carne" to the cool, groovy title cut, the album never disappoints.
Killer cut: Midnight Blue
Midnight Blue (Remastered)
7: Pat Metheny: Bright Size Life (1976)
Now regarded as a classic, this was Metheny's 1976 debut for Manfred Eicher's ECM label, which unleashed the guitarist on an unsuspecting world. A prodigious talent who developed a uniquely eclectic sound, Metheny is accompanied by bassist extraordinaire Jaco Pastorius (just before he joined fusion supergroup Weather Report) and drummer Bob Moses, who offer simpatico support throughout. A landmark record in the evolution of the genre, it more than earns its place among the best jazz guitar albums.
Killer cut: Bright Size Life
6: Barney Kessel: To Swing Or Not To Swing (1956)
A member of the 60s' West Coast session mafia The Wrecking Crew, Kessel was also in demand as a jazz sideman and famously accompanied singer Julie London on her immortal 1955 version of "Cry Me A River." The following year he released this, his fifth album as a leader, which stylistically bridged the swing and bebop eras, and whose material was dominated by tunes from The Great American Songbook. As well as showing off his chops as an inventive soloist, Kessel displays his skill as an accompanist, supporting the other soloists with softly strummed chords.
Killer cut: Happy Feeling
5: Jim Hall And Bill Evans: Intermodulation (1966)
After their successful 1963 collaboration, Undercurrent, Hall and pianist Evans reconvened in the studio three years later for Intermodulation, which took their alchemical-like musical interactions to new heights of expression. Both musicians are so well attuned to each other as if to seem telepathic. Each supplies an original song but the rest of the material – except Claus Ogerman's "Jazz Samba" – is drawn from the jazz standards repertoire.
Killer cut: My Man's Gone Now
4: Grant Green: Idle Moments (1965)
From St Louis, Missouri, Grant Green became a mainstay of New York's Blue Note Records in the 60s, both as a leader and sideman. Recorded in late 1963 and released 15 months later, Idle Moments framed Green's laconic but eloquent guitar in a sextet setting that featured tenor saxophonist Joe Henderson and vibes specialist Bobby Hutcherson. The opening title song, a 15-minute slice of laidback, late-night balladry, captures Green at his insouciant best while "Jean De Fleur" shows more urgency with the guitarist's horn-like single-note lines.
Killer cut: Jean De Fleur
Jean De Fleur (Rudy Van Gelder Edition / Remastered 1999)
3: Charlie Christian: Genius Of The Electric Guitar (1987)
This Texas-born fretboard genius died in 1942, when he was 25, but his influence and legacy has been deep and lasting. He rose to fame as a sideman for swing clarinettist Benny Goodman in the late 30s and early 40s, and some of his key recordings during that time – "Solo Flight" and "Airmail Special" – are featured on this 1987 compilation which helped to spread the word about Christian's talent in the late 20th Century. Christian's horn-like phrasing influenced later guitarists like Grant Green and Wes Montgomery.
Killer cut: I Found A New Baby
2: Django Reinhardt: Quintet Du Hot Club De France (1962)
When this compilation was released in 1962, gypsy guitar doyen Reinhardt had been dead nine years. It brought together some of the Belgian maestro's influential late 30s sides with a quintet that featured French violin wizard Stéphane Grappelli. The music is propelled with an irresistible sense of swing and joie de vivre as the two central protagonists urge each other on to giddy heights of virtuosity. Though he's mostly heard on acoustic guitar, "Swing 39" finds Reinhardt playing electric. A great collection from a guitarist who established the blueprint for continental swing jazz.
Killer cut: Swing 39
1: Wes Montgomery: The Incredible Jazz Guitar Of Wes Montgomery (1960)
Though he was indebted to the horn-like phrasing of 40s jazz guitar pioneer Charlie Christian, Wes Montgomery patented a distinctive style, picking notes with just his calloused right-hand thumb. As this, his third album, released in 1960 when he was 37, illustrates, his solos tended to be three-part constructions that began with single-note melodies before progressing to block chords and concluding with unison octaves. One of the best jazz guitar albums of the era, The Incredible Jazz Guitar Of Wes Montgomery lives up to its hyperbolic title.
Killer cut: West Coast Blues
Looking for more? Discover the best jazz guitarists of all time.