Jazz Drummer Joe Chambers On Blue Note: "The Black Musicians' Label"
An in-demand sideman for everyone from Wayne Shorter to Donald Byrd, drummer Joe Chambers recorded some of his greatest work for Blue Note in the 60s.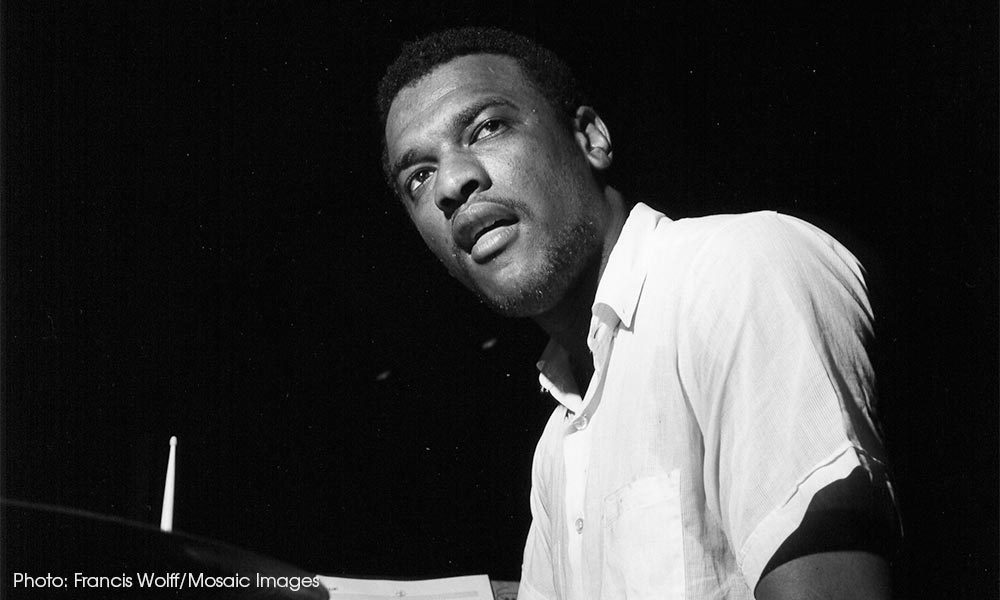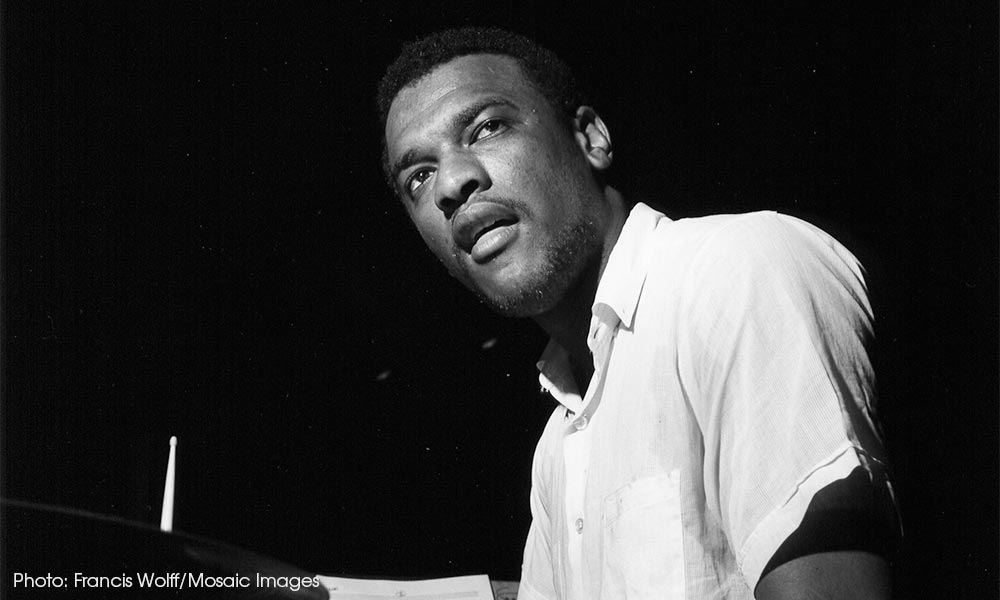 Mention Joe Chambers' name to devoted followers of Blue Note Records and it's likely that their eyes will light up in recognition. That's because Chambers had the distinction of playing drums on over 20 sessions for Alfred Lion's iconic New York-based jazz label in the 60s.
During a fertile six-year period between 1964 and 1969, Chambers was very much in demand as a sideman and got to play with some of the biggest names in jazz, appearing on key Blue Note albums by Freddie Hubbard, Donald Byrd, Wayne Shorter, Joe Henderson, Sam Rivers, Bobby Hutcherson and Andrew Hill. Away from Blue Note, Chambers – who also plays the vibraphone and is a noteworthy composer in his own right – recorded with Archie Shepp, Miles Davis (albeit briefly, during the trumpeter's In A Silent Way phase in the late 60s), Chick Corea, Charles Mingus, Chet Baker and Joe Zawinul, and was also a member of fellow drummer Max Roach's percussion ensemble, M'Boom, with whom he recorded six albums. Chambers began recording albums under his own name from 1974 onwards and even led his own session for Blue Note in 1998.
"I wasn't nervous… We were very tight"
Now 76, Chambers reminiscences about his Blue Note days in the 60s with a special fondness. In an interview with uDiscover Music, he vividly remembers his first recording session for the label.
It was on Thursday, 7 May 1964. He was a 21-year-old drummer originally from Chester, Pennsylvania, and had been asked by rising trumpet star Freddie Hubbard to play on what would become Breaking Point, the Indianapolis horn blower's seventh recording date for Blue Note. "I met Freddie in Washington, DC," recalls Chambers. "I lived there from about 1960 to '63 and played with a group called The "JFK" Quintet, named by our manager after President John F Kennedy. We had a three-year residency at a club called The Bohemian Caverns. Lots of musicians – like Miles Davis, [John] Coltrane, Cannonball [Adderley], Art Blakey & The [Jazz] Messengers – would go there."
Hubbard, then 25, had just left The Jazz Messengers and was looking to put a new group of musicians together for live dates and a recording session. He caught Chambers playing drums with The "JFK" Quintet in DC, and afterwards approached him about collaborating together. "He heard me and was impressed," says Chambers, "so I went to New York in '63 and we formed a band together consisting of himself, [saxophonist and flautist] James Spalding, [pianist] Ronnie Matthews, [bassist] Eddie Khan, and myself. That's when we recorded that Breaking Point album."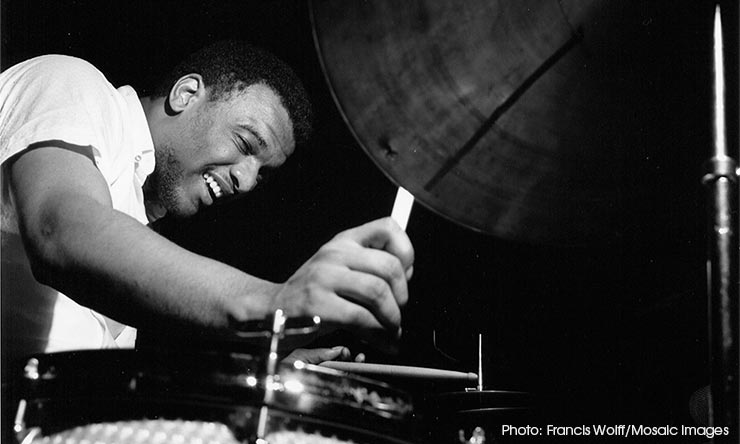 Chambers says that he wasn't apprehensive about his debut recording session. "It was very exciting," he laughs, "but I wasn't nervous because we had played the music live and were familiar with all of the tunes." He remembers they spent six weeks on the road, which was an opportunity to hone the material and perfect it. "We were very tight, so when it came to recording, it just felt like we were on the stage."
"There were no other drummers writing music"
But as well as playing drums on the session, which was recorded at the legendary Van Gelder Studio in Englewood Cliffs, New Jersey, Joe Chambers also composed one of the album's best songs: an elegant slow ballad called 'Mirrors'. "It was a tune written for a lesson and to demonstrate what was known as 'mirror writing', where themes are juxtaposed and reversed," explains Chambers. "I wrote it while I was studying theory and composition at the American University when I lived in Washington, DC."
Chambers recalls that he showed Freddie Hubbard the music for 'Mirrors' when the trumpeter was involved in rehearsals for Eric Dolphy's Out To Lunch! album. "I met Eric in DC and played with him for two weeks. Later, back in New York, he assembled a group consisting of himself, Freddie Hubbard, Richard Davis, Bobby Hutcherson and myself, and we did a big concert at the Brooklyn Academy Of Music. Eric called me to the rehearsal for Out To Lunch! even though I wasn't actually playing on the date [drummer Tony Williams got the gig] and told me to bring music. So I brought 'Mirrors' and played it. So that's how Freddie saw the song. He looked at it and said, 'Yeah, OK, I'm going to do this.'"
Mirrors (Remastered 2004)
As a drummer who wrote music, Chambers was unique, and he would go on to be a prolific composer, contributing 17 songs that were recorded by Bobby Hutcherson while the vibraphonist was at Blue Note in the 60s. "There were no other drummers writing music, maybe except Max Roach," says Chambers, who reveals that he learned to play the piano as a youngster. "I was always interested in composing from when I was little. To me, it was no big deal – just a natural thing."
"We never talked about anything. We just played"
After appearing on Breaking Point, Joe Chambers' phone didn't stop ringing. "People started calling me from Blue Note. That's when I got hooked up with Bobby Hutcherson, because I met him in DC too. He was with [alto saxophonist] Jackie McLean, who came to The Caverns. Then Bobby and I joined a band that Andrew Hill had started."
With Hill, Chambers recorded his second Blue Note session, on the day of his 22nd birthday, on 25 June 1964, which resulted in the album Andrew!!!. He did two more albums with Hill: One For One (which stayed in the can until 1975) and Compulsion!!!!!, recorded in 1965 but not released until two years later. "Andrew Hill's music was quite different and unique," says Chambers, reflecting on one of Blue Note's most prominent avant-garde figures. "His music was quite modern – very jagged and asymmetrical. He reminded me of [Thelonious] Monk, sometimes, so it required a different way of playing."
It was while playing together on an Andrew Hill session that Chambers became good friends with vibraphonist Bobby Hutcherson. They were of a similar age (the vibraphonist was just 18 months older) and, according to Chambers, "We just gravitated to each other. We kind of just fell in and clicked. We never talked about anything, we just played." But there was a definite sense of musical simpatico between them, evidenced by the fact that, between 1965 and 1969, Joe Chambers played on nine of Hutcherson's Blue Note albums, including the classic 1965 LP Components, on which four of his tunes – including 'Juba Dance' – occupied the whole of the original vinyl's second side.
Juba Dance (Remastered 1994)
Hutcherson's 1968 album Patterns, recently reissued on audiophile vinyl as part of a subscription-only box set called The Blue Note Review: Spirit & Time, also boasted four Joe Chambers compositions. "I don't know how that happened," laughs the drummer/composer, "because I wasn't that pushy. With Components, where one side of the album was his songs and the other side was mine, I just brought in some tunes and was amazed that Blue Note accepted that and went along with it."
"I was content as a sideman"
Given Chambers' growing renown in the mid-to-late 60s, it's surprising that Blue Note's bosses, producers Alfred Lion and Francis Wolff, didn't give him a recording date as a leader. But according to Chambers, there was a time when they offered him an opportunity to lead a session, but he was too immersed in his life as a sideman to consider it.
"During the time I was recording a lot – all those sessions with Sam Rivers, Andrew Hill and Joe Henderson – they asked me if I wanted to lead a session but I didn't even follow up on it. I was not very business-like. I remember they said, 'Let's get together, sit down, and you show us some tunes.' But I never followed up on it. I was content to be a sideman and doing what I was doing. I had no responsibilities other than show up and learn the tunes."
Unlike other jazz labels of the time, Blue Note paid musicians to rehearse beforehand, usually several days prior to the session date. According to Joe Chambers that was the reason why Blue Note recordings had a sense of focus and cohesion. "We sounded like a working band in the studio because we went and rehearsed for about a week. All of the rehearsals were held at [jazz bandleader] Lynn Oliver's studios. The music for Blue Note was more complex than just blowing sessions, so you required a little more time. We would put in four to five days for each album and by the time you went in the studio, you sounded real tight, like a working band."
When it came to the day of recording, Chambers remembers the drill: "We'd meet at the Empire Hotel and drive up to Jersey around midday. On average, a session would take four hours, maybe five, tops, but you wouldn't go past that."
Masterminding the recording sessions was the studio's owner, sound boffin Rudy Van Gelder, who, Chambers reveals, could be both secretive and protective about his recording methods. "Rudy didn't allow anybody to go into the control booth," says the drummer. "He didn't like people to see what he was doing and how he got the sound he got. And he wore gloves to handle his equipment." Despite this, Chambers is deeply appreciative of the audio engineer's role in capturing jazz on record. "He absolutely mastered the art of recording the quintet sound with a couple of horns, bass, piano and drums," he says. "I wasn't stuck in a booth like the way they record drums now. We were all there together on the floor facing each other."
"Wayne Shorter is one of the greatest writers in jazz"
Other high points of Joe Chambers' time at Blue Note were his sessions with saxophonist/composer Wayne Shorter, who returned to the label in 2012 and whose 2018 album, Emanon, won a Grammy award for Best Jazz Instrumental Album.
Chambers played on four Shorter albums between 1965 and 1967: Etcetera, The All Seeing Eye, Adam's Apple and Schizophrenia. "At that time, I knew Wayne was a talented writer," says Chambers, "but now I know that he is one of the greatest writers in jazz. His tunes are like standards. They teach them in schools and all the students are interested in playing them. I remember that when I came on the scene with Freddie Hubbard, Wayne dug me because I was doing something different from what he had been used to doing with Art Blakey."
Chambers says that Etcetera, just reissued on vinyl as part of Blue Note's Tone Poet Audiophile Vinyl Series, is his favourite session with Shorter. "When I listen to it, there are some things that were happening that were very advanced at the time," he declares. "The arrangements were open for a lot of multilayered polyrhythms."
"It represents my best playing on record"
Tenor saxophonist Joe Henderson's Mode For Joe is another classic Blue Note album that Joe Chambers contributed to. The veteran drummer says Henderson was a musician that he regarded highly. "Post-Coltrane and [Sonny] Rollins, I would say Joe and Wayne were the major saxophone players," he asserts. "People don't know this, but at one point, Miles [Davis] in '67 had them both in his band together. Joe and Wayne are equal talents as far as I'm concerned, but Joe played with more soul. When I was coming up as a teenager playing R&B in black bars, saxophone players would either walk around the bar or get up on it, and Joe sounded like he walked the bar. He had that thing in his playing. It's a soulful sound that the old house-rock tenors like Red Prysock and Illinois Jacquet had."
Another favourite Blue Note session of Joe Chambers' was for Contours, a 1965 album by saxophonist/flautist Sam Rivers, which has also been reissued as part of Blue Note's Tone Poet Audiophile Vinyl Series.
"I did it very early in my Blue Note days," Chambers recalls of the session. "I think that it represents some of my best playing on record. I was playing with Herbie Hancock and Ron Carter, and it's just real crisp and some of the things I was doing were very innovative for quintet playing. I've been on a lot of other things but that's the album I really like because of the whole concept and the way we went about it."
"I'm back out working in the streets and hustling"
Twenty-nine years after his last session as a sideman for Blue Note, in 1998 the Philly drummer signed to the label as a leader for the first and only time and recorded an album called Mirrors, whose title track was a new interpretation of the song Freddie Hubbard recorded back in 1964. Chambers also played vibes on it.
"I look at that album and think that's what I should have been doing way back when Blue Note first asked me to record," he laughs. "[Producer] Michael Cuscuna was instrumental in bringing me to the label. I thought it was a good record but when I think about it, I should have been making albums like that back in '65 or '66."
As well as playing jazz, for many years Joe Chambers has had a parallel academic career. Until recently, he enjoyed a long spell as the Thomas S Kenan Distinguished Professor Of Jazz at the University Of North Carolina in Wilmington, but he reveals he's now fully committed to playing music again. "I'm not teaching there anymore," he discloses. "Now, I'm back out working in the streets hustling. I've got some things I'm working on, which includes trying to revive the M'Boom percussion group."
Reflecting on Blue Note's achievements and musical legacy, Joe Chambers believes that it was an important record label not just for jazz in general but also African-American musicians in particular. "Given the social and political strata of the United States back in those times, the black musicians were really glad that people were interested in recording them," says the veteran drummer/composer. "And Blue Note recorded almost every major African-American musician from the late 40s to the 60s. It was, above all else, the black American jazz musicians' label."
Listen to the best of Blue Note on Apple Music and Spotify.
Format:
UK English