'Love And Liberation' "Is A Call To Action" Says Jazzmeia Horn
With 'Love And Liberation', Grammy-nominated jazz singer Jazzmeia Horn presents a collection of songs that is simultaneously classic and contemporary.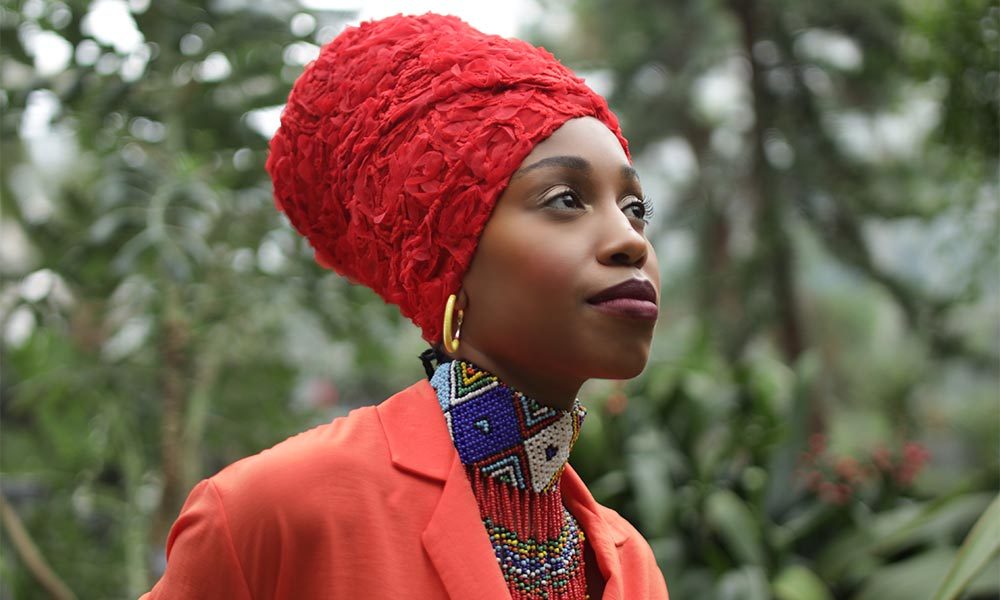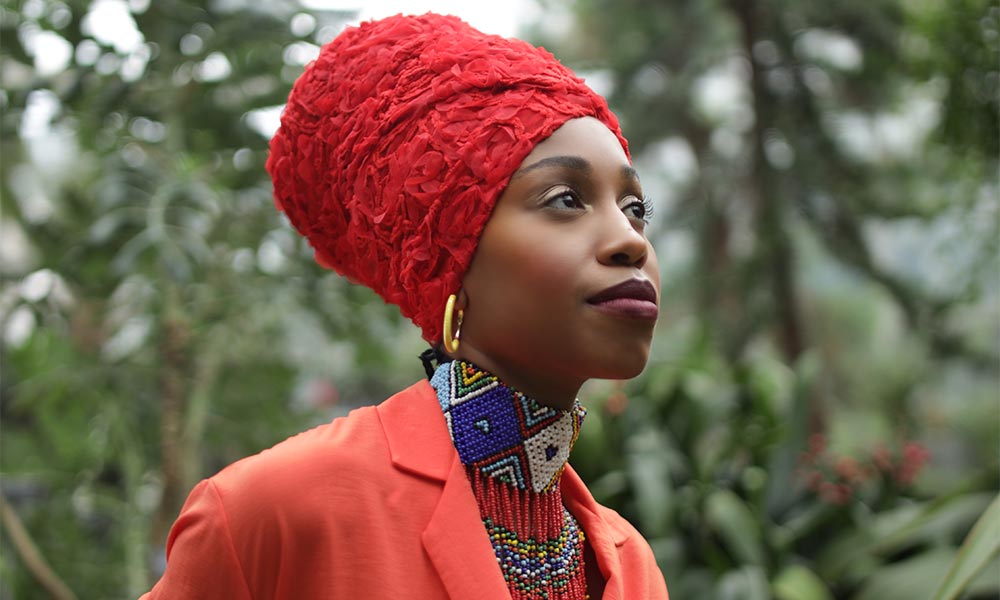 "When I was a child, I didn't even like jazz," confesses the personable Texas-born singer-songwriter Jazzmeia Horn, instantly debunking the theory that she was predestined to become a professional jazz musician because of her name. Her second album, Love And Liberation, has, however, placed her squarely among today's rising jazz stars. But Horn reveals that it wasn't until her senior year at a performing-arts school in Dallas that she was drawn to the music that is now her livelihood, when her voice coach handed her a Sarah Vaughan CD. It changed her life. "My socks were blown away completely by it and I fell in love with her and jazz," she tells uDiscover Music with an ironic laugh, perhaps realising that becoming a jazz singer was written in the stars after all.
A decade on from that epiphany, 28-year-old Jazzmeia – whose 2017 debut album, A Social Call, was nominated for a Grammy – has picked up a raft of awards (including a Rising Star gong given to her last year by DownBeat magazine), and is excited about Love And Liberation, released by Concord Jazz on 23 August 2019. "It's a sequel to my debut," she explains. "That was very much about social injustice in many different forms and bringing awareness to different people about issues that are occurring in the world. But Love And Liberation is a call to action."
Listen to Love And Liberation right now.
"It's about freeing and loving yourself"
The central theme of the new, mostly self-written album, she reveals, is being true to your own nature and realising your potential as a human being. "It's just about freeing and loving yourself," she says. "Love and liberation coexist. So, an act of love is an act of liberation. And liberating yourself is allowing yourself to be loved. They are one and the same. Without one you can't have the other. So if you free your mind, you can free yourself to be exactly who you are; no matter what race, creed or sexual orientation. My hopes are for people to just enjoy themselves and their lives and not be confounded by preconceived notions."
Love And Liberation is markedly different from Horn's debut because, this time around, almost all the music is her own. "I chose to sing standards with my first album to introduce people to my sound," she says. "I didn't want to play my original compositions right out the gate because it might not have had the same effect on people. So with Love And Liberation, it's like, 'You've heard my voice, you know what I do, and now listen to my complete sound.'"
"It's all really intimate and personal"
The effect of making the new album has been profoundly emancipating, she says, because for the first time she's been able to unveil her authentic self. "What's liberating for me is that these are my original compositions. It's my sound, my voice, my journey, and these are my stories that I'm sharing because they are my experiences. I've lived all of these songs through and through. It's all really intimate and personal. Though I've allowed myself to be vulnerable by sharing all of these stories with my audience, it's necessary because it's healing for me."
While A Social Call revealed that Jazzmeia Horn, with her athletic scat vocals, is a direct descendent of virtuoso singers who used their voices like instruments (think Ella Fitzgerald, Betty Carter and, of course, Sarah Vaughan), the more autobiographical Love And Liberation places her on another level altogether. Her impressive compositions are simultaneously classic and contemporary. 'Free Your Mind' encloses a serious self-help message in an infectious refrain while the hard-swinging 'Out The Window' is fun and sassy. 'Time', on the other hand, is a mellow meditation that finds Jazzmeia reciting a poem. "I write a lot of poetry," she says. "I have a book coming out soon called His Limbs, Her View. It includes 12 of my poems with pictures of me from photographers I've worked with around the world. I just wanted to throw a snippet of that into my album to say that I wear many hats."
Jazzmeia Horn - Out The Window (Official Audio)
Different again is a spoken dialogue called 'Only You'. More like a dramatic theatre piece, it finds Jazzmeia's voice intertwined with that of singer/drummer Jamison Ross. "The goal with that was hearing the mind-frame of two different lovers," she explains. "It's something that I would like to do more of in the future. I would also like to do some acting and present some of my monologues and dialogues to the world as well as poetry. It's just my way of throwing little things out there with my music and saying, this is also another aspect of myself."
"You still have to tell a story"
The album's undoubted pièce de résistance, however, is 'Searchin'', a self-penned song about looking for Mr Right. It proceeds at an insanely fast tempo and finds Jazzmeia delivering the lyrics in a rapid bebop-style patter. And it includes some of the best scat vocals on record since Ella Fitzgerald.
"It's very hard singing that fast," laughs Jazzmeia, adding, "I was in college when I wrote that song. The most difficult part was the lyrics and trying to get people to understand exactly what I was saying. But it's a fun song."
In terms of her scatting technique, Jazzmeia reveals that she has to put herself into the mindset of an instrumentalist. "I think very linear when I scat, like a horn player," she reveals. "I've transcribed a lot of Charlie Parker, John Coltrane and Miles Davis solos and learned the vocabulary just by scatting with other instrumentalists. But when you improvise without lyrics you still have to tell a story."
In addition to her own material, Love And Liberation includes one standard – a duo version of 'I Thought About You', with noted bassist Ben Williams – and offers up a striking gospel-infused cover of the late Jon Hendricks' 1968 civil-rights anthem 'No More', a song is about standing up to oppression and racism.
"It's so relevant today," observes Jazzmeia, who was mentored by Hendricks, "because of the overt racism that still occurs in America. It's just unfathomable and outrageous. "I just wanted to do an arrangement of it because of the lyrics. Jon was a great lyricist, and that's something that I really appreciate. The first line is, 'I ain't gonna let nobody mess with my soul no more.' That is deep. You had to have a lot of courage to even start to think that way, especially as a black person in America in 1968."
"It speaks to my soul"
Many contemporary jazz singers are content to serve up reheated standards, but Jazzmeia Horn finds inspiration through her own songs and interpretations of contemporary material. On Love And Liberation she puts her own indelible spin on Rachelle Ferrell's 'Reflections Of My Heart' and Erykah Badu's 'Green Eyes'. Jazzmeia is a fan of both singers but feels a special affinity with Badu. "She's from Dallas, like me, and also started at the same high school," she explains. "She has a couple of children, and I do as well. We also share the same feelings about anthropology, especially from the African diaspora. So we have a lot of things in common. People always assume that I sound like Erykah Badu when they meet me because I always wear my head wrapped, but that's just a part of my style."
Jazzmeia Horn - Green Eyes (Official Audio)
Originally released on Badu's album Mama's Gun, 'Green Eyes' is an exploration of jealousy. "It's a song that speaks to my soul because I've been through that," admits Jazzmeia. "I've been in love, been insecure, and been that woman. I like the realness behind Erykah Badu's music and lyrics. She's a poet, in my opinion."
Badu's original version was rendered in an antique 20s jazz style that eventually morphs into a lulling hip-hop groove, but Jazzmeia gives it a more progressive jazz makeover. "For me it's a meditation, but I wanted to create a vibe similar to something like A Love Supreme by John Coltrane," she says.
"We can get through this life together"
Love And Liberation is, then, anything but your standard jazz vocal album. It's an eclectic but cohesive, well-rounded collection of songs. It has serious messages, but its tone is not overly sober; and it also clearly demonstrates its creator's frivolous, fun side. "I hope that someone hears the album – it could be 10 people or a thousand – and is encouraged by the music so that they can love themselves and think for themselves a little bit more, no matter which society there belong to," says Jazzmeia.
"The world is full of hate and we are really afraid to respect each person as an individual. I feel that if we can look ourselves in the mirror, love ourselves and just take on our own individual fears, we can get through this life together as human beings. That's really my prayer, my dream and my hope."
While achieving that might seem like a tall order to some, it's a laudable ambition. And where love's concerned, anything is possible.
Love And Liberation is out now and can be bought here.
Format:
UK English