Makaya McCraven Explains 'Deciphering the Message'
The jazz musician and producer worked with the Blue Note catalogue as a foundation for his new album. In this interview, he explains what he picked and why.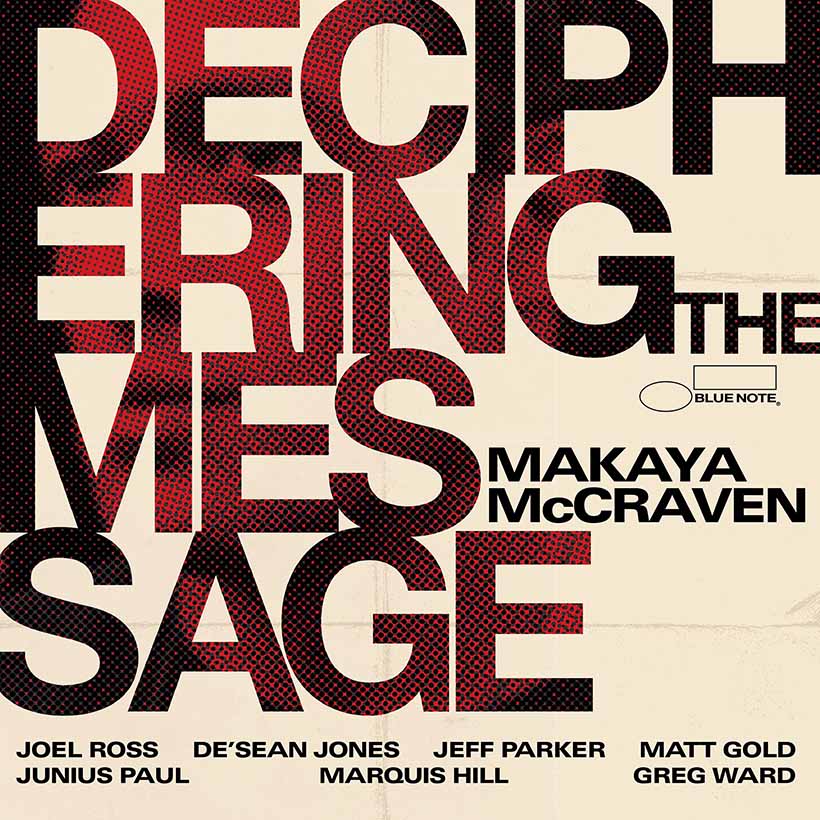 Makaya McCraven is no stranger to reimagining the work of others in his own image; after all, he released a brilliant rendition of Gil Scott-Heron's We're New Again in 2020. But for McCraven, a Chicago-raised drummer, producer, and modern jazz touchstone, Deciphering the Message was a different beast altogether. The famed Blue Note Records imprint threw open its archives to McCraven, allowing him to use the music of the label as the foundation for his new album.
To begin the project, McCraven dug through records to familiarize himself with all the hidden crevices of Blue Note's history. "I wanted to have that digging experience, like a crate digger looking for hip-hop samples," McCraven explains. "I have a lot of things started, a lot of sketches, a lot of tracks finished that aren't on the record – just a massive amount of material."
Listen to Makaya McCraven's Deciphering The Message now.
McCraven treated pre-production as a solitary exercise, picking out bits and pieces of original recordings he was attracted to. He wanted to make the album without stems, so the project is sampled exclusively from full-band recordings. "I was searching, trying to make my connections in an organic way. I was deciphering the material as I went along," he says.
Once these original sketches were solidified, McCraven sent the songs to trusty collaborators like Jeff Parker, Junius Paul, Marquis Hill, and more, asking the artists to record parts over his outlines. Once they were done, he took the material back again, chopping and arranging the added sections.
The result is a sprawling love letter to the history of jazz, but one rewritten in the language of modern hip-hop and R&B production. It's an alternate reality in which the past and present join together in communion, celebrating one of the richest archives in the history of modern music. To celebrate the release of Deciphering the Message, we asked McCraven to break down the process behind five of the album's songs.
"Autumn In New York (AKA Spring In Chicago)," (Blue Lights, Vol.1 by Kenny Burrell)
The first thing that caught me about this track was just the intro and guitar. I found that, and I started to loop it up and start rearranging some of the changes and the melodies from the A section and the theme. Once it started to settle into a space, the next thing I started doing was some overdubs, and played some bass, and some keyboards, and kept adding different elements.
From there, I started sending the track to people, and getting a take. As people send me material, then I'm going to go in there and continue to restructure it until I feel like I have a nice piece from start to finish, with a whole direction. But it was really the intro, just the way that Kenny articulates the melody, that came across and was the bedrock of the piece. I had a strong melody and form to extrapolate from with other musicians.
"Frank's Tune (AKA De'Jeff's Tune)," (Easterly Winds by Jack Wilson)
The chromatic motion in this tune sounded very, very modern for the time period. I heard it and immediately I wanted to dig in. Also, I like the sound of that record, the quality. I heard that chromatic melody, and then I cut it to squeeze it into a different rhythm or shape. And one of the things I really enjoy about that, is how a solid form came about.
Once I finally had this nice form together, I could pass it to Jeff [Parker], where he could then play the shit out of it. Jeff has been a good ear for me this whole project, not just as a player, but as somebody I've checked in with a lot, to be like, 'Hey, what do you think about this one?'
"Sunset (AKA Son Set)," Whistle Stop by Kenny Dorham
This one's a little different. This record Whistle Stop was something that I bought years ago, I had made a couple of beats off of that record, including an earlier version of "Sunsets" that might've even been up on my MySpace back in the day. It was some time through the process of working on this record, where I think I went back and I looked at some old tracks. And I was like, "Wait, is this a Blue Note release? This record's on Blue Note," and I already had sampled it. I pulled that one back out and recut some drums, and redid a bunch of stuff. I sent that one to Jeff, and he said, "Can I record on that right now?" I said, "Absolutely."
"Ecaroh (AKA Revlis)," Horace Silver Trio by Horace Silver
I was really inspired by this Horace Silver Trio record, because it's a record of singles in a way. So many of those pieces are so catchy, and they're short little singles, two and a half minutes, three minutes.
I was checking out this Horace Silver record, and it was just cut, after cut, after cut. It was just funky, swinging, without a ton of blowing, a lot of little basslines, and stuff like that. It shows a side of this music that I think sometimes gets lost in translation a little bit when we're talking about old jazz. When I talked to Joel [Ross], he was familiar with that tune particularly for something he had to learn for another thing in college.
Horace Silver was definitely a big inspiration. There's a theme around the whole record featuring Art Blakey and the Jazz Messenger Band. Guys from Horace Silver, Kenny Dorham, Hank Mobley, all these guys went through that Jazz Messengers camp. That was a special project to me, where you see these different musicians that would come through the band. That Horace Silver record, it has Blakey on it. With this family of musicians, you see all these different records housed under a label, housing the cohort of musicians.
To me, it's a big part of the culture, and it relates in a way to sampling too, where you see people playing the same songs, or using similar intros across different records and different tools, or putting a different melody on the changes of another tune. It's about learning a vocabulary from a group of musicians, and having it go to all these places, and you hear that vocabulary, you're covering each other's originals. To me, this all fits within this idea of how sound and melodies, these things happen over and over, and we reuse them, we reimagine them, we re-contextualize them, whether in a natural place or using technology now.
"A Slice of the Top (AKA Sliced Off The Top)," (A Slice Of The Top by Hank Mobley)
I had a number of thematic ideas that I was working on as I was digging through the Blue Note discography. I knew I wanted to find some themes, maybe not one central theme, but I wanted to find some things to help me just encapsulate it, narrow things down, create some steady things sonically, and through the narrative.
The tone of this song in particular really caught my ear with the vampy nature of the A sections and the sound of the tuba euphonium. I think Howard Johnson is on there, who I got to meet and play with in college, which was a nice full-circle moment. I found that there were a lot of cool things I could do with the editing, and with the rearranging of time. I had Hank Mobley and Lee Morgan trade in their solos, rather than having their own solos.
I wanted to re-imagine it that way, and hear the way that they play certain things in a nonlinear fashion. It was really fascinating and illuminating, in terms of approach and transcribing, where I really learned a lot about how these artists approached composition. That was one of the most enjoyable parts of this process: Studying the greats.