One On One With Exodus' Steve "Zetro" Souza
As the band gear up for tour, uDiscover sat down with vocalist Steve "Zetro" Souza to discuss all things thrash and the future of Exodus.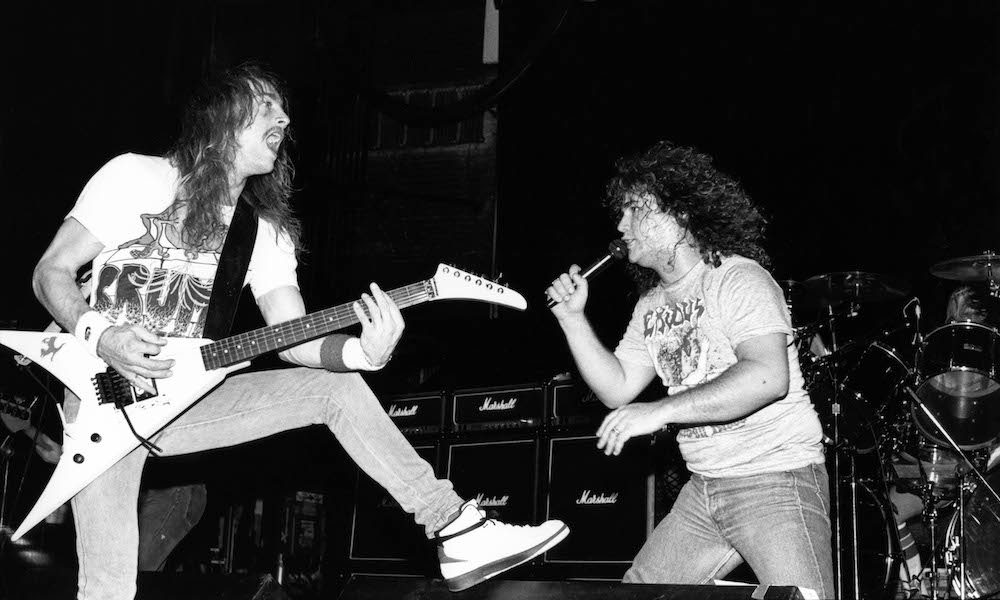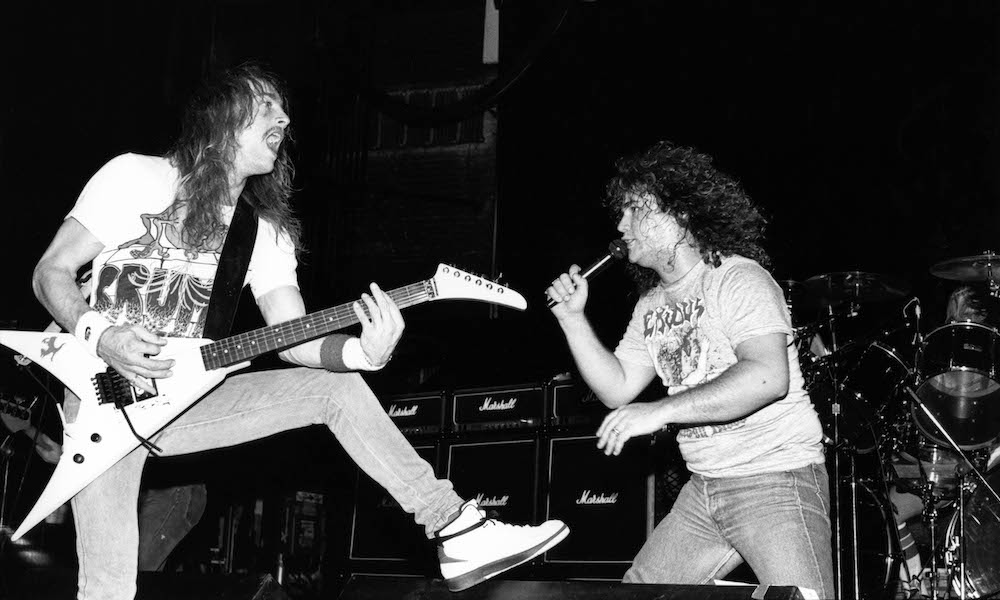 Responsible for releasing some of heavy metal's most vital albums, San Francisco thrash icons Exodus have been punishing eardrums since 1980. Originally formed by Metallica guitarist Kirk Hammett with the intention of paying homage to the New Wave Of British Heavy Metal, Exodus soon morphed into a far more dangerous beast. As the band gear up for summer dates across Europe, uDiscover sat down with vocalist Steve "Zetro" Souza to discuss all things thrash – and the future of Exodus.
The group's most recent album, 2014's Blood In Blood Out, saw Souza return to Exodus for the third time and marks his seventh studio recording with the band. "It's just great to be back," he says. "There are no distractions this time around, as we are all a little older and wiser." Unquestionably, the revitalised Exodus is firing on all cylinders: each track on Blood In Blood Out is uncompromisingly heavy without hinting that it's the work of a band in their "vintage" years. Souza laughs, acknowledging that there had been "a good 10 years of mud-slinging, which I'm sure was great for the press", before adding that "things are all good now and we are getting on better than we ever have". With a gentle smile, he concludes: "We have very much kissed and made up, and it's been two years since my return. I just love the energy and the good times that we are all having these days."
However, since the tragic death of Slayer guitarist Jeff Hanneman, in 2013, Exodus guitarist Gary Holt has been trying to juggle commitments with both bands. Slotting in for Hannemann has led Holt to miss out on a considerable amount of Exodus' recent touring schedule. As the band's chief songwriter, his absence has led to questions over the future of Exodus – and, in particular, whether there will be a follow-up to Blood In Blood Out.
Drawing a long breath, Souza says: "Gary still has a lot of stuff to do with Slayer and is very much the main songwriter in Exodus. Nothing will really be happening until we are all available to write and record again together."
Doubtless this is a strange time for the band. Holt's involvement with Slayer even saw him receive songwriting credits on their 2015 album, Repentless, the group's first release since Hanneman's death. Yet Souza appears relaxed about the situation. "I guess you can say that it looks like he's full-time in Slayer, but it's just really because of the crossover of albums being released, scheduling the tours and stuff like that." He continues in earnest: "We were actually on Motörboat [the Motörhead fan cruise] with Slayer last October. Gary pulled double duties and played with both bands, which was awesome."
Yet the conflicting schedules don't seem to be letting up soon, as a plethora of European summer festival dates will see both Slayer and Exodus engaged in touring until the end of 2016. "Slayer is just as busy touring Repentless as we are touring Blood In Blood Out," Souza says, but he accepts that Slayer's album was their first in six years (compared to Exodus, whose previous album was released four years prior to Blood In Blood Out), "so I totally understand scheduling issues".
Choosing his words carefully, Souza continues, "I can totally imagine that it would be frustrating for Gary, especially if it was me and it was my band that was out there on the road. You also have to remember, Gary has played on every single Exodus album, ever!" Though this is Souza's third "tour of duty" with the band, the singer acknowledges that Holt has been with them since day one.
"The direction of the music and the beating heart of Exodus is very much Gary Holt," he asserts, adding, "From the lyrical content to his tongue-in-cheek violent subject matter, Exodus is very much the inner workings of Gary's mind." Souza remains confident that Holt will return "when his commitments to Slayer are finished, and will continue to write and put out more records with that classic Exodus sound".
Souza's involvement with the infamous Bay Area thrash explosion has been well documented, from his early stint as vocalist for The Legacy (later Testament), to his involvement with Dublin Death Patrol, Tenet, Hatriot – and, obviously, Exodus. It's a rich history that he's happy to delve deep into.
"When I think back to those days – we were just kids, man!" Souza says. "I remember when we were 18 and running the whole f__king show – all the business side of things also." Exodus weren't just opening for other groups, but could sell out 1,000-plus capacity venues on their own. "It was just an amazing time for all of us, and it still feels amazing to be part of such a historical moment within metal's legacy."
Souza and his colleagues helped lay the building blocks of what became the first wave of thrash metal, and he still talks about it with an almost uncontrollable passion, waving his arms wildly. "When the thrash movement really began to take hold, bands appeared from all over the place. In LA you had Slayer, Megadeth and Dark Angel. Then we had Anthrax and Overkill from the East Coast, and a slew of killer bands – like Sacred Reich, from Arizona." Leaning in, he continues, "Then, of course, there was the Bay Area sound: Testament, Forbidden, Mordred, Death Angel, Possessed, Blind Illusion, Exodus and Metallica."
Looking into the distance, Souza shakes his head almost in disbelief. "The Bay Area was just f__king exploding, and it was amazing to be part of it," he says, noting that most of those bands "are still kicking ass today and are still really big fans of the genre".
Within thrash metal's current resurgence, Megadeth and Anthrax have also released acclaimed new albums that stand alongside the latest from Exodus and Slayer. It seems as though the old guards are whipping the younger bands into shape.
"Totally!" Souza laughs. "We are all hardcore fans of the music. Since it's been running through our blood for the last 30-odd years, we're finally all in a place where we're confident and comfortable with who we are working with and how we choose to live our lives. The proof is in the music!"
As it currently stands, Metallica are the only Big Four Of Thrash titans that haven't released an album of late – though that is all set to change, as their currently untitled new record, the follow-up to 2008's Death Magnetic, is expected to be released by the end of the year. "If you really want to look at Metallica's progression as a band," Souza says, "look back to the stuff they released in the 90s with Load [1996], and then St Anger [2003]. Then they brought out Death Magnetic, so I would say that they're getting more back into that classic Metallica thrash sound… I have a feeling they're going to release an album that's more in that vein – which we have all been doing lately."
He continues: "Just listen to the new Megadeth album, Dystopia, and tell me that the opening track, 'The Threat Is Real', doesn't take the f__king skin right off your face! What a way to open the record!" Souza smiles, adding, "I think we managed to do that with 'Black 13'," the opening track on Blood In Blood Out.
Souza pauses before returning to the world's biggest metal band. "I really believe that Metallica is aware of what's going on in their back yard. There was a time when people were like, 'Metallica? They've lost it.' But they have evolved as a band," he asserts. "If they were to write Ride The Lightning 13 times, we'd all get bored… You can't deny their success, it's unparalleled!"
Exodus and Metallica last played together a few years ago, in Germany, where Souza met vocalist James Hetfield backstage for the first time in years. "We just had a really good conversation and a few laughs about the old days," he smiles. "We talked about the times I used to go to their house in San Pablo – as we referred to it, the 'Metallihouse' – back in '83/'84, for parties. Actually, Tom [Hunting, Exodus drummer] and our old guitarist Rick [Hunolt] used to house-sit for the guys when they toured."
Thirty years later, there's no question that Souza is in a happy place right now; serving as one of thrash metal's iconic frontmen for three decades is no small achievement. When we ask about Exodus' plans for the rest of this year, he is enthusiastic about their upcoming summer gigs. "We will be heading over to Europe for a series of festivals in July," he says, "but before that we're going to stay at home and chill out, as this touring cycle has been crazy busy so far.
"It's been non-stop and truly amazing," Souza marvels, adding, "We just live to get out on the road and can't f__king wait to come back for more!"
Exodus will be touring Europe throughout July and August 2016.
Oran O'Beirne
Format:
UK English