Never A Dull Moment: The Formative Fun Of Rod Stewart's Mercury Years
Rod's years on Mercury Records provided him with some of his best material, and some of the best fun he ever had.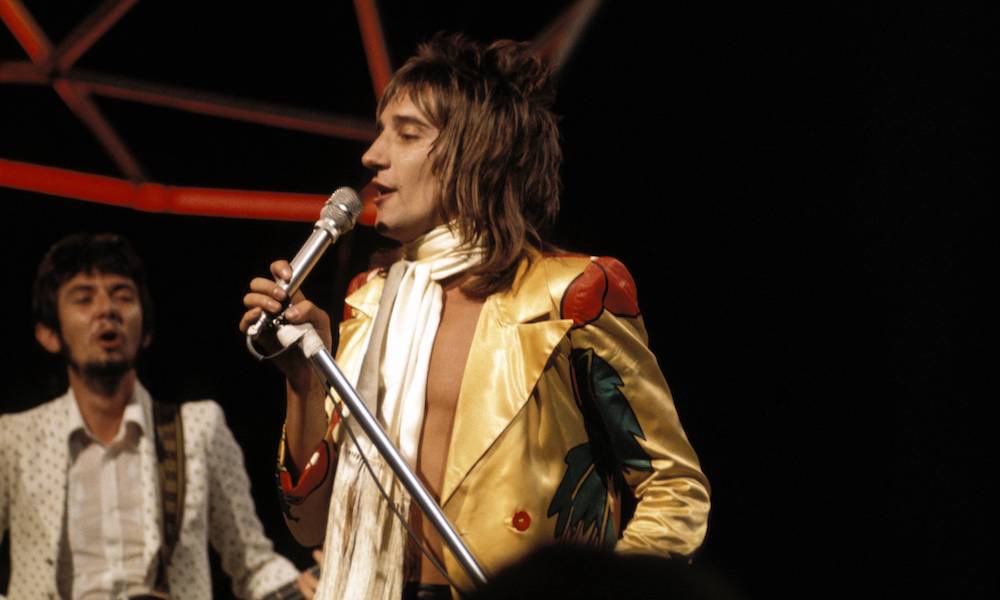 Before and during his climb to worldwide adulation and 100 million worldwide album sales, Rod Stewart, born on January 10, 1945, made a series of formative records that are well worth reinvestigating. The original five LPs he released for Mercury between 1969 and 1974 contain some of the best work of his entire catalogue.
An Old Raincoat Won't Ever Let You Down
Stewart was already a seasoned recording artist of some five years by the time he released An Old Raincoat Won't Ever Let You Down in the US in late 1969, and early 1970 in the UK. At the time, he was in the unusual situation of trying to launch solo and band careers at the same time, since he was also now confirmed as the singer in the Faces, the retooled version of the Small Faces.
Raincoat missed the UK charts altogether, as did its only single, Stewart's version of the Rolling Stones' rocker from 1968, "Street Fighting Man." Indeed, the album failed to chart anywhere significant, except for a No.139 ranking in the US and No.31 in Australia.
Buy or stream An Old Raincoat Won't Ever Let You Down.
The song that's become by far the most well-known on that debut album, Rod's interpretation of Manfred Mann frontman Mike D'Abo's elegant composition "Handbags and Gladrags," was not only not a hit, but not even a single. D'Abo played the distinctive piano on that track himself, on an album also featuring readings of traditional songs like "Man Of Constant Sorrow" and "Dirty Old Town."
Gasoline Alley
Gasoline Alley, released in 1970, again featured many of Rod's mates in the line-up, including all of his fellow Faces. This one included an early Elton John cover, of "Country Comfort," as well as displaying Stewart's love of soul music, and Bobby Womack in particular, on a rendition of "It's All Over Now."
Buy or stream Gasoline Alley.
Every Picture Tells A Story
1971's Every Picture Tells A Story was, of course, the breakthrough, thanks in large part to the chart-topping "Maggie May," which helped the album hit No.1 in the UK, US and Australia. Stewart, co-writer of "Maggie" with Martin Quittenton, also contributed two more co-writes, of the elegant "Mandolin Wind" and the title song, with Ronnie Wood.
Buy or stream Every Picture Tells A Story.
Never A Dull Moment
Never A Dull Moment, a year later, was also blessed with a No.1 single, the splendid "You Wear It Well." Rod covered another of his heroes, Sam Cooke, with a rocking "Twisting The Night Away," created a more gentle mood on versions of Jimi Hendrix's "Angel" and the Billy Foster/Ellington Jordon song most closely associated with Etta James, "I'd Rather Go Blind."
Buy or stream Never A Dull Moment.
Smiler
That album was another big international success and again topped the UK chart, as did Stewart's final Mercury album Smiler, in 1974. This was a million-seller worldwide, even if the critical tide was turning against Rod and he was also coming towards the end of his days with the Faces.
Sweet Little Rock 'N' Roller
But he still contributed three co-writes to Smiler, and delivered versions of songs by friends and heroes, recording Elton's "Let Me Be Your Car," Chuck Berry's "Sweet Little Rock'n'Roller," and a Cooke medley of "Bring It On Home To Me" and "You Send Me." There was also a hint of the Great American Songbook series of many years later, with a closing, brief instrumental and acoustic version of Lerner and Loewe's "I've Grown Accustomed To Her Face."
Buy or stream Smiler.
After that album came Rod's move to to Warner Brothers and truly global stardom, but the Mercury years provided him with some of his best material, and some of the best fun he ever had.
Listen to uDiscover Music's Rod Stewart Best Of playlist.