Best Roy Ayers Songs: Soul, Jazz, And Funk Masterpieces
His work placed the vibraphone at the center of a new musical universe.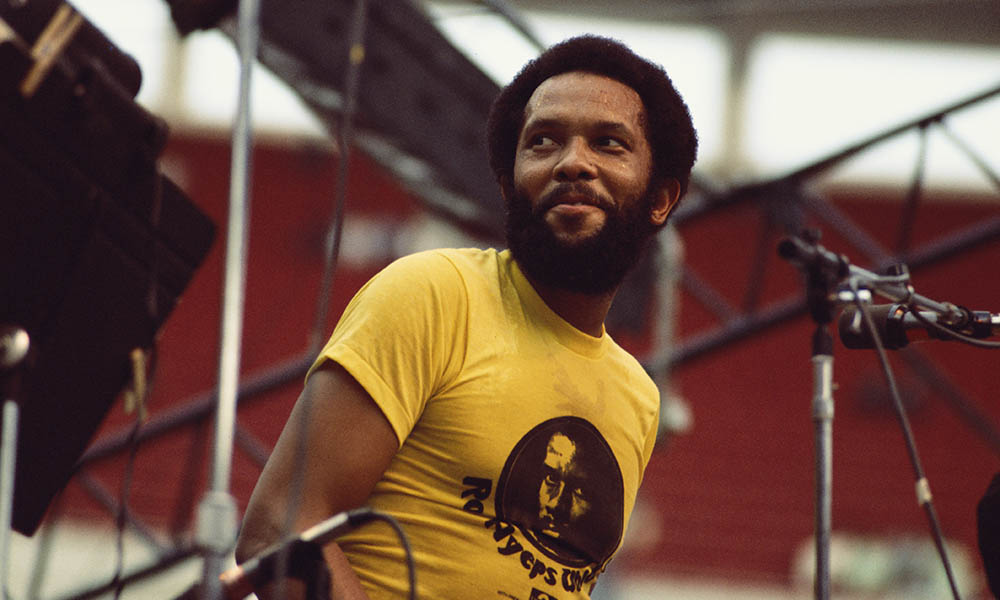 Roy Ayers is a hugely influential musical pioneer who changed people's perceptions of the vibraphone. First commercially produced in 1924, the vibraphone is an electric-powered tuned percussion instrument played with mallets whose sound is glassy and tinkling. It was almost exclusively associated with the world of straight-ahead jazz until the 1970s when Ayers placed the vibraphone at the center of a new musical universe, one that blended jazz with funk, soul, disco, and pop but also included elements drawn from Latin and African music as well as rock. Though initially influenced by jazz vibraphone pioneers like Lionel Hampton, Milt Jackson, and Cal Tjader, Ayers arrived at a unique style that was fresh and progressive but also commercially successful, exposing the vibraphone to a much broader audience.
Ayers started his career in the 1960s playing straight-ahead instrumental jazz but radically changed his musical approach in 1970 after forming the band Ubiquity, where he sang in addition to playing the vibes and dramatically upped his music's funk quotient. His musical transformation attracted the interest of Polydor Records, who signed him and helped transform Ayers into a hit-making star; between 1970 and 1979, he was prolific in the recording studio, releasing 17 albums. He also became a regular visitor to the US singles and albums charts, putting nine albums on the Billboard 200 between 1976 and 1979.
Listen to the best Roy Ayers songs here.
By the 1990s, Ayers had slowed down, producing fewer albums, but by then, his seminal 70s recordings fascinated a new and younger generation of listeners and music-makers. Not only were his old Polydor albums heavily sampled by hip-hop artists like A Tribe Called Quest and The Pharcyde, but they also helped ignite the UK's nascent acid jazz scene in the mid-90s, inspiring the world-renowned group Jamiroquai, who often performed Ayers' tunes in their live shows.
Performing on rapper Guru's Jazzmatazz project in 1993 also played a crucial role in expanding Ayers' audience. Later in that decade, his distinctive musical vocabulary also played a vital role in shaping the jazz-tinted sound of the American neo-soul scene, directly influencing D'Angelo (who covered Ayers' "Everybody Loves The Sunshine") and Erykah Badu, who later featured him on her 2000 album Mama's Gun and then returned the favor by guesting on the vibraphonist's 2004 LP, Mahogany Vibe.
With Roy Ayers boasting a back catalog that includes over 400 original compositions spread across 30 studio albums, picking a selection of his best songs that will satisfy all his fans is virtually impossible. In light of that, the following songs, mostly plucked from his fertile spell at Polydor, should be regarded as a helpful guide rather than a definitive introduction to the man some call the "Godfather of Neo Soul."
Beginnings
Roy Ayers' story begins in Los Angeles, where he was born in 1940. Though drawn to music as a youngster, Ayers didn't play the vibraphone until he was seventeen. But, as he revealed to Blues & Soul magazine in 2007, his association with the instrument began many years earlier. "My mother and father always used to take me to see Lionel Hampton when he came to Los Angeles," he revealed. "One time, he came down the aisle and gave me a set of vibraphone mallets. I was five years old at the time." Ayers treasured those mallets. And, encouraged by his mother, who told him "that one day she was going to see [his] name in lights," he felt he had made a date with destiny.
Ayers played the piano first and then during his late teens sang with The Poets, a local doo-wop vocal group who released a one-off single, "Vowels Of Love." Soon afterward, thanks to his mother, Ayers got a vibraphone. Remarkably, six years later in 1963, he was a rising star of the L.A. jazz scene having released his debut album, West Coast Vibes.
After working as a sideman with flutist Herbie Mann in the mid-60s, a liaison which led him to record three albums for Atlantic Records, in 1970, Ayers signed with Polydor, the rising German label that had famously signed the "Godfather of Soul," James Brown. It was a watershed moment. Ayers put together a new band, which he dubbed Ubiquity on his manager's advice, as he recalled in 2007: "She said, 'Ubiquity means a state of being everywhere at the same time.' I said, 'You know that's fate because if everyone has one of my albums, I will be everywhere.' I thought it was great, so I started using that name."
Leading Ubiquity, Ayers abruptly changed musical direction, dropping the bebop-influenced straight-ahead jazz of his early years for a colorful fusion style that would distinguish him from other vibraphonists. He blended jazz with electric funk, soul, and a smorgasbord of other musical flavors but arguably his most critical innovation was moving away from instrumental music. "I realized that when you have voices, the people relate better to your music," he told Blues & Soul. "It got me international recognition."
The Top 50 US R&B Hits
With his vibraphone-led jazz-funk sound, Roy Ayers was an unlikely pop star. But such was the vibrancy and accessibility of his music that he racked up fifteen hit singles in the US R&B charts, four of which made the Top 40. His biggest US smash was "Running Away," a persistent dance groove distinguished by an infectious chorus sung by female background vocalists. Taken from the vibraphonist's biggest-selling album, 1977's Lifeline – which made No. 72 in the Billboard 200 – "Running Away" spent seventeen weeks in the US R&B singles chart, peaking at No. 19.
Running Away (12-Inch Long Version)
A year later, Ayers was in the US R&B singles chart again, rising to the No. 29 spot with the wild dance track "Freaky Deaky," driven by Kenny Turman's percussive slapped bass and injected with a sense of cosmic weirdness by Philip Woo's spacey synth squiggles. Gospel-reared singers Merry Clayton (who famously sang on the Rolling Stones' "Gimme Shelter" hit) and Sylvia Cox shared lead vocals with Ayers on a track that seemed avant-garde compared with other dance numbers from the same era.
1979's anthemic "Love Will Bring Us Back Together" is another essential Ayers track. An addictive funky groove driven by intertwined clavinet and guitar, the song reached No. 41 in the US R&B chart in the summer of 1979. On this compulsively danceable cut, plucked from the album Fever, Ayers jettisoned his vibes to spotlight his idiosyncratic vocal style, a key element in his music's appeal.
At the end of 1979, Ayers was in the charts again with "Don't Stop The Feeling," taken from his No Stranger To Love LP. It exuded a similar toe-tapping, club-style vibe to the earlier "Love Will Bring Us Back Together" but sold more copies, rising to No. 32. It's a number whose blend of a simple, irresistible hook line allied to a sophisticated musical backdrop crystallizes the unique musical essence of Roy Ayers.
Although he was a frequent visitor to the US charts in the 1970s, Ayers didn't put a second single into the R&B Top 20 again until 1986's "Hot," taken from the album, You Might Be Surprised. Co-written and produced by James Mtume (of Mtume and "Juicy Fruit" fame), the track, with its minimalist synth-funk style, marked a new musical direction for Ayers. It made No. 12 on the US Dance chart and could be heard playing in the background in Michael Jackson's video for his 1987 single "The Way You Make Me Feel."
Roy Ayers' Most Sampled
According to the website Who Sampled, Roy Ayers' music has been sampled over 800 times. Ayers was always happy to be sampled, not just because of the royalties it generated for him but also because his music sparked other musicians' creativity.
One of Ayers' most-sampled tracks is the anthemic "Everybody Loves The Sunshine," which has racked up over 100 million streams on Spotify. Among artists who have used portions of it are 2Pac, Dr. Dre, Mos Def, and hip-hop soul queen Mary J. Blige. Describing how the song came about, in 2007 Ayers revealed: "I was in a studio and reflecting on my childhood. Up until I was about 14 years old, the sun rays in Los Angeles were really bright, but in 1954, the sun started to vanish and this smog started to conceal its brightness. The sun was beautiful that day so I thought about this line 'Everybody loves the sunshine,' and then came up with 'My life, my life, my life in the sunshine.'"
Everybody Loves The Sunshine
Other notable Ayers tunes that have been gobbled up by an Akai S1000 sampler and reconfigured into brand new hip-hop grooves include the mysterious and haunting "We Live In Brooklyn, Baby" (sampled by Kendrick Lamar on "Good Kid") and the cosmic slow jam "Searching," which was used as the foundation of Pete Rock & C. L. Smooth's same-named 1994 track. Another dreamy, astral-themed slower number, "The Third Eye," was repurposed on the Fly As Pie remix of The Pharcyde's "Passin' Me By."
A mandatory inclusion in any Roy Ayers best of is the propulsive and super-funky "He's A Superstar," an uplifting message song purportedly inspired by Andrew Lloyd Webber and Tim Rice's 1971 hit musical Jesus Christ Superstar. The song appeared on the Roy Ayers Ubiquity album He's Coming from 1972. It was sampled in 1993 by DJ Shadow & The Groove Robbers (on "Hindsight") and in 2010, Ghostface Killah borrowed the chorus and synth licks to make "Superstar," on which fellow rapper Busta Rhymes featured.
Master of the mellow groove
Nobody serves up a lush, laidback, jazzy soundscape better than Roy Ayers. Although his uptempo dance tracks cavorted up the charts and garnered more public attention, his back catalog includes many slower gems. The instrumental "Mystic Voyage," the title track of a Roy Ayers Ubiquity album from 1975, is one of his most memorable, juxtaposing cool vibes melodies with a funkafied backdrop augmented by orchestral strings.
Another chilled instrumental, "Lifeline," from the same-titled 1977 LP, features Ayers playing a long snaking vibraphone solo while highlighting the growing importance of synthesizers in Ayers' musical universe.
Even slower, the gently glistening "Vibrations" (the title tune from a 1976 Roy Ayers Ubiquity album) allows Ayers' band to stretch out; it also features the plaintive vocals of Chicas, a singer whose super-soulful tones featured on three of the mallet maestro's LPs.
Sam Cooke's vintage 1957 pop hit "You Send Me" was remodeled by Ayers into an eight-minute, string-draped epic that became the title track of the second of two Polydor LPs he released in 1978. His loose, leisurely interpretation, which is reconfigured as a duet with the expressive singer Carla Vaughan, makes the song almost unrecognizable from Cooke's original. It showed the vibraphonist's skill in assimilating old music and making something refreshingly new.
In 1985 on his You Might Be Surprised album Ayers served up one of his most unusual ballads, the tongue-in-cheek "Programmed For Love." Produced by James Mtume, the track is a machine-tooled soundscape that bizarrely describes Ayers' love affair with a computer, which is characterized by a vocoder-treated female voice.
Get on up, get on down
Roy Ayers' penchant for funky uptempo tracks meant that he was no stranger to getting down on the dancefloor. At the height of the platform-soled disco inferno, the vibraphonist embraced the zeitgeist and immersed himself in mirrorball music. Arguably his most overt salute to the disco era was "Fever" (taken from his same-titled 1979 LP), where he gave a four-on-the-floor symphonic soul makeover to the Little Willie John tune that jazz siren Peggy Lee had made famous in 1958.
Other Ayers' tunes guaranteed to get the crowd dancing at a discotheque were the breezy "Get On Up, Get On Down" and "Heat Of The Beat," both Top 50 UK chart entries. On the latter, a dance floor number defined by slurping hi-hat patterns, swooping string lines, and party-on vocal chants, Ayers joined forces with the Crusaders' trombonist Wayne Henderson.
Ayers showed a harder funk edge on an earlier dancefloor cut, "Brother Green (The Disco King)," taken from the 1975 Ubiquity album Mystic Voyage while with "The Golden Rod" (a minor 1976 US hit, pulled from the iconic Everybody Loves The Sunshine album), Ayers proved that even his vibraphone-driven instrumental tracks could keep clubgoers' feet moving.
Brother Green (The Disco King)
Thanks to the endeavors and innovations of Roy Ayers, not since the halcyon days of the mallet king Lionel Hampton had the vibraphone had such a prominent place in mainstream music. As well as enjoying a highly successful solo career, Ayers was an in-demand collaborator, his vibraphone's crystalline melodies gracing recordings by artists that ranged from rap star Coolio to soul diva Whitney Houston and Afrobeat king Fela Kuti.
But it was as a solo artist and leading Ubiquity that the "Godfather of Neo Soul" truly made his mark. As the best Roy Ayers tracks reveal, the vibraphonist was a multi-faceted artist who was both supremely versatile and creatively courageous but who never lost sight of his role as an entertainer. His music could be politically charged and spiritually inclined, but also offered uplifting moments of humor, playfulness, and a liberating sense of fun. You will find all these qualities in the tracks highlighted here, which capture the mercurial Roy Ayers at his magical, incomparable best.
Think we missed one of the best Roy Ayers songs? Let us know in the comments below.