10 Things You'll Learn About Elton John By Opening His 'Jewel Box'
A deep dive into 'Elton: Jewel Box,' the 148-track compendium of deep cuts, rarities and B-sides from Elton John's recording treasury.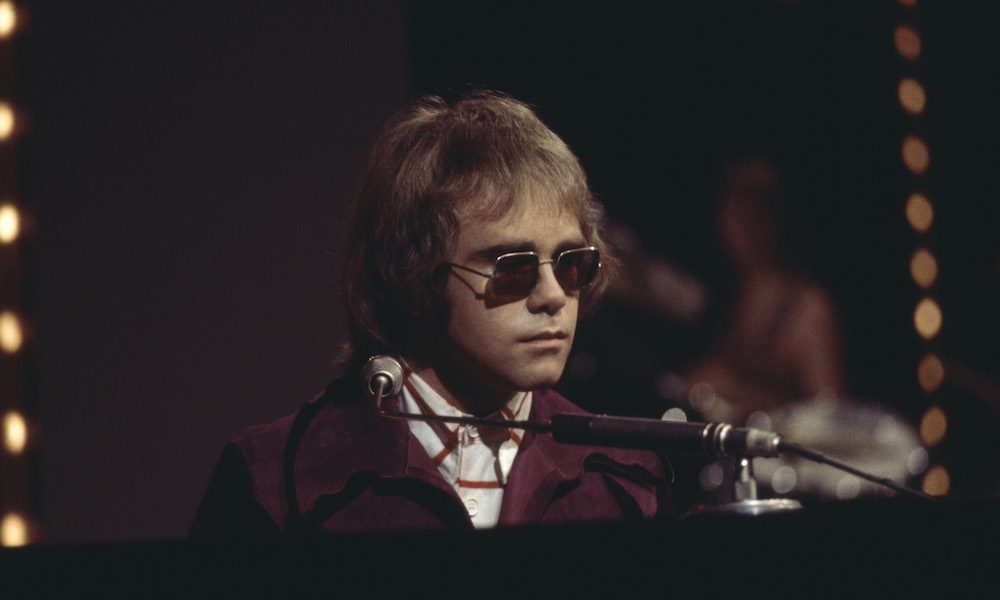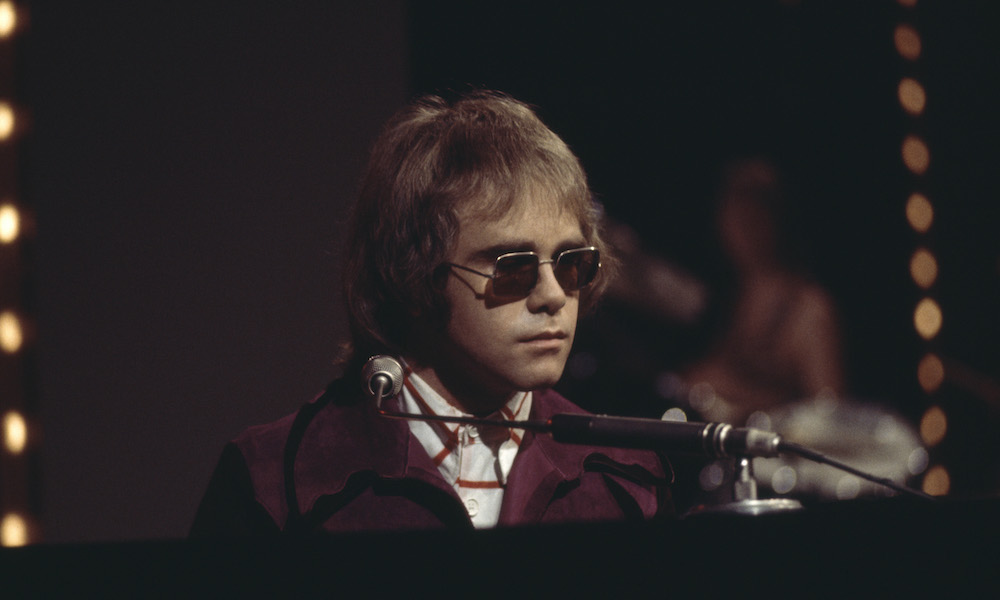 Elton: Jewel Box, the sumptuous box set collection of deep cuts, rarities and B-sides, is appropriately titled, because its subject is one of the true, enduring treasures in pop music history. Even those who think they know the recording make-up of Elton John inside and out will find a deeper understanding of his creative make-up within its array of 148 songs, which reach from his earliest recording in 1965 to Oscar-winning glory in 2019. Here are some of the facts to be learned by listening to these recovered jewels, which were gathered on November 25, 2020.
A 1968 demo became the first John/Taupin cover
Disc four, Rarities Part Two, includes the unusually-titled 1968 demo "When I Was Tealby Abbey." Tealby is a village in Lincolnshire, the county of Bernie Taupin's birth; he grew up near the town of Market Rasen, but lived in Tealby's Beck Hill for a time. Although it doesn't have an abbey by name, its All Saints Church is a historic building dating back to the 12th century.
The song was never released by Elton or anyone else, but a cover of "When I Was Tealby Abbey" was nevertheless recorded, by the Young Brothers (Paul Young and Frank Renshaw), and can be found online. Elton's acetate of his own version, with his Eurovision hopeful "I Can't Go On Living Without You" on the other side, was sold at auction by Bonhams in December 2019 for £2,295 (¢3,000).
An early ballad exists as an even earlier demo
Elton's debut album Empty Sky, released in June 1969, wasn't a success at the time. But for those who listened, it contained definite signposts to his fast-blooming talents as a songsmith and piano player, and to Taupin's as a lyricist of considerable culture. One of its best-known songs was the ballad "Skyline Pigeon," featured in Jewel Box in its simple, piano-and-vocal demo recording which is in some contrast to the harpsichord-adorned LP version. For a further comparison, try the live version on the 1976 album Here and There, recorded two years earlier at the Royal Festival Hall. There, he describes it as "the first song Bernie and I ever really felt excited about that we wrote."
Elton and Bernie's first co-write predated their meeting
Jewel Box reaches back so far into Elton John and Bernie Taupin's history, it includes the first song they ever co-wrote – before they'd even met. When Elton auditioned unsuccessfully for Liberty Records in 1967, A&R man Ray Williams sent him home with an envelope of poems composed by another young hopeful who had answered the same music paper advertisement ("I'm not sure he had even opened the envelope and read the lyrics himself before he did it," wrote Elton in his autobiography, Me). The result was "Scarecrow," exhumed for the box set in its piano-and-tambourine demo.
Elton John - Unboxing the Jewel Box
"I wrote a lot of those songs without ever having met Bernie," Elton told USA Today just before the release of the set. It was influenced, he said, by his listening to hit groups of the day – including The Beatles, of course, but less obviously Procol Harum. "It was just very easy for me to look at a lyric and write a song. I have a unique talent for looking at something on the written page and being able to write a melody to it."
Added Taupin: "We referenced 'Scarecrow' in a song later on. There's a line in 'Curtains' [from 1975's Captain Fantastic and the Brown Dirt Cowboy). It says, 'I used to know this old scarecrow/He was my song, my joy and sorrow.' That was a tip of the hat to the very first song we wrote because Captain Fantastic was an album about our early trials in the music business."
His B-sides contain buried treasure
Elton comes from the days when 45rpm, and later CD, singles, were the focal point of any mainstream artist's profile. With the insane work schedule he always maintained, that meant a lot of singles, and a lot of B-sides. Like many artists in that era, his insatiable creativity and his desire (as a record buyer himself) to give value for money often meant that his big numbers were released with flipsides that never appeared on LP.
The sixth and seventh discs on Jewel Box gather all 36 of those non-album songs released between 1976 and 2005, and there's much to enjoy. Treats range from the country stylings of "A Simple Man" (the B-side of "Sad Songs (Say So Much)" to the delicate "Snow Queen" (a duet, like its hit side "Don't Go Breaking My Heart," with Kiki Dee). They reach from Elton singing in French with France Gall on "Les Aveux" and "Donner Pour Donner" to 2001's "God Never Came Here" ("God resents the global franchise/Bodies packed like saints entombed," writes Taupin darkly).
Bernie's lyrics sometimes included hidden messages
The final disc of Elton: Jewel Box, And This Is Me…, compiles the songs mentioned by name in his 2019 memoir Me. One such is "All The Nasties," the penultimate track on 1971's Madman Across The Water. In the book, the superstar notes that his lyric-writing partner was alluding to a certain situation years before it became public. "There are times when Bernie's written lyrics from my point of view, and he's expressed how I felt better than I could," he writes.
"Anyone who was surprised when I came out in 1976 – who'd apparently seen me perform, without for a moment considering that the man being carried onstage by an oiled-up bodybuilder while wearing half the world's supply of diamanté, sequins and marabou feathers might be anything other than straight: hello? – clearly hadn't been listening to the lyrics Bernie wrote for 'All the Nasties' in 1971. It's a song about me, wondering what would happen if I came out publicly: 'Would they criticize behind my back? Maybe I should let them.'"
Elton played a detective show theme before he was famous
Another of the delights among the Rarities discs in Elton: Jewel Box recalls the time that, still known as Reg Dwight, he played the piano lead on the Bread and Beer Band's 1969 version of Charles Williams' "The Devil's Gallop." The melody is otherwise known to a generation of BBC Light Programme listeners as the theme for Dick Barton: Special Agent. The series, featuring the escapades of intrepid ex-Commando Captain Richard Barton and his gang, was broadcast between 1946 and 1951, and became the basis of three films by Hammer in 1948.
Our pianist hero's Bread and Beer Bandmates included guitarist Caleb Quaye and drummer Roger Pope, who stayed with him into his early Elton days. The band also recorded an album at Abbey Road with producer Chris Thomas; its planned June 1969 release was cancelled, so they self-released it, and copies of that LP now sell for £2000 (c.$2630).
An unsung 1980s number captures a pre-recovery Elton
Praised for its sometimes painful honesty, Me pulls no punches in describing Elton's lows as well as his highs – sometimes, perhaps, at the same time. "I Fall Apart," the closing track on one of his, shall we say, less celebrated albums, is now included on the And This Is Me… disc that closes Jewel Box. "If you wanted to know how lost I was in the years immediately before I went into rehab in 1990," he writes, "you only have to listen to 'I Fall Apart,' from Leather Jackets. That is, if you can stand to listen to Leather Jackets, in which case you're made of stronger stuff than me: it isn't so much an album as an experiment to see how much cocaine a man can take in a recording studio without being certified insane."
Elton once became Lord Choc Ice
Readers outside the UK may be mystified at the pseudonym that Elton used on disc in 1983. A choc ice is the generic name for a small block of vanilla ice cream covered in chocolate. Many Americans will know it as a Klondike bar, first sold in the US in the 1920s. Anyway, we digress: Lord Choc Ice was the name on the credit for "Choc Ice Goes Mental," the UK B-side of the major hit "I Guess That's Why They Call It The Blues." The two-minute track showcases Elton the pianist, using heavy echo on a piece of rock'n'roll boogie-woogie.
He can do a mean mystery voice
If ever you're compiling a pop trivia quiz and there's a "guess the artist" round of mystery voices, there's an Elton track he chose for Jewel Box that you need to hear. "Stone's Throw From Hurtin'" originated on 1998's Sleeping With The Past, produced by Chris Thomas and featuring the star on digital piano, in a voice he may never have used before or since. Not quite falsetto, it's nevetheless far enough away from his familiar tones to keep your quizzers guessing. Bernie compared it to Sam & Dave; Elton called it "J.J. Cale meets Canned Heat." The song also inspired a 1992 cover by country heroine Wynonna Judd, included in the soundtrack of the movie Leap of Faith.
He's as crazy about Leon Russell as ever
Elton has never stopped loving the music of the man who first turned him on to Americana in all its glory. Leon Russell was an immense influence on the young singer-songwriter, as he and Bernie began their songwriting adventures, and he was famously in the audience at Elton's career-changing Troubadour shows of August 1970. The admiration was already mutual; Russell had tried to sign the young Englishman, just too late, to the Shelter label. A couple of months afterwards, Leon invited Elton to open for him at the Fillmore East.
Listen to the best of Elton John on Apple Music and Spotify.
Forty years and two lifetimes later, the superstar returned the favor by asking Russell to make the album The Union with him in 2010. Elton has chosen no fewer than three songs from it, "Monkey Suit," "Gone To Shiloh," and "Never Too Old (To Hold Somebody)," for the two discs of Deep Cuts he has curated for Jewel Box, and they're heartfelt selections.