The Day Clapton Said Goodbye To Blackie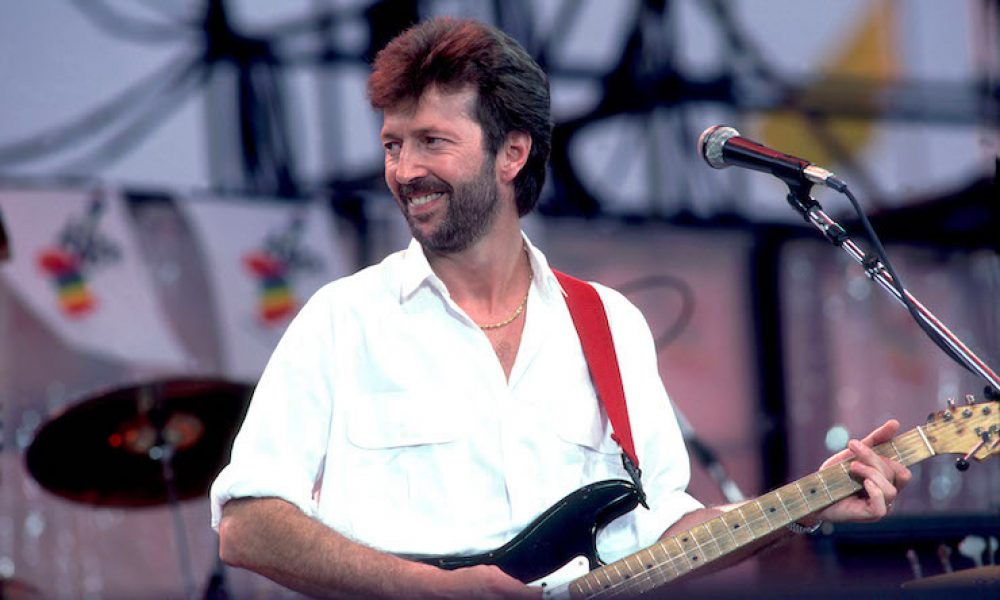 Today, 14 years ago, Eric Clapton said an emotional goodbye to his favourite guitar — and saw Blackie become the most expensive guitar in the world.
Blackie, the Fender Stratocaster he used between 1970 and 1985, seen as such landmark events as his Rainbow concert of 1973 and Live Aid in '85, was sold at Christie's Auction House in New York on 24 June 2004 to raise funds for Crossroads Centre Antigua, the alcohol and drug treatment centre that Eric founded in 1997. The guitar was bought by the Guitar Centre for $959,500, immediately becoming the world's most expensive.
Blackie was especially adored by Clapton because he assembled it himself from three different Strats. In the introduction to the book 'The Stratocaster Chronicles,' he wrote: "My first Strat was Brownie, and I played it for years and years, a wonderful guitar. Then I was in Nashville at a store called Sho-Bud, as I recall, and they had a whole rack of old '50s Strats in the back, going second-hand.
"They were so out of fashion, you could pick up a perfectly genuine Strat for two or three hundred dollars — even less! So I bought all of them. I gave one to Steve Winwood, one to George Harrison, and one to Pete Townshend, and kept a few for myself. I liked the idea of a black body, but the black one I had was in bad condition, so I took apart the ones I kept and assembled different pieces to make Blackie, which is a hybrid, a mongrel."
That "mongrel" would be with Eric at the first of his two "comeback" Rainbow concerts in January 1973, on the ARMS benefit tour of 1983 and on his 'Bad Love' video and at Live Aid. It was not only used on every album during its 15-year lifespan, but was photographed with Eric on the cover of several, including 'Slowhand,' 'Just One Night' and the 'Cream Of Eric Clapton' compilation.
But even in retirement, Blackie made two more appearances. In 1990, Clapton made a commercial for Honda Cars, for which the company itself requested the guitar make an appearance. The following year, it came out for one number during Eric's residency at the Royal Albert Hall.
Two years after the Guitar Centre bought Blackie, Eric gave the company permission to launch a limited edition of Blackie replicas in association with Fender Guitars, as part of their Tribute Series, with part of each sale going to the Crossroads charity. Clapton introduced the first of the replicas at his Albert Hall show that May, and in the November, 275 Blackie replicas went on sale and sold out in a day, the rest being sold internationally. The legend of Blackie continues.
Format:
UK English