'While My Guitar Gently Weeps': The Story Behind The Beatles' Song
Starting life as a tender acoustic song, 'While My Guitar Gently Weeps' became an epic rock track, and one of George Harrison's finest Beatles moments.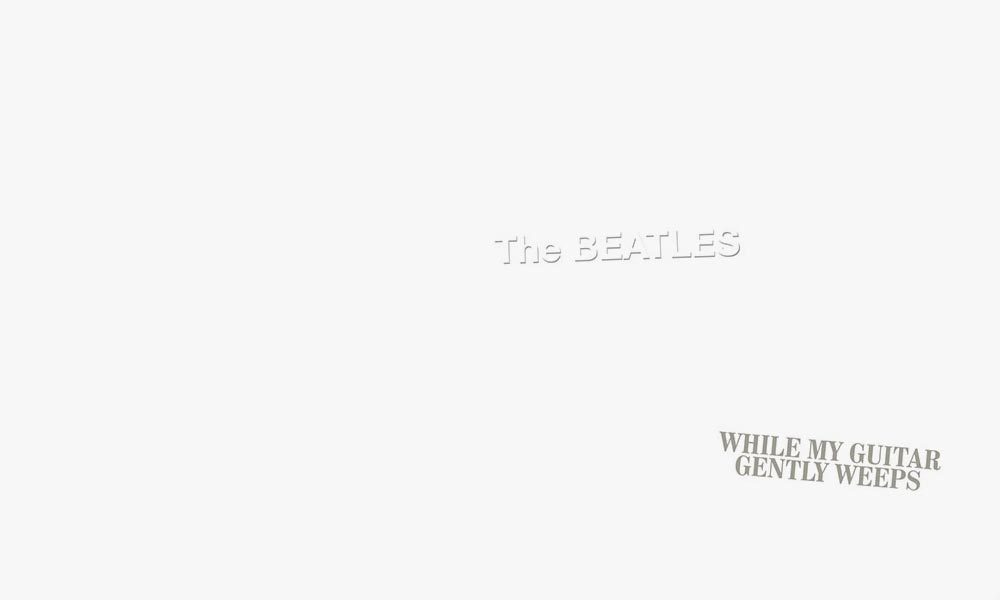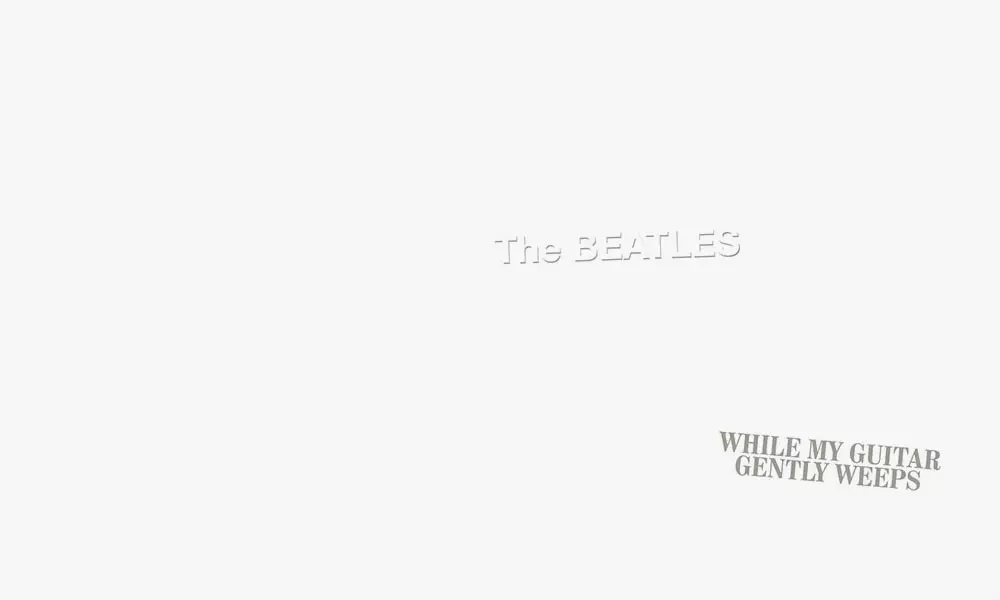 Of all the songs on The White Album, "While My Guitar Gently Weeps" underwent some of the most radical changes over the course of recording. Left unheard until its 1996 release on Anthology 3, the earliest versions of the song were tender, George Harrison singing to his own acoustic guitar accompaniment, backed only by Paul McCartney on harmonium. A touching version of the song, it was nonetheless not what George was after, and would be drastically remade – not once, but twice – before he was satisfied. The lyrics would also go through a number of changes before the final version, with entire verses being lost along the way.
The super deluxe edition of The Beatles' "White Album" is out now.
The songwriting process
The song began as an experiment with a theory from the I Ching while George was visiting his parents. "'While My Guitar Gently Weeps' was just a simple study based on the theory that everything has some purpose for being there at that given moment," George explained. "I was thinking that anything I see when I open a book, I'm going to write a song about. So I opened this book and I saw 'gently weeps.' I shut the book and then I started the tune."
The Beatles - While My Guitar Gently Weeps (Esher Demo / Audio)
After abandoning the delicate acoustic approach taped in July 1968, George enlisted the rest of The Beatles for a full-band version in August. Once the group had created a decent backing, George spent hours trying to craft a backward guitar solo for the song, before ditching this version too.
George had been friends with Eric Clapton since The Yardbirds supported The Beatles in 1964, and, seemingly on a whim, invited his friend to play on the next attempt to nail the song.
Speaking to Guitar Player in 1987, George recalled Clapton's initial reluctance: "He said, 'Oh, no. I can't do that. Nobody ever plays on The Beatles' records.' I said, 'Look, it's my song, and I want you to play on it.' So Eric came in, and the other guys were as good as gold – because he was there. Also, it left me free to just play the rhythm and do the vocal. So Eric played that, and I thought it was really good. Then we listened to it back, and he said, 'Ah, there's a problem, though; it's not Beatley enough' – so we put it through the ADT, to wobble it a bit."
The Beatles - While My Guitar Gently Weeps (Acoustic Version / Take 2 / Audio)
Chris Thomas, who at that time was George Martin's assistant, recalled how this was achieved: "I was given the grand job of waggling the oscillator on the 'Gently Weeps' mixes… We did a flanging thing, really wobbling the oscillator in the mix, I did that for hours."
A beautiful moment
These early September 1968 recording sessions for "While My Guitar Gently Weeps" were significant for a number of reasons, not least because this was the first time Ringo had returned to the studio since leaving the group, albeit temporarily, during work on "Back In The USSR" a couple of weeks earlier. For his return, George had Ringo's Ludwig Hollywood drum kit decorated with flowers, a gesture that meant a lot to the drummer. "It was a beautiful moment," he later wrote.
The Beatles - While My Guitar Gently Weeps (2018 Mix / Audio)
During the summer of 1968, the group had on occasion decamped from the familiar surroundings of EMI's Abbey Road studios in St John's Wood to Trident in Soho, a facility that offered eight-track recording. (Abbey Road was busy modifying their own pair of eight-track 3M machines.) Back at Abbey Road, on September 5th and 6th under the guidance of Chris Thomas deputizing for an absent George Martin, the group finally realized Harrison's vision for the song. Paul contributes an inspired piano part, which opens with a distinctive introduction ahead of the first burst of guitar from Clapton, but continues to underpin the whole piece beautifully. George's effortless lead vocal takes its inspiration from Smokey Robinson, ably assisted by Paul, before Clapton's virtuoso lead guitar soars above a powerful and heavy rock backing. The lengthy coda rises again and again as a frenzy of sound delivers a knockout punch, a million miles away from the song's acoustic beginnings.
The super deluxe edition of The Beatles' "White Album" is out now.