When Jazz Ruled The World: The Rise And Reign Of America's One True Art
We look back to a time when jazz was the dominant form of popular music and could be heard emanating from radio stations and concert halls around the world.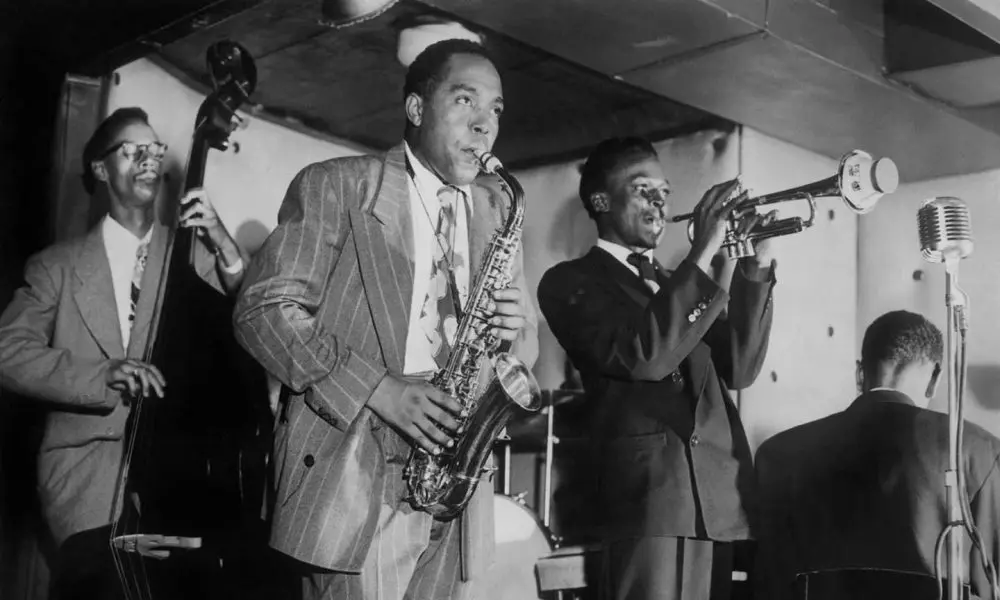 Nowadays, in the second decade of the 21st Century, jazz may seem to many a marginalized music. Of course, it goes without saying that there are still musicians who have risen out of the jazz ghetto, crossed over, and sold humungous amounts of records to the mainstream public – think Gregory Porter and Diana Krall, in recent times – but on the whole, jazz music no longer makes the bestseller lists.
But there was a time when jazz was the dominant form of popular music and it could be heard emanating from radio stations, jukeboxes, nightclubs and concert halls throughout the world. From the era of the flapper to the beatnik epoch, jazz ruled. But what ended the music's 35-year reign was a seismic event called rock'n'roll, which was embodied in the mainstream by the hip-gyrating antics of a certain Elvis Presley, the crowned king of a genre that initiated a cultural and musical tsunami that swept all other forms of music away into insignificance.
Listen to the best jazz music on Spotify.
How did jazz come to rule the world?
So how did jazz come to rule the world? For the answer to that, let's travel back to America in 1920. World War I had ended two years previously and the jubilation felt at the prospect of peace was combined with an economic boom and a post-war optimism that dovetailed with the younger generation's desire for greater personal freedom. But the prospect of living a life defined by carefree hedonism was quickly quashed by the US Congress, who embarked on a new war. This was a different kind of conflict: a moral crusade that targeted one of humanity's main vices. On January 16, 1920, the Volstead Act was passed, declaring a war on alcohol (prohibiting its manufacture, sale, transportation, consumption, and importation) in a move to reduce crime, violence, and poverty, and improve the American quality of life.
But as history – and human behavior – shows us, anything that is prohibited instantly becomes more desirable. And so, inevitably, Prohibition (as it came to be known) proved to be the catalyst that resulted in a proliferation of bootleggers and organized crime rackets that profited during Prohibition's 13-year duration. No sooner had the ban been implemented than illicit alcohol-serving clubs – called speakeasies – began springing up in abundance. At these "dens of iniquity" (as the Puritans called them) booze could be obtained and, if you had the money, you could drink freely until closing time – or until the police raided.
Of course, entertainment was needed for these salubrious joints, and no music was better suited to this new age of wild hedonism than jazz, an exciting, freshly-minted form of syncopated dance music – the love child of ragtime and European marching band music – first created by African-Americans in Southern bordellos. At a time when young urban Americans – both men and women, the latter having been granted the right to vote in 1920 – wanted to express their personal freedom and flout their sense of individual liberty, jazz was their preferred choice of music. Jazz music was, then, the soundtrack to a revolution – or, at the very least, a rave-up.
A profound effect on music
While the rise of jazz is inextricably bound up with the American government's decision to introduce Prohibition, it also thrived because of a crucial technological development that would have a profound effect on the spread of music as a whole – the gramophone record. Recorded sound had been around since 1877, but it wasn't until 1918 that the phonograph player really took off, when the expiration of the patent for producing playable discs allowed any company to manufacture records.
But even if the gramophone record hadn't been invented, it's probable that Louis Armstrong, unequivocally the most important jazz figure of the 20s, would still be known today in some way. From his humble beginnings in a rough, poverty-stricken New Orleans neighborhood, Armstrong rose to become the most influential – and arguably the greatest – trumpet player in the world. And, of course, besides his golden trumpet sound, he boasted a rough-edged singing voice that was instantly recognizable.
Armstrong first recorded with King Oliver's Creole Jazz band in 1923 before striking out on his own and setting the world on fire with his Hot Five and Hot Seven groups. Among his biggest records from that time were "West End Blues" and "Potato Head Blues." Armstrong's popularity didn't diminish when the 30s arrived, and he continued to record and tour up until his death in 1971.
After leaving King Oliver's band, and prior to going solo, Armstrong had spent time with Fletcher Henderson's band in New York. Henderson, who worked as a lab chemist before discovering he could make more money playing music, was a pianist who accompanied blues singers and then formed his own jazz band, which by the mid-20s, was one of the hottest in the Big Apple. One of Henderson's most popular records from this period was the jaunty "King Porter Stomp," which, according to its composer, Jelly Roll Morton – another totemic figure in early jazz – had been written twenty years earlier. Morton was also responsible for the popular "Black Bottom Stomp," released in 1926, which spawned a dance craze of the same name.
Like Louis Armstrong, Duke Ellington was a musician who emerged in the 20s and remained popular until his death, many years later. Suave and urbane, Ellington's music mirrored his personality; his fame spread after his orchestra became the house band at Harlem's famed nightspot, The Cotton Club, in 1927.
But jazz wasn't the exclusive preserve of African-Americans. White musicians and bandleaders, among them Bix Beiderbecke and Paul Whiteman, were quick to embrace the music and appropriate it as their own. As a consequence, they sold thousands of records across the US, helping to further the popularity of jazz music.
The end of the Jazz Age
Hollywood movies also helped to cement the popularity of jazz and give it a strong cultural presence in the US (indeed, the first "talking picture" was 1927's The Jazz Singer, starring Al Jolson). But on October 29, 1929 a cataclysmic event brought the curtain down on the jazz age and ended the non-stop party that had defined the 20s. The bill had to be settled but there wasn't enough money in the coffers; consequently, Wall Street crashed on "Black Tuesday" as stocks and shares on the US financial market plummeted to a disastrous all-time low and triggered what became known as The Great Depression.
In ten years, America had gone from heady exultation into a deep spiral of depression that ravaged the nation both economically and spiritually. But despite its association with the good times that had now evaporated, jazz music wasn't cast aside. Though the Jazz Age was officially dead, the music's popularity grew even more in the 30s, perhaps because its upbeat rhythms offered temporary respite from the bleakness of economic realities. In fact, jazz became bigger and bolder than ever before, even though the depression exerted a powerful effect on record companies, who trimmed their rosters and budgets accordingly. Even so, jazz music grew more extravagant, dominated by propulsive swing rhythms that were executed by much larger ensembles. This was jazz in glorious Technicolor to beat the blues.
The Great Depression lasted ten years but the jazz music from that time is mostly upbeat, targeting the feet rather than the head. The concept of the big band wasn't new in jazz – after all, the 20s had birthed large ensembles led by both African-Americans (Duke Ellington, Fletcher Henderson and Jimmy Lunceford) and white musicians (Jean Goldkette and Isham Jones). But it was the 30s when the big band sound really blossomed.
The swing era
For some, the swing era exploded into life on a Wednesday evening in August 1935. That was the night when a relatively unknown clarinet player called Benny Goodman took his band to Los Angeles' Palomar Ballroom and brought the house down with hot, syncopated arrangements. Assisted by the power of a new marketing tool called radio, Goodman began selling records in large quantities and, soon afterward, was crowned The King Of Swing. In truth, Goodman wasn't the originator of big band swing but he lit the touchpaper that ignited swing fever in the US.
One of the bandleaders whose music had presaged the swing explosion was Kansas City pianist Benny Moten, whose band started its recording career in the 20s. At the end of that decade, Moten recruited a young pianist called Bill Basie and brought in a bassist to replace a departing tuba player. These seemingly minor changes had a major effect, helping revolutionize his band's sound; more importantly, in a wider context, they replaced the jaunty, see-saw-like 2/4 "stomp" meter that had been the defining characteristic of ragtime and early jazz music into something smoother, refined and more elegant. It soon caught on. In fact, it was an embryonic version of the sound and style that Basie (now known as Count Basie) would go on to explore and refine with his own group as the 30s progressed. By 1937, Basie's sound, with its propulsive swing beat and slick brass interplay, was fully formed. His most popular recordings of the time included "One O'Clock Jump," and "Jumpin' At The Woodside."
The original jazz aristocrat, Duke Ellington, was big in the 20s but even bigger in the following decade. His band grew in size too, evolving into a finely-wrought compositional tool that featured superior soloists like Johnny Hodges.
Other important black bandleaders during the swing era were Jimmy Lunceford, whose slick band was held in high regard; Cab Calloway, a charismatic vocalist with a distinctive scatting style, whose signature tune was 1931's "Minnie The Moocher"; and Earl Hines, a dexterous pianist with an ornate style who was a big influence on Nat "King" Cole. Drummer Chick Webb's band was also noteworthy, especially because he discovered Ella Fitzgerald, a singer who went on to enjoy a stellar career.
But it was the all-white big bands that were taking jazz music to the masses in America in the 30s and helping to make music of African-American origin ubiquitous.
We've already mentioned Benny Goodman but he wasn't alone as a virtuoso Jewish clarinet player leading a popular big band. There was also Artie Shaw, who racked up a slew of hits, including a definitive reading of Cole Porter's immortal "Begin The Beguine," which was a huge Stateside smash in 1938.
Another swinging clarinet player was Jimmy Dorsey, who, together with his younger sibling, Tommy, a trombonist, co-led The Dorsey Brothers Orchestra in the 30s. Their hits included "Tomorrow's Another Day," but the brothers fell out and ran their own successful bands from 1935. Tommy Dorsey was also noted as an eagle-eyed talent-spotter who gave opportunities to young musicians. Among his protégés were Frank Sinatra (whom he tempted away from another notable bandleader, Harry James) and drummer Buddy Rich.
Like Dorsey, swingmeister Glen Miller was a trombonist and, after joining the Dorsey Brothers' band in the early 30s, he built a solid reputation as a go-to arranger. Miller started his own band in 1937 but it didn't start to make a significant commercial impact until he had perfected a distinctive sound that was based on doubled-up lead instruments supported by three saxophones playing close harmonies underneath. It proved a winning combination and, by the time the 40s had arrived, Miller was becoming a household name with a welter of hits that included "Tuxedo Junction" and "Chattanooga Choo-Choo."
Jazz during wartime
Jazz music had helped to raise both spirits and morale during the dark days of the Great Depression, which was officially declared over in 1939, as the green shoots of economic recovery began to blossom. Soon afterwards, however, it also became the soundtrack to a new, and more serious, problem – World War II.
While the war raged, jazz records – particularly those by big bands – dominated the US pop charts. Indeed, most of the US chart-toppers between 1940 and 1945 were by big bands, among them those led by Jimmy Dorsey (who scored nine No.1s), his brother Tommy (four), Glen Miller (nine), Artie Shaw (two), Harry James (eight) and Woody Herman (one). With its blend of infectious dance rhythms and sentimental ballads, jazz music boosted morale, and the fact that the US military had its own USO big bands to entertain the troops helped to maintain jazz's popularity.
But while on the surface big bands still seemed to flourish, the economic reality of being at war meant that the days of the large ensembles were numbered. With increased costs in transportation, big bands were just too expensive to maintain and keep on the road. The situation was compounded in 1942 when the American Federation Of Musicians, a powerful union, initiated a strike against royalty rates paid by record companies that lasted until 1944. All union musicians were prevented from not only recording any kind commercial sessions but also playing on the radio. It was, perhaps, the final nail in the coffin for the big band. Some, however, such as those led by Duke Ellington and Count Basie, soldiered on regardless – and would keep going for many years (or, in the case of Count Basie, even after their leader had died).
Crooning
The US charts reflected the waning influence of the big bands during the final two years of the war, when pop vocalists began to thrive and prosper. In the big band age, singers were usually added to augment the sound, and got a feature spot to perform a few numbers, but now they were branching out on their own. Both Bing Crosby and Frank Sinatra had made their mark as featured big band singers (Crosby with Paul Whiteman in the 30s; Sinatra with Harry James and then Tommy Dorsey in the late 30s and early 40s); they were singers who had benefited from the invention of the microphone and could sing in a soft, intimate conversational style that was dubbed "crooning."
Frank Sinatra - Witchcraft (Welcome Home Elvis)
From 1943 onwards, male crooners began to proliferate, and their female counterparts (Dinah Shore, Peggy Lee, Doris Day) broke through as well. There were also vocal groups such as The Mills Brothers and The Ink Spots, who were beginning to find favour with the public and light up the charts.
While this was going on, instrumental jazz music was undergoing a revolution. Its practitioners called it bebop, and though it came to be associated with small group jazz – which became the "in" thing after the big band era – ironically, bebop was incubated in the large ensemble of crooner Billy Eckstine. He recruited some forward-thinking musicians in his band – notably alto saxophonist Charlie Parker and trumpeter Dizzy Gillespie – and together they began developing a new, complex jazz language where they improvised at a terrific speed over advanced harmonies.
Bebop: jazz as intellectual art
This was the start of jazz being perceived as intellectual art music as opposed to its previous role as functional dance music. Bebop proved too outré and avant-garde for those whose ears were not attuned to its bold, new argot, but its influence grew as the 40s moved towards 1950.
A young trumpeter called Miles Davis, who was apprenticed to Parker and Gillespie, fell under bebop's spell and started making his own records. He would eventually go on to become a profoundly influential figure in the development of what became known as modern jazz. During that same time, an intriguingly named pianist/composer called Thelonious Monk would stake his claim as one of jazz music's true originals: the angular melodies and dissonant chords of his first recordings reflected a unique sound and style.
The advent of the long-playing record, in 1948, aided the evolution of bebop, allowing jazz musicians to play much longer, more ambitious pieces that featured extended passages of improvisation. While the major labels were suspicious of this new music, smaller independent companies, run by jazz enthusiasts, emerged to spread the bop gospel, among them Blue Note, founded in 1939, and, later, Prestige, Riverside, and Verve, all of which built up impressive catalogues.
But while bebop prospered in the age of the album, its cutting-edge experimentalism wasn't for everybody. It blossomed in New York's jazz underground, in places like Manhattan's 52nd Street, but it didn't register on the radar of mainstream record buyers. But jazz music, in a less challenging and cerebral form, was still dominating the hit parade. Pianist-turned-singer Nat "King" Cole was making his mark with his trio, who hit the summit of the US pop charts in 1947 with "I Love You For Sentimental Reasons." They were replaced at the top by Count Basie with "Open The Door, Richard," but that proved the last hardcore jazz hit of the 40s as the smooth-voiced crooners began to take over.
[I Love You] For Sentimental Reasons
Come the 50s, the jazz scene in America was still a vibrant one. Though veterans the likes of Louis Armstrong, Duke Ellington and Count Basie were still plying their trade and selling plenty of records and concert tickets to enthusiastic fans, it was bebop that was dictating the course of jazz music. It had cast a hypnotic spell upon many young, up-and-coming musicians who all aspired to blow their horns like Gillespie and Parker.
But while bebop was still the hot currency, Miles Davis, having felt he had reached a creative dead end with bop, came up with the concept of cool jazz, which was a less intense take on bebop, as evidenced by a series of singles for Capitol that were eventually collected and released as the game-changing 1957 album Birth Of The Cool. It was a groundbreaking record that signposted the whole West Coast "cool school" movement that was popular in the 50s, and whose principal exponents included white musicians like Stan Kenton, Gerry Mulligan, Stan Getz and Dave Brubeck.
Cool jazz and hard bop
While California was the capital of cool jazz, New York became the foundry where hard bop was forged. Hard bop had much more heat and intensity than the West Coast sound and was a variant of bebop that drew on blues and gospel. The architects of hard bop included pianist Horace Silver and drummer Art Blakey, who co-founded The Jazz Messengers in 1954. When Silver left to pursue a solo career, Blakey took over leadership of the group and its vibrant, horn-laden sound, powered by his thunderous polyrhythms, came to define the essence of hard bop, arguably the most dominant and popular form of jazz music in the 50s.
Though crooners dominated the US pop charts in the first half of the 50s, some of them – Nat "King" Cole, Tony Bennett and Frank Sinatra among them – had jazz origins or sensibilities. And, of course, there was a bonanza of female jazz singers who were thriving during this time (many of them refugees from the big band age), including Billie Holiday, Ella Fitzgerald, Carmen McRae, Anita O'Day, Helen Merrill and June Christy.
From 1953 onwards, Sinatra made a remarkable transition. A bobbysoxer's icon in the previous decade, in the 50s he reinvented himself as a mature deliverer of sophisticated pop-jazz at Capitol Records, where his voice was framed by slick charts from arrangers Nelson Riddle and Billy May.
Sinatra's repertoire consisted of finely-crafted songs written by master tunesmiths whose work was hailed as The Great American songbook – namely, the Gershwin brothers, Cole Porter, Irving Berlin, Rodgers & Hart, and Harold Arlen, to name a few. This cache of material, eventually referred to as "standards," was also taken up by most bebop musicians, who would use the songs as vehicles for improvisation.
There was no better interpreter of standards – especially ballads – than Miles Davis, whose fragile tone had a haunting beauty to it. The major breakthrough in Miles' career came when he appeared at the 1955 Newport Jazz Festival, delivering a mesmeric performance that led to him being signed by Columbia Records. At Columbia, Miles took modern jazz forward with a quintet that included saxophonist John Coltrane in its ranks. Coltrane, too, was an innovator and pathfinder, and, as the 50s became the 60s, he would go on to make as big an impact in jazz as Miles.
Blue Train (Remastered 2003/Rudy Van Gelder Edition)
Jazz versus rock'n'roll
But by the time that Miles and Coltrane were taking jazz music in new directions, a seismic event had happened in music that pushed jazz right down the pecking order and ended its long reign as the world's most popular and dominant musical idiom. This phenomenon was called rock'n'roll. When it emerged in 1955, it was first viewed as a passing teen fad by its detractors, but as time passed, rock'n'roll didn't lose its momentum or appeal, sounding the death knell for jazz as a majority music.
Jazz music didn't go down without a fight and, ironically, what would become the best-selling jazz album of all time (Miles Davis' Kind Of Blue) emerged during rock'n'roll's first flourish. That was in 1959, the year that produced several jazz masterpieces that have transcended time, including David Brubeck's Time Out and Ornette Coleman's The Shape Of Jazz To Come.
Creatively, at least, jazz music seemed in a healthy state, but its audience was rapidly shrinking. It shrank even further in the 60s, mainly due to the advent of The Beatles and the British Invasion, which spawned a plethora of pop groups adored by screaming fans. Jazz's mainstream popularity was further weakened by the rise of avant-garde jazz, which dispensed with orthodox melody, harmony, and structure. Dubbed Free Jazz or The New Thing, and its main architects were Ornette Coleman, Cecil Taylor, John Coltrane, and Albert Ayler, whose music brought division and controversy into the jazz community.
If that wasn't enough, the late 60s, with its proliferation of flamboyant, psychedelic rock acts (Jimi Hendrix, The Doors, Jefferson Airplane, et al) drove another nail into jazz's coffin. Jazz clubs were closing down and bebop, once the epitome of modernity, was now passé.
What was a jazz musician to do? For some, the answer was to plug in and embrace the zeitgeist. That's what the ever-changing Miles Davis did with his revolutionary jazz-rock manifesto, Bitches Brew, in 1970, and it led to a whole host of jazz musicians who followed in his wake, giving birth to fusion and influential bands such as Mahavishnu Orchestra, Weather Report, and Return To Forever. Though fusion helped to revive jazz and was incredibly popular for a while, by the late 70s it was in terminal decline.
The jazz revival
Since then, jazz music – especially the instrumental variety – has largely remained a minority concern. Though it has witnessed an occasional revival or two, there is nothing to suggest that it will regain its long-lost crown. But thanks to the rise of charismatic singer Gregory Porter, jazz has seen some healthy mainstream chart action recently. Grammy-winning keyboardist Robert Glasper also has a considerable mainstream presence, thanks to his marriage of jazz and R&B. Also, the remarkable emergence of saxophonist Kamasi Washington, who took the world by storm in 2015, has revived interest in spiritual jazz and the more esoteric side of the idiom.
Gregory Porter - Smile (Official Music Video)
Though jazz music no longer rules the world, it remains a profoundly influential form of music and young lions such as Robert Glasper, Ambrose Akinmusire, and Kamasi Washington, just like the myriad hip-hop acts that sampled jazz records in the 80s and 90s, have made an important contribution by bringing a new, younger audience back to jazz – which only bodes well for its future.
As to what that future holds, who knows? Perhaps one day jazz will rise again and reclaim its crown.