Crown Lands' Sophomore Album 'Fearless' Set For Release In March
The Juno Award-winning duo's latest will be issued on March 31 through Spinefarm/Universal Music Canada.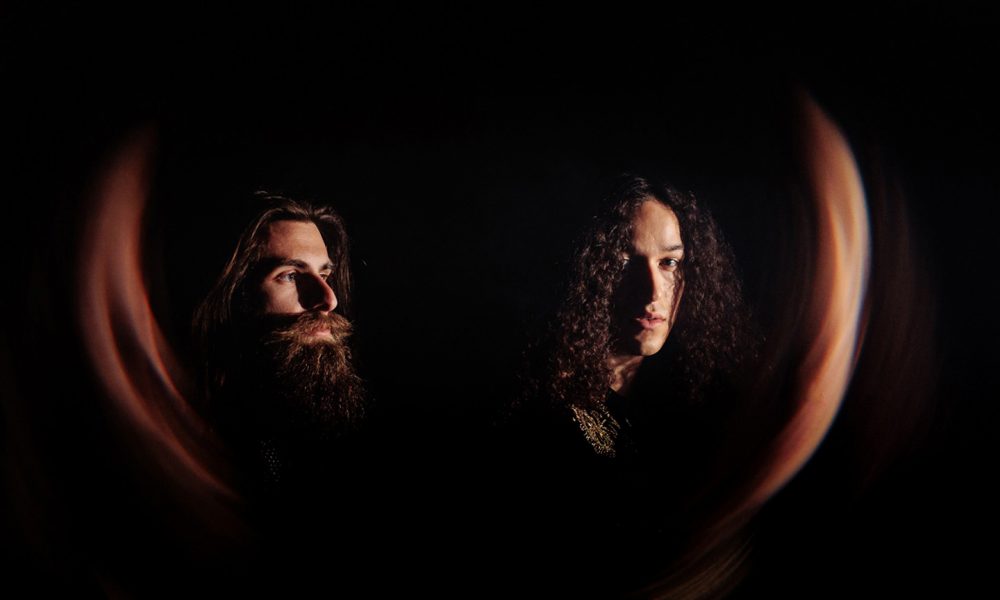 Juno Award-winning, powerhouse rock duo Crown Lands – Cody Bowles (vocals and drums) and Kevin Comeau (guitar, bass, and keys)—share details of their sophomore studio album Fearless set to release on March 31 through Spinefarm Records/Universal Music Canada.
Alongside the album announcement, Crown Lands release the 18-minute composition "Starlifter: Fearless Pt. II," the first track on the record which throws down the gauntlet and introduces the whole Fearless experience. "This is truly our crowning achievement.The best song we have written so far. An 18-minute opus. A testament to the power of prog. A document of just how much noise two people can create," exclaims Comeau.
Starlifter: Fearless Pt. II
The nine-track album follows Crown Lands' self-titled debut from 2020. It was recorded in 80A Studio at Universal studio in Toronto with producer David Bottrill (Rush, Muse, Tool, Mastodon) and came together over a six-month period, in short, intense bursts between tours.
Where the debut record showcased Crown Lands' aptitude for raw blues rock, Fearless embraces more of the band's earliest passions in prog-rock. The album is an unapologetically rich, ambitious work yet easily accessible, plus fans will notice some previously released tracks "Context: Fearless Pt. I" and "Right Way Back" that act as familiar touchpoints framing in the new soundscape.
"I mean, let's be honest here, there's a little bit of cleverness for cleverness' sake in there too," Comeau chuckles. "But it is really fun. We had so much fun tracking this music. I think we were both able to do what we wanted to do as artists for so long."
Rather than clobber its audience with complexity, Fearless creates a world you want to spend time in. Bowles anticipates, "I hope that our playing on this record inspires people to kind of take up playing in that way. It's something that's not so common now, but when you get into it, it's just so beautiful."
The lead single, "Starlifter: Fearless Pt. II," embodies otherworldly, Vangelis-esque qualities offset by juicy rock solos, sci-fi mystique, a captivating 11/8 section, gentle chimes and gauzy synths. It also builds on the same protagonist, the same universe that Crown Lands have been cultivating. Bowles explains the premise, "this epic story spans hundreds of years following our titular hero: Fearless after the events of (2021 single) "The Oracle."
He stands against the colonization of outer space and the decimation of his people to reclaim what was stolen by capitalistic greed and bloodshed." Bowles, who also writes science-fiction continues, "These are themes that may sound like a mere fantastic tale to some, but we wanted to marry sci-fi elements with very real issues Indigenous people have gone through time and time again. I guess that would be called Indigenous futurism. I have always loved songs that give you more the more you lean into them, and there is a deeper meaning to this story if you look for it."
Crown Lands continue to introduce themselves to the rest of the world through their high energy live shows. Last year, they joined Greta Van Fleet on the final leg of their "Dreams In Gold" world tour in the U.S. Starting March 10, they head out with fellow Canadian rock outfit, July Talk, playing iconic venues across their home country on "The Never Remember Tour," plus some headlining shows. See tour dates below, buy tickets on the band's official website.
Fearless Track Listing:
"Starlifter: Fearless Pt. II"
"Dreamer Of The Dawn"
"The Shadow"
"Right Way Back"
"Context: Fearless Pt. I"
"Reflections"
"Penny"
"Lady Of The Lake"
"Citadel"