Drake Shares News Of A Forthcoming Nicki Minaj Collaboration
Drake announced that his new album will be called 'For All The Dogs.'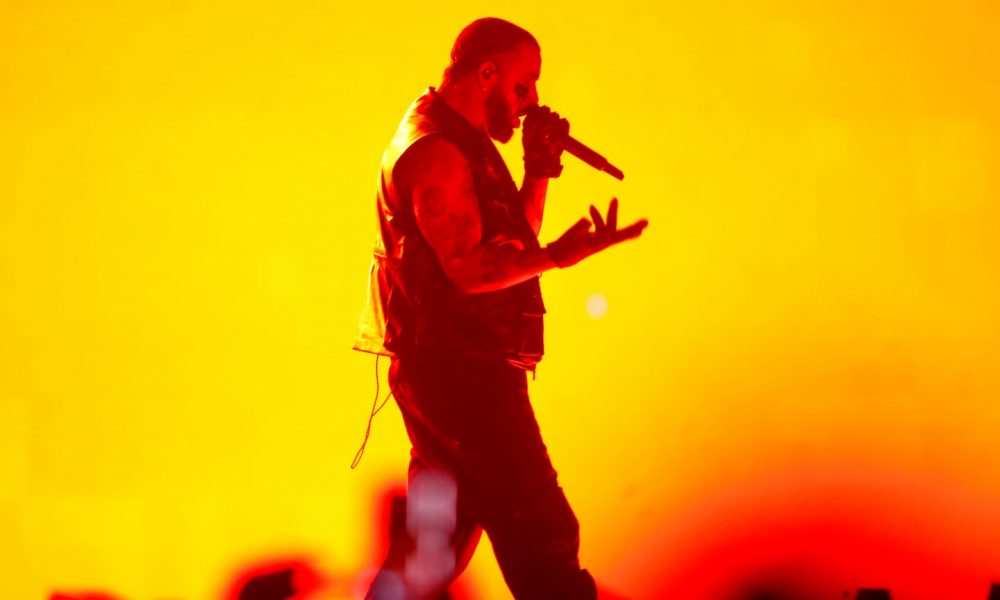 During his Detroit stop on the It's All a Blur Tour with 21 Savage, Drake revealed that he and Nicki Minaj have collaborated on a new song that is rumored to appear on his forthcoming album.
Shop the best of Drake's discography on vinyl and more.
"I'm gonna give away one thing for you tonight, because I got a lot of love for Detroit," he said while on stage. "So I'm gonna have to tell you that me and Nicki Minaj did our first song together in, like, a really long time. I got a lot of love for her."
The forthcoming album that will probably include the Minaj track is titled For All The Dogs and was announced alongside Drake's new poetry book, Titles Ruin Everything. The collection is out on July 14 via Phaidon. He co-wrote the collection with Kenza Samir, a longtime friend and songwriting collaborator.
The publisher's website describes Titles Ruin Everything as a 168-page collection of never-before-published poems about "fame, romance, and relationships."
As is often the case with Drake, though, the artist had more tricks up his sleeve. Newspaper ads promoting Titles Ruin Everything included a QR code that leads to a website with the following message: "I made an album to go with the book. They say they miss the old Drake girl don't tempt me. FOR ALL THE DOGS." Though the album may be coming soon, no release date is mentioned. It would, however, make sense for a new project to be on the way as Drake's It's All a Blur Tour with 21 Savage began at the end of June.
After the tour was announced, the four-time Grammy-award winning and multi-platinum selling artist added 12 additional new dates to the highly anticipated run due to popular demand.
Drake added fourth shows in Inglewood and Brooklyn, as well as second shows in Glendale and Nashville. He also added new dates in Columbus, Memphis, Denver, Austin, and Charlotte. In addition, he will now close out the tour with back-to-back shows in his hometown of Toronto, bringing the run of shows to a massive 54 dates across North America.
Pre-order Titles Ruin Everything: A Stream of Consciousness.