Glen Matlock, Clem Burke Reunite For Second UK Tour Celebrating Iggy Pop's 'Lust For Life'
The Sex Pistols and Blondie stalwarts head an all-star band also featuring vocalist Katie Puckrik and David Bowie/Iggy guitarist Kevin Armstrong.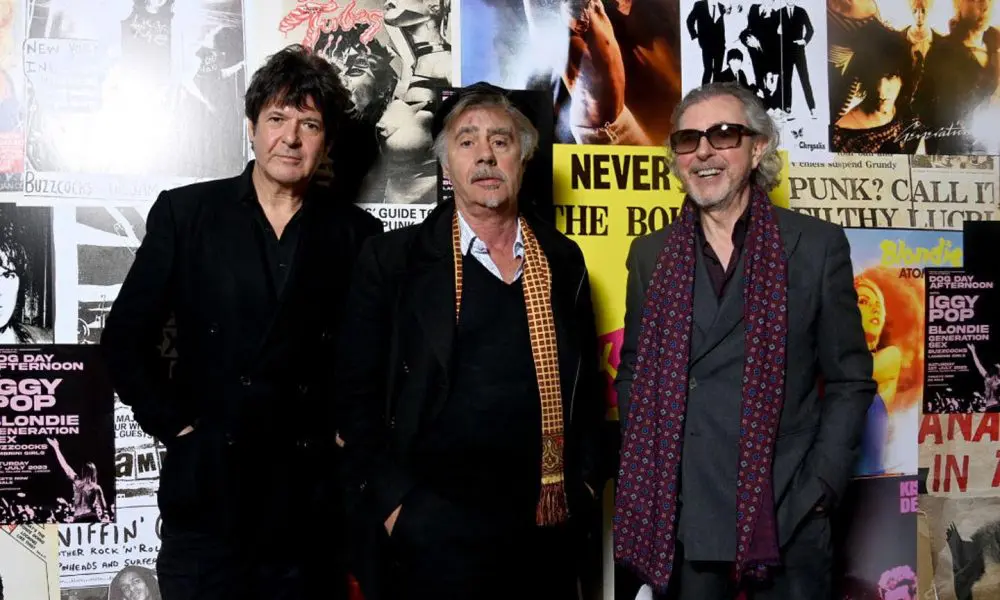 Clem Burke (Blondie) and Glen Matlock (Sex Pistols) are set to reunite with an all-star cast for a second UK tour celebrating Iggy Pop's classic album, Lust For Life.
Following glowing reviews, sold-out venues and many, many fun nights on the first UK jaunt, the all-star line-up celebrating Iggy Pop's iconic album will be back for a second UK tour of duty in 2024.
Legendary Blondie drummer, Clem Burke, will once again be joined by former Sex Pistol and punk pioneer, Glen Matlock on bass; broadcaster and Pet Shop Boys dancer, Katie Puckrik on vocals; Iggy Pop and David Bowie collaborator, Kevin Armstrong on guitar; Luis Correia, who's toured internationally with Earl Slick on second guitar; together with classical pianist, composer, and touring member of Heaven 17, Florence Sabeva on keyboards.
The band will again perform the Lust For Life album in full, as well as revisiting songs from across the individual band members' careers with legendary artists including Blondie, David Bowie and the Sex Pistols. Some of them will be songs the band performed on the last tour but there will be a few surprises thrown in as well.
Three of the band members, Glen Matlock, Clem Burke and Kevin Armstrong, have toured with Iggy Pop and each has made an album with him: Glen Matlock (Soldier) in 1980, Clem Burke (Zombie Birdhouse) in 1982 and Kevin Armstrong (Blah Blah Blah) in 1986.
Fronting the band, the irrepressible Katie Puckrik proved a rock 'n' roll revelation to many on the last tour. As Clem Burke said: "Katie is fantastic and she's joined the ranks of the other brilliant women I've been fortunate to play with: Debbie, Annie, Nancy, Wanda, The Go -Go's and Joan!"
In a statement, Puckrik said: "Touring Iggy Pop's Lust For Life in 2023 felt like a homecoming. Every single gig was a communion with a frothing room of Pop-aholics, and it's thanks to the crowds who danced and hollered along to "Lust For Life," "The Passenger" and the rest of Iggy's anthems, that we get to do it all over again. Once again I'll be elevated by some of Iggy, Bowie and Blondie's most beloved players, including Clem Burke, Glen Matlock and Kevin Armstrong, and I'm warning you—this band is a joy machine!"
Glen Matlock added: "To be on stage with these fellow like-minded guys and gals and celebrate our collective musical ancestries is always a pleasure, so come on down and let's all hit the roof together."
Clem Burke concludes: "I'm really looking forward to once again playing with this great group of friends and musicians. All aboard for more Funtime!"
The initial 'Lust For Life' tour was a huge hit with fans and critics alike. BBC Radio 6 Music presenter Marc Riley said "Great gig. Great band. Brilliant night," while Neil McCormick from The Telegraph wrote "If you're my generation, this is a blast."
The 2024 'Lust For Life' tour includes the following shows:
Thur 29 Feb – Arts Centre, Colchester
Fri 01 Mar – Social, Hull
Sat 02 Mar – St Luke's, Glasgow
Sun 03 Mar – O2 Ritz, Manchester
Tue 05 March – O2 Academy2, Leicester
Wed 06 Mar – O2 Academy2, Birmingham
Thu 07 Mar – O2 Academy2, Sheffield
Fri 08 Mar – O2 Academy2, Liverpool
Sat 09 Mar – O2 Academy Islington, London.
Listen to Iggy Pop's Lust For Life on Apple Music and Spotify.