Jon Pardi Invited To Join Grand Ole Opry At Stagecoach By Guy Fieri And Alan Jackson
The star is the first Californian artist to become a member of the Nashville institution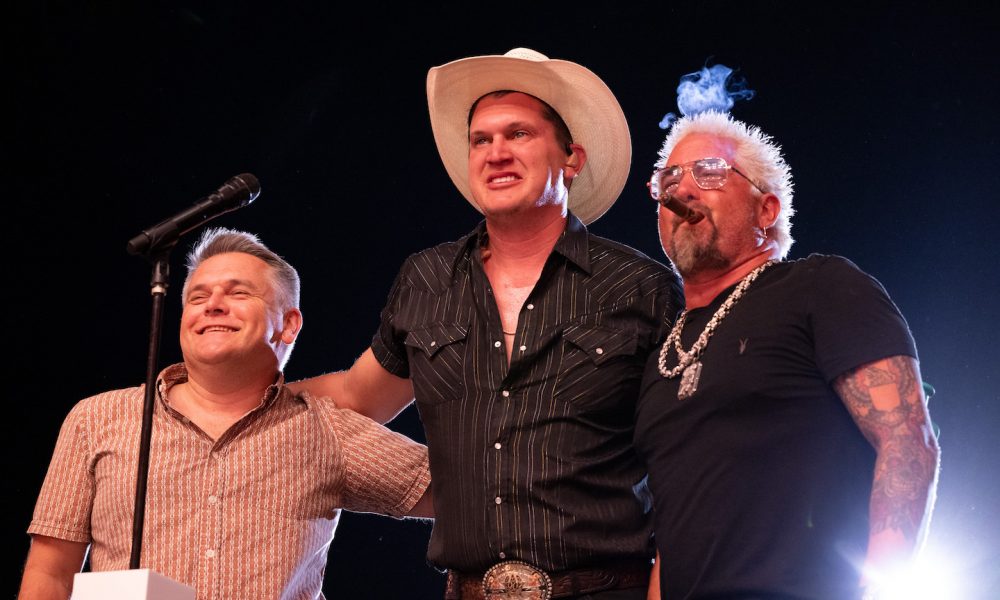 Jon Pardi's set at Stagecoach Festival this weekend featured a big surprise – for both the artist and audience – when he was invited to become a member of the Grand Ole Opry.
The Nashville institution is famously selective about who gets invited to become a member, with its official website citing "a passion for country music's fans, a connection to the music's history [… and] even a willingness to make significant sacrifices to uphold commitment" as requirements.
Pardi is the 225th artist to become a member of the Grand Ole Opry, but likely the first to be invited to join by Guy Fieri, who made an appearance during the star's set. "We are so proud of you, and you are a legend," Fieri said. "And tonight, we want you to be recognized, and our good friend Alan Jackson from Nashville, Tennessee, has a message for you."
A video of country icon Jackson then played. "The Grand Ole Opry has always meant a lot to me and everybody in country music, and I've been appreciating your music ever since you toured with me a few years ago," he said. "So I get the honor to invite you in front of all your Stagecoach friends out there to be the first native of California to become an official member of the Grand Ole Opry."
Accepting the invitation, Pardi said: "I love California, baby. I moved to Nashville chasing the dream at 22 years old. Now I'm here, and I love you guys. I love country music. Thank you, everybody; this is an amazing night. I'll never forget it. I guess, we wanna come visit Tennessee, I'll see you at the Grand Ole Opry, huh?"
The musician will have an official induction ceremony at the historic Nashville venue on a yet-to-be-announced date in the future.
Pardi released his latest album, Mr. Saturday Night, last year to rave reviews. "Jon Pardi is simply our esteemed King of Bleeding Hearts," Holler wrote, adding the record was "the sort of heartbreak album that gives the listener both a chance to cry their eyes out and hit the dance floor for some much-needed boot-scootin'."
The musician is set to kick off a global tour in support of the record in August, with his first tour dates beginning in the UK. After a series of dates in the country, he will then travel on to Europe before returning to North America.