Luke Bryan And Peyton Manning Reprise 'Dream Team' As 2023 CMA Awards Hosts
The event will air live on ABC on November 8, and nominees will be announced in September.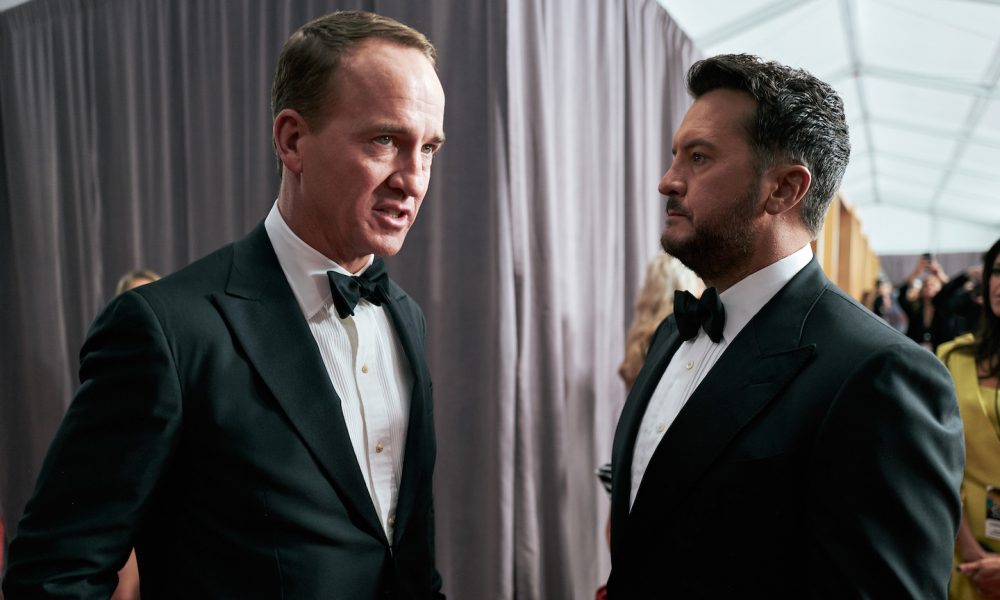 Luke Bryan and National Football League Hall of Famer Peyton Manning will reprise their hosting duties for a second year at the 57th CMA Awards, to air live on ABC on November 8, from Nashville's Bridgestone Arena. Nominees will be announced in September.
The news was officially revealed this morning (Wednesday) on Good Morning America by Lara Spencer, who said at the top of the show: "We're going to begin with the country music dream team, Luke Bryan and Peyton Manning.
"They scored the biggest ratings in three years when they hosted the CMA Awards last year," she continued. "And thankfully they have just agreed to do it again. The football star and the former CMA Entertainer of the Year will join forces on the stage at Nashville's Bridgestone Arena for two hours of laughs, tributes, and of course some amazing performances."
But I Got A Beer In My Hand
Last year, Manning became only the second person who is not a country music performer to host the event. The only previous time that happened was in 1968, when Roy Rogers was accompanied by his wife, Dale Evans. The 2022 show had the awards' best viewership figures for three years. Bryan had hosted solo in 2021.
Per figures from the Country Music Association, 9.7 million viewers tuned into last year's show, a total taken from seven days of viewing across linear and digital platforms. Bryan and Manning follow three previous duos who have helmed "Country's Biggest Night": Brooks & Dunn, who co-hosted from 2004 to 2006; Mac Davis and Barbara Mandrell, from 1980 to 1982; and Brad Paisley and Carrie Underwood, who served as co-presenters for an epic 11 years, from 2008 to 2018.
ABC first aired the CMA Awards in 2006, before which it was broadcast by NBC from 1968-71 and CBS from 1972-2005. It's the longest-running annual music awards program on network US television, having been first broadcast the year after its inception, as the CMA Awards Banquet and Show, in 1967.
Buy or stream Luke Bryan's new single "But I Got A Beer In My Hand."