Pusha T Releases 'Neck & Wrist,' Announces New Album 'It's Almost Dry' And Tour
The track will be featured on Pusha's new album, 'It's Almost Dry.'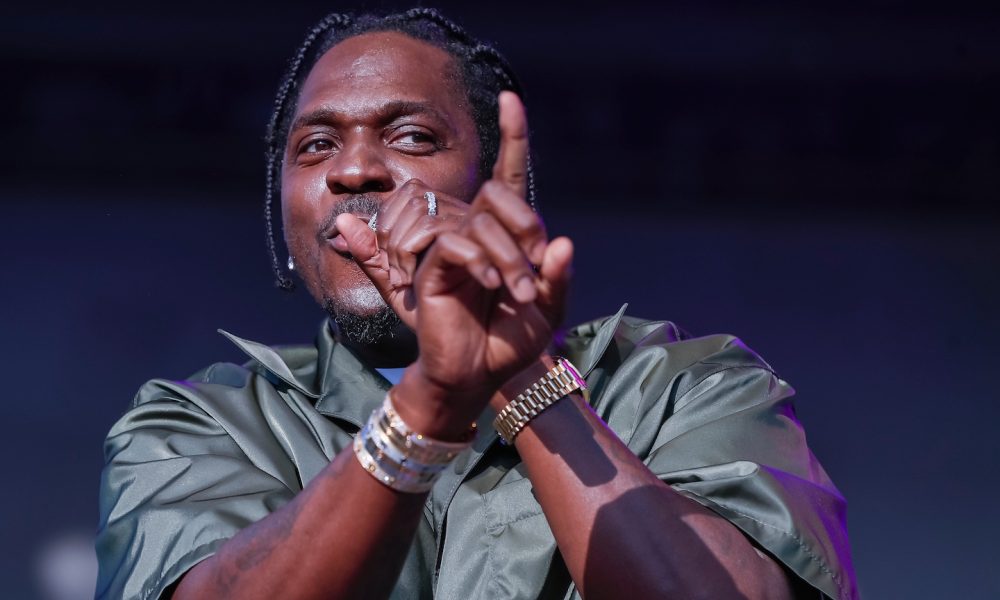 Grammy-nominated hip-hop star and multi-platinum artist Pusha T is back with a brand new single, "Neck & Wrist," featuring Jay-Z and Pharrell Williams. The track is the latest single from his new album, It's Almost Dry.
"Neck & Wrist"—produced by Pharrell—and the Ye-produced "Diet Coke" are the first two tracks in advance of Pusha T's forthcoming album, which was also announced today (April 6). It's Almost Dry has already been praised by Charlamagne Tha God as Pusha's "best body of work." It arrives as the highly anticipated follow-up to Pusha's 2018 masterpiece, Daytona.
Pusha and Pharrell handle the chorus as a duo, spitting, "First in the Beach with a million-dollar auto/ Bring the cameraman, we can shoot our own Narcos/ 812 matte black, lookin' like charcoal/ I promise you the floor plan's nothin' like the model."
To help celebrate the news, Pusha also announced a string of shows called the "It's Almost Dry" tour. The run is set to kick off May 29 in Seattle, Washington. See below for a full list of dates.
Pusha T was also recently featured on "Hear Me Clearly," the buzzworthy new single by longtime friend and collaborator Nigo. The track is included on his new album I Know NIGO!, released March 25 (Victor Victor Worldwide/ Republic Records). The star-studded project by the Japanese cultural and fashion icon is Nigo's first musical body of work in nearly two decades.
On the Nigo track, Pusha raps, "See the difference 'tween me and them?" "I move to a different drum like EDM." It was also executive produced by Pharrell, who the Virginia Beach rapper shared a story about in an Instagram post about the release.
"@pharrell heard this song and told me 'it's cool, but I don't want you to be a mixtape rapper for the rest of your life,'" Push said. "I was devastated. He then flew me to Miami and proceeded to produce the first half of the best album of the year. Moral of the story… always 'push' your friends to be greater, even when they're the greatest."
Nigo and Pusha also recently released a music video to accompany the song. The surreal, cinematic visual features Pusha taking on a number of different jobs, from construction worker to businessman, to international man of mystery.
Pusha T's It's Almost Dry Tour Dates:
5/29/22 – Seattle, WA – Showbox SoDo
6/1/22 – San Francisco, CA – The Regency Ballroom
6/2/22 – Anaheim, CA – House of Blues
6/4/22 – Los Angeles, CA – The Novo
6/5/22 – San Diego, CA – The Observatory North Park
6/7/22 – Chicago, IL – Concord Music Hall
6/8/22 – Detroit, MI – The Majestic Theatre
6/15/22 – Boston, MA – Big Night Live
6/16/22 – New York, NY – Irving Plaza
6/21/22 – Atlanta, GA – Center Stage
6/22/22 – Charlotte, NC – The Underground
6/23/22 – Philadelphia, PA – Theater of Living Arts