Sleep Token Releases Acclaimed Third Album 'Take Me Back To Eden'
The enigmatic alt-metal act will also be playing a sold-out US tour this fall.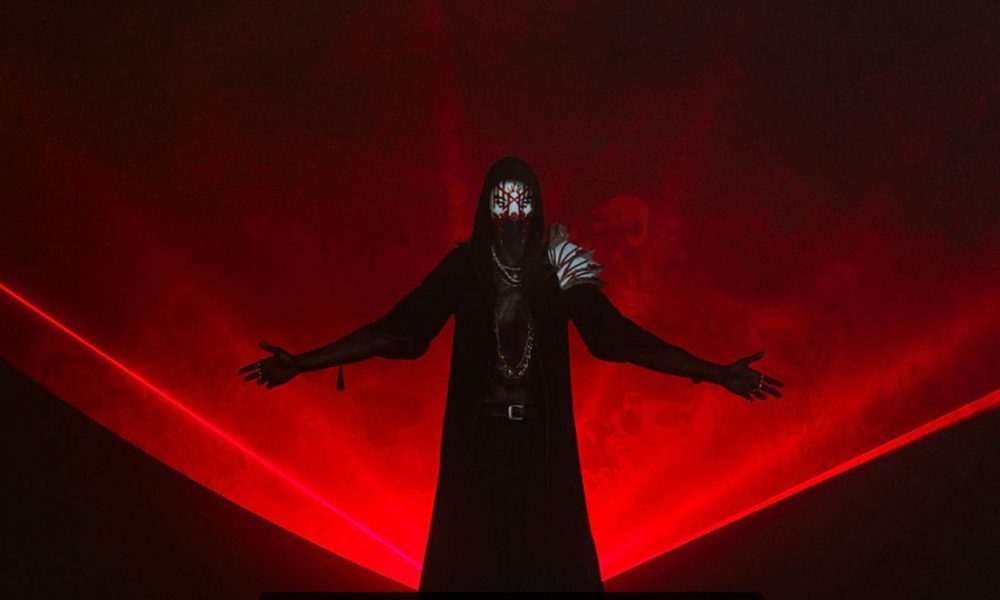 Sleep Token has today released their much-anticipated third studio album, Take Me Back To Eden, via Spinefarm.
Along with the new album's release, the enigmatic alt-metal band has revealed the concluding visualizer in the accompanying animated series for album's eight-minute title-track "Take Me Back To Eden." You can watch it below.
Sleep Token - Take Me Back To Eden
Take Me Back To Eden features an hour-plus of music across 12 tracks. It forms the third part of a trilogy, a spectacular chapter-closer in the ongoing Sleep Token saga – a saga that kicked off in earnest with the band's 2019 debut Sundowning.
The album features an extremely diverse selection of new music. The tracklist includes probably the heaviest moments thus far recorded by Sleep Token (i.e. "Vore" and "The Summoning"), along with some of the most immediate and certainly the most emotional (i.e. "Aqua Regia" & "DYWTYLM"), with a variety of different moods touched on in-between.
Reflecting Sleep Token's across-the-board appeal, Take Me Back To Eden has already garnered rave reviews from publications of all persuasions. In a 5-star review, NME said "It's an ambitious, emotional monolith of a record, with all the hallmarks of future classic status." Kerrang! said "If you all yourself to be fully immersed in Sleep Token's world, the sonic rewards are plentiful." Meanwhile, Metal Hammer proclaimed ""This is a record that not only expands the band's universe and continues to prod metal's boundaries, but considers what it means to be human. Otherworldly they may be, but there's the deepest empathy within."
On the live front, Sleep Token are confirmed to appear as special guests to Slipknot across two shows in Hamburg and Berlin, whilst ST's entire upcoming US tour dates, in addition to a one-off headliner in Germany, are completely sold-out.
Buy or stream Take Me Back To Eden.
SLEEP TOKEN 2023 TOUR DATES:
06.12.2023: Carlswerk Victoria, Cologne, Germany [HEADLINE SHOW. SOLD-OUT]
06.20.2023: Hamburg, Germany w/ Slipknot
06.21.2023: Berlin, Germany w/ Slipknot
6.7-10.2023: Mystic Festival, Gdansk, Poland
06.08.2023: Greenfield Festival, Interlaken, Switzerland
06.09.2023: Rock For People, Hradee Kralove, Czech Republic
06.10.2023: Mystic Festival, Gdansk, Poland
06.15.2023: Copenhell, Copenhagen, Denmark
06.17.2023: Graspop Metal Meeting, Dessel, Belgium
06.21.2023: Tons Of Rock, Oslo, Norway
6.23-25.2023: Full Force Festival, Ferropolis, Germany
6.23.2023: Jera On Air, Ysselsteyn, Netherlands
6.30.2023: Resurrectio, Fest, Viverio, Spain
07.15.2023 Ilosaarirock, Joensuu, Finland
7.28.2023: Radar Festival, Manchester, United Kingdom [HEADLINE]
08.03.2023: Rockstadt Extreme Fest, Rasnov, Romania
08.05.2023: Wacken Open Air, Wacken, Germany
08.17.2023: Summer Breeze Festival, Wittleshofen, Denmark
08.18.2023: Reload Festival, Sulingen, Denmark
08.19.2023: Cabaret Vert, Charleville-Mézières, France
08.26.2023: Reading Festival, Reading, United Kingdom
08.27.2023: Leeds Festival, Leeds, United Kingdom
US HEADLINE RUN
9.8.2023: Alton, VA — BLUE RIDGE ROCK FEST*
9.9.2023: Philadelphia, PA — Union Transfer [SOLD OUT]
9.10.2023: New York, NY — Webster Hall [SOLD OUT]
9.12.2023: Worcester, MA — The Palladium [SOLD OUT]
9.13.2023: Baltimore, MD — Ram's Head Live [SOLD OUT]
9.15.2023: Detroit, MI — The Cathedral at The Masonic [SOLD OUT]
9.17.2023: Minneapolis, MN — The Myth [SOLD OUT]
9.19.2023: Dallas, TX — Studio at The Factory [SOLD OUT]
9.20.2023: Oklahoma City, OK — Tower Theatre [SOLD OUT]
9.22.2023: St. Louis, MO — Hawthorn [SOLD OUT]
9.23.2023: Louisville, KY — LOUDER THAN LIFE*
9.25.2023: Denver, CO — The Ogden Theatre [SOLD OUT]
9.26.2023: Salt Lake City, UT — The Complex [SOLD OUT]
9.28.2023: Spokane, WA — Knitting Factory [SOLD OUT]
9.29.2023: Boise, ID — Knitting Factory [SOLD OUT]
9.30.2023: Seattle, WA — The Showbox Market [SOLD OUT]
10.1.2023: Portland, OR — Roseland Theatre [SOLD OUT]
10.3.2023: San Diego, CA — The Observatory NP [SOLD OUT]
10.4.2023: Los Angeles, CA — The El Rey Theatre [SOLD OUT]
10.5.2023: Anaheim, CA — House of Blues [SOLD OUT]
10.7.2023 Sacramento, CA — AFTERSHOCK*
*FESTIVAL DATES