Stevie Wonder Recalls His Collaborations With Jeff Beck, 'A Great Soul Who Did Great Music'
Wonder talks about their work together on 'Lookin' for Another Pure Love' and about the origins of 'Superstition.'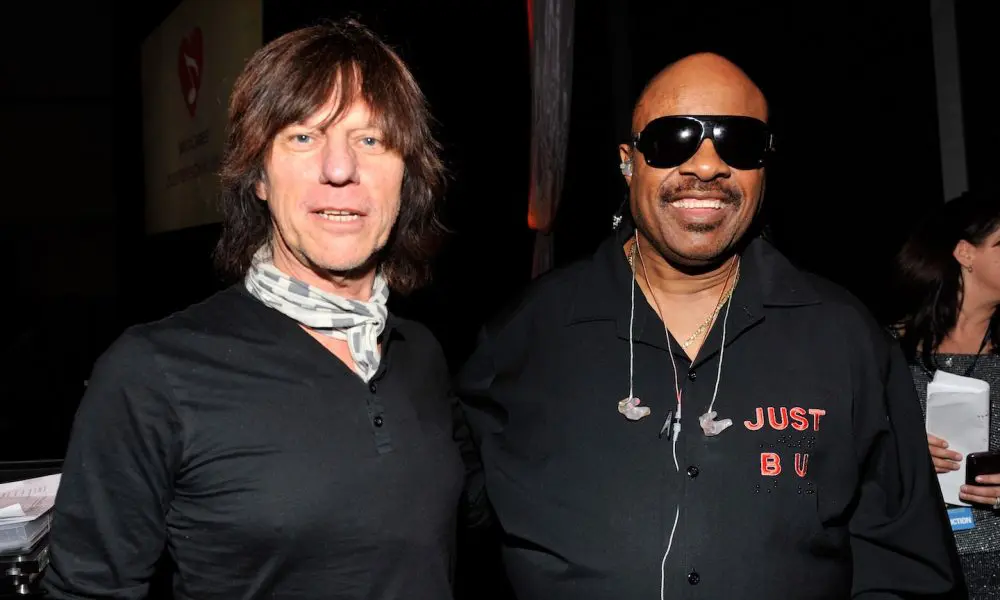 Stevie Wonder has given a new and rare interview to the Detroit Free Press about his musical collaboration with Jeff Beck. "A great soul," as Wonder calls him, Beck died on January 10 at the age of 78.
The two giants were introduced, at a studio in New York, by producers by Robert Margouleff and Malcolm Cecil when they were working with the Motown artist on the record that became his 1972 masterpiece Talking Book.
"I really didn't know too much about him," Wonder says of Beck. "But then I heard him play in New York. We were working on 'Lookin' for Another Pure Love' and I said to him, 'Why don't you play on this?' He thought that would be great. He laid one part down, then another part and another part. It was just amazing.
Lookin' For Another Pure Love
"It was just a wonderful thing, the whole deal," he goes on. "He gave it such a mixture — sort of a jazz feel with a bluesy feel, with the chord structure he took from what I had done. It was great. He put his touch on it. It was just really cool."
Wonder reveals in the interview that he has been listening to some of his older music with his son Mandla, 17, and that after hearing of Beck's passing, they listened to "Lookin' for Another Pure Love."
"When I heard it today, it was emotional for me because I could remember the moment," he says. "There's just something about music. I know for you, as a fan, songs take you back to a space in time – you're right there, right then. The same thing happens for us as writers and singers."
In their 1972 encounter, Wonder invited Beck to record a new composition of his, "Superstition." Rumors have long swirled that the song was unrecorded at the time, and intended for Beck. Stevie says in the new interview that he had already completed a rough track when he played it to the guitarist.
Nevertheless, encouraged by Wonder, Beck did have designs on recording it, and did so with his new trio, Beck, Bogert & Appice, in a more rock-oriented version that became part of their eponymous debut album for Epic. In the meantime, it had become the first single from Talking Book, released in the same week as the album in October 1972 – a decision not necessarily to Wonder's liking.
"I told Motown, 'Listen, I did this for Jeff Beck," he tells the Free Press. "He likes the song. I thought we should make '[You Are The] Sunshine of My Life' the first single. They said, 'No, no, no, no. The first single should be 'Superstition.' So I went back to Jeff and had that discussion."
He concludes of his English collaborator: "He was a great soul who did great music. I'm glad that I was able to meet him and have him in my life, giving some of his gift to my music."