Watch 'Under Pressure', Episode 16 Of Queen's 'The Greatest Live' Series
This week's episode features four triumphant live versions of the David Bowie collaboration that the band made their own in concert.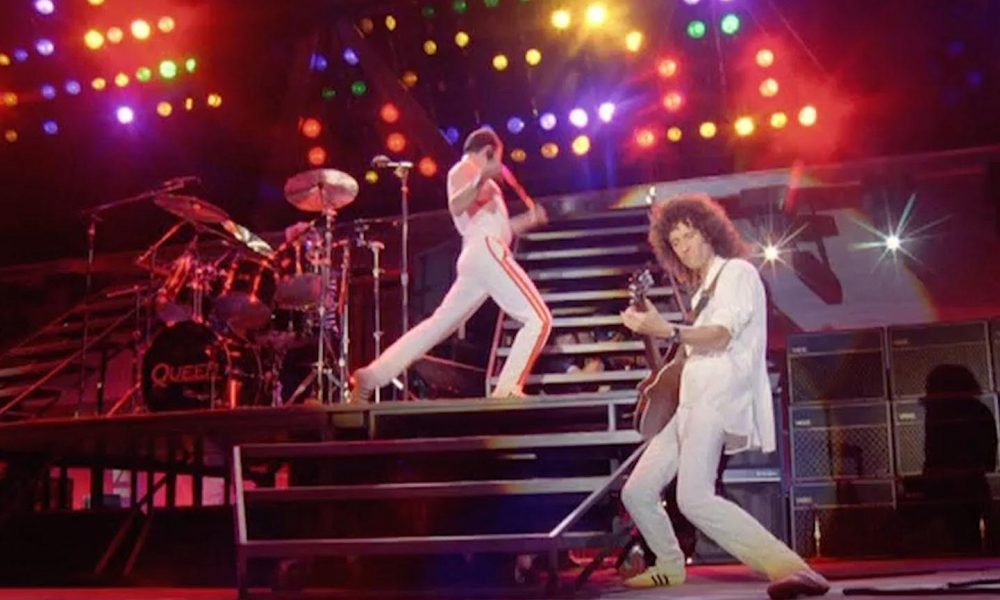 In this latest episode of Queen's 'The Greatest Live,' we revisit four vintage performances of "Under Pressure," the fan-favorite single that rose to top the UK charts in October 1981 and proved a live highlight in this period. You can watch the episode in full below.
Led by John Deacon's instant-classic two-note bassline, and featuring dovetailing vocals by Freddie Mercury and a guesting David Bowie, the song had been recorded during a marathon wine-fuelled 24-hour session at Montreux's Mountain Studios.
"You already had four precocious boys, and David, who was precocious enough for all of us," recalled Brian May in Mojo. "Passions ran very high. I found it very hard because I got so little of my own way. But David had a real vision and he took over the song lyrically."
Queen The Greatest Live: Under Pressure (Episode 16)
On the stage, however, Queen claimed "Under Pressure" as their own, right down to the head-turning stagewear that gave the song an added dimension. The first performance in the compilation sees Freddie take command of the Milton Keynes Bowl on June 5, 1982 of the band's ;Hot Space' tour (a show later released as Queen On Fire: Live At The Bowl).
Fast-forward to May 1985 and we find the lineup rocking Japan as part of a six-date visit by an increasingly global band. Almost as far-flung is Queen's historic Hungary show at Budapest's Nepstadion on July 27, 1986, offering a rare release to the 80,000-strong crowd in a nation still held in the grip of Communist strongman György Lázár.
The final section sees Queen return to their home turf of Wembley Stadium, where on July 11 and 12, 1986, Freddie rose to the occasion in his iconic Diana Moseley-designed military-style yellow cropped jacket – for what would prove to be his last-ever performances in the capital.
Watch every episode of Queen 'The Greatest Live' on the band's official YouTube channel.