Vince Gill And Paul Franklin Salute Country Great Ray Price On 'Sweet Memories'
Due via MCA Nashville on August 4, it's previewed by the newly-available 'Kissing Your Picture (Is So Cold).'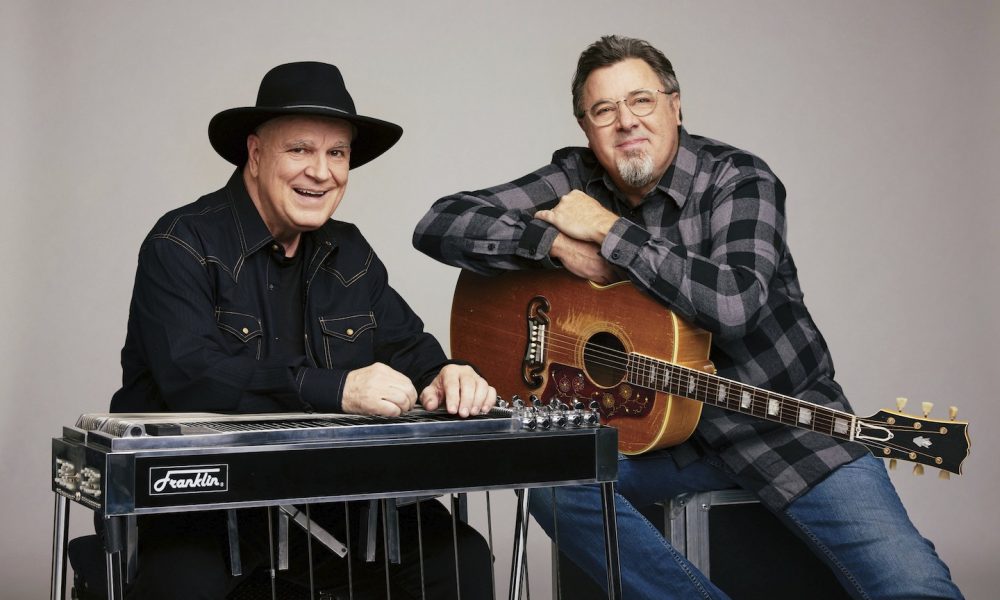 Vince Gill and his friend and collaborator Paul Franklin have joined forces again for the album Sweet Memories: The Music of Ray Price & The Cherokee Cowboys. Due via MCA Nashville on August 4, it's previewed by the newly-available "Kissing Your Picture (Is So Cold)."
Shop the best of Vince Gill's discography on vinyl.
The 11-track album comes ten years after the appearance of the duo's much-admired Bakersfield album, and Gill and Franklin say the new set contains material that might even surprise the greatest devotees of Texan country hero Price. Notes Gill: "When we originally started thinking about doing this record, we were going to do half and half, focusing on two different artists like we did with Bakersfield, recording songs of Buck Owens and Merle Haggard. But we got to liking so many of Ray's songs, that it became 'Let's do all Ray' and 'Well, Okay!'"
Kissing Your Picture (Is So Cold)
Adds Franklin: "We had such a great time doing Bakersfield. It felt good introducing that music to a new generation. This time, it was a no-brainer to pick Ray Price. Once we locked in on Ray, we started looking through the sheer volume of his material. We looked for obscure songs, ones even Ray's fans might not know as well."
Price had an astonishing 109 country chart entries between 1952 and 1989, including eight No.1s, but Gill explains: "We kind of shopped for the unfamiliar. Eddie Stubbs [the former Grand Ole Opry announcer, WSM disc jockey and music scholar] was part of this process, although he didn't know it at the time.
"I'd listen to him at night and call him up and say, 'Play something for me I've never heard before.' He'd often play something that knocked me out, and I'd take note of all the songs. I had maybe 30 different ones for Paul to listen to – some so outside the box that I didn't know them, and Paul didn't either." He adds that the pair also resolved not to attempt to match the sound of Price's original recordings. "This isn't a sound-alike record," he says. "I never wanted to do that. I don't think any of these songs sound comparable to the original."
Members of Price's original Cherokee Cowboys band are on the album alongside modern A-listers as Tom Bukovac (electric guitar), Dennis Crouch (bass), Stuart Duncan (fiddle), Steve Gibson (electric guitar), John Jarvis (piano), Greg Morrow (drums), Wendy Moten (harmony vocals), the late Michael Rhodes (electric bass), Jerry Roe (drums), Derek Wells (electric guitar), and Andrea Zonn (harmony vocals).
"There were some unbelievably gifted musicians who were such a part of those original records," says Gill. "We were drawn to them probably as much as we were drawn to Ray." Franklin concludes: "I'm excited this music is getting out there in a way we feel brings new life and new ideas to it. And hopefully will expose a younger generation to Ray's music."
Pre-order Sweet Memories: The Music of Ray Price & The Cherokee Cowboys, which is released on August 4.
The full tracklist is:
1. One More Time
Written by Mel Tillis
2. I'd Fight The World
Written by Hank Cochran and Joe Allison
3. You Wouldn't Know Love
Written by Hank Cochran and Dave Kirby
4. Walkin' Slow (And Thinking 'Bout Her)
Written by Bobby Bare and Lance Guynes
5. The Same Two Lips
Written by Marty Robbins
6. Weary Blues From Waitin'
Written by Hank Williams Sr.
7. Kissing Your Picture (Is So Cold)
Written by Mel Tillis, Ray Price and Wayne Walker
8. Sweet Memories
Written by Mickey Newbury
9. Danny Boy
Written by Fred E. Weatherly
10. Your Old Love Letters
Written by Ray Price
11. Healing Hands Of Time
Written by Willie Nelson