On The Ball: The 20 Best Football Songs Of All Time
The best football songs are the right mix of optimism, reality, and songwriting skills. Here's 20 to get you going.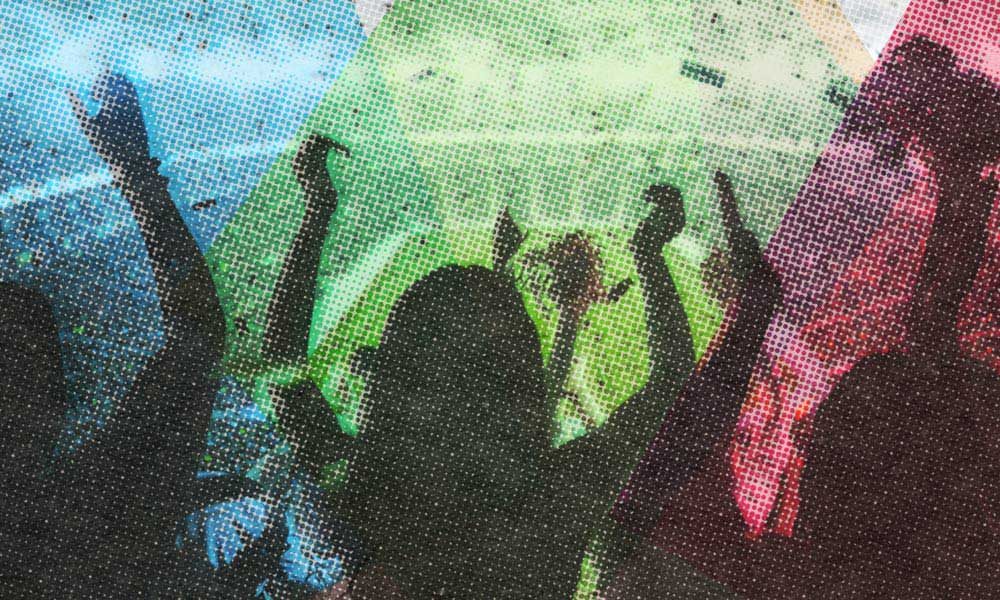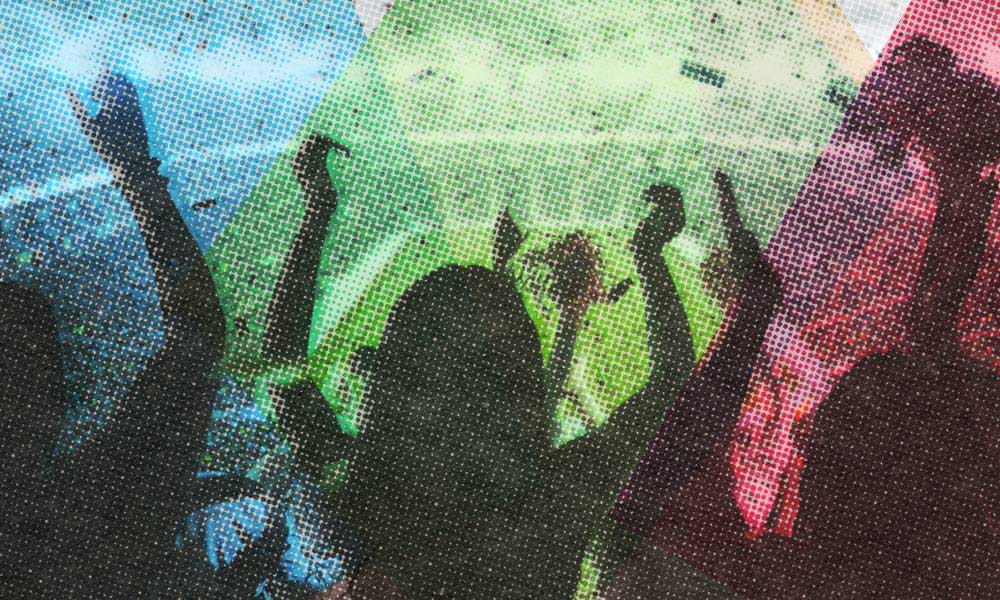 The words "released a football song" are usually enough to strike terror in a music lover's heart; the idea that there might be a list of the best football songs may seem oxymoronic – if not just moronic. Hoddle and Waddle, Gazza, and Andy Cole have all – in Joseph Conrad's description of terrible music – "murdered silence with a vulgar energy."
However, not all football records are awful singalongs by players in blazers. The best football songs have been helmed by some of the world's most famous musicians – including Carlos Santana, Nelly Furtado, Kasabian, Anastacia, Simply Red, and Vangelis. Even film composer Ennio Morricone, the man behind classic film scores for Sergio Leone, provided an instrumental song for Argentina's World Cup, in 1978.
Gerry & The Pacemakers - You'll Never Walk Alone [Official Video]
The most iconic football song is "You'll Never Walk Alone," which was written by Oscar Hammerstein and Richard Rodgers for the 1945 musical Carousel. It has since been recorded thousands of times, including versions by Frank Sinatra, Ray Charles, Johnny Cash, and Louis Armstrong. After Gerry And The Pacemakers had a No.1 UK hit with the song in 1963, it was appropriated by Liverpool fans and has since been taken up in stadiums around the world.
Football records tend to be ephemeral and usually associated with a particular event, such as the FA Cup Final or the World Cup. Some, however, are worth revisiting. This guide to the best football songs does just that.
Doris Day: Que Sera, Sera (Whatever Will Be, Will Be) (1956)
When Doris Day had a hit with "Que Sera, Sera (Whatever Will Be, Will Be)" in 1956, after she stole the show performing it in the Alfred Hitchcock thriller The Man Who Knew Too Much, the actress had no idea that she was about to set in motion one of the most popular football terrace chants of all time. The song, composed by the American duo Jay Livingston and Ray Evans and later recorded by Frank Sinatra and Elvis Presley, became an absolute staple for UK fans to chant during FA Cup matches, with supporters changing the iconic lyrics "Que sera, sera/whatever will be, will be/the future's not ours to see" to "Que sera, sera/whatever will be, will be/we're going to Wemb-er-ley."
Lonnie Donegan: World Cup Willie (1966)
The King Of Skiffle, Glasgow-born Lonnie Donegan, was a curious choice to sing England's first World Cup anthem. His background in football was limited to having once trained with Peterborough United, but he was seen as a popular singer with wide appeal across Britain. His song was about the groundbreaking merchandising mascot, Willie.
The mascot was a cartoon lion created by Reg Hoye, who had illustrated some of Enid Blyton's children's books. Donegan, whose hit record "Rock Island Line" had made him star in the 50s, sang Syd Green's lyrics ("Wherever he goes, he'll be all the rage/'Cause Willie's the new sensation of the age"), honoring the friendly big cat. His vocals were set against a brass background orchestrated by Tony Hatch.
"World Cup Willie" was not, however, the first international football song. That distinction goes to "El Rock Del Mundial," by Los Ramblers, for Chile's campaign in 1962. Donegan's song failed to hit the target and missed the charts. Music critic Jimmy Greaves, who had a side career as a record-breaking goal-scorer, offered an explanation: "Lonnie was a great artist but it was a novelty song and only got patriotic airplay on BBC radio and not on pirate radio. Young kids just didn't relate to him. They were interested in The Beatles and The Rolling Stones." Nevertheless, Donegan's song is remembered, not least because it is part of the history of England's only ever World Cup victory.
The commentary for that 4-2 final win over West Germany was by Kenneth Wolstenholme. An outtake version of "Glass Onion," from The Beatles' Anthology 3, includes a fade out that contains the commentator's famous cry of "It's a goal!" (See, even The Beatles have done a football song…)
Glass Onion (Demo / Anthology 3 Version)
England World Cup Squad: Back Home (1970)
England's World Cup song for 1970 was written by a Scotsman (Bill Martin) and an Irishman (Phil Coulter). They may not have been chosen for their patriotic upbringing, but both had earned songwriting trophies with hits such as "Puppet On A String" and "Congratulations" before they wrote "Back Home."
The rousing "Back Home," sung by Bobby Moore, Bobby Charlton, and the rest of the England squad, was a catchy triumph that still holds its own among the best football songs. It spent 46 weeks in the charts and even reached No.1 for three weeks, knocking Norman Greenbaum's "Spirit In The Sky" off the top of the table. Incidentally, the B-side to "Back Home" was a love song called "Cinnamon Stick," about a girl "with a twinkle in her eye" eating a cinnamon stick at a café. Inexplicably, that song has never been covered by a major pop star.
Queen: We Are the Champions (1977)
"We Are the Champions," a Queen song that first appeared on the band's 1977 album News of the World, has become a staple song for football fans around the world. This anthemic hit was even chosen as the official theme song for the 1994 World Cup in America. Although songwriter Freddie Mercury was more into table tennis than soccer, he admitted that he was targeting football fans when he wrote his hit. "'We Are the Champions' is the most egotistical and arrogant song I've ever written," Mercury is quoted as saying in the book Freddie Mercury: A Life, In His Own Words. "I was thinking about football when I wrote it. I wanted a participation song, something the fans could latch on to. It was aimed at the masses. I wanted to write something that everyone could sing along to, like a football chant. And at the same time, I thought it would be nice to have a winning song that's meant for everybody."
Plácido Domingo: Mundial (1982)
Opera legend Plácido Domingo, who was a talented goalkeeper in his youth, declared himself "an expert in football, this great sport, in my own amateur way," and said he had attended more than 10 World Cup Finals tournaments. In 1982, the Madrid-born singer was chosen to sing host Spain's official song – the rousing "Mundial." In all, Domingo has performed at four World Cup opening ceremonies, most famously in 1990, when, along with Jose Carreras and Luciano Pavarotti, The Three Tenors sang "Nessun Dorma."
Chas & Dave: Hot Shot Tottenham (1987)
Released to celebrate the Spurs' 1987 FA Cup Final appearance, "Hot Shot Tottenham" is one of the best football songs of the 80s. Tottenham Hotspur had a long history of success in the 70s and 80s, often soundtracked by the rockney duo. Fans will no doubt remember "Ossie's Dream," "Tottenham, Tottenham," and "When The Year Ends in One" among others. – Sam Armstrong
Liverpool FC: The Anfield Rap (1988)
Opinion is divided on "The Anfield Rap," but it's certainly one of the most memorable football songs ever recorded. Similar to the American football classic "Super Bowl Shuffle" by the Chicago Bears, it sees members of Liverpool rapping to a Funkadelic sample famously used by LL Cool J and Eric B. & Rakim. There's also a subtle nod to Liverpool's finest in the musical backing. (They grab the guitar riff from "Twist & Shout" by the Beatles.) – Sam Armstrong
New Order: World in Motion (1990)
After an unmemorable spell in the England squad's song history – including the sound equivalent of a goalless draw in Stock Aitken Waterman's effort for the 1988 Euros – New Order scored a hit with "World In Motion" for Italia 90. Like The Beatles, they summoned up Wolstenholme in the opening iconic lines, with the words, "Some of the crowd are on the pitch. They think it's all over… well it is now!," taken from his 1966 commentary. Gary Lineker was among the players who gave the recording session a miss and, thankfully, John Barnes – not mumbling Peter Beardsley – was chosen to perform a solo rap segment. The jolly synth-pop anthem peaked at No.5 in the charts and England fans still remember it fondly as one of the best football songs.
Daryl Hall And Sounds Of Blackness: Gloryland (1994)
Power ballads are about as common in football as a Tottenham league title, but America went for a big sound when it hosted the 1994 finals. Leaving John Oates on the sidelines, Daryl Hall was paired with the Grammy-winning Sounds Of Blackness to record a soaring ballad version of "Gloryland," a song partly based on lyrics of the traditional spiritual "When I Lay My Burden Down." The words were reworked by British writers Charlie Skarbek and Rick Blaskey, and Hall also sang a version in Spanish. If the song were a kit, it would be dazzling red, white, and blue.
Daryl Hall & Sound Of Blackness -Gloryland
Frank Sinner, Davied Baddiel And The Lightning Seeds: Three Lions (Football's Coming Home) (1996)
Originally released for Euro 96, the song by comedians Frank Skinner and David Baddiel (with The Lightning Seeds) was reprised for the 1998 World Cup and reached No.1 in the UK charts. Though easily one of the best football songs of all time, the upbeat melody and optimistic lyrics – "No more years of hurt/No more need for dreaming" – proved misplaced as England flopped again. However, the popular appeal of the song remains. Oddly, it was also a hit in Germany, where it reached No.17 in the Offiziellen Deutschen Charts. In 2018, after 52 years of hurt, Jimmy Hill's words from the original song ("We'll go on getting bad results") are like a sad recurring chorus.
Three Lions (Football's Coming Home) (Official Video)
Fat Les: Vindaloo (1998)
The 1998 runner-up to "Three Lions" in the UK charts was "Vindaloo," which reached No.2. It's a peculiarly ridiculous type of English football song by Fat Les (Blur bassist Alex James, artist Damien Hirst, and actor Keith Allen, singing in the style of Ian Drury). Most of their song consists of the phrase "nah nah nah" repeated constantly, along with the word "vindaloo." Incidentally, there is a good Max Wall lookalike in the "Bittersweet Symphony" parody video. The lookalike bears a disturbing resemblance to former Newcastle, QPR, and Derby manager Jim Smith.
Jean Michel Jarre: Together Now (1998)
Japan had either failed to qualify or been banned from World Cups until their first qualification, in 1998. They celebrated with an energetic addition to the best football songs of all time: a slice of electronica about as calm as a Roy Keane tackle. "Together Now" was a collaboration between French techno genius Jean Michel Jarre and Japanese producer Tetsuya "TK" Komuro. Jarre was impressed by the "angelic voice" of teenage Japanese singer Olivia Lufkin and she was the vocalist for the song.
Don't confuse "Together Now" with "All Together Now," the anti-war song by Liverpool band The Farm, released for the 1990 World Cup.
Jean-Michel Jarre & Tetsuya "TK" Komuro - Together Now (Single)
Youssou N'Dor And Axelle Red: Les Cour Des Grands (1998)
Released in England as "Do You Mind If I Play?," the collaboration between Senegalese singer and composer Youssou N'Dor and Belgian singer Axelle Red was an uplifting humanitarian hymn for France 98. The video is excellent and Christian Polloni plays some fine guitar on the track. Four years later, in their first World Cup, Senegal reached the quarter-finals and N'Dor said, "They did in 15 days what I've spent 15 years trying to do."
Youssou N'Dour & Axelle Red - La cour des grands
England United: (How Does it Feel to Be) On Top of the World (1998)
The official song for the 1998 England Team at the World Cup was a group effort under the name England United. The supergroup consisted of the unlikely team-up of Echo and the Bunnymen, Ocean Colour Scene, Space, and the Spice Girls. Football fans gravitated toward other songs for the major tournament, by and large, but no song could quite will the team past the round of 16. England lost to Argentina on penalties. – Sam Armstrong
Del Amitri: Don't Come Home Too Soon (1998)
Scotland's World Cup failures have always been a heady mixture of misery and comedy. Things got off to a bad start for the disastrous campaign of 1978 with Rod Stewart's samba stinker "Ole Ola." Twenty years later, the lesson had been learned (musically, at least) when Glasgow rock band Del Amitri released the catchy guitar song "Don't Come Home Too Soon." Lead Singer Jamie Curtis sang more in hope than expectation about Scotland being "long shots" for the Cup. The breezy song reached No.15 in the charts and Curtis said, "The people who seem to really like it are the women football supporters."
Alas, there was no Tartan miracle and Scotland was home soon after finishing bottom of their opening group, just behind mighty Morocco.
Ricky Martin: La Copa De La Vida (1998)
The 1998 finals were a golden year for football songs (with the possible exception of Collapsed Lung's weird "Eat My Goal") and that includes Ricky Martin's "La Copa De La Vida" ("The Cup Of Life"), a breezy Latin pop song written by the experienced team of Luis Gomez Escobar, Desmond Child, and Rubi Draco Rosa. The video buzzes with energy, the lyrics are full of positivity and the public just seemed to like the song. Ranking among the best football songs of the year, it reached the top of the charts in eight different countries and sold more than half a million copies.
Ricky Martin - La Copa de la Vida (Video (Spanish) (Remastered))
Shakira: Waka Waka (This Time for Africa) (2010)
Pulsating Latin rhythms blend with vibrant singing and African percussion in a catchy pop tune that not only stands out as one of the best football songs of recent memory, but which was nominated for Top Latin Song at the Billboard awards. It sold well and had an eye-catching video that includes footage of a young Lionel Messi. An alternative, more authentic African song, "Shosholoza" (which has been recorded by Ladysmith Black Mambazo), was also sung by the South African team as they came on to the field for their opening game.
Shakira - Waka Waka (This Time for Africa) (The Official 2010 FIFA World Cup™ Song)
Monty Python: Always Look on the Bright Side of Life (2014)
The iconic UK comedy troupe originally wrote "Always Look on the Bright Side of Life" for the film Life of Brian. Given England's woes at the World Cup, though, they decided to write a new verse and turn it into an unofficial theme 2014 theme song. The tune has since become a chant used by plenty of teams, including Champions League perennial Manchester City. – Sam Armstrong
Manic Street Preachers: Together Stronger (C'Mon Wales) (2016)
Was Wales' improbable semifinal run at the 2016 Euros a result of Manic Street Preachers' uplifting "Together Stronger"? It's impossible to say. What we do know: It was Wales' deepest run in a major tournament in some time. – Sam Armstrong
Will Smith, Nick Jam, and Era Istrefi: Live it Up (2018)
The trio comprising actor Will Smith, American singer Nick Jam, and Kosovo Albanian singer Era Istrefi performed their fast-paced Latin American-infused dance tune "Live It Up" at the ceremony just before the 2018 World Cup Final between France and Croatia in Moscow. Smith said he was proud to be part of creating a song that "represents harmony, eclectic flavors, and genres coming together." Smith said that the song, which was produced by Diplo, was designed "to see the world dance."
Trinidad Cardona, Davido, and Aisha: Hayya Hayya (Better Together) (2022)
"Hayya Hayya (Better Together)" was the first single released by FIFA for the 2022 World Cup in Qatar. The simple upbeat lyrics, blended with an infectious groove, are sung by Trinidad Cardona, an R&B singer from Phoenix, Arizona; Nigerian musician Davido; and Qatari singer Aisha. The song, which emphasizes togetherness, was produced by Moroccan-Swedish singer RedOne. The video, in which the trio of the singers perform in between sand dunes, also features highlights from past tournaments, with stars like Argentina's Diego Maradona.
Substitutes
Putting on the Crazy Frog remix version of "We Are the Champions (Ding A Dang Dong)" at a party should count as a red card offense, but the record was actually a bestseller.
The Germans have been known to release a quirky football song or two down the years (Franz Beckenbauer and his fellow 1974 stars sang the German song "Fussball Ist Unser Leben" in English as "Football Is Our Life"), but for the musical equivalent of an own goal, little can match the kitsch disaster that was 'Far Away In America'. For that 1994 song, the German squad was joined by Village People, who chirped away about playing in a "tough man's paradise." It was tough but no paradise, and the reigning champions went out to Bulgaria in the quarter-finals.
Another problem for football songs is that the optimism around the pre-tournament releases fades so quickly. Ant And Dec's execrable 2002 song, "We're On The Ball," was in praise of "super Swede Sven-Göran Eriksson." Shortly afterward, the Swede was mashed and England went out to Brazil. No wonder there was no official England song for Russia 2018.