Best Juanes Songs: The Colombian Icon's Greatest Hits
The Colombian rocker became a Latin pop icon and global superstar by subtly refusing to conform.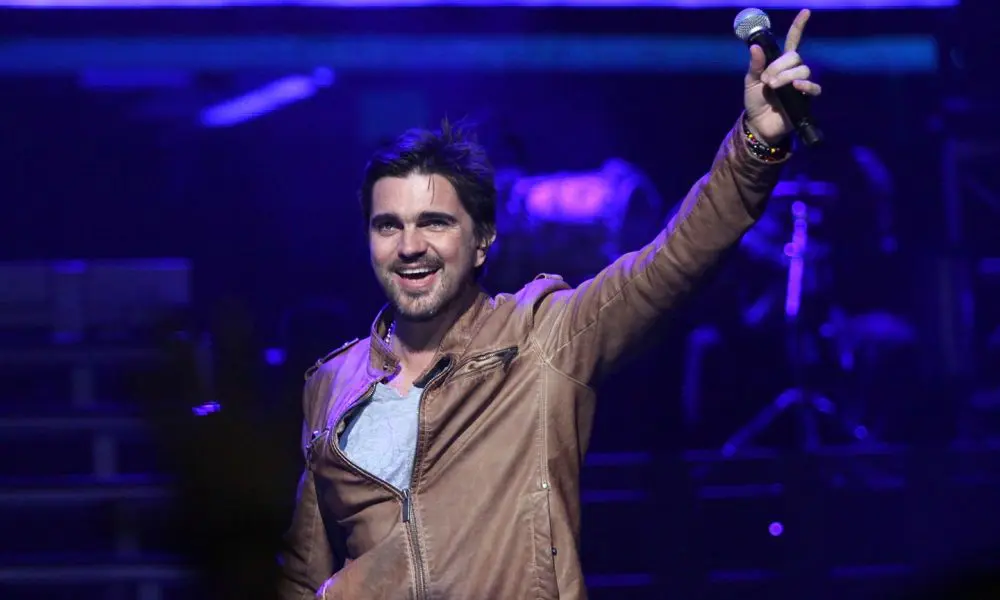 Juanes is a Colombian rocker who became a Latin pop icon and global superstar by subtly refusing to conform. Staying true to his divergent roots, Juanes has incorporated the legacy of both his electric guitar heroes and traditional Latin styles – particularly Colombian genres – in equal measure in his music. A sincere and searching lyricist who's not immune to the seduction of (and with) a bawdy play on words, his albums have combined universal love stories and wry revenge songs with evocative references to the dark corners of Latin American reality.
Decades into his career and a seasoned veteran of the top of the Billboard Hot Latin Songs chart, Juanes has had his share of teenage dreams come true: He's opened for the Rolling Stones, performed alongside Elvis Costello, and sang "Woman" at the 75th birthday tribute to John Lennon. Most mind-blowing, when he was named Latin Grammy Person of the Year in 2019, Lars Ulrich, of his favorite group, Metallica, whose song "Enter Sandman" Juanes has covered, presented him with his award.
Listen to the best Juanes songs now.
Colombian greats like Joe Arroyo; South American rockers like Fito Paez and Silvio Rodríguez; and other iconic singer-songwriters have been a consistent influence, of course. But what has made Juanes so great for so long is his willingness to experiment. He's always been game to team with younger artists on tracks that tread into reggaeton, trap, or rap.
Fijate Bien
The title of Juanes' album Fijate Bien (Pay Attention), proved to be prescient. Released in 2000, it was produced by Gustavo Santaolalla, the Argentine musician and composer who became a leader of the Latin Alternative movement in the United States through recordings on his Universal imprint Surco.
Juanes was already known in Colombia through his rock band Ekhymosis, formed in his hometown, Medellín. On the cover of Fijate Bien, his first solo album, he looked ready to lean into the mainstream, with short hair and a fashion-conscious leather jacket. The songs strayed from the usual Latin radio sound, featuring guitar jams interwoven with the groove of Latin percussion and the tinge of folkloric accordion. Juanes' vocals contrasted with the lighter and more excitable tones of romantic idols of the same era's Latin pop explosion. The title track's lyrics made reference to the land mines placed in fields by Colombian drug traffickers to protect their crops. Juanes later took up the cause for victims of the violence, establishing his Mi Sangre foundation to promote peace through social transformation in Colombia.
At first, Fijate Bien had only modest sales. But to his surprise, Juanes found that by 2001, his rock fusion style and blend of modern romance and social commentary had an enthusiastic following. The album was nominated for seven Latin Grammys that year. They included Best New Artist, one of three awards that he won.
Un Día Normal
Juanes was an artist to watch when he released his follow-up, Un Día Normal. That album, led by the song "A Díos le Pido" would make him a star. He had by then moved to the United States, and was soon to build a family. It was a song of a man coming of age and taking on responsibility, and its trepidations. "A Dios le Pido," ("I Pray to God") is a plainspoken prayer for strength and a peaceful future for his family and his country, set to an addictive beat that Juanes has described as mixing rock, funk, and vallenato.
Juanes - A Dios Le Pido (Official Music Video)
"A Dios le Pido" became an anthem throughout Latin America. Un Día Normal, the biggest-selling Spanish-language album in the U.S. in 2003, is studded with jewels that became hits. They include "Es Por Ti," dedicated to his wife, and "Fotografía," a sweet love song recorded in Nashville with Nelly Furtado.
Juanes, Nelly Furtado - Fotografía (Official Music Video)
La Camisa Negra
By the time Mi Sangre was released in 2004, Juanes had become one of the key players in a decade of change in the commercial Latin pop sound. For "La Camisa Negra," the album's biggest hit, Juanes mined guasca, a gritty Colombian country style influenced by Mexican music that became popular in the Antioquia region in the 1930s and 40s. Juanes adopted guasca's rhythms, and also its typical sexual innuendo, with a decadent sauciness further reflected in a video for the song in which Juanes appears, maybe, to be a pimp.
"La Camisa Negra" was banned from the radio in the Dominican Republic because of its suggestive lyrics. It ignited controversy in Italy, where some accused Juanes of referencing Mussolini's militia, the Blackshirts. That, as Juanes pointed out, was a farfetched assumption, since the song is about a love relationship gone wrong.
Top of the charts
In 2007, Juanes reached new heights with his song "Me Enamora" from the album La Vida…Es un Ratico. Typically "Juanes" in sound, the endearing ode to his two daughters debuted at number one on Billboard's Latin songs chart, where it would spend 20 non-consecutive weeks.
Juanes - Me Enamora (Official Music Video)
In the second decade of the new century, as reggaeton and other dance styles dominated the airwaves and streaming platforms, Juanes has kept up his game with the support of some next-generation collaborators. On the rhythmic ballad "El Ratico," he spars with Kali Uchis.
Juanes, Kali Uchis - El Ratico (Official Video)
Colombian reggaeton producers Sky & Mosty were behind his 2018 single "Pa Dentro," honoring female diversity and, in the video, the neighborhoods of Medellín. And, for the 2019 song "La Plata," a fusion of vallenato and club rhythms from the visual album Mis Planes Son Amarte, he teamed with Colombian trap artist Lalo Ebratt.
Juanes - La Plata ft. Lalo Ebratt
Origin
In 2020, Juanes released Origin, a set of covers of songs by some of his biggest influences, who include Bob Marley, tango god Carlos Gardel, Colombian metal band Kraken, and Dominican bachata revisionist Juan Luis Guerra. Through their songs, the album charts Juanes' course from Latin folk music to international rock and back to the sounds of his childhood.
The album opens with "Rebelión," Joe Arroyo's Afro-Colombian salsa classic. And Juanes also delivers a beautiful Spanish version of "Dancing in the Dark" by Bruce Springsteen, who has been an obvious influence on Juanes' everyman-in-jeans philosophy and guitar-carrying image.
Juanes - Dancing in the Dark (Official Video)
Gris
The title track of Juanes' spring 2023 album Gris (Gray), is a "personal and cathartic song" that came out of a shaky emotional period in which he and his wife weathered the trials of the COVID-19 era and the repercussions from their dual evolutions over the course of a decades-long relationship. Juanes, characteristically, explores the discord and the healing in a spiraling rock en español track.
Juanes - Gris (Official Video)