Best Maroon 5 Songs: 20 Essential Tracks To Put Your Hands All Over
The best Maroon 5 songs trace the band's evolution from pop-rock ones-to-watch to a genre-defying act that continues to surprise us.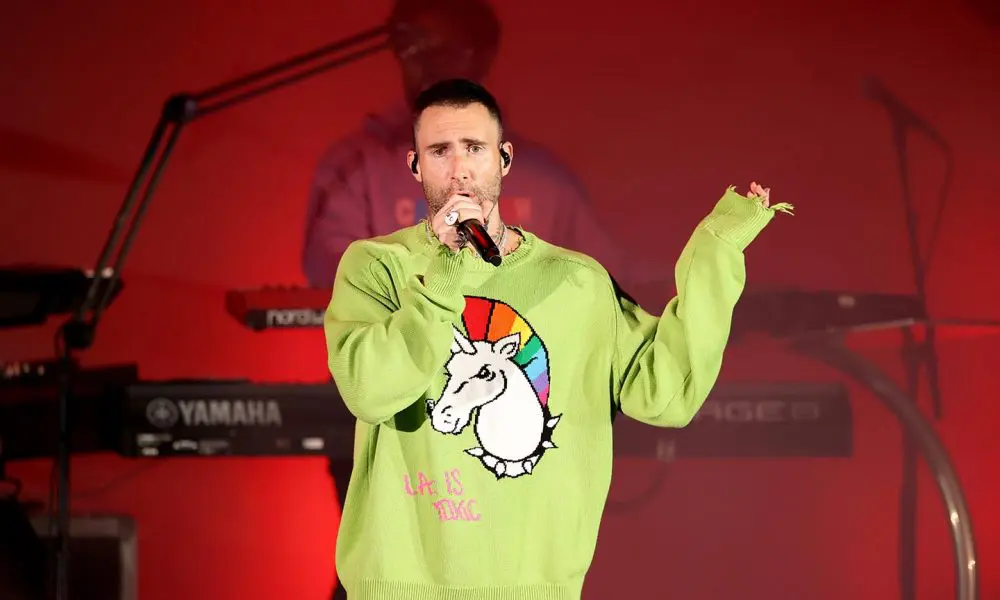 Songs About Jane may have marked the first time the wider world had heard of Maroon 5, but it offered only a small taste of what would come from one of the most consistently inventive bands of the 21st Century. Few groups have lasted as long as M5 have while continuing not only to create chart-storming hits, but also to find new ways to surprise their fans. Maroon 5, however, have built an enviable career on making creative shifts without sacrificing the core of what makes them a great band: their dedication to classic songwriting. The best Maroon 5 songs prove exactly why the band have amassed one of the most enviable bodies of work in pop history – all while making it seem so easy.
Think we've missed some of your best Maroon 5 songs? Let us know in the comments section, below.
Listen to the best of Maroon 5 on Apple Music and Spotify.
20: Love Somebody
The final single from the Overexposed album, "Love Somebody" builds up from a synth-heavy base into a perfectly-pitched pop cut that made the Billboard Top 10 in the summer of 2013. It was surprisingly overlooked as a single in many European markets, but this co-write with OneRepublic's Ryan Tedder packed dancefloors around the globe and also made the US club charts.
19: If I Never See Your Face Again (featuring Rihanna)
Maroon 5 would develop stellar form with star-turn duets, but "If I Never See Your Face Again" was an early flirtation with the format. The track was included in the reissue of It Won't Be Soon Before Long and also made it onto Rihanna's Good Girl Gone Bad: Reloaded. By reworking the song with the biggest female singer of the moment, it elevated an album cut into a Grammy nominee, while the steamy video helped develop Adam Levine's heartthrob status.
Maroon 5 - If I Never See Your Face Again ft. Rihanna (Official Music Video)
18: Maps
Picked as the lead single from the band's fifth studio release, V, "Maps" helped the album hit the top spot. By now the band had built a solid reputation for stop-you-in-your-tracks videos, and the explicit clip for "Maps" is particularly strong; its edgy narrative about a house party that ends in tragedy plays out the chronology of events backwards to dynamic effect. The single did Top 10 business everywhere and marked the return of Jesse Carmichael to the team after taking a two-year hiatus. Pop legend Ammar Malik, who helped shape many of the band's biggest hits, as well as smashes for Clean Bandit and Ariana Grande, earns a credit here and the song became a fan favourite on the tour to support V.
17: Sunday Morning
It's hard to imagine a time when Maroon 5 weren't reliable chart hitmakers, but despite the impact of Songs About Jane, there were no guarantees that the band's momentum would continue. "Sunday Morning" amped up Maroon 5's soulful heart and deepened the public's curiosity about this new group that was proving increasingly hard to pigeonhole. The track's midtempo groove also sounded great on radio and helped the single into the Top 40 on both sides of the Atlantic.
Maroon 5 - Sunday Morning (Closed Captioned)
16: Wake Up Call
Drafting in Mary J Blige and producer Mark Ronson was a smart move for a song that, in truth, didn't need much help to start with. The "Wake Up Call" remix adds a sharp urban twist to a sturdy pop-rock track and was the highlight of the band's Call And Response: The Remix Album, released the year after "Wake Up Call" first hit the market. Jonas Åkerlund directed the video, another clip that amped up the drama with a dark, domestic menace.
Maroon 5 - Wake Up Call (Official Music Video)
15: Misery
Launching Hands All Over, "Misery" was written by Adam Levine, Jesse Carmichael and Sam Farrar, and was given a glossy pop-rock sheen by producer Robert John "Mutt" Lange. This perky 2010 release did respectable business and, though the Hands All Over era would prove a testing time for the band, a stronger fighting spirit soon emerged.
Maroon 5 - Misery (Official Music Video)
14: Animals
As Maroon 5 moulded their sound into a contemporary pop-dance style, they would inevitably look to collaborate with the production titans of the moment. Benny Blanco and Shellback had worked with Britney Spears, Adele and Katy Perry, and joined Adam Levine in creating "Animals" (which Shellback would produce for V). It gave Maroon 5 their tenth Top 10 single in the US and would be promoted across multiple guest appearances on international TV shows. It was also a high point of the Maroon V Tour, which lasted for almost three years as the band's global profile exploded.
13: Cold (featuring Future)
If there's an award for the greatest Maroon 5 video – who would like to call that contest? – this clip is an obvious contender. It elevates a sturdy midtempo pop groove into something extra special. Lifted from the Red Pill Blues sessions, the single made the US Top 20 and was boosted by a suite of hot remixes, with the Gucci Mane treatment probably the standout.
Maroon 5 - Cold ft. Future (Official Music Video)
12: What Lovers Do (featuring SZA)
This sugar-sweet melody offers Maroon 5 at, perhaps, their lightest, and demonstrates how effortlessly classic-pop writing comes to Adam Levine. Lifting elements from Neiked's "Sexual," it was a signal that Red Pill Blues was perfectly positioned to capitalise on the booming pop-dance market, but the credibility of the band's blend of urban and rock influences was never far away. Featured artist SZA enjoyed her first US Top 10 appearance with this track.
Maroon 5 - What Lovers Do ft. SZA (Official Music Video)
11: Daylight
A late single release from Overexposed, "Daylight' had a steady climb up the Billboard charts, made the US Top 10 and has since lasted the course. Jonas Åkerlund was brought in to helm a clever video made with the band's fans, while Adam Levine says "Daylight," created with legendary hitmaker Max Martin, is his favourite track on the album.
Maroon 5 - Daylight (Official Music Video)
10: This Love
The one that made the band household names, "This Love" is certainly the first Maroon 5 classic from a lengthy line of them. Adam wrote the track with keyboardist Jesse Carmichael and it ended up becoming the third-most played song of 2004, earning a Grammy for Best Pop Performance. Everything you needed to know about the band was in place here: soulful top-notes, a grittier rock core and those once-heard, never-forgotten vocals. Even the video won an award. It wasn't their first single, but the Maroon 5 rollercoaster started here.
Maroon 5 - This Love (Official Music Video)
9: Payphone (featuring Wiz Khalifa)
Rapper Wiz Khalifa added some ballast to this melodic gem, and the video pitched Maroon 5 into the premier league. It had a huge budget and demonstrated how effectively the band could use a clever video to enhance a great song. "Payphone" played just as well on radio, however, its platinum sales taking it to No.2 in the US, while the song became the band's first chart-topper in the UK.
Maroon 5 - Payphone ft. Wiz Khalifa (Explicit) (Official Music Video)
8: Sugar
A song that always brings a smile to your face. The band ditched the high-concept drama for this clip and went with a simpler (but super-sharp) idea instead: Maroon 5 cast as the ultimate wedding band. Taken from 2014's V, "Sugar" would become its biggest hit. It was written with Mike Posner and remains a radio staple to this day, despite being issued way back at the start of 2015.
Maroon 5 - Sugar (Official Music Video)
7: Don't Wanna Know (featuring Kendrick Lamar)
Why guest artist Kendrick Lamar decided not to appear in the bizarre Pokémon-inspired video is anyone's guess… but here was a band with a sense of humour. TV show Ellen hosted the debut live performance of the cut, which went on to be a Top 10 hit on both sides of the Atlantic in late 2016. Benny Blanco helped produce the studio version, which was given a standalone release ahead of Red Pill Blues.
Maroon 5 - Don't Wanna Know (Official Music Video)
6: She Will Be Loved
Most classic bands have one standout ballad in their catalogue. For Maroon 5, this was the first of many. After the huge success of "This Love," "She Will Be Loved" was an early indicator of the band's appetite for brave development, finding them confident enough to mix up the formula at the earliest opportunity. It was also one of their first chart-toppers, hitting No.1 in Australia, three years before they reached the same position in their homeland.
Maroon 5 - She Will Be Loved (Official Music Video)
5: One More Night
You can't really talk about Maroon 5 without focusing on the band's charismatic frontman. "One More Night" is perhaps the point when Adam Levine's sex appeal was pushed centre-stage, in a video treatment of a bitter domestic drama. Do their great videos ever overshadow the songs? Almost, but not quite… these guys know what they are doing. This was the second single from Overexposed, recorded as Jesse Carmichael took a break from the band, with PJ Morton stepping in after a spell on tour.
Maroon 5 - One More Night (Official Music Video)
4: Memories
The one that caught us all by surprise. The sudden release of this brand-new track in September 2019 has all the makings of an enduring Maroon 5 song. This stripped-back, gently lilting pop cut has a gorgeous melody and is going to be all over radio across the autumn. You know that early-evening moment on an idyllic beach as the sun slowly sets at the end of summer? It sounds like this.
Maroon 5 - Memories (Audio)
3: Makes Me Wonder
This record-breaking song was the band's first domestic chart-topper and launched It Won't Be Soon Before Long in 2007. It scored one of the biggest-ever jumps to the top spot in history when it leapt stateside from No.64 to No.1, securing another Grammy win for Best Pop Performance along the way. The soul-funk influences were clear and "Makes Me Wonder" startled critics who had already decided the group was firmly fixed to the pop-rock market. Not for the first time were Maroon 5 able to show they can keep everyone guessing…
Maroon 5 - Makes Me Wonder (Official Music Video)
2: Moves Like Jagger (featuring Christina Aguilera)
Now recognised as one of the biggest songs of all time, this hit duet was initially released as a standalone single following Hands All Over. The Voice coach Christina Aguilera left her red chair to join fellow judge Adam Levine on this homage to The Rolling Stones' frontman. What makes it work? A hypnotic pop-dance groove that just burns into the memory, two great vocal performances and an inspired lyric that's clever but ever so simple.
Maroon 5 - Moves Like Jagger ft. Christina Aguilera (Official Music Video)
1: Girls Like You (featuring Cardi B)
Sometimes timing is everything, and this sharp cut – Maroon 5's fourth domestic chart-topper, recorded with rapper Cardi B – was lifted from Red Pill Blues to huge radio support in 2018. It seemed like the perfect celebration of women in that moment when so many stories of long-veiled abuse were finally being exposed. A neat video with celebrity cameos helped, but this nagging, hook-heavy earworm is the sort of a tune you can't easily shake off. And its phenomenal sales are still building.
Commercial success aside, why does this hit end up triumphantly on top of a demanding list of the best Maroon 5 songs? Because, at the end of the day, "Girls Like You" is simply a classic pop song and, for all the theatricality of the band's visual presentation, classic songs are what they are truly all about.
Maroon 5 - Girls Like You ft. Cardi B (Official Music Video)
Looking for more? Discover our essential Maroon 5 album guide.