From Elton John To Louis Armstrong: The Musical Passions Of Michael Parkinson
The master broadcaster played a big part in the success of many well-known music artists.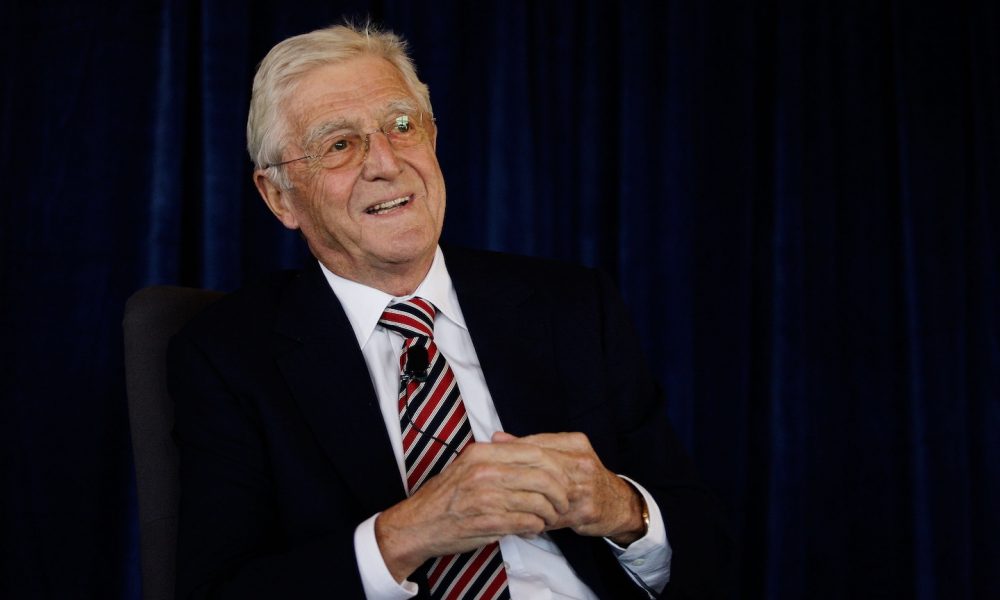 Celebrated UK television personality Michael Parkinson, who died on August 16, 2023 at the age of 88, is best known as the nation's "King of the Chat Show." The man affectionately known as "Parky" will forever be remembered for his small-screen encounters with everyone from Muhammad Ali to Miss Piggy.
But both on that long-running Saturday night BBC series, and in other broadcasting roles – notably in a later show for BBC Radio 2 – the proud Yorkshireman played a big part in the success of many well-known music artists, giving early exposure to the likes of Jamie Cullum, Diana Krall, Madeleine Peyroux, and Michael Bublé. Not to mention that he had one of the most celebrity-filled address books in the business, played football with Elton John and Rod Stewart, and famously appeared on the cover of Paul McCartney and Wings' Band On The Run.
In 2005, Parkinson was the recipient of the UK's prestigious Music Industry Trusts Award, the annual fundraiser for the BRIT Trust and music therapist Nordoff and Robbins that recognizes an individual's contribution to music and charity. Each honoree is asked to make a compilation of the tracks and artists that have meant the most to them in their careers, or in which they had personal involvement. A look back at the "Parky playlist" and his comments to this writer provides a musical biography of a master broadcaster.
"Music's been a lifelong passion," he said. "It's played a huge part in my life. Strange I can't play a note. I tried when I was a child. I had piano lessons. Miss Green, a formidable woman, came to our house. She'd sit there and she'd fall asleep as I was playing Handel's Largo. Then I'd hear a tap on the window and it was my mates with a football."
Band On The Run (2010 Remaster)
The title track from Band On The Run was, of course, one of his selections, and triggered a memory for Parkinson of his early days in television. "This goes back to the time when The Beatles used to be on our show at Granada [TV]," he said. "And being chosen for the motley band on the album cover – immortality beckons!"
A lifelong fan of jazz and vocal stylists, he chose Tony Bennett's version of "The Very Thought Of You," Michael Bublé's cover of Van Morrison's "Moondance," Nat King Cole's "Sweet Lorraine" and tracks by Jack Jones, Bobby Darin, and Mel Tormé. Frank Sinatra's "All Or Nothing At All" also made the cut ("I just think it's the greatest arrangement, with Nelson Riddle, and the greatest singer").
This Train Don't Stop There Anymore (Remastered)
Parkinson was a lifelong supporter of Yorkshire Cricket Club but also had strong soccer connections, supporting his local Barnsley FC and sometimes playing in celebrity matches, including that time with Elton and Rod. He told a particularly enjoyable story about Elton, whose "This Train Don't Stop There Anymore" he also chose. "I like the Songs From The West Coast album," he said. "I've known Elton for years, through thick and thin. He did one of the first talk shows I ever did, with Michael Caine. We had a pub piano in the studio and we sang all the old pub songs. I greatly admire him."
On his Sunday morning Radio 2 series, he was an early adopter of the music of Diana Krall. "I was very lucky coming across her early in her career," he recalled. "I was in America and got one of the early records, brought it home and started playing it. There's a lovely Peggy Lee quality in her voice, and she's a bloody good jazz pianist. I think she's a real star."
The same applied to Jamie Cullum, whose version of "Blame It On My Youth" (earlier recorded by Cole) he selected. "Again demonstrating why he's a wonderful ballad singer," he said of Cullum. "A tough song to sing, and he sings it beautifully. He's spreading that kind of music into a different area, and that's important."
He explained: "My first passion was jazz. I don't know where it came from, I can't tap the source at all. All I know is, I was never very interested in what was the popular music at the time. We're talking about the late '40s, early '50s when I started going out. My first taste of jazz was mainstream, Dixieland, in dancehalls, bands like Freddie Randall, Humphrey Lyttelton.
"I started collecting Louis Armstrong and the Hot Five, Johnny Dodds and all that stuff. Then quite by chance I happened to hear a Charlie Parker record. In the park in Barnsley, we had a bandstand, and when the band weren't in it at night, a local youth called Vic Handley, who'd been in the merchant navy, came in.
"He'd bring a record player down and he used to play this weird jazz. He'd been to America and he picked up these Charlie Parker and Dizzy Gillespie records. And he used to dress like they dressed, he had glasses with slats on them and he had the suit, and he was our hero, this big semi-literate oaf. It all took off from there."
I Gotta Right To Sing The Blues
His playlist featured jazz selections by traditionalists such as Harry James and Woody Herman, more avant garde masters like Buddy Rich, and the summit meeting between Count Basie and Duke Ellington, "Segue In C," from the LP First Time! The Count Meets The Duke. But Parkinson saved one of his greatest eulogies for "Satchmo," picking "Gotta Right To Sing The Blues."
"One of the towering geniuses of the century, an extraordinary musical force," he enthused. "Everybody who's in popular music today, no matter what form, you can trace it back to Louis Armstrong."