Taking Notes: How Musical Nostalgia Creates Future Sounds
From the 20-year rule to stylistic homage and outright appropriation, nostalgia has always played a part in musical evolution.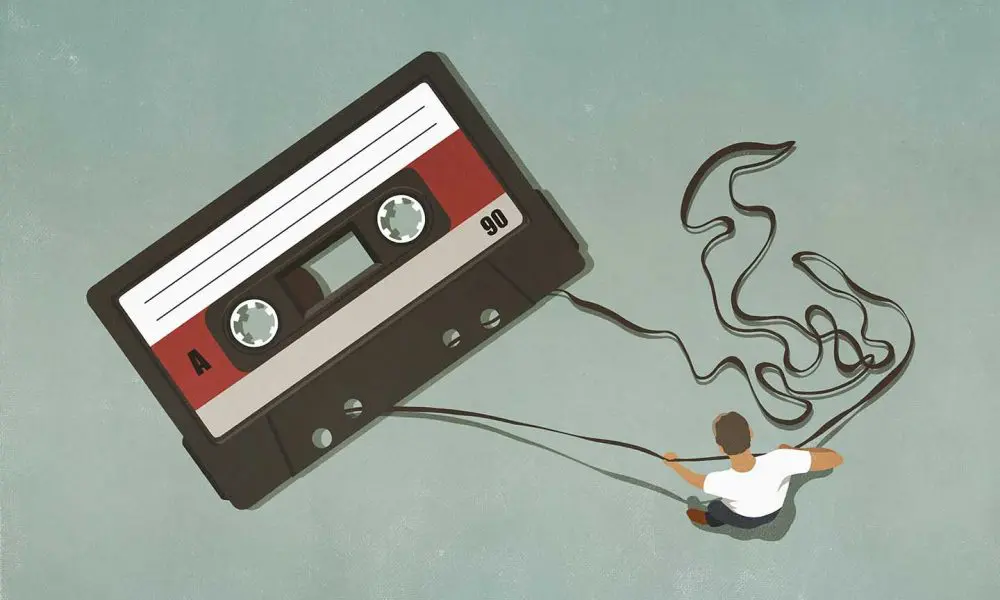 The 1960 movie Breathless was a landmark in modern culture, not least for its stunning jazz soundtrack by French-Algerian pianist-composer Martial Solal. The film was directed by Jean-Luc Godard, who, in an oblique nod to the way nostalgia has shaped pop culture, famously said, "It's not where you take things from – it's where you take things to."
That dictum applies to the world of music, where imitation and inspiration have often been the twin bedrocks of new triumphs. Solal joked that making Godard's soundtrack was just "a paid gig" as he played around with the "Hollywood jazz" so popular at the time. In fact, it was a lovely synthesis as he drew on past muses, such as Django Reinhardt, Sidney Bechet, and Bud Powell, to create his atmospheric soundtrack.
While you're reading, listen to our Nostalgia playlist here.
Three Reasons: Breathless
A process of assimilation
The process of assimilation is as old as written music. Classical composers studied the old masters by literally copying, paraphrasing, and imitating them; some of the best of the Baroque era, by JS Bach and Handel, is a recycling of old masters. In more modern times, The Beatles copied and interpreted the songs of successful bands while they learned their craft and invented ways of composing their own brilliant music. In turn, their songs have been duplicated and channeled by other musicians – sometimes as an exercise in nostalgia, other times as a way of learning songcraft the same way The Beatles did.
In the year Breathless was released, John Coltrane – who, like Solal, was also inspired by the soprano saxophone genius Bechet – made one of his seminal recordings, a version of "My Favorite Things."
The jazz saxophonist openly declared that he was "very interested in the past" and knew that restless curiosity would help him grow as a musician. As a teenager, Coltrane had been awestruck by Coleman Hawkins' 1939 record "Body And Soul," considered one of the first tremors of bebop. As the son of a church pianist mother and violinist father, Coltrane would perhaps have appreciated the quicksilver nature of the source of this iconic jazz piece. Hawkins had been inspired by hearing the melody of a Tzigane violinist in a Hungarian nightclub in Ostend in 1937.
Even the best jazz improvisers closely studied other jazz musicians' recordings – transcribing their solos and sometimes rehearsing them like compositions – and Coltrane was no different. He said: "I got a copy of 'Body And Soul' and listened real hard to what he was doing."
As he grew more serious about his music, Coltrane said he "devoted quite a bit of my time to harmonic studies on my own in libraries." The hard work paid off in October 1960 when the 34-year-old Coltrane went into Atlantic Studios in New York to record his album My Favorite Things.
Coltrane took Richard Rodgers and Oscar Hammerstein II's lilting waltz – made famous by Julie Andrews in The Sound Of Music – but, no mere exercise in nostalgia, significantly altered its chord progression and tempo, making the song his own virtuoso piece. "My Favorite Things" was a hit, became a regular part of his concert repertoire, and was a bridge to public acceptance of bebop. Other reworkings from the period include the Gershwins' 1930 classic "Embraceable You," which was given separate bebop reinterpretations by Chet Baker, Clifford Brown, and Ornette Coleman.
"The Beatles are as important as the Gershwins"
Another Gershwin tune, 1927's "S'Wonderful," from the musical Funny Face, had originally served as a stage vehicle for Fred Astaire. Though it can be a tricky song for vocalists – Frank Sinatra swam laps underwater to get his breathing right for the delivery – it is a song that shows how musicians appropriate and innovate using old music. Thus a swing jazz hit for Benny Goodman (in a quartet that included Lionel Hampton and Teddy Wilson) became a bebop instrumental for Lennie Tristano and Lee Konitz, and, in 1976, was recast as a bossa nova tune by João Gilberto.
The song continues to inspire in the 21st Century. Diana Krall's innovative arrangements on her 2001 Verve album, The Look Of Love, added to her fine singing, gave this old classic a wonderful new lease of life. Krall said that, for her, in terms of inspiration, "The Beatles are as important as the Gershwins."
Diana Krall - The Look Of Love
The Beatles are evidence of the truth of poet TS Eliot's lines, "Immature poets imitate; mature poets steal; bad poets deface what they take, and good poets make it into something better, or at least something different." The Beatles are perhaps the most inspirational pop band of all time and they took all their influences and made something different – and often better. Even when they started, this was not a case of nostalgia leading them to merely imitate people they admired. As John Lennon said: "It wasn't a rip-off, it was a love-in."
The big inspirations for the young Beatles were from American rock'n'roll, especially Elvis Presley, Carl Perkins, and Chuck Berry. But along with these hit-parade heavyweights, they also acknowledged a debt to Tamla band The Marvelettes. The Beatles – and later Carpenters – recorded their song "Please Mr. Postman."
Please Mr. Postman (1991 Remix)
Before they became famous, The Beatles put their own stamp on a Roaring 20s hit song called "Ain't She Sweet," which was popularized by Eddie Cantor and, later, by Gene Vincent. Lennon said that when they recorded the tune, in June 1961, they wanted it to sound more like "a march" than Vincent's softer version, which had been a hit for Capitol Records. Lennon told friends that he had been more taken by a version from a little-known London blues singer called Duffy Power. Though the song is a minor one compared with the stunning catalogue of hits that followed, it illustrates how The Beatles were able to draw from various sources from the start. Paul McCartney said, "Songs like 'Ain't She Sweet' were our late-night cabaret material. They showed that we weren't just another rock'n'roll group."
Unique adventures in sound
Inspiration comes from myriad places. McCartney saw François Truffaut's Fahrenheit 451 at the cinema a few days before "Eleanor Rigby" was recorded. He was bowled over by Bernard Herrmann's score and use of strings. The strings on "Eleanor Rigby" owe a huge debt to the soundtrack. As McCartney said in 1966, the year the record was made, "I don't think we ever try to establish trends. We try to keep moving forward and do something different."
The Beatles - Eleanor Rigby (From "Yellow Submarine")
The Beatles would go on to inspire a musical revolution with groundbreaking albums such as the experimental Sgt Pepper's Lonely Hearts Club Band. This unique adventure in sound, songwriting, studio technology, and even cover art had an immediate impact when it was launched on June 1, 1967. Within three days of its release, The Jimi Hendrix Experience opened a show at the Saville Theatre in London with a rendition of the title track
The Beatles are still regarded as one of the benchmarks in music. When Kendrick Lamar released To Pimp A Butterfly through Interscope Records in 2015, he said that he wanted his work "to be talked about the same way Bob Dylan or The Beatles or Jimi Hendrix are talked about." Fittingly, its mix of jazz and cutting-edge hip-hop, and its cultural significance, can lay claim to being the Sgt Pepper of its decade.
Kendrick Lamar - For Free?
Super-charging the blues
Unlike Lennon and McCartney, Mick Jagger's musical ambitions were not directly kindled by Elvis Presley. The devotion to music of Jagger – and fellow Rolling Stones members Keith Richards, Bill Wyman, Charlie Watts, and Brian Jones – was as authentic as that of The Beatles, but was drawn from different wells. Like The Beatles, the Stones were also fans of Chess Records maestro Chuck Berry but looked more directly to the label's blues stars, such as Muddy Waters, Howlin' Wolf, and Buddy Guy.
The Stones also revered soul singers such as Otis Redding and Solomon Burke, and brought into the equation music as diverse as the protest songs of Bob Dylan and the pop of Buddy Holly. Yet while their music has arguably been infused with more nostalgia than their Liverpudlian counterparts, the Stones meshed everything together in a way that helped them rewrite the rulebook for rock'n'roll. They began this journey, interestingly, with a first British hit (in 1963) that was a cover of Lennon and McCartney's "I Wanna Be Your Man," written while Jagger and Richards were in the same room as McCartney.
I Wanna Be Your Man (Mono)
But it was the blues that really fired their souls. Jagger had a clever ability to customize certain details of the way blues singers phrased their vocals, while Richards and Wyman took many of their guitar hooks and solos from black sources and made something potent of their own. They even took the band's name from a Muddy Waters song.
The Stones grew quickly as musicians and helped transform popular music with hit singles such "Satisfaction." By the time of their fourth album, Aftermath (1966), the band were their own creative force. As Jagger later said: "That was a big landmark record for me. It's the first time we wrote the whole record and finally laid to rest the ghost of having to do these very nice and interesting, no doubt, but still cover versions of old R&B songs."
Though still drawing on their influences but shaking off the ghost of nostalgia, albums that followed, such as Exile On Main St and Sticky Fingers, were hugely influential – while "Sympathy For The Devil" alone helped inspire swathes of bands, including Primal Scream, The Jesus & Mary Chain and The Charlatans.
The Rolling Stones - Sympathy For The Devil (Live) - OFFICIAL
The "reminiscence bump"
One of the great things about musical inspiration is that it doesn't necessarily fade, either for music fans or the stars who create the music. The sounds we loved as teenagers or discovered for the first time are important to our sense of identity and remain forever important (psychologists call this lean towards nostalgia the "reminiscence bump"). The Rolling Stones' Grammy-nominated album of 2016, Blue & Lonesome, is a love song to the blues, with covers of songs they loved as youngsters by Little Walter and Howlin' Wolf.
When modern superstars talk about the musicians who inspired their own music, many still mention The Beatles and The Rolling Stones. However, the range of creative stimulus is extensive. For Alicia Keys it was Nina Simone ("She taught me about feeling, passion"); for One Direction's Niall Horan it was the 80s rock vibe ("I'm a massive Eagles fan"); for Fergie it was Led Zeppelin and Guns N' Roses. Ben Howard's "biggest hero" was folk singer John Martyn.
When Pharrell Williams was asked by Oprah Winfrey to list some of the special influences for the sound of "Happy" – the best-selling single of the 2010s – among the influences he cited were "Do I Do" by Stevie Wonder and "September" by Earth, Wind & Fire.
The women of yesteryear have inspired the young stars of recent times. For Lana Del Ray it was Joan Baez and Julie London ("I love their voices and what they stood for"); for Lorde it was Etta James ("She was so good at harvesting her suffering"); for Ariana Grande it was Judy Garland, because of the videos her mother showed her throughout her childhood; for Solange it was Minnie Riperton. Amy Winehouse loved Ella Fitzgerald and said, "I learned to sing from Dinah Washington."
The 20-year rule
It is also true that many aspects of the music business are cyclical and tastes and trends have a habit of coming around again. There is even a concept called "the 20-year rule," whose advocates argue that a particular music trend, or even a clothes fashion, will come in and out of popularity roughly every two decades, each time cycling a new wave of nostalgia for those who lived it the first time around.
This was certainly true in the 70s and 80s, when America and parts of Europe wallowed in nostalgia with their embrace of the "oldies" concept. This was encapsulated by George Lucas' music-heavy 1973 hit movie American Graffiti. The soundtrack, packed with hits from the 50s and 60s by artists such as Chuck Berry, Booker T And The MGs, and The Beach Boys, became a Top 10 album and served as a template for the first wave of nostalgia radio stations.
The Most Perfect Dazzling Creature Ever - American Graffiti (1/10) Movie CLIP (1973) HD
Leather jackets and poodle skirts suddenly abounded in popular fashion and sentimental baby boomers wallowing in nostalgia lapped up TV shows such as Happy Days and films such as Grease. The taste for old music even led to an explosion of 50s cover bands, including Sha-Na-Na.
The same "re-run phenomena" was evident in the 80s, when the new wave and hair metal crazes revisited 60s music – and films such as The Big Chill used iconic songs from the likes of Smokey Robinson. There was also a surge in the marketability of bands such as The Doors, while The Beatles' version of "Twist And Shout" hit the charts again after an appearance in Ferris Bueller's Day Off. The process goes on. Three decades on from the 80s, Michael Jackson's "Beat It" was updated by Fall Out Boy.
Fall Out Boy - Beat It (MTV Version) (Official Music Video) ft. John Mayer
The past few years have seen a 90s rewind, which has included celebrations of Nirvana's Nevermind, and the return of numerous 90s bands including Spice Girls, Backstreet Boys, and Blink-182. As Frank Zappa joked, "It isn't necessary to imagine the world ending in fire or ice. There are two other possibilities: one is paperwork, and the other is nostalgia."
Music's first postmodern era
Though the 70s were a boom time for nostalgia, it was also arguably the first truly postmodern era in popular music. Musicians such as David Bowie and Roxy Music delved into rock's past for inspiration but also reconfigured popular music into something new. Bowie, the space-age pop star, was a trailblazer of musical trends and pop fashion. His album The Man Who Sold The World, released in 1970, was full of daring songwriting and moody, hard-rock sounds.
Wary of nostalgia, Bowie nevertheless appropriated from – and influenced – glam rock, soul, disco, new wave, punk rock, and haute couture, and remained a restless innovator right up to his final album, ★ (pronounced "Blackstar"), released just before his death in January 2016.
At the same time as Bowie was starting to make creative waves, Brian Eno of Roxy Music said that he was facing up to the choice about pursuing art or music as a career. Having seen Lou Reed and The Velvet Underground emerge, he realized "you could straddle the two somehow." Eno, along with Bryan Ferry, formed Roxy Music in 1971, and they shared a quality of decadence with the flamboyantly androgynous Bowie. Roxy gained immediate acceptance in the UK with their first hit "Virginia Plain." Even without Eno, who left in 1973, their slick, pop product was still hugely influential.
Roxy Music - Virginia Plain - Official Video 2018
Guitarist Phil Manzanera said that the early 70s were full of drab, denim-wearing musicians before the emergence of Bowie and Roxy. "Suddenly there was colour and exoticism and the spirit of rock'n'roll again," he said. "We supported Bowie at the Greyhound in Croydon in June 1972: Bowie in his full Ziggy Stardust gear and us in all our regalia, performing to just 150 people in this little upstairs room."
The entire New Romantic scene – bands such as Visage, Duran Duran, Spandau Ballet, and Culture Club – took their cues from Bowie, Roxy Music, and Marc Bolan. Bowie had a barbed attitude towards imitators, however. The 1980 song "Teenage Wildlife," reportedly aimed at new wave star Gary Numan, includes the lyrics: "Same old thing/In brand new drag."
Musical reinvention
Bowie is also a prime example of a musician who successfully reinvented himself. Bob Dylan has done the same musically – from his early days as a Woody Guthrie-style folk singer-songwriter to playing electric folk with The Band and then performing Christian rock. Other metamorphoses in pop, using fashion to shape-shift, would include Madonna, Prince, Lady Gaga, and Taylor Swift.
Lady Gaga - Bad Romance (Official Music Video)
Musicians have also reinvented themselves in terms of adventurous musical choices. Willie Nelson has tackled country music, jazz, and reggae during his long career. As much as any great modern musician, Nelson knows the value of drawing from past sounds and styles. One overriding theme of his American supergroup The Highwaymen – which featured Johnny Cash, Waylon Jennings, and Kris Kristofferson – is a mood of reflection and a sense of loss. The country legend has known how to move with the times during a series of eclectic partnerships, shown in his collaboration with rapper Snoop Dogg, on songs such as "Roll Me Up."
The birth of hip-hop
Hip-hop originated in the mainly African-American South Bronx area of New York in the 70s. It began when DJ Kool Herc (known as the father of the breakbeat) began isolating and repeating breaks – the most danceable portions of songs – and helped launch a new style of music. With artists such as Afrika Bambaataa and Grandmaster Flash, hip-hop embedded itself as part of the mainstream by 1979. During the following decade, it gained a global following.
There were antecedents – going back to the scat and vocalese of Louis Armstrong and the poetry songs of Gil Scott-Heron – but in the 80s, hip-hop became one of the most creative and musical movements of the modern era, with groups such as NWA (with Ice Cube), Public Enemy, Salt-N-Pepper, EPMD, and Beastie Boys. Other great rappers followed in the 90s, including LL Cool J, 2pac, Biggie Smalls, and Wu-Tang Clan. Hip-hop is perhaps the most dominant form of music today, with musicians such as Jay Z, Drake, Chance the Rapper, and Kendrick Lamar selling millions around the world.
Rap stars now also earn mainstream critical acclaim for their work. At the 2018 Grammys, Lamar won five trophies, scooping the awards for Best Rap/Sung Performance, Best Sung Performance, Best Rap Song, Best Rap Album, and Best Music Video.
Even something as cutting-edge as hip-hop, however, indulges in nostalgia. Saxophonist Terrace Martin, who has produced both Lamar and Snoop Dogg, said, "I started producing hip-hop tracks because it was the music of my time, but I never lost my love for jazz." Terrace, a massive fan of Verve Records and Blue Note greats such as Sonny Stitt and Jackie McLean, said that Lamar, like Coltrane before him, is always studying and thinking about music.
Kendrick Lamar - DNA./HUMBLE.
Hip-hop is not the only music that has evolved and redefined itself in the past three decades. Country music saw an explosion in alt.country acts, such as Steve Earle and Lucinda Williams, and modern Americana stars such as Ryan Adams, who have helped change the perception of what modern country music is, paving the way for 21st-century talents such as Kacey Musgraves.
Switching genres within songs
In the 90s, when bands would sometimes changed their approach from album to album, stars such as Beck were even mashing together genres within songs.
Beck won a Grammy for Best Alternative Album for his 1996 record, Odelay. Producer Mike Simpson said one particular track, "Hotwax," was "a labor of love" that took six months to complete.
In the song, Beck raps over a country guitar. He brought in all kinds of equipment, such as walkie-talkies he had bought at charity shops, to play on top. The track, featuring different tempos and a dizzying array of effects, shows why he has been hailed as a man who "captured the zeitgeist" during that decade. It is no surprise that his musical influences are varied, with a melting pot of Mississippi John Hurt, Big Bill Broonzy, Sonic Youth, The Velvet Underground, and Grandmaster Flash playing a part in his own masterful blurring of boundaries.
Cross-pollination in the 21st Century
As we head towards the third decade of the 21st Century, genres and styles are shifting all the time. In recent years, Rihanna has covered Tame Impala and Miley Cyrus collaborated with The Flaming Lips. The term "post-genre music world" has even been attached to the modern music scene.
Cross-pollination of music will continue apace, as streaming, YouTube, and mobile apps thrive in the new digital age, changing the way musicians make music and the way fans consume it. To create truly good music, a performer will still need solid foundations and inspirations from a variety of sources. The most successful global superstars acknowledge this. Chance The Rapper has lauded the influence of gospel singer Kirk Franklin; Ed Sheeran has hailed the influence of Irish folk singer Cara Dillon and her "sublime voice."
As well as inspiration from the past, new and pressing social issues spark fresh creative energy and output from musicians. The subject of gun violence, a topic that dominated debate in America in the early part of 2018, is at the heart of the Terence Blanchard album, Live, recorded with his band E-Collective. Blanchard said they got together because they wanted "to play music to inspire young people."
Music will both continue to evolve and continue to embrace nostalgia. The future awaits but the past will be there to be mined. As John Coltrane told DownBeat in September 1960: "I've found you've got to look back at the old things and see them in a new light."