Best Steve Hackett Solos: 20 Essential Moments Of Brilliance
The guitarist, songwriter and producer Steve Hackett is a quiet pioneer. We celebrate some of the best Steve Hackett solos in an always innovative career..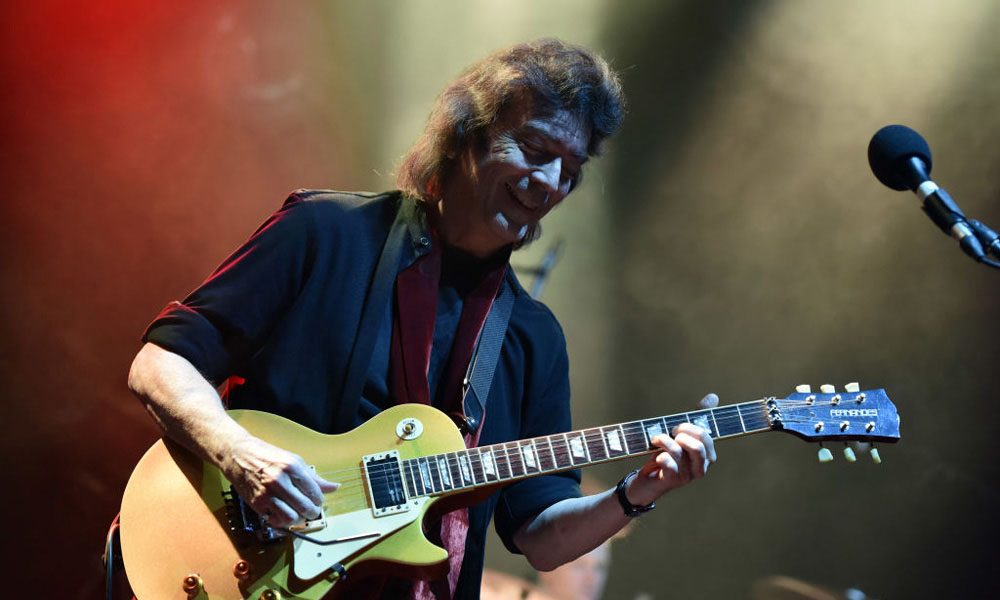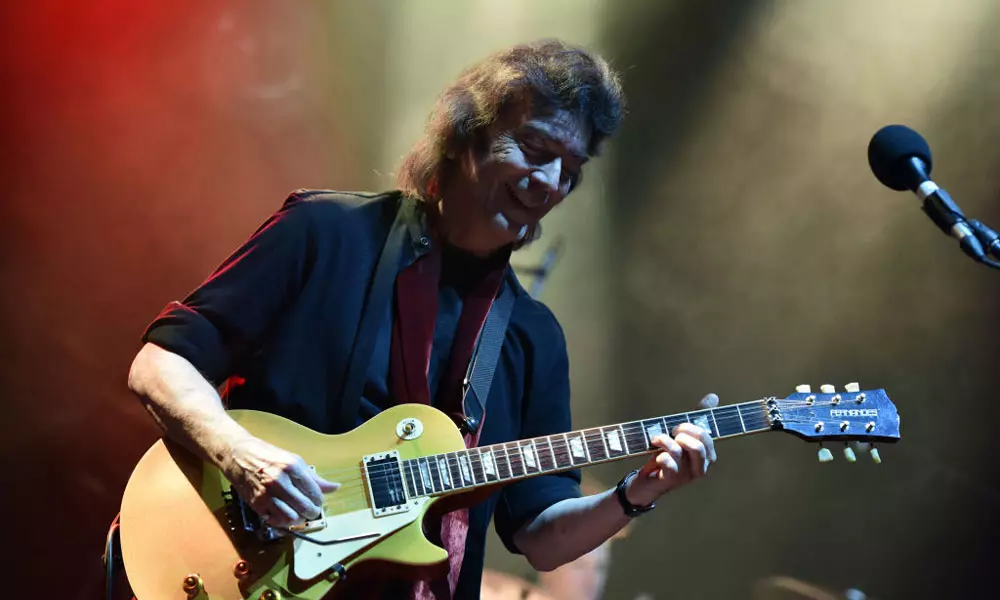 Born on February 12, 1950, the guitarist, songwriter, and producer Steve Hackett is a quiet pioneer. Always an innovative musician, his influence can be seen and heard in other virtuosi such as Brian May and Eddie Van Halen. The former was an early fan who'd admired Steve's carefully constructed solos and lyrical acoustic work on the early Genesis albums; the latter picked up on the "tapping" technique that Steve brought into the progressive mainstream. His work with Genesis is obviously of great importance, but then his solo career, beginning with 1975's Acolyte and continuing to offerings such as 2015's Wolflight, encompasses decades of fine albums and live performances, and is just as revealing. The best Steve Hackett solos are as good as it gets – not just for prog rock fans, but for all guitar aficionados.
Listen to the best of Steve Hackett on Apple Music and Spotify.
As a key part of the commercial breakthrough enjoyed by Genesis post-1971, Hackett was integral to the so-called "progressive rock" movement. Genesis offered far more than a single strain of sound, and Hackett's playing has also taken him in leaps and bounds through a classy metal hybrid towards more reflective works, classically inspired homages to Bach, orchestral sketches, delicate nods towards Grieg and Tchaikovsky, world music passages, popular interpretations, gorgeous blues, and the avant-garde. Always capable of improvisation, his earlier band work was hardly set in stone but did tend to a written guitar structure, which he refers to as "refined jamming." Not really one for the flash solo per se (or for playing 20 notes when 10 will do), the best Steve Hackett solos see him play with passion even when he seems to be in "the zone." An advocate of technology, but never hidebound by it, he prefers to form a bond with his instruments – and, after that, great things ensue.
Born in Pimlico, London, in 1950, Stephen Richard Hackett started his guitar odyssey in 1964, just as Beatlemania was swamping the universe. By osmosis he also picked up on the rich chords and melodies of Bach and the American tenor Mario Lanza; later influences would include King Crimson, Andres Segovia, Jimi Hendrix, and Peter Green. Very early sorties with teenage bands Canterbury Glass and Sarabande had elements of the progressive about them, while Hackett's Quiet World project was latter-day 1970 psychedelic. His breakthrough can be traced to an advert he placed in Melody Maker's classified "musicians wanted" section, where Hackett announced that he was looking for a musical outlet with like-minded players "determined to strive beyond existing stagnant music forms." This was almost a pre-punk manifesto and it appealed to Genesis and their management. Steve was asked to audition and, having passed the test, he joined the group in late 1970.
Early Genesis years
Often bespectacled (contact lenses came later) and liable to be seen on stage sitting down and caressing his guitar, Steve wasn't obvious rock star material, but since Peter Gabriel was to become exactly that, Hackett was, like Phil Collins, Tony Banks, and Mike Rutherford, a perfect foil to the ever-ambitious theatrics associated with the frontman. Hackett's own role became clear once Nursery Cryme was released, in 1971: "The Musical Box," which opens the album, is, hands-down, one of the best Steve Hackett solos from this early part of his career. The harmony guitar style has echoes of the US West Coast, with a methodical second electric solo that increases the tension and permeates the increasingly frenzied tale of gothic horror. Also listen to "The Return Of The Giant Hogweed," a preposterously crazed voyage into lunacy, with a lovely limpid orchestral guitar section, plenty of tapping, crunching power chords, and a full-throttle off-the-map finale that screams prog classic.
Genesis - The Return of the Giant Hogweed (Official Audio)
Nursery Cryme arrived as the glam rock movement was beginning to take off, and Genesis were prime movers with just as much visceral appeal as David Bowie or Roxy Music. 1972's Foxtrot saw the group take off. Steve's contributions to "Watcher Of The Skies" is vintage Genesis, utilizing Mellotron and a staccato guitar attack that brought audiences to their feet as a crowd-thrilling overture for what was to come, namely the ultra epic "Supper's Ready."
From Genesis Live (1973) check out Hackett's brilliant update on "The Knife," typically an encore during that period, and another one of many Genesis songs to send crowds into ecstasy. Released as a single in two parts in the original Anthony Phillips era, the second-phase version is full of mystical violence – and Hackett's doing it all while sat on a stool!
The classic albums
Steve's own favorite Genesis album, that same year's Selling England By The Pound, gives us the beguiling and mysterious hit "I Know What I Like (In Your Wardrobe)," which led none other than John Lennon to praise the Beatles-y guitar chords. While Hackett himself may have eventually become somewhat tired of the song, there is no denying the ornate melody here. Just as significant is the pastoral and folky "Dancing With The Moonlit Knight," since the guitar figures and piano-driven themes (composed by Gabriel) add an element of tension at the front end of the album. Steve's Gibson Les Paul Goldtop, bringing out lush and creamy tones that are an obvious influence on Queen, decorates both that piece and the glorious "Firth Of Fifth." Always a master at synching to the previous motif, Steve picks up Gabriel's flute solo and generates an incredible-volume pedal attack to this sonorous neo-classical masterpiece.
Genesis - Firth Of Fifth (Official Audio)
The Lamb Lies Down On Broadway, inarguably the greatest album of the classic prog rock era, is blessed with so many ensemble and solo gems that it seems invidious to single out "Here Comes The Supernatural Anaesthetist" and "The Lamia," but as examples of brevity and an-almost Jerry Garcia like tone, with attack and resolution abounding, these companion pieces are essential listening and easily rank among the best Steve Hackett solos of all time. Live versions, too, were equally compelling.
Post-Gabriel Genesis and beyond
During the impasse created by Gabriel's departure, Steve began an auspicious solo career, on Voyage Of The Acolyte, with the esoteric "Shadow Of The Hierophant" and the similarly Tarot-inspired "Ace Of Wands" being chalk and cheese on an album that hints at Yes and all manner of mysticism and wizardry.
Back with the band for A Trick Of The Tail, Steve excels on "Entangled," on which he captures the out-of-body experience or dream-like state that often accompanies illness. His work here is surreal and beautifully madcap. Meanwhile, his final album with mid-70s Genesis, Wind And Wuthering, gives us "Blood On The Rooftops," on which Hackett plays his Alvarez Yairi classical nylon acoustic in the memorable introduction.
Steve's second solo outing, Please Don't Touch, makes the grade again, with the guitarist using the Roland GR-500 Guitar Synthesiser on a memorable instrumental title track, but it's the purity of tone on "Every Day," from 1979's Spectral Morning, that reminds us of his deft touch. For something quite different, try "The Steppes," on 1980's Defector, where dark Eastern European licks predominate on a track that's comparable to David Bowie's "Warszawa."
The Steppes (Remastered 2005)
Steve's final album for Charisma, the acclaimed Highly Strung (1983), contains one of the artist's personal favorites, the otherworldly "Camino Royale." Apparently this song came to him in a dream he had about Genesis performing in a surrealistic New Orleans – hence the eerie texture. The latter-day remake with Hungarian fusion band Djabe emphasises Hackett's original jazz intentions.
As a return to the beginning, "Can-Utility And The Coastliners" originally appeared on Foxtrot, but the remake for Genesis Revisited II: Selection (2013) allowed fans to witness a revamp of one of the best Steve Hackett solos from the guitarist's Genesis days. Featuring Steven Wilson from Porcupine Tree, keeps the prog rock flame glowing with zippy ELP-like keyboards and Hackett's trademark switch from intricate acoustics to nutty electric textures. It's a great and often overlooked number.
The title track from 2015's Wolflight is a fitting finale here. Modulating between a haunting Spanish boléro and a thrilling electric solo played on the Gibson Fernandes Les Paul Black, it has a Game Of Thrones atmosphere that's packed with molten metal chords all set to take off for the stratosphere.