Loud For Life Part 2: Metal Invasion – How The West Was Won
Due to the success of Judas Priest & Iron Maiden, The New Wave Of British Heavy Metal wedged the door open in the US, led by denim-clad misfits who struck fear into the hearts of parents.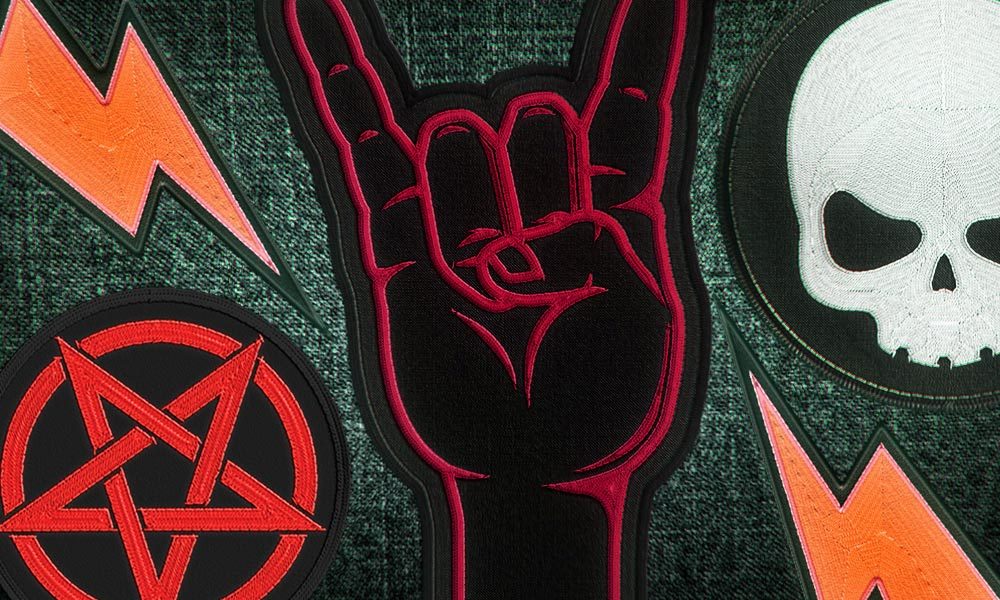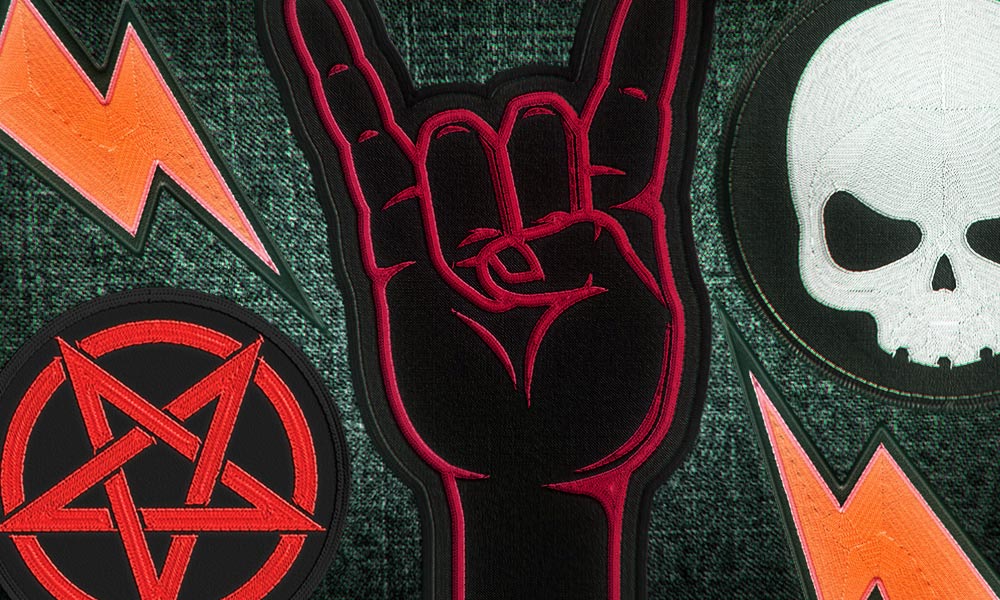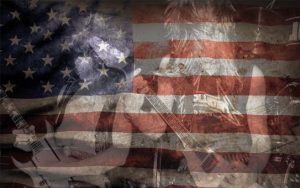 Though the early 80s had created an undeniably powerful legacy for heavy metal as a whole, the remainder of the decade cemented the genre's sensational and controversial rise in popularity. Thanks to the success of Judas Priest and the unstoppable Iron Maiden, The New Wave Of British Heavy Metal (NWOBHM) had wedged the door open in the US, where the disco hangover was fading fast, its last remaining outposts waiting to get obliterated by an army of denim-clad misfits who struck fear into the hearts of parents.
With the floodgates now open, a host of British bands set their sights on North America, hoping to follow in the footsteps of Motörhead, Ozzy Osbourne, Judas Priest and Iron Maiden. The country's vast size enabled bands to tour for months on end, gaining a foothold and spreading the word about the musical revolution that was happening back in the UK.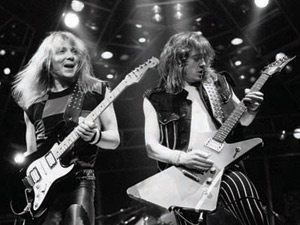 Having split from Black Sabbath, Ozzy Osbourne released his debut solo album, Blizzard Of Oz, in 1980). A huge success in the States, it proved that there was a bountiful market of heavy metal fans craving the UK sound. The closest equivalent in the States was hard rock, and the likes of ZZ Top, KISS, Ted Nugent, Aerosmith, Alice Cooper and Van Halen racked up staggering album sales during the late 70s and early 80s. But much of this music was more light-hearted – tongue-in-cheek, even – that anything a stateside audience had witnessed before. An unsuspecting US scene was about to be turned on its head.
Despite the legendary metal bands that had already started to conquer the US, it was Australian outfit AC/DC who led huge numbers of hard rock fans through the forbidden gates and into the wonderful world of heavy metal. Word spread of the intoxicating energy of their live shows, and was bolstered by the emergence of rare bootlegged footage of British bands such as Saxon and Motörhead blasting European audiences into the stratosphere. The Day-Glo, cartoon-like antics of Van Halen and KISS simply couldn't compete. People wanted something heavier, faster and louder – with more substance and balls.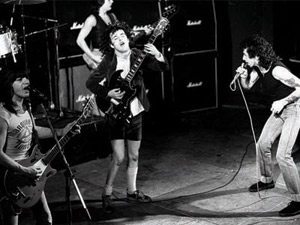 Influenced by the more primal, aggressive and faster NWOBHM, US hard rock soon underwent a radical divide in styles, birthing subgenres such as glam (or "hair") metal, followed shortly by its ugly brother, thrash.
Dramatic changes in communication also played a part in the growth of these scenes. The rise of cable and satellite TV allowed both the US and the UK to export their music to an ever-wider audience, resulting in a transatlantic assault on the global heavy meal scene. Countless special-interest radio shows and lifestyle magazines also brought the vibrant new music into bedrooms and school cafeterias. On 6 June 1981, UK publication Kerrang! launched as the world's first weekly heavy metal and hard rock magazine, documenting the explosion of new bands from places as far flung as Finland (Hanoi Rocks), Germany (Accept), Canada (Anvil), Italy (Death SS) and Japan (Loudness).
In the US, hard rock styles were categorised by their geographical origin, and it was becoming obvious that the East and West Coasts had dramatically different approaches. Leading the charge from New York was loincloth-wearing warriors Manowar, whose debut, 1982's Battle Hymns, was driven by heavy, cannon-fire riffs and fantasy lyrics that gained a substantial global following.
Though the East Coast sound was grittier than the sex'n'drugs'n'ass-slappin' good-times hair metal sound that was on the rise in LA, glam elements still penetrated the East Coast in the shape of Maryland natives Kix, who released their self-titled debut in 1981. In the main, though, East Coast metal was exemplified by the New York-based Riot, who issued their third missive, Under The Blade, in 1982, and New Hampshire-born ex-Rainbow/Black Sabbath vocalist, the late Ronnie James Dio, who launched his band Dio with the 1983 album Holy Diver.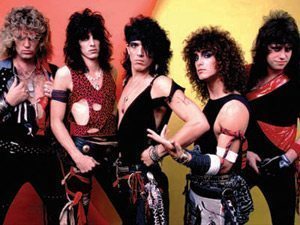 A product of their environment, these East Coast outfits took their influences from early US punk groups such as The Misfits, Ramones and New York Dolls. On the West Coast, however, metal was infused with the spirit of LA's whiskey-drenched Sunset Strip, which spawned an incalculable amount of Spandex-wearing, poodle-haired rockers such as notorious hell-raisers Mötley Crüe (whose debut, Too Fast For Love, hit the shelves in 1981), and Ratt, who made a name for themselves with 1984's Out of The Cellar.
Fellow LA natives Van Halen and Dokken were fast becoming international stars, but British acts continued to reign supreme courtesy of Def Leppard's High'n'Dry (1981), along with a trio of pummeling releases from 1982: Iron Maiden's, The Number Of The Beast, Judas Priest's Screaming For Vengeance and Motörhead's, Iron Fist, all of which entered the US Billboard charts; from Germany, Scorpions' Blackout (also 1982) even broke into the US Top 10.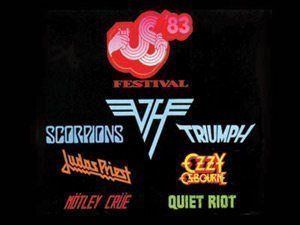 It wasn't until Quiet Riot issued their debut, 1983's Mental Health, that a hair metal album reached No.1 on the US Billboard charts, essentially lighting the fuse for heavy metal's explosion in popularity. Thousands of bands followed in its wake, and America's love affair with the genre was cemented with the foundation of the now legendary US Festival, which took place in San Bernardino, California, over Labor Day weekend in 1983. The brainchild of Apple co-founder Steve Wozniak, the televised event – planned to spotlight advances in both music and technology – featured heavyweight acts Quiet Riot, Mötley Crüe, Ozzy Osbourne, Judas Priest, Triumph, Scorpions and Van Halen, whose groundbreaking performances resulted in a huge surge in album sales and media attention – not just for their own music, but for the metal scene as a whole.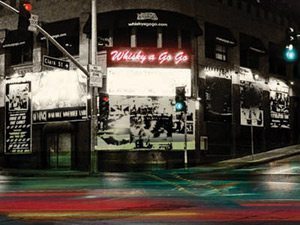 By the mid-80s, LA's infamous glam metal movement was in full swing, casting a huge shadow over the now outdated classic rock acts. Bands such as London, Mötley Crüe, Ratt, WASP, Great White, LA Guns, Bon Jovi, and countless others, packed out Sunset Strip venues such as The Trip, Whiskey A Go Go and The Starwood Club on a nightly basis.
Keeping a close eye on British and European trends, the US bands took to the metal genre and made it their own, releasing groundbreaking albums that pushed the envelope in terms of style and approach. Mötley Crüe's Shout At The Devil (1983) and WASP's 1984 self-titled debut brought a more sinister element into the music, dealing with darker subject matter and boasting album covers that depicted band members attired in leather, spikes and theatrical make-up.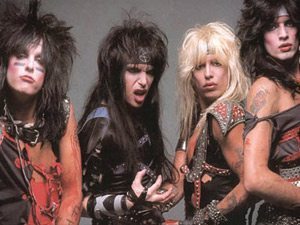 Despite the introduction of shock elements into 80s glam metal, a divide opened up – as it had over a decade before, when Black Sabbath emerged from the psychedelic hippie era of the late 60s. Though glam metal had its dedicated followers, the music coming over from the UK and Europe had and undeniably greater visceral appeal.
While wider metal was gaining mainstream acceptance, pioneering UK-based three-piece Venom were making smaller – but ultimately far-reaching – waves with their raw, terrifying debut Welcome To Hell (1981) and its follow-up Black Metal (1982). Combining the speed of Motörhead with the foreboding mystery of Black Sabbath, Venom pulled no punches and unleashed their inner Satan to the masses, terrifying and confusing both punters and media alike with their over-the-top lyrics and left-wing views on religion, politics and social integration.
Their sound was so primitive as to be almost Neanderthal in approach, particularly when compared to the slick production of the likes of Def Leppard and Scorpions. Yet it was the very blueprint for what would later become the black metal subgenre (named for Venom's sophomore album): a dark and disturbing, extreme form of metal that would emerge from the frost-bitten black forests of Norway and Sweden.
But the acceptable face of mainstream metal was still found in the likes of Iron Maiden, who, off the back of their phenomenal 1983 album, Piece Of Mind, were commanding sold-out venues in the US on a nightly basis. Despite huge strides from US artists, the UK contingent was still viewed as the epitome of heavy metal, and the influence of the NWOBHM was starting to show in a host of bands that were forming in reaction to what some felt was an increasingly parodic glam scene.
Running concurrent to a thriving hardcore punk movement, spearheaded by bands such as Minor Threat, Black Flag, and other artists from the Washington, DC-based Dischord Records stable, a new, heavier metal was emerging from the clubs, and would soon turn the metal world on its head forever. Taking a far more aggressive, faster approach to performance, thrash metal was born in the middle-class neighborhoods and skate parks of LA, San Francisco and New York, causing tremors that eventually rippled across the globe from sweat-drenched local clubs. Fusing elements of the NWOBHM, punk and hardcore genres with the extreme sounds of Venom, thrash's documented beginning was predominantly as a suburban underground movement that gathered momentum and widespread popularity at an alarming rate.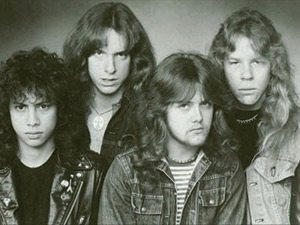 Two individuals in particular set the whole thing in motion in 1981: a young Danish drummer and self-confessed heavy metal fanatic, Lars Ulrich, and budding guitarist James Hetfield. When the pair met and bonded over a love for all things heavy metal, they began writing songs that would lead to the birth of Metallica. What followed was the rise of the most globally important metal movement of all time.
With their now infamous demo, No Life 'Til Leather, gaining the band a huge amount of exposure among the global tape-trading community, it was clear that Metallica had crafted a new sound that was like nothing that had come before. A relentless barrage of complex guitar riffs twinned with the battering of double kick drums and explosive choruses, all delivered with lightening-speed precision, Metallica's music became the staple formula for the thrash subgenre.
The band's original line-up included one Dave Mustaine, a pioneering young guitarist who nevertheless wouldn't remain with the group long enough to appear on their debut album. In the wake of his split from Metallica, he did, however, form Megadeth, an equally iconic thrash outfit with whom he created some of the most technically mind-bending guitar work ever recorded.
Issued on the iconic Megaforce label in 1983, Metallica's debut album, Kill 'Em All, was a defining release in the heavy metal history books, leading the crusade for the first wave of thrash. Swapping Spandex and poodle hair for a more streetwise look that favoured denims and hi-top Converse, thrash groups reflected the environments their fans grew up in, and dealt with easily relatable socially conscious lyrics.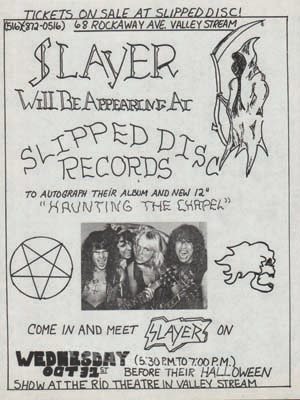 In just under a year, thrash had gripped the metal world, and a slew of new and exciting bands began to appear – largely from San Francisco, LA and New York – issuing no shortage of groundbreaking albums throughout the decade, among them Slayer's Show No Mercy and Mercyful Fate's Melissa (both 1983), Anthrax's Fistful Of Metal (1984), Megadeth's Killing Is My Business… And Business Is Good and Overkill's Feel The Fire (both 1985), Nuclear Assault's Game Over (1986) and Testament's The Legacy (1987).
By now, Kerrang! had been joined by newer publications such as Metal Hammer and Metal Forces – along with a rebranded Hit Parader – in extolling thrash metal's virtues, and the music quickly spread across the globe thanks to the formation of bands such as Sodom, Kreator and Destruction (Germany), Mortal Sin (Australia), Annihilator (Canada), Xentrix and Sabbat (England), Sepultura (Brazil) and many more.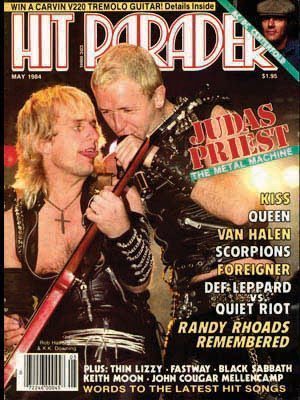 The four most commercially successful bands within the thrash metal genre were branded the Big Four. Released across 1985 and '86, their most groundbreaking works – Metallica's Master Of Puppets, Anthrax's Among The Living, Slayer's Reign In Blood and Megadeth's Peace Sells… But Who's Buying? – remain the genre's finest moments, documenting a period when heavy metal music was being transformed into a new, ferocious beast– one which would soon reign supreme over all other metal subgenres.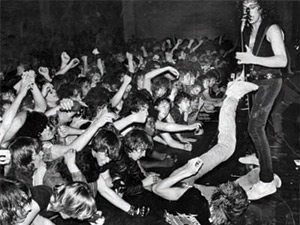 The 80s had proved that metal was here to stay. With its albums selling in their millions, this once outcast musical movement began to creep into mainstream charts around the globe, recruiting an incalculable army of loyal music fans that live and die by the sword of heavy metal.
Though thrash changed the landscape forever, opening a portal to a vast array of offshoots, from alternative to industrial metal, one metal subgenre ventured far beyond the borders to the blackest corners of Hell. What lay ahead was something sinister, ugly and disturbing: a new breed that would push up from the underground and drag the genre kicking and screaming towards the fires of Hades.
Format:
UK English