Watch Gene Autry Sing Signature 'Back In The Saddle Again' On 'The Ed Sullivan Show'
The clip is from a 1953 edition, when the show was still known as 'Toast of the Town.'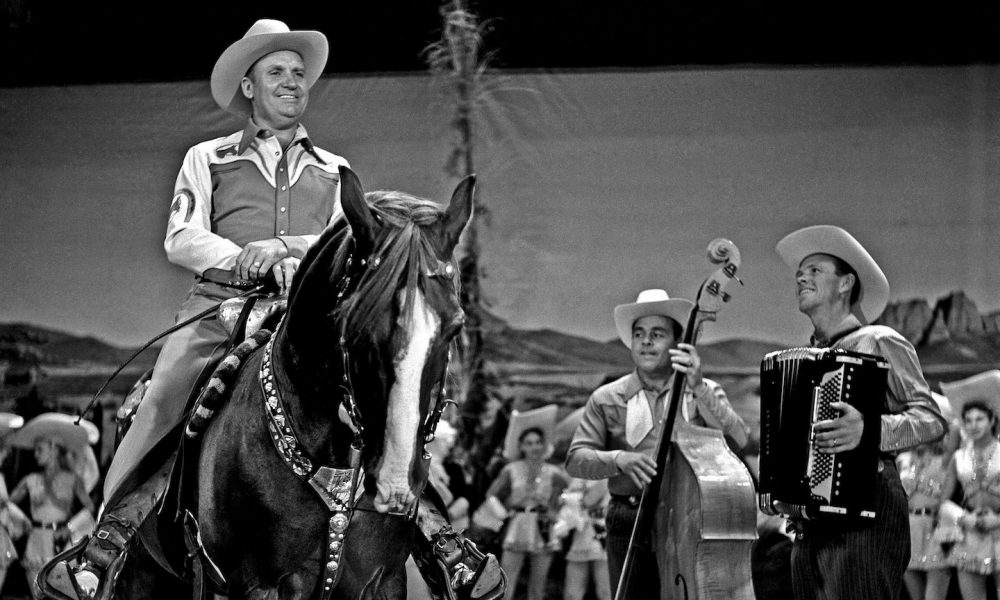 A clip of the "Singing Cowboy" himself, Gene Autry, singing his signature "Back In The Saddle Again" is available to view on the official YouTube page of The Ed Sullivan Show. The short performance comes from a relatively early edition of the world-famous television variety series, on the edition first aired on September 20, 1953, when it was still known as Toast of the Town.
Autry, born in 1907, rose to fame as a recording artist in the 1930s on the Melotone and Vocalion labels with such discs as "Ole Faithful," "That Silver Haired Daddy of Mine," and "South of the Border (Down Mexico Way)." His success on disc continued in the 1940s on Okeh and then Columbia.
He was also a much-loved star of the silver screen from the 1930s onwards, chiefly in low-budget Westerns and always with his horse Champion. As a measure of his fame, both Autry and Champion had their own radio and TV series.
Gene Autry "Back In The Saddle Again" on The Ed Sullivan Show
Autry co-wrote "Back In The Saddle Again" with singer and actor Ray Whitley, the pair revising it after Whitley had sung his original in RKO's 1938 film Border G-Man. Autry's recording was released by Vocalion in 1939 and it became the theme song of his television series Gene Autry's Melody Ranch. Another version by bandleader and saxophonist Art Kassel, with vocals by Harvey Crawford, was popular in America in 1940.
When Autry performed it on Sullivan in this 1953 edition, atop the current Champion, it was instantly recognized and greeted by the audience as his theme tune. The performance is also notable for Champion's impressive moves and his ability to leave the stage backwards.
The song also became the title of Autry's autobiography in 1976, and was inducted into the Grammy Hall of Fame in 1997. The artist had retired from show business in 1964 and was later inducted into both the Country Music Hall of Fame and the Nashville Songwriters Hall of Fame. He died in 1998, at the age of 91.
Watch all the latest archival videos from The Ed Sullivan Show on the program's official YouTube channel.