Watch Louis Armstrong And His Band In A 1957 'Ed Sullivan Show' Clip
The newly-added video shows the jazz maestro and his band giving a brief performance of '(Back Home Again In) Indiana.'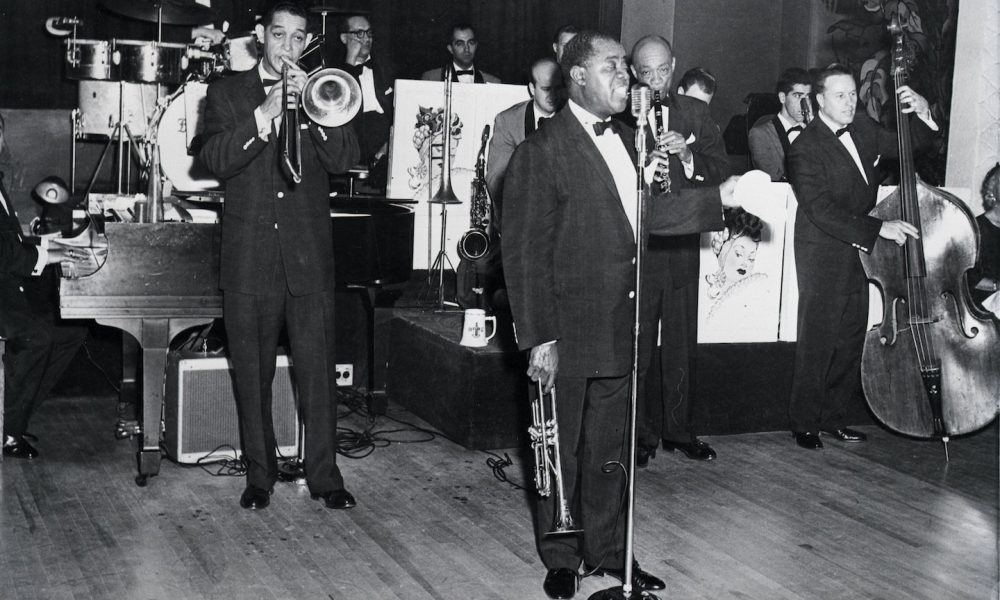 Louis Armstrong is captured at his effusive best in one of the latest clips to be shared on the official YouTube channel of The Ed Sullivan Show. The newly-added recording shows the jazz maestro and his band giving a brief performance of "(Back Home Again In) Indiana" on the edition that aired on January 27, 1957.
Armstrong was aged 55 at the time of the broadcast, and had released his fondly-regarded Ella and Louis collaboration album, with old friend Ella Fitzgerald, some three months earlier. He was already widely feted for his lifetime contribution to music, having entered the Down Beat Jazz Hall of Fame as early as 1952. Fitzgerald was also on that edition of the long-running variety series, as were operatic soprano Dorothy Kirsten and tenor Mario del Monaco.
"Satchmo" was also a major name on the big screen at the time, and had starred only a few months earlier in the beloved movie High Society, and before that, also as himself, in The Glenn Miller Story. A frequent visitor to the Sullivan show, he returned only six months later for the next of many appearances.
Louis Armstrong "(Back Home Again in) Indiana" on The Ed Sullivan Show
Armstrong had been in the Top 30 of the US singles chart just before Christmas 1956 with his version of "Blueberry Hill." His traditional but irrepressible jazz style was perfectly at home in the chart scene of the time, in which Elvis Presley and Fats Domino rubbed shoulders with Guy Mitchell and Pat Boone.
"(Back Home Again In) Indiana" was a Tin Pan Alley-era tune, published in 1917 and written by James F. Hanley with lyrics by Ballard MacDonald. The Original Dixieland Jazz Band recorded it that year and it became a jazz staple with many versions, including those by Eddie Condon, Red Nichols and, in 1942, Lester Young with Nat King Cole. "Pops" included the number on his 1951 album An Evening with Louis Armstrong at Pasadena Civic Auditorium.
Listen to the best of Louis Armstrong on Apple Music and Spotify.