Marvin Gaye's 'Let's Get It On' Dissected On KCRW's 'The Treatment'
"On' Let's Get It On', you can see he's making these leaps. He's realizing what he can do with himself."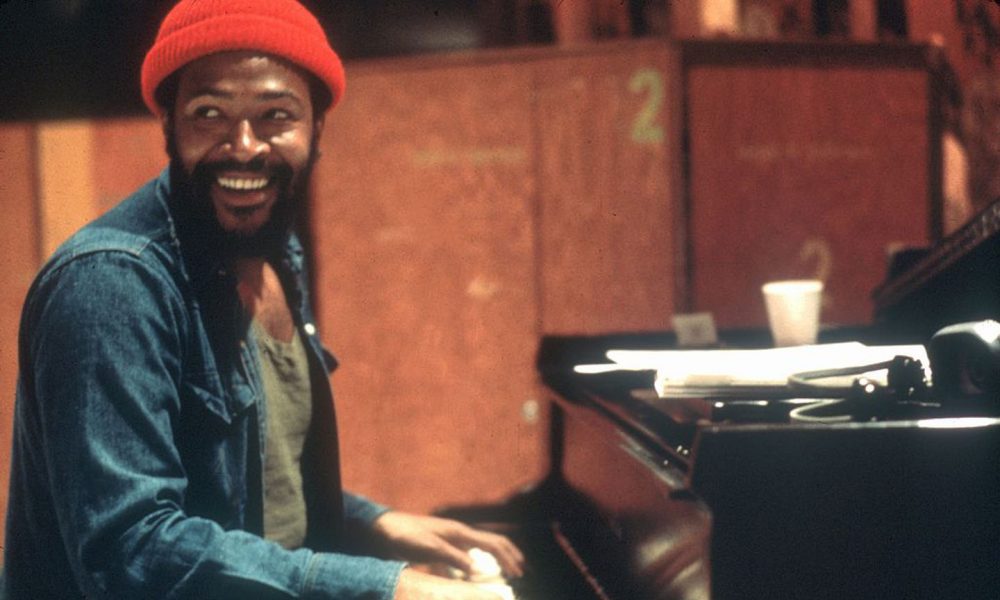 This week on Los Angeles-based public radio station KCRW'S show "The Treatment," presenter Elvis Mitchell sat down with distinguished VP of A&R at Universal Music Enterprises, Harry Weinger to talk about the new, 50th anniversary deluxe edition of Marvin Gaye's landmark 1973 album Let's Get it On, which features the classic title song along with 20 previously unreleased tracks and demos. Listen here.
Weinger has overseen countless reissues of classic Motown releases and Let's Get It On is one of his best. Released by Motown/UMe on August 25 the new Let's Get It On: Deluxe Edition contains tracks cut during six intense months of recording sessions in Los Angeles in 1973.
It presents the original eight songs on the LP alongside unheard mixes and material from all those sessions, as well as a trove of funky and fascinating instrumental tracks, and unreleased versions of the ballad recordings that Gaye returned to time and again.
Marvin Gaye - Just To Keep You Satisfied (Visualizer)
Los Angeles-based public radio station KCRW is one of the most respected and progressive music outlets in the world. Presenter Elvis Mitchell has been the host of its show "The Treatment" since its creation in 1996. During that time, he has served as a film critic for the Fort Worth Star-Telegram and the New York Times, and he has been a special correspondent for Interview magazine.
During the interview on "The Treatment" – Mitchell and Harry Weinger discuss the making of Let's Get It On in detail, with topics including the progression in Marvin Gaye's music and the way Let's Get It On fit in with the musical landscape in 1973.
When Mitchell suggests the record is a bridge between Gaye's Blaxploitation soundtrack Trouble Man and 1976's I Want You, Weinger replies "Yes, you have this moment in time where Barry White is introduced. It's also the year of [Stevie Wonder's] Innervisions, [Eddie Kendricks'] "Keep On Truckin'" and Billy Preston's "Will It Go Round In Circles," all this amazing music is beginning to pop in '73 and Let's Get It On is right in there."
Later on in "The Treatment," Mitchell and Weinger also discuss the demo of "Let's Get It On," one of the bonus tracks featured in the new collection, which Mitchell suggests is a social protest song "in some ways connected to [The Rolling Stones'] "Street Fighting Man," which is also inspired by Motown." But also that the song demonstrates just how adventurous Gaye was becoming as a vocalist.
In response, Harry Weinger says "The privilege for me is unpacking the tracks [for the reissue]. You know what on What's Going On, Marvin essentially had two voices, but on Let's Get It On, it's becoming three or four. By the time you get to I Want You, it's seven or eight voices or overdubs and it's so beautiful and so haunting."
He adds "[On Let's Get It On], you can see he's making these leaps. He's realizing what he can do with himself. That's what the ballads tells us, the Vulnerable tracks on this album. The interesting thing about Marvin is he really knew where to put his voice, and he really began to perfect that at this stage in his career. In '73 he's at the beginning of seeking out another form of expression."
Arguably the pivotal album in Gaye's personal and creative evolution, Let's Get It On topped Billboard's Soul LPs chart and hit No.2 on the all-genre Top LPs chart, was inducted into the Grammy Hall of Fame in 2004. Its classic title track and lead single reached No.1 on both the US pop and R&B charts. Jon Landau, writing about Let's Get It On in Rolling Stone, observed: "It flows with ease…Gaye's voice, hovering around the falsetto, holding our attention and providing unique transitions in mood and style."