Nancy Wilson On Her Debut Solo Album, The Future of Heart And Writing Material For 'Almost Famous'
While 'Almost Famous' debuted over 20 years ago, the film and its soundtrack – both love letters to rock'n'roll – have remained as relevant as ever for Nancy Wilson.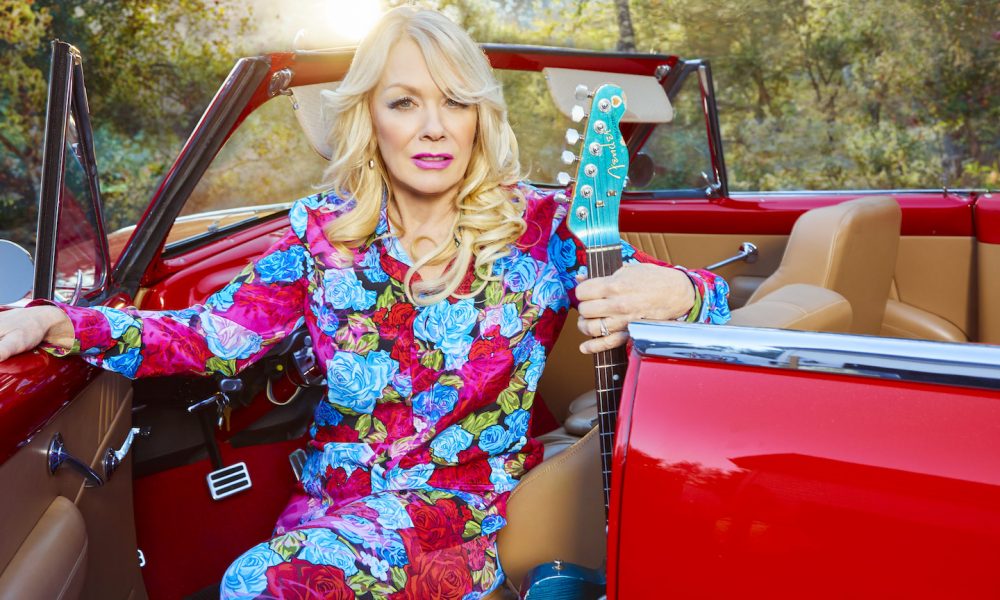 While Almost Famous debuted more than 20 years ago, the film and its soundtrack – both love letters to rock'n'roll – have remained as relevant as ever for Nancy Wilson. In fact, the Heart co-founder, who composed the soundtrack with her ex-husband and writer-director Cameron Crowe, has never really left Almost Famous and Stillwater behind. Most recently, the Almost Famous soundtrack was reissued as an expansive, limited-edition box set featuring tracks from The Beach Boys, Joni Mitchell, The Who, and more, as well as unreleased material from Stillwater most written for the movie by Crowe, Wilson, and Grammy Award-winning guitarist, Peter Frampton.
But that's been just one of Wilson's many projects that she's juggled. While the singer-songwriter was used to being on the road either with Heart or the rock and R&B fueled group Roadcase Royale, Wilson found herself at a standstill during the pandemic. But for the first time, in her Northern California studio, Wilson took the time to craft her first studio solo album You and Me.
Comprised of covers from Bruce Springsteen, Pearl Jam, and more, as well as original tracks, Wilson was able to reflect on her past and find inspiration from the person she was before Heart came to exist. Beyond that, Wilson is anticipating a mentoring return to Rock 'n' Roll Fantasy Camp in early 2022 for the first-ever "Women only camp." Wilson is truly still living her rock'n'roll dreams.
We spoke to Wilson about crafting the music of Almost Famous, the Stillwater ethos, and her debut solo album.
What was the process for songwriting when it came to making the music for Almost Famous?
Me and my then-husband Cameron worked on every level of the film together – the script and the songs. It was funny because we were both very well-versed in the music world and the rock era of the 1970s that the film was set in, so we both had imprints of how we thought those songs should sound.
There's a specific sound from that era, so we thought that making these songs should be a conglomerate of the rock bands at the time like Bad Company, Allman Brothers, and those kinds of bands. But in the case of Stillwater, it needed to be more mid-level. That was the point of the story in a way. These guys were not huge rock stars – they were mid-level rock stars. It was really a fun assignment because there was no pressure to make it super incredibly great, just a perfectly mid-level rock song experience.
What did you do to get into the Stillwater mindset?
Stillwater is a very male-centric rock band from that era that has a lot of melancholy in the songwriting. The guy who sings the songs has a lot of regrets and father issues, like "My father warned me not to fall in love" or "You're gonna end up lonely." Those were the issues of the songwriters of the time. We just put the framework around it like that to approach the songwriting.
It's been five years since Heart put out a record. Have you and Ann [Wilson] discussed recording any new music?
We've been sort of out of touch because of the pandemic, too – but there is an offer for Heart to tour again in 2022, so we're entertaining the idea of going out again. The last tour was in 2019, and it was very successful. But during the shutdown, I made my own album in Northern California in my new studio space. I think some of that material would be really cool for Heart to do. And [my sister] Ann's got new material of her own that she's released as well, but I think the big metal horse of Heart on tour would be a great accomplishment after the pandemic.
On the topic of your solo album, it's the first one you've released. Why now?
I've always wanted to do it, and people would ask me to do it. One of the reasons was because I was shut in and at home. I was not able to tour, which I've done pretty much nonstop. Also, woodshedding with yourself being shut-in, I reached back into my own soul of who I was before I joined Heart. It put me back in touch with the college girl who I was before Heart. It brought me back to something I had been missing. It was a really good approach to survival through this really hard time. That's why the first thing I did was cover a Bruce Springsteen song called "The Rising" that he wrote for 9/11 originally. I felt that was an aspirational thing to do because of what we're all going through during this really horrific time.
Nancy Wilson "You and Me" Official Lyric Video
How did you go about choosing the covers you decided to put on the record?
When I did the Pearl Jam song "Daughter," that was before the shutdown, and I had done that for a film that's now out on Netflix called I Am All Girls, which is a song about human trafficking. It's a true story about a woman who goes back to the place where she was being trafficked and gets even with her perpetrator. That was the reason I did that because in the song, there are cool lyrics like, "She holds the hand that holds her down." So that was something I did beforehand. The Cranberries song, "Dreams," was just something I heard on the radio one day. My husband Jeff was like, "You should do this with Liv [Warfield]." She was the singer in my recent band Roadcase Royale. I really missed her and wanted to sing with her, so we did that. In each case, the cover songs were all stuff I loved.
There was a new box set that came out for the Almost Famous anniversary with new material. Can you tell me about the process for making the new song 'Love Thing'?
We would often go down to the ocean on the West Coast in Oregon – a week or so woodshedding song ideas, reading the script out loud, and steeping in the whole concept of the film that was being put together. We would listen to Bad Company songs, and I would sit around and tinker with similar guitar chords, melody, and lyric content. I'd sit around making sh_t up.
What was your favorite song to write for Almost Famous that appeared on the soundtrack or didn't?
I think my favorite song that everybody always talks about is "Fever Dog" because it's a phrase that could just be felt in that era. We tried to coin a phrase of a character who that song would be about: somebody who's a little bit of a sleazeball who's always using a situation for their own benefit. So when we thought of the title "Fever Dog" to describe that, it was like "Eureka." The song itself, the simplicity and rock ethic of it really worked.
Do you have any untold stories about the making of the music from Almost Famous?
During the rock school thing we did, we rented a rehearsal space with the actors and helped to show them the ropes of what an authentic rock band was – the intricacies of the onstage presence they have together, the eye contact, the bad posture requirements, and the low-slung guitar. I was working with Billy Crudup a bit and talking him through the "rockstar" of it all. I was like, "Be prepared to be distracted even if you're trying to concentrate on your guitar part because people are going to rush up to you and try to get you to sign stuff as you're trying to play something else.
And you can't sign anything because your hands are full. I was throwing pieces of paper at them trying to distract them because, in a way, they're in a war zone. There are so many people trying to get at you while you play music. So, that was part of helping them look like an authentic rock band on the stage together.
What do you want for your career at this point in your life?
I want "fun." I want to have fun with it because I've carved out a lot of good territory for myself as a music person, not just scoring music for films, being a songwriter and now more of a singer. I feel like I can do it all by myself more than I used to do. I have a little more confidence now that I've created a solo project. I sure would love to go out with Heart next year, but right now what I'm focusing on is doing something for myself.
The new expansive, reissue of the Almost Famous Soundtrack is available here.