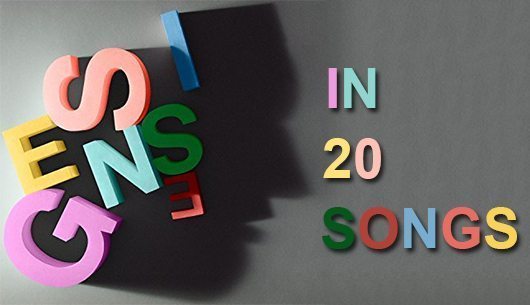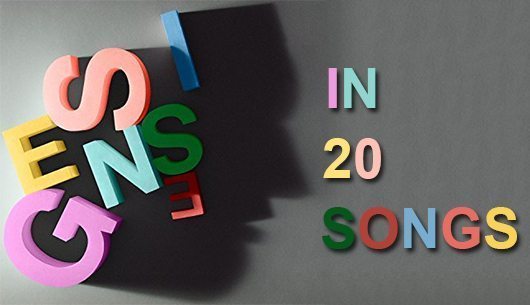 Attempting to chart Genesis' career in 20 songs is a daunting prospect, given the band's recorded output – both in quality and in quantity. We've set ourselves the challenge of choosing 20 songs that tell the band's musical autobiography from their own genesis to their most recent releases, spanning six decades.
Where better place to start than at the very beginning, with their very first single release for Decca Records, back in 1968. 'The Silent Sun' preceded the recording of their debut album, From Genesis to Revelation that began in the autumn of the same year. At this point the band was Tony Banks on piano and backing vocals; Anthony Phillips, acoustic guitar, backing vocals, Mike Rutherford on bass, backing vocals, drummer, Chris Stewart and Peter Gabriel on lead vocals.
There is arguably no greater musical forward step by any band than from 'The Silent Sun' to 'The Knife' that was featured on the album Trespass that was recorded over two years later. John Mayhew had become the band's third drummer over this time and Phil Collins replaced Mayhew shortly before Trespass was released. The time changes, shifts in the musical motifs and the obvious complexities of the music and lyrics were a clarion call to the band's growing number of fans. It became a key song in their live shows and built to a climax of rabid intensity when they performed it live; so much so that on one occasion Gabriel jumped off the stage and broke his ankle.
The accident was at Friars in Aylesbury in June 1971 and according to Steve Hackett who had recently joined the band to replace Phillips, "People didn't realise it wasn't part of the show, he was sitting on the floor saying 'why didn't anyone come to help me?"' Eventually, it was Richard MacPhail who was mixing up front who realised there was a problem. I remember him stoically sitting there in agony at the end of the gig waiting for the ambulance to take him off. Then we did a few gigs with him in a wheelchair and a cast. Not surprisingly that didn't really work."
November 1971 saw the release of Nursery Cryme whose opening track was the monumental 'The Musical Box'. The lyrics, written by Gabriel, are about two children in a country house – a girl, Cynthia, who kills the boy, Henry, by taking his head off with a croquet mallet. The song's theme inspired the album artwork and remained in their live shows for the next two decades.
Eleven months after Nursery Cryme, Foxtrot was released and the opening track is another song that became a firm fan favourite. The inspiration behind the title of 'Watcher In The Skies' is taken from John Keats' 1817 poem "On First Looking into Chapman's Home; "Then felt I like some watcher of the skies. When a new planet swims into his ken." Tony Bank's Mellotron powers this number along and it too is much loved by every fan of the band, but it also serves to show what makes their sound so appealing and so evocative. The lyrics are by Tony Banks and Mike Rutherford and they were inspired to write them prior to a gig in Naples in April 1972; they were looking at a deserted airfield that got them thinking about what an empty Earth would look like to an alien from space.
The centrepiece of Foxtrot is 'Supper's Ready' and we decided to include the version from Genesis' 1977 live album Seconds Out. When asked what the song was about, Peter Gabriel said it was, "a personal journey which ends up walking through scenes from Revelation in the Bible…I'll leave it at that." The 1977 live recording is from the Wind & Wuthering tour, after Gabriel had left the band.
A year, almost to the day, after Foxtrot, Selling England By The Pound became their fifth studio album and it includes 'I Know What I Like (In Your Wardrobe)' which has the distinction of being the first Genesis single to make the charts. Released ahead of the album it was a slow burn as it did not chart until April 1974, whereafter it managed to make #21 on the bestseller list. While Genesis at this point were not thought of as a singles band it's testament to the song that it did as well as it did, even having the dance group Pan's People choreographing a routine for it on the BBC's Top of the Pops TV show.
For many, it's 'Firth of Fifth' that is the standout song from Selling England… With its beautifully crafted Tony Banks's neo-classical piano intro and Steve Hackett's wonderful guitar solo it is one of the pinnacles of Prog. And the title? A playful re-arrangement of the name of the body of water that separates Edinburgh and East Lothian from Fife in Scotland – it's called The Firth of Forth.
1974's The Lamb Lies Down On Broadway is the last of the band's albums to feature Peter Gabriel as Genesis' frontman. A tour-de-force and a concept album that tells the surreal story of a half Puerto Rican juvenile delinquent named Rael in New York City, who faces nightmarish dangers while attempting to rescue his brother John. 'The Carpet Crawlers' is such an evocative song that continued to be a mainstay of the band's live shows even after Gabriel's departure.
1976's A Trick of The Tail was the first post-Gabriel album and it features Phil Collins on lead vocals, but even so it was impossible not to pick 'Los Endos' as the track from this album, an album that certainly divides opinion among fans. It's largely instrumental and this towering riff-laden track became an important part of the band's live show. While some fans preferred what went before this was a commercial milestone for the band. According to Tony Banks A Trick of the Tail doubled the band's previous albums' sales.
Wind and Wuthering released in the last week of 1976 was another pivotal album. It was the first to crack the Billboard top 30 album chart, and it included 'Your Own Special Way' which was the band's first hit single in America, albeit a lowly #62 on the Billboard Hot 100. Written by Mike Rutherford it pulls off the impressive trick of being a credible rock love song with pure-pop sensibilities.
Every fan knows that the title of the band's 1978 album, …And then There Were Three refers to the departure of Steve Hackett to pursue his solo career. It was a departure to from the band's old ways of writing material, it had a 'sound' all of its own that record buyers loved, propelling it to No.3 in the UK album charts, helped by the success of 'Follow You, Follow Me', However, the track that we've chosen as the eleventh of our twenty songs is the brilliant 'The Lady Lies'. If one song characterises this record it is this. Tony Bank's song harks back to Genesis of old but it sounds new, fresh and exciting. Banks uses a battery of keyboards to produce a layered effect that sounds BIG and with a great Collins vocal makes this irresistible.
Two years later came Duke, an album that almost made the top 10 in America, but did make the top of the UK's best seller list; it was helped by 'Turn It On Again' a single that made No.8 in Britain. The single was a minor hit in the US helped by the video that featured on the first day of MTV broadcasting in the US. Following a No.1 record is always challenging but Genesis repeated their success in the UK, while in the US Abacab became their first top 10 album when it made No.7 in late 1981. The album's title track is a signature piece for the band and the edited single version went to #9 in the UK and the Billboard top 30.
1982 brought forth another 'in concert' album from Genesis; Three Sides Live is exactly that, three sides of the LP were live recordings, mostly from a 1981 autumn tour along with one side of studio recordings. 'Duchess' recorded at Nassau Coliseum, Long Island in November 1981 was originally a track from Duke.
In January 1984 Genesis finally made the top 10 of America's Hot 100. 'That's All' from their eponymous 1983 album is very Beatlesque in structure and sound. Like the best of the Fab Four this song is extremely catchy and easy to see why it was such a big hit on American radio; in Britain it only made No.16. Two years later, in July 1986, Genesis topped the Billboard Hot 100 with the title song of their album, Invisible Touch; the single was knocked from the top spot by Peter Gabriel's 'Sledgehammer'.
Two songs from Invisible Touch? Well, it would be impossible not to include 'Throwing It All Away' which was the second single to be taken from the album; the single made No.4 on the Hot 100 while the album made No.3 and in so doing became the most successful of Genesis' albums in America. 'Throwing It All Away' has such a great hook, another in their expanding series of pop-rock classics; if we had a list of 21 songs we might be tempted to include 'Tonight, Tonight, Tonight' as well.
1991's album offering was We Can't Dance and the de facto title track, 'I Can't Dance' proved to be another top 10 hit in America and while the single was not quite as successful in Britain it helped to propel the album to the top of the UK bestseller list. It would be six years before another Genesis album came along and this was one without Phil Collins involvement. 1997's Calling All Stations featured Rutherford and Banks with former Stiltskin vocalist; Ray Wilson and we've picked the excellent, 'The Dividing Line'.
In 2007 Genesis was back on tour, with Phil Collins once again back in the fold and the band's sixth live album, Live Over Europe 2007, was the product of the tour. 'Mama' was a tough one to leave off the list from their Genesis album, the original studio record from which 'Mama' was taken. When the studio version came out as a single in 1983 it reached No.4 on the UK charts, making it their most successful single on home territory. Phil Collins vocal on this live version is definitive, a song full of passion, menace and theatrical flourishes.
What a band. What a body of work. It was hard to pick just 20 tracks, there are many classics sides that we've had to leave out of our list of 20 songs, but we think it tells Genesis' musical autobiography. So next time anyone asks you what makes Genesis so great, play these 20 songs…and play them loud.
1.The Silent Sun (First single) 1968
2. The Knife (Trespass) 1970
3. The Musical Box (Nursery Cryme) 1971
4. Watcher of the Skies (Foxtrot) 1972
5. I Know What I Like (In Your Wardrobe) (Selling England By The Pound) (1st UK hit single) 1973
6. Firth of Fifth (Selling England By The Pound) 1973
7. The Carpet Crawlers (The Lamb Lies Down On Broadway) 1974
8. Los Endos (A Trick of the Tail) 1976
9. Your Own Special Way (Wind & Wuthering) (1st US Hit single) 1977
10. Supper's Ready (Seconds Out) 1977
11. The Lady Lies (And Then There Were Three) 1978
12. Turn It On Again (Duke) 1980
13. Abacab (Abacab) 1981
14. Duchess (Three Sides Live) 1982
15. That's All (Genesis) (1st US top 10 single) 1983
16. Invisible Touch (Invisible touch) (Only US No.1 single) 1986
17. Throwing It All Away (Invisible Touch) 1986
18. I Can't Dance (We Can't Dance) 1991
19. The Dividing Line (Calling All Stations) 1997
20. Mama (Live Over Europe) 2007
Genesis on iTunes
Listen to all 20 songs on Spotify

Explore our dedicated Genesis Artist Page
Format:
UK English