Best Natalie Cole Songs: 20 Essential Tracks By The Soul Icon
The best Natalie Cole songs range from uplifting soul anthems to sophisticated jazz numbers, confirming that she was a versatile performer.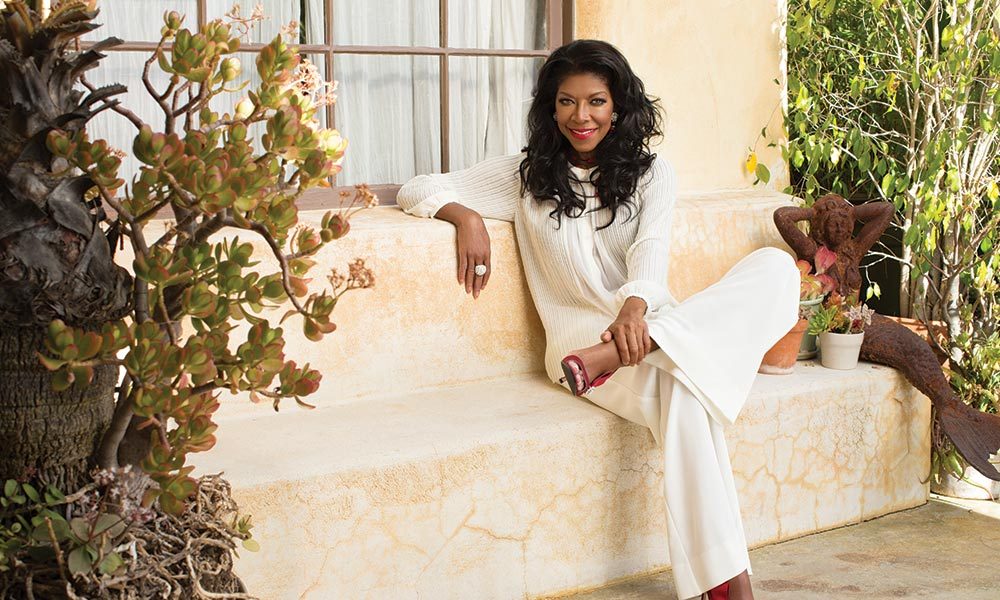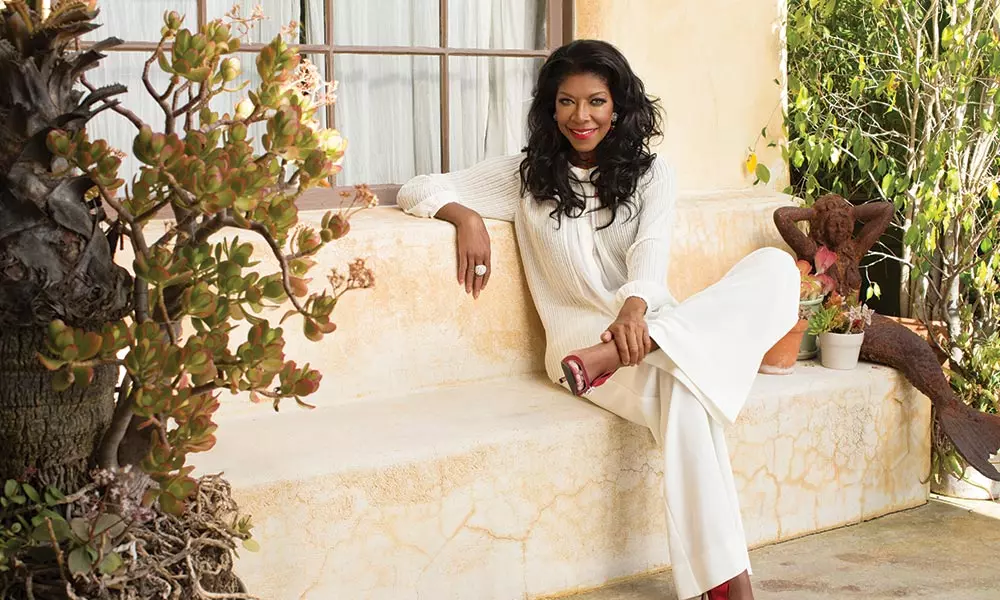 Born on Monday, 6 February 1950, Natalie Cole's career spanned the years 1975 to 2015 (the year of her death). During that time she triumphed at the Grammy awards nine times, hosted a TV show (Big Break), scored six US R&B No.1 singles and racked up three platinum and seven gold albums, with the best Natalie Cole songs more than matching the those of her famous father, the legendary singer/pianist Nat King Cole.
To honour her impressive achievements, we take a look at the 20 songs that best represent her work. Think we've missed one of yours? Let us know in the comments section, below.
Listen to the best Natalie Cole songs on Spotify.
Best Natalie Cole Songs: 20 Essential Tracks By The Soul Icon
20: 'Stand By' (1979)
A Top 10 US R&B hit written by Cole with her then husband, Marvin Yancy, 'Stand By Me' is a driving piece of sanctified soul music whose theme is faith and fidelity. Taken from Cole's fifth Capitol album, I Love You So, the song featured brass and string charts by noted Motown arranger Paul Riser.
19: 'When I Fall In Love' (1987)
Natalie Cole had at first been keen to play down her connection to her father, but on her 1987 album, Everlasting, she served up this tribute, repurposing one of Nat King Cole's iconic ballads as a slinky, midtempo soul groove. (It's Kenny G, by the way, who's responsible for the saxophone solo.)
18: 'Be Thankful' (1975)
One of Cole's most jubilant, uplifting songs, this paean to gratitude was never issued as a single but remained one of the go-to cuts on the singer's fourth Capitol album, the platinum-selling Thankful. Sounding steeped in the Baptist church, Cole's vocals ride an addictively funky undertow driven by Marvin Yancy's organ and garnished with Michael Boddiker's quirky synthesiser slivers.
17: 'Gimme Some Time' (1979)
Capitol Records teamed Cole up with labelmate and rising soul star Peabo Bryson on the album We're The Best Of Friends, which peaked at No.7 in the US R&B albums chart in 1980. The lead single from it, the upbeat dancer 'Gimme Some Time', on which the two vocalists combine their voices wonderfully, was also a Top 10 R&B smash.
16: 'Unforgettable' (1991)
Natalie Cole first recorded with her father on the Yuletide album The Magic Of Christmas, when she was six, but by the time her career launched in 1975, Nat had been dead 20 years. In 1919, when she left EMI for Elektra, Natalie recorded Unforgettable… With Love, a collection of jazz standards previously recorded by her father. Via studio wizardry, father and daughter unite on the closing title duet, which, as a single, made the Top 10 in the US (and Top 20 in the UK). Pete Christlieb is the featured saxophonist.
Unforgettable (Duet with Nat King Cole)
15: 'More Than The Stars' (1987)
This cut is a fan favourite from Cole's Everlasting album. She wrote the song, a delectable Latin-flavoured tune, with her uncle Eddie Cole, who also arranged it. The performance is sublime and enhanced by a guest appearance from Latin legend José Feliciano on guitar and vocals. The song was twice issued as B-side, backing 'Jump Start' and 'I Live For Your Love', respectively.
14: 'You' (1975)
Cole shows her sensual side on this powerful declaration of all-consuming love that was the closing cut on her debut album, Inseparable. An immersive waltz-time ballad from Chuck Jackson and Marvin Yancy, the singer's expressive gospel-reared vocals are counterpointed by an uncredited tenor saxophonist on the intro, who weaves gorgeous melodies around her luscious, soulful tones.
13: 'Jump Start' (1987)
After leaving Capitol in 1983, Natalie Cole spent a couple of unspectacular years at the Epic and Modern labels before getting back into her stride when she joined EMI's Manhattan imprint, four years later. Released in the summer of 1987, the dancefloor-friendly 'Jump Start' – written and produced by Vincent and Reggie Calloway – revived the singer's flagging career and shot to No.2 in the American R&B charts. Its pounding drum machines and synth-heavy sound showcased a radical change in musical direction.
12: 'Party Lights' (1977)
Natalie Cole headed to the dancefloor with this, her sixth single: a frothy disco tune taken from her Unpredictable album. It's a hedonistic, feel-good anthem driven by a turbo-charged rhythm section. Written by jazz pianist Tennyson Stephens, who, two years earlier, released a collaboration with guitarist Phil Upchurch for the Kudu label, 'Party Lights' climbed to No.9 in the US R&B charts.
11: 'Mr Melody' (1976)
After the astounding feat of scoring three consecutive No.1 R&B singles, this sleek, Latin-tinged, disco-inflected tune proved something of a commercial disappointment when it didn't progress beyond the No.10 spot in the US charts. The parent album, however, became Natalie, Cole's second gold record.
10: 'Inseparable' (1975)
This was Cole's second single for Capitol, released in November 1975, and also her second US R&B No.1. Like 'This Will Be', 'Inseparable' was helmed by Chuck Jackson and Marvin Yancy. In terms of its mood and character, however, the song was entirely different. It's an earnest declaration of love in the form of a slow, torchy ballad, with Cole's soulful voice framed by exquisite strings and horn arrangements.
9: 'I Live For Your Love' (1987)
In the late 80s, Natalie Cole's music became more pop-oriented, allowing her to cross over into mainstream music charts more often. 'I Live For Your Love' is a case in point: a slow, rousing power ballad in 3/4 time that only has a modicum of R&B in its DNA. Despite this, it rose to No.4 in the American R&B chart, but ran out of steam at No.13 in its pop counterpart. 'I Live For Your Love' was popular, too, in the UK, reaching No.23 in November 1988.
8: 'La Costa' (1977)
The sounds of lapping surf and waves crashing on the shore open this atmospheric Latin groove, which Cole co-wrote with R&B singer-songwriter Linda Williams for the album Thankful. There are Brazilian bossa nova elements in the track's breezy, undulating rhythms, above which float Cole's sublime vocals. Relegated to the B-side of 'Our Love', 'La Costa' deserved better but continues to be regarded as one of the high points of the singer's Capitol tenure.
7: 'Pink Cadillac' (1987)
Cole enjoyed a colossal pop hit by electing to funk up this catchy Bruce Springsteen tune, the flipside to The Boss' 1984 single 'Dancing In The Dark'. She also takes the song to church by adding fiery gospel cadences, but never abandons its rocky inner core. It went to No.5 in the US pop charts (No.9 R&B) and stalled at the same position in the UK, though it went gold there.
6: 'Annie Mae' (1978)
Natalie Cole wrote this funkafied jazzy tune on her own and it tells the story of a girl trying to improve her life. It was inspired by Cole's then housekeeper, a young woman called Stella. Explained the singer in her 2000 autobiography, Angel On My Shoulder: "I called it 'Annie Mae' because to me that name is a symbol for girls who are looking for a better life than what they have." Released from Thankful as a single, the tune made No. 6 in the American R&B charts.
5: 'Sophisticated Lady (She's A Different Lady)' (1976)
Cole co-wrote this insanely catchy funky morsel with producers Chuck Jackson and Marvin Yancy (the latter became the singer's husband the same year). The lead single from her second album, Natalie, it topped the US R&B charts for a week and also earned a Grammy award. Bat-eared listeners will be able to detect shades of David Bowie's 'Fame' in the song's intro.
Sophisticated Lady (She's A Different Lady)
4: 'Miss You Like Crazy' (1989)
This song was Natalie Cole's biggest UK hit, peaking at No.2 in April 1989. A yearning power ballad co-written by Preston Glass, Gerry Goffin and noted producer/songwriter Michael Masser, it did even better in the US, reaching the pinnacle of the R&B charts in March that same year. The song's commercial success rewarded Cole's patience with Masser, whose obsessive quest for perfection resulted in her recording 60 different vocal tracks and spending nine months in the studio.
3: 'Our Love' (1977)
Natalie Cole's amazing chart feats during the first three years of her career continued on 21 January 1978, when this emotive Chuck Jackson-Marvin Yancy ballad soared to the peak of the US R&B charts (it also made the US pop Top 10). Plucked from the singer's fourth Capitol album, the platinum-selling Thankful, 'Our Love' was recorded when Cole was pregnant. It spent 24 weeks on the chart and sold a million copies, becoming the singer's second most successful single.
2: 'I've Got Love On My Mind' (1977)
Cole continued to work with Chuck Jackson and Marvin Yancy on her third Capitol album, 1977's Unpredictable, which yielded this, the singer's fourth chart-topper and biggest-ever hit (the song spent five weeks at the top of the US R&B singles chart). Here, Cole displayed her jazz pedigree on a slick beat ballad, indulging in impassioned call-and-response interactions with her backing singers.
1: 'This Will Be (An Everlasting Love)' (1975)
Topping our list of the 20 best Natalie Cole songs is the final tune to be written and recorded for her debut album, Inseparable. This joyful, gospel-infused number (penned by producers/writers Chuck Jackson and Marvin Yancy) boasted an infectious chorus and irresistible clapalong beat. It catapulted the singer to the top of Billboard's US R&B charts for a fortnight in July 1975, broke into the US pop Top 10 and, perhaps best of all, won a Grammy. Not bad for a debut single.
This Will Be (An Everlasting Love)
Format:
UK English