Best Queen Of The Stone Age Songs: 20 Feel Good Hits For All Seasons
Giving modern rock a much-needed edge, the best Queens Of The Stone Age songs have seen Josh Homme and co redefine the notion of rock music.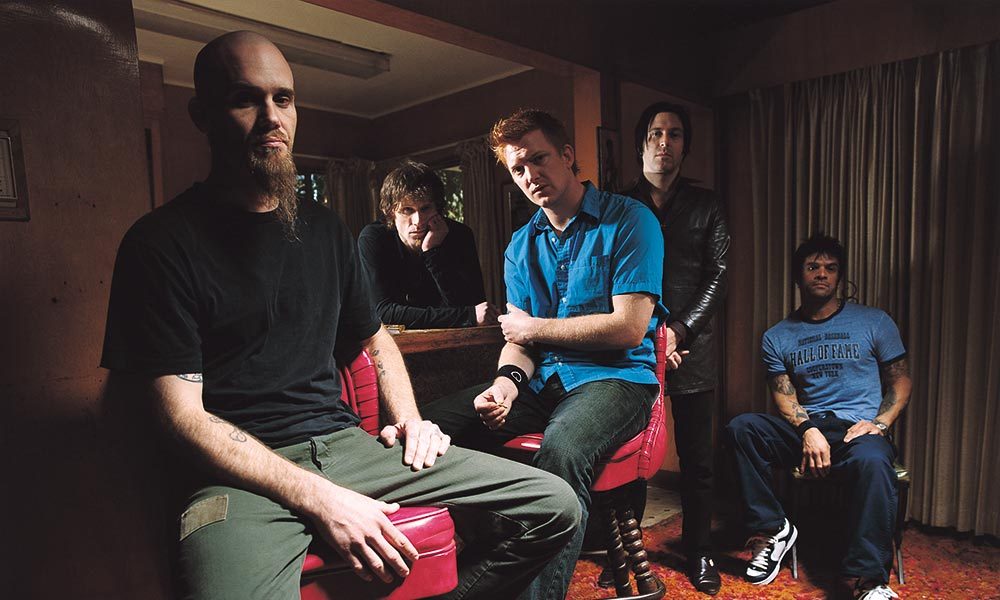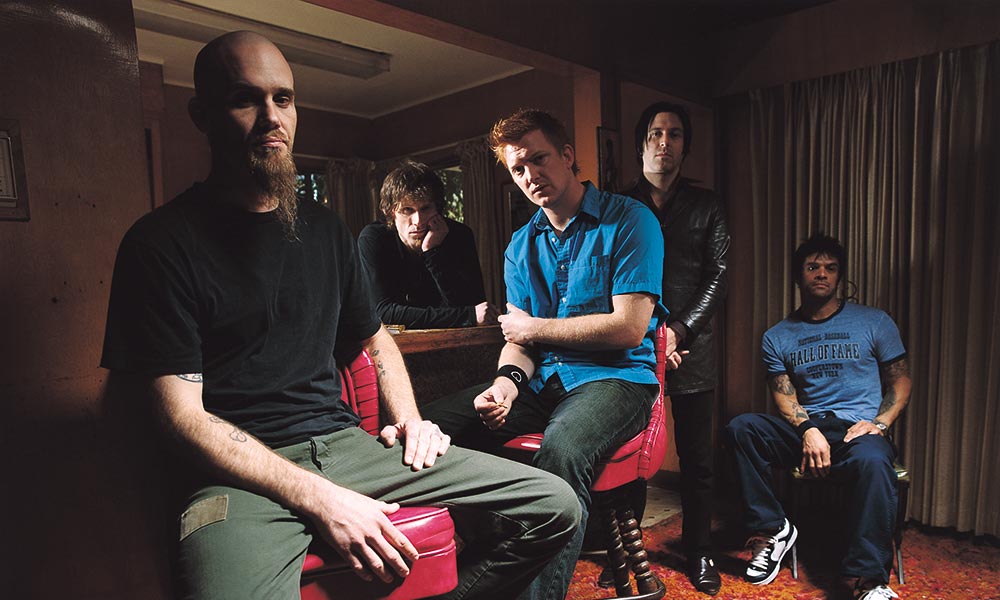 In the mid-90s, when Josh Homme fronted obscure stoner-rock band Kyuss and toured with cult-level Seattle grunge outfit Screaming Trees, few would have envisaged that he was about to launch one of the most powerful and forward-thinking rock bands of the 21st Century. However, with their major-label debut album, 2000's Rated R, Homme's new project, Queens Of The Stone Age, injected modern rock with a much-needed frisson of danger. After two decades and five further albums, his singular, desert-dwelling outfit still sound prophetic. In celebration of the band who craft rock music "heavy enough for the boys and sweet enough for the girls," uDiscover Music present the 20 best Queens Of The Stone Age songs.
Think we've missed one of yours? Let us know in the comments section, below.
Listen to the best of Queens Of The Stone Age on Apple Music and Spotify.
20: Give The Mule What He Wants
Queens Of The Stone Age's initial incarnation centered around Josh Homme and drummer Alfredo Hernandez, with the duo handling all the instruments on their self-titled debut album, released via Pearl Jam guitarist Stone Gossard's Loosegrooves imprint in October 1998. Rolling Stone noted that the record landed in "the place between art-metal seriousness and pop pleasure," and the cyclical grooves of its stand-out track, "Give The Mule What He Wants," showed Homme was rapidly outstripping the sludgy stoner rock of his pre-QOTSA outfit, Kyuss.
19: Feet Don't Fail Me
Josh Homme and wunderkind producer Mark Ronson (Amy Winehouse, Lady Gaga, Adele) both rank among modern rock and pop's most inventive artists, so it's no surprise that their collaboration on QOTSA's 2017 album, Villains, produced a record with all the hallmarks of a keeper. Homme revealed that Ronson's 2015 Bruno Mars collaboration "Uptown Funk" influenced Villains' overall sound and, with its infectious beats and icy synths, the album's opening cut, "Feet Don't Fail Me," very clearly benefited from Ronson's studio smarts.
18: Mosquito Song
Such was the pool of material QOTSA could dip into for 2002's consummate, multi-platinum Songs For The Deaf that the remarkable "Mosquito Song" only appeared as the "hidden" track tagged on at the end. As such, fans might have expected something dashed off, but instead they got a stunning, Mariachi-flavored workout centered upon Josh Homme's acoustic guitar and his emotive, close-mic'ed vocal. "Mosquito Song" remains one of QOTSA's most affecting tracks, though the Sam Peckinpah-esque fatalism of its lyric ("Swallow and chew, eat you alive/All of us food that hadn't died") showed that QOTSA even invested their ballads with an unparalleled intensity.
17: Make It Wit Chu
The initial recording of "Make It Wit Chu" appeared on the ninth volume of Josh Homme's ongoing side project The Desert Sessions, with a cameo from PJ Harvey, but QOTSA revisited it for their fifth album, Era Vulgaris, in 2007. As sultry and lustful as anything in the band's canon, "Make It Wit Chu" has more than a little of The Rolling Stones' "Miss You" in its sultry, funk-infused groove. The group played it in the suitably glamorous setting of The Palms Casino Hotel at the 2007 MTV Video Music Awards: a performance for which QOTSA were joined by special guests CeeLo Green and Dave Grohl.
16: My God Is The Sun
QOTSA endured a period of turbulence following the tour for 2007's Era Vulgaris, with Josh Homme suffering from ill health and the band riding out personnel reshuffles. However, they returned refreshed with 2013's … Like Clockwork, which was nominated for three Grammy Awards, including Best Rock Album. It was previewed by the urgent "My God Is The Sun," which also picked up a Grammy nomination. Though it didn't win, QOTSA still performed a dynamic – if truncated – all-star version of the song at the 2014 Grammys with contributions from Dave Grohl, Nine Inch Nails, and Fleetwood Mac's Lindsey Buckingham.
15: In The Fade
Bassist Nick Oliveri and ex-Screaming Trees vocalist Mark Lanegan joined Josh Homme to record 2000's Rated R: QOTSA's Interscope debut and their commercial breakthrough on both sides of the Atlantic. Homme accurately described Rated R as a record with "a dynamic range," and Lanegan's forbidding presence added a whole new dimension to several of the tracks. The cream of the crop was surely "In The Fade" – an affecting anti-suicide paean on which Lanegan's smoky baritone was shadowed by Homme's ghostly falsetto.
14: 3's And 7's
QOTSA took a step back from the sweeping melodrama of 2005's Lullabies To Paralyze with 2007's hard-edged, guitar-driven Era Vulgaris. Josh Homme has described the record as "dark, hard and electrical, sort of like a construction worker," and that's a fitting image for "3's and 7's": an ode to telling white lies, driven by robotic riffs which pull no punches whatsoever. Released as a single, this visceral track cracked the UK Top 20 and was promoted with a suitably hedonistic, Charlie's Angels-esque video shot in California's evocative Joshua Tree by director Paul Minor.
13: Better Living Through Chemistry
Rated R's most overtly mind-altering experience, "Better Living Through Chemistry" puts the emphasis very much on its title's final word. There's also some remarkable musical alchemy, with this acid-fried, suite-like construction stretching to almost six minutes. Beginning with pattering tablas, it's anchored by Oliveri's insistent bass motif, which is gradually usurped by Homme's squealing guitars, before looming hums of feedback straight out of Lou Reed's Metal Machine Music eventually give way to a breathtaking improvisational wig-out.
12: Everybody Knows That You're Insane
Another chameleonic triumph, Lullabies To Paralyze's "Everybody Knows That You're Insane" lurches from Black Sabbath-style doom rock to revved-up, alt.rock workout to classic rock anthem in just four breathless minutes. Fans have long since speculated whether the song's bitter, sneering lyric ("You want to know why you're so hollow?/Because you are") is aimed at QOTSA's former bassist Nick Oliveri, but whatever the truth of the matter, "Everybody Knows That You're Insane" is visceral, blistering rock'n'roll.
11: Monsters In The Parasol
An absolute belter of a tune from Rated R, "Monsters In The Parasol" found Josh Homme recounting the effects of an LSD trip ("The walls are closing in again, oh well/I've seen some things I thought I'd never saw/Covered in hair") in minute detail. However, in contrast to its surreal lyric, the song's disciplined musical backdrop – insistent, chugging verses giving way to a swerving, Nirvana-esque chorus – meant it was equipped with a radio-friendly appeal that has rendered it impervious to aging.
10: Hanging Tree
Arguably QOTSA's career-defining album, 2002's Songs For The Deaf was an all-star affair, with the band's then-current core trio (Josh Homme, Nick Oliveri, and Mark Lanegan) joined by luminaries such as Dave Grohl and go-to alt.rock multi-instrumentalist Alain Johannes. The latter originally co-wrote the brooding "Hanging Tree" with Homme for one of Homme's offshoot Desert Sessions albums (Volume 7: Gypsy Marches), but QOTSA laid down the definitive version, with Lanegan's dark croon ideally suited to deliver the song's forbidding, murder-related lyric.
9: Another Love Song
Mercurial bassist Nick Oliveri screamed his lungs raw on several Dee Dee Ramone-esque hardcore workouts on both Rated R and Songs For The Deaf. However, he also proved he had a more than half-decent voice on the latter album's "Another Love Song." Indeed, Oliveri's winsome croon wasn't the only surprise, for the song itself was a surf-tinged triumph. Featuring E-bow, organ, and tremolo-heavy lead guitar, "Another Love Song" could easily have soundtracked a Quentin Tarantino movie, and it also drew the blueprint for Josh Homme's collaboration with Iggy Pop on 2016's sublime Post-Pop Depression.
8: Burn The Witch
Bassist Nick Oliveri was fired after the tour for Songs For The Deaf, and a fresh QOTSA line-up, including drummer Joey Castillo and multi-instrumentalist Troy Van Leeuwen, coalesced around Josh Homme for 2005's Lullabies To Paralyze. Alongside making solo records, on-off member Mark Lanegan again contributed to the album, and his growling call-and-response backing vocal with special guest Billy Gibbons (ZZ Top) augmented Homme's menacing lead singing on "Burn The Witch": a beefed-up glam-rock stomper with lyrics drawing upon the notorious 17th-century Salem Witch Trials.
7: Go With The Flow
An urgent rocker from Songs For The Deaf, "Go With The Flow" plays out like a high-speed ride through Josh Homme's beloved desert landscape. Driven along by coruscating guitars and Dave Grohl's merciless drumming, it switches up to fifth gear and stays there for three ecstatic minutes before screeching to an abrupt stop. Immediate and undeniable, it is one of QOTSA's most perfectly realized songs and later received a well-earned Grammy nomination.
6: In My Head
Though more mainstream-inclined than the colossal Songs For The Deaf, Queens' fourth album, Lullabies To Paralyze, was still a mighty record. Arguably its most accessible track, "In My Head" had previously been recorded for Josh Homme's Desert Sessions series (in this case, 2003's Volume 10: I Heart Disco), but the Lullabies To Paralyze version was tighter and more dynamic, with an emotive Homme vocal supported by jagged, Cars-esque riffs and stabs of piano. The song's intrinsic radio-friendly quality stood it in good stead as a standalone single, which went on to crack the Top 40 of Billboard's Mainstream Rock and Alternative Songs charts.
5: Little Sister
Lullabies To Paralyze's terrific first single, "Little Sister" drew its inspiration from the Elvis Presley classic of the same name (written by Doc Pomus), with Josh Homme saying he enjoyed the "sexual twist that's put on by, 'Little sister don't you do what your big sister done.'" Driven by stabbing guitar riffs and punctuated by drummer Joey Castillo's jam block (a plastic version of the cowbell), the song was captured live in the studio in one take and more than earned its Best Hard Rock Performance nomination at the 2006 Grammy Awards.
4: First It Giveth
Rock'n'roll would be significantly poorer if it didn't crib from The Bible, so it won't surprise those familiar with the scriptures that "First It Giveth" cops its title from a quotation from The Book Of Job ("The Lord gave, and the Lord hath taken away"). In QOTSA's case, however, "First It Giveth" examined how using drugs can affect creativity, with Josh Homme telling The Fade that "at first you can draw inspiration and then eventually, it negates any inspiration." Promoted by a memorable video of the band's on-tour hijinks at Glastonbury and with Red Hot Chili Peppers, this tanked-up rocker took no prisoners, yet it still notched up a UK Top 40 hit for the band.
3: Feel Good Hit Of The Summer
Rated R's notorious second single, "Feel Good Hit Of The Summer," stoked up Sex Pistols-esque controversy. Its chorus ("Nicotine, Valium, Vicodin, marijuana, ecstasy, alcohol!") provoked US chain store Walmart to refuse to stock the album unless the offending song was removed, and it also earned the band criticism for allegedly glorifying drug use. Regardless of the hubris, however, fans and critics alike loved this pulverizing rocker with a passion. The Village Voice's esteemed Robert Christgau even wrote, "Among American rock moments, it stands alongside [Nirvana's] 'Smells Like Teen Spirit.'"
2: The Lost Art Of Keeping A Secret
"Feel Good Hit Of The Summer" got by on hedonistic thrills, but its Rated R colleague "The Lost Art Of Keeping A Secret" proved categorically that Josh Homme's team were rapidly becoming a force to be reckoned with. Promoted by a memorable video with shades of David Lynch, this catchy, noir-infused anthem kept the tension on a tight lead throughout, taking the band into the mainstream for the first time when it broached the UK Top 40 and peaked at No.21 on Billboard's Mainstream Rock chart.
1: No One Knows
Josh Homme had been toying with Queens' signature hit, "No One Knows," for five years before it finally fell into place for 2002's Songs For The Deaf. It was well worth the wait, too, as Homme's strutting riffs, Nick Oliveri's nimble basslines, and Dave Grohl's kinetic drumming locked in with a precision that's almost supernatural on this track, which is about as sublime as guitar-based rock'n'roll gets. The song that broke QOTSA internationally, "No One Knows" deservedly topped Billboard's Modern Rock chart, cracked the UK Top 20, and received a Grammy nomination – though, with some irony, it lost the latter to "All My Life," by Dave Grohl's main band, Foo Fighters.
Buy four essential Queens Of The Stone Age albums, Rated R, Songs For The Deaf, Lullabies To Paralyze, and Era Vulgaris, on 180g vinyl.