'Ain't No Mountain High Enough': Marvin And Tammi's Towering Pop Classic
Full of artistry and soul, Marvin Gaye and Tammi Terrell's 'Ain't No Mountain High Enough' is a pinnacle of pop music that cannot be surpassed.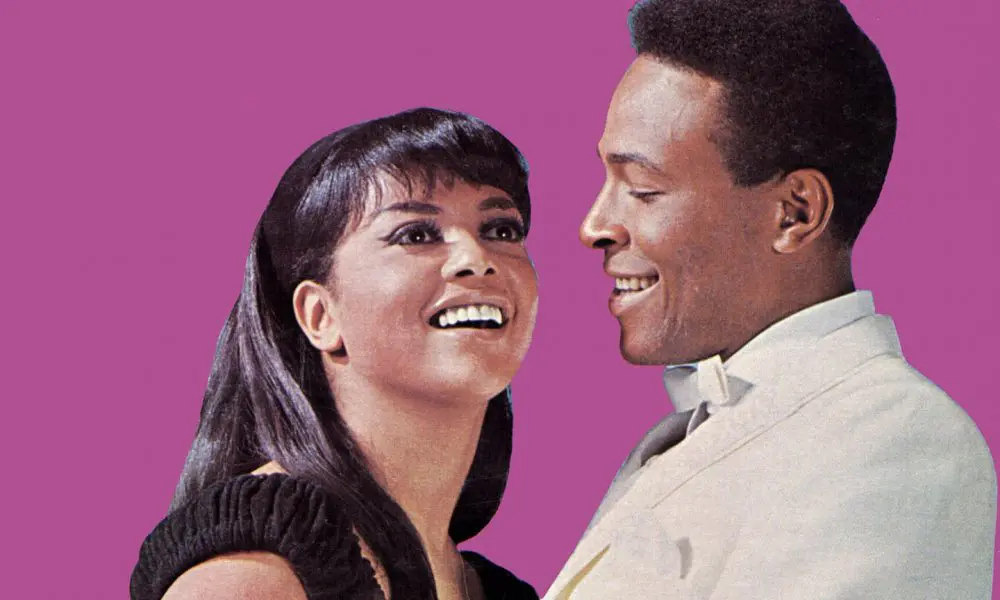 It was one of the most glorious achievements in 60s music, rising from a delicate opening to a shattering climax. If the 60s gave us the love generation, here was an anthem full of love. If soul was about physical passion in a gospel context, this song is its apex. Full of artistry, Marvin Gaye and Tammi Terrell's "Ain't No Mountain High Enough" is, fittingly, a pop pinnacle.
Ain't No Mountain High Enough
Though its roots lie in gospel, the song was inspired by a walk through Central Park, Manhattan, and the mountain of the title was the city's skyscrapers, representing the ambition of songwriter Nick Ashford. He'd met his wife and composing partner, Valerie Simpson, in 1964 at a Harlem church, and, alongside fellow-writer Jo Armstead, made a major breakthrough with 1966's "Let's Go Get Stoned," a smash for Ray Charles. But Ashford and Simpson had an eye on a contract at Motown, and believed that a new composition, "Ain't No Mountain High Enough," was what Ashford called "the golden egg." Dusty Springfield heard it and liked it, but the canny tunesmiths held on to it, believing this moving song could provide leverage at Motown. It did.
"We thought it was fantastic"
Tammi Terrell was Marvin Gaye's third female duet partner at Motown. He'd already enjoyed hits with Mary Wells and Kim Weston, but both quit the company, leaving Marv to pursue solo success. And Marvin really did see himself as a solo artist, saying, "I didn't start with a group. I started as a singular performer. There was a group of us in church, and my [preacher] father used to call me up singularly… which was rather frightening at first. I guess I came on."
Motown signed Tammi Montgomery in 1965; formerly of James Brown's revue, she'd recorded a few singles at other labels. Motown renamed her Tammi Terrell and, after some moderate-selling solo releases, decided to try her as Gaye's female foil, starting with "Ain't No Mountain High Enough." Gaye said: "That was a good beginning because I had no idea Tammi was as good a singer as she turned out to be. I hadn't had a chance to hear her. Some people [at Motown] who were on their toes dug her sound and realized we may possibly make a good duet. Nick Ashford and Valerie Simpson wrote "Ain't No Mountain High Enough" and we thought it was fantastic. A tremendous piece of material."
The Motown Story: Marvin Gaye
Material is the right word. The singers recorded their parts separately, producers Johnny Bristol and Harvey Fuqua stitched them together. Today, sound files ping across the internet and collaborations happen without artists even meeting, but in 1967, duets were normally recorded together. Even so, the record sounds like Marvin and Tammi were united in the studio, urging each other higher and higher. Pop never felt more intimate or ecstatic.
Insurmountably superb
Released on April 20, 1967, the song made a disappointing No.19 in the US, though it's now regarded as a classic. Marvin quickly realized Tammi was his perfect vocal counterpart and Motown marketed them as a beautiful young couple, in line with late-60s ideals. But tragedy struck when Tammi collapsed onstage alongside Marvin on October 14, 1967; she was diagnosed with a brain tumor. Aged just 24, she passed away on March 16, 1970, leaving behind some of the most uplifting records ever recorded, despite her debilitating decline. Her demise is said to have contributed to Marvin Gaye's battle with depression, which fed his fretful masterpiece, What's Going On.
"Ain't No Mountain High Enough" continued to soar. In 1968, The Supremes and The Temptations recorded it together, with Diana Ross and the Tempts' powerful new lead singer, Dennis Edwards, fronting it. Ashford and Simpson, by now Motown backroom royalty, created an ambitious symphonic reimagining for Ross, which made No.1 in 1970. The song has been recorded and sampled numerous times since, most notably by Amy Winehouse, who used Marvin and Tammi's version to create her brilliant but bleak ballad "Tears Dry On Their Own." But for many fans, the original remains insurmountably superb.
Listen to the best of Marvin Gaye and Tammi Terrell on Apple Music and Spotify.